In The PathTM, we spotlight different women making a difference in the fashion, beauty, wellness, and medical aesthetics industries. Here, celebrity esthetician Renée Rouleau shares her road to success.
If you were to judge by Instagram® alone, you'd assume that most celebrity estheticians live a charmed life. But, behind all of those snaps of multi-masking with the glitterati and dreamy product vignettes are talented pros who have their own complicated relationships with their skin. While many, understandably, might not want to lay their complexion issues bare for the world to see, Renée Rouleau is not one of those people. She's the rare breed of beauty pro that isn't afraid to get real.
The Austin-based esthetician has stars like Demi Lovato and fashion influencer-turned-designer Chiara Ferragni singing her praises and, within five minutes of meeting her, it's easy to see why. Rouleau is ridiculously charming and wholly authentic, switching seamlessly between waxing poetic about seaweed masks to sharing her personal skin journey. "Many people who have struggles share their story in hopes of helping others," she explains. "In my personal life, if I have real life experiences that can help people, it is my pleasure to improve lives. Being honest and someone people can trust are some of the values that guide me."
After 30 years in the business and a wildly successful skincare line, she's become known for helping people with seemingly hopeless skin situations — especially when it comes to the complicated category of acne. Which, considering Rouleau's own history, is poetic: "As a teen and young adult, I was always picking at my blemishes. When I found out there was a profession where I could get paid to pick at people's skin, that's when I found my calling!"
We sat down with her to talk about the delicate dance of treating problem skin, the one product everyone needs, and why hanging upside down is an essential beauty move (yes, really). 
Spotlyte: How did your career as an esthetician start? Was skincare always your first love?
Renée Rouleau: My first exposure to the beauty industry was growing up in my grandmother's hair salon. When I was 18 and trying to figure out what I wanted to be when I grew up, my mother encouraged me to pursue the industry. I started out doing hair, but quickly switched over to the world of aesthetics. I immediately fell in love with all aspects of the industry: being of service to others, helping people feel more confident in their skin, and loving the ingredients of cosmetic chemistry. This ultimately led me to start my own skincare line. I got a tattoo a year ago that says "to serve" and it reminds me why I became an esthetician, which is to use my voice to help serve others.
Photo Credit: Kelsey Ann Rose
Spotlyte: You've been very candid about your own skincare struggles. How did they influence your career?
RR: During my early to mid-twenties, I started getting cystic acne around my chin and jawline. Since cysts are big, sore, and painful — and you can feel something "under there" — I would try to squeeze out the infection. I didn't have a lot of experience studying cystic acne when becoming an esthetician and didn't realize that the body [can] reabsorb the infection. It took years for me to realize that picking at my own skin was really scarring it and making it worse. It was not helping my acne go away faster.
Truly understanding the life cycle of a blemish helped my career. Knowing when to touch a blemish, when not to, and the tools and treatment needed to make it go away quickly without scarring was very important. Eventually, I created a product to help with that: Anti Bump SolutionTM. A lot of my celebrity clients are young Hollywood and they have trouble with clogged pores and breakouts. I really educate them on the mistakes I made and the information I wish I had been more aware of.
Spotlyte: What was the big turning point in your career, that moment when you went from everyday esthetician to the big name in beauty you are today?
RR: The turning point is when you have somebody who has a huge audience and is shouting your name from the rooftops. For me, that was Demi Lovato. She is a good friend to me, and I have worked with her for many, many years now. She has been very generous about sharing her skincare journey with others and how I have played an important part in it.
Photo Credit: Kelsey Ann Rose
Spotlyte: What inspired you to create a product line of your own?
RR: When I was in school to become an esthetician, we were really only taught about dry, normal, and oily skin types. I always thought that was so basic and knew people had more to their skin than just those three symptoms. I also learned about the Fitzpatrick Skin Type systemTM, which is very well known among dermatologists and estheticians. It takes skin types to the next level by classifying people into tone and color of their skin. I loved the idea that someone was recognizing the skin as more than just the three categories that I was used to.
Eight years into my career, working hands-on with clients, I determined there were nine different types of skin and I created a product line around those skin types. I felt as though the industry was really missing products that catered to the unique concerns that people have. People take my Skin Type Quiz so they can really identify with a type and get on the right routine for themselves. The products themselves are very well-formulated products using the best of science and nature. My line has 48 products and is very solution focused. 
Spotlyte: What can someone expect when they get a facial from you?
RR: First and foremost is the skin consultation. I ask a million questions. I want to hear where they have been, where they are now, and what they are looking to achieve for their skin. Then, a treatment involves cleansing, usually followed by two types of exfoliation (chemical and physical) to dissolve and lift away dry, damaged cells. From there, I focus on nourishing the cells and treating them with a customized serum containing the best ingredients to communicate with other cells to act in a better way. Next, I warm up the skin using a special phyto-effervescent mask to prepare for the gentle extraction that follows. 
I will only do extractions if I need to clear clogged pores, and I can clear them out effectively without causing a lot of redness. After, I follow with another layer of post-extraction calming serum and more ultrasound if needed. I finish off with a cooling seaweed peel-off mask that creates a seal over the skin, so that all the ingredients underneath can remain in the cell layers.
Photo Credit: Kelsey Ann Rose
Spotlyte: Do you give tips to your clients during the facial?
RR: Throughout the facial we talk about their skincare journey, and then at the conclusion I recommend a highly customized skincare program that addresses diet and lifestyle, as well as skincare products for their skin type. I also give very detailed instructions for how to address the skin through different times, instances, and lifestyle circumstances. I have a very popular blog, from which I email them recommended blog posts so they can continue their education. What my clients enjoy most about getting a treatment from me is that I arm them with everything they need to continue working toward their skin goals on their own time.
Spotlyte: Do you have any interesting tricks in your treatment?
RR: Sometimes I use serum-infused ice cubes to cool down the skin. This creates a vacuum effect, in which capillaries quickly constrict while a combination of ultra-concentrated hydrating and energy-boosting active ingredients penetrate the skin.
Spotlyte: What does your personal skincare routine look like?
RR: My current skincare concerns are making my pores look smaller and smoothing my skin. I do that with a combination of acid exfoliators. I use retinol, my Advanced Resurfacing Serum, four nights a week. I am really big into serums: I use my Pore + Wrinkle Perfecting Serum two nights a week, and then I use my Firm + Repair Overnight Serum. I rotate these serums because they are what can really help target pore size, as well as smooth the texture. Above and beyond products, one of my favorite steps in my nighttime routine is to hang my head upside down for three minutes each day.
[Editor's note: Retinol shouldn't be used by those who are pregnant, considering getting pregnant, or nursing. Please consult with your doctor before use.]
Spotlyte: Um, what?
RR: I tend to think of glowing skin as one that has good blood flow, which brings out an inner radiance. When skin ages, less oxygen and nutrients are being delivered to the skin. The result is dull, tired-looking skin.
If your skin doesn't already have a natural pinkness, a strategy is to hang your head upside down. You can do this up against a wall in a handstand or during a yoga downward dog, or simply hanging your head over the side of your bed. You should notice that after [a few] minutes, a slight redness will appear on the skin. It can make a big difference in getting a glow, to appear "lit from within."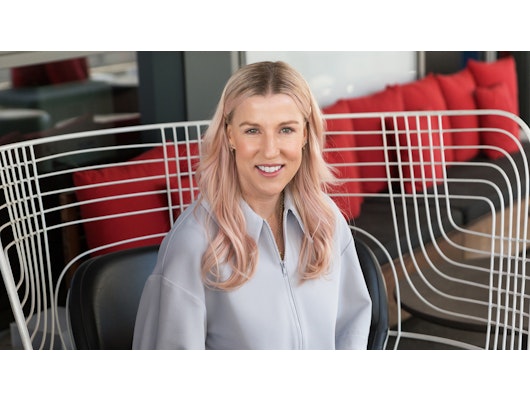 Photo Credit: Kelsey Ann Rose
Spotlyte: What is the one product you think everyone should have, regardless of skin type?
RR: Aside from sunscreen, I would say an acid serum — it goes to work quickly to help address a variety of concerns from discoloration caused by the sun (brown spots) or from breakouts. It helps encourage the look of smaller pores, smooths texture, and helps soften lines. It also makes your makeup go on smoother as a result of this.
An acid serum makes the rest of your skincare products work better because it dissolves and digests dry skin cells. When you regularly exfoliate, your products will work better because they are working with newer cells rather than the drier expired cells.
Spotlyte: What is the best piece of advice you have for someone struggling with their skin?
RR: The road to improving your skin is a marathon, not a sprint. You have to practice a lot of patience, as there isn't immediate gratification. Don't be discouraged if you aren't able to resolve your skin issues immediately. A lot of people try to figure it out themselves and end up spending a lot of money on a lot of products that ultimately aren't giving them the desired results. If you aren't able to figure it out yourself, then schedule an appointment with a trusted dermatologist or esthetician to help evaluate the root of your skin concerns and figure out what works best for you.