If there's one thing that Marlena Stell is passionate about, it's education. As the founder of the beauty brand Makeup Geek®, Stell spends her time teaching women how to be confident in their use of cosmetics. But this isn't the first teaching gig she's had. Stell started her career as a music teacher — a job she says influenced her current role. "I've always been super passionate about teaching, even if it wasn't about makeup," she says. "I guess I combined my love of teaching with my love of makeup to create Makeup Geek!"
Aside from teaching the world about beauty — something we unfortunately didn't learn in school — Stell is also a huge advocate for body positivity in the beauty industry. As a plus-size woman in an industry that doesn't always celebrate a diverse range of body types, Stell strives to keep her brand as inclusive and accessible as possible. "People are going to have something negative to say regardless of what you look like," she says. "So you might as well embrace yourself."
Ahead, Stell spills on body positivity in beauty, her new fashion line, her favorite moisturizer, and more.  

Spotlyte: What was your goal in creating your brand Makeup Geek?
Marlena Stell: At the time, there wasn't a lot of quality products for a fair price. There were high-end products that were on the pricey side, and then the drugstore at the time wasn't the quality it is now. So I wanted to create something that was made in the U.S., high-quality, but a little bit more affordable. I started with eyeshadows, so I wanted there to be lots of fun colors. The only brand that had a lot of colors at the time was MAC®, but it was a little pricey.
Spotlyte: Where do you hope to take Makeup Geek in the future? What can we expect to see from the brand in the future?
MS: There's a lot in the works. The company is getting rebranded — the look of the brand is changing. We'll have a new lineup of shadows. It will be this matrix-type format that no one has done before, where all of the shades coordinate with one another. But it's also educational, and I'll be teaching people how to use them. There will be single pans. You can create your own palette, too. We'll also be having foundations and concealers coming in the next year, and we're expanding our collection of blushes, lip products, and all of that. We're also hoping to expand into more markets.
Spotlyte: Switching gears: You've been an outspoken advocate for body positivity. Can you talk to me about how you deal with internet trolls, and the difficulties that you face being a part of an industry that can be so image-focused?
MS: I've been dealing with it from day one. When I started YouTube®, I was at my highest weight. I've always struggled with my weight, and it was the one thing that was always commented on — to the point where I almost quit the first year of YouTube because it was really brutal. But, over time, I realized that this wasn't about me. It was about other people projecting their unhappiness. I'm always going to struggle with my weight, so I want to help others out there who have the same struggle.
So I started posting my weight loss videos, and I started posting photos of myself in fashionable clothes to show people that it's OK to struggle with your weight. That doesn't mean that you can't put yourself out there. People are going to have something negative to say regardless of what you look like. You might as well embrace yourself.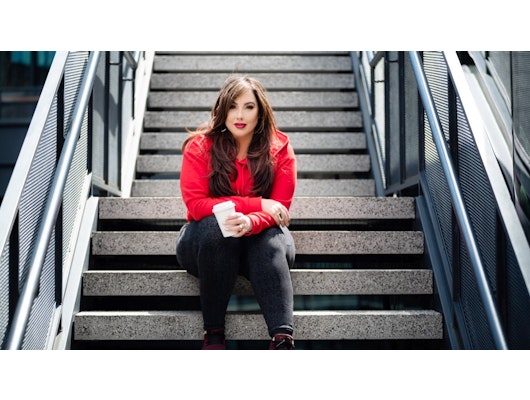 Photo credit: @un_gentilhomme
Spotlyte: We don't really see that discussed in the beauty space. People come down on fashion for its lack of body inclusivity, but it doesn't feel like the beauty industry has had that kind of reckoning yet.
MS: Yes, and one thing that's missing from the industry is that there arenisn't a lot of plus-size beauty influencers. So I like that I can fill that gap a little bit, because there are so many people out there who struggle with weight and they want to feel beautiful, too.
Spotlyte: Why do you think there aren't that many plus-sized beauty influencers?
MS: I think a lot of people see the comments and see how brutal it can get. It's not easy for everyone who is plus-sized to put themselves out there. When you're a plus-sized individual, just existing in space, the fact that you're plus-size seems to be the first thing people comment on.
Spotlyte: On that topic, you've recently launched a fashion line. Can you tell us a little bit about it?
MS: Yes! It's called Marsté FashionTM. It launched in October. My whole premise for doing this was that I felt that there wasn't a lot of great clothing options for plus-size women, but also middle-market fashion. Sizes 12-16 just weren't really being serviced. I've always kind of teetered in that middle area that no one makes clothes for. So my line goes from sizes 0-22. Everything is made in the U.S., and it's all high quality, and the factory I use is fair-trade. It's all sold online, and we'll hopefully be expanding into more clothes by the end of the year.
Spotlyte: Switching gears again, can you tell us about your beauty routine?
MS: I'm very particular about my routine. I try to take really good care of my skin. I really like Elemis® products. The brand has the Pro-Collagen Marine CreamTM ($128) that I use. In the morning, I put on a vitamin C serum, and then I put the cream on. At night, I do a similar thing, but I'll also do a light exfoliation. I also use prescription-grade tretinoin. I've been using it for 10 years and I swear by it.
[Editor's note: Retinol shouldn't be used by those who are pregnant, considering getting pregnant, or nursing. Please consult with your doctor before use.]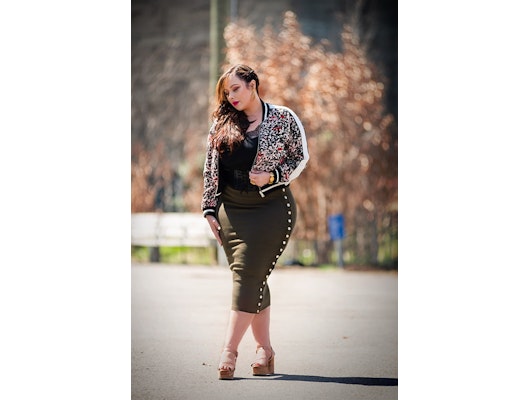 Courtesy of Marlena Stell 
Spotlyte: You've also been very open about your experience with injectables. What made you start using them, and what's your relationship with them now?
MS: I started almost 10 years ago with injectable wrinkle reducers on my forehead. [Also,] I started doing some fillers to [add volume]. I still do injectables probably twice a year, wherever I need it. A couple of times a year, I also do a chemical peel or a laser treatment, just to improve the texture of my skin.
---quiz start
---quiz end
[Editor's note: Injectable wrinkle reducers temporarily smooth the look of moderate to severe wrinkles in certain areas of the face, including the forehead, frown lines, and crow's feet. They should not be used more frequently than every three months. Injectable filler is a temporary treatment that adds volume to areas of the face such as the lips, cheeks, and laugh lines. Like any medical treatment, both injectable wrinkle reducers and injectable fillers have potential risks and side effects. Talk to a licensed provider to see if they're right for you. Chat with our team of trained aesthetics specialists now.]
---quiz start 
---quiz end
Spotlyte: Is there a message that you wish the beauty industry would share with women? And how are you helping to promote that message?
MS: I think that women should be confident with whatever it is that they bring to the table. I feel like over the past few years, so many women have felt the need to fit a certain mold — you have to look a certain way, you have to dress the same, do your makeup the same. But it doesn't have to be like that. I think it's refreshing when you see influencers who step outside of that mold, because that's human.
If I had to say one thing, I think it would be to focus on whatever it is you love about yourself — don't feel like you have to change it to fit someone else's ideals.
Product prices may vary from the time this article was written.
Allergan® may receive commissions for purchases made through links in this article.