If you're outside the beauty industry looking in, it's easy to assume that it's not the most supportive community. A quick look at comments on YouTube® "get ready with me" videos or gossip-related Instagram® feeds would imply that beauty is riddled with competitive or snarky people. But as someone who has spent her entire working life as a member of this community, I can tell you that it's largely the opposite. The beauty industry is, well, beautiful: full of talented, creative individuals who know that there's enough room for every artist, influencer, and executive to have a seat at the table. They cheer each other on. And in some cases, they fall in love.  
That's the story behind Urban Decay® Global Makeup Artist Steve Kassajikian (a.k.a. @udstevek), 32, and artist/beauty influencer Jovan Rosario (a.k.a. @ponyy_boyy), 29. They only met in May of 2018, but when I sat down with them eight months later on a blustery winter day in New York City, I got the sense that they are soulmates in the truest sense of the word. They joke around like they've been best friends their whole lives, and tenderly adjust each others' makeup or robe collars like lovers. And above all, they are kind, not just to each other, but to everyone in their orbit. (With their combined Instagram following of nearly 350,000 followers, I'd braced myself for possible egos, but after five minutes of speaking, we were laughing like old buddies.)
The beauty industry isn't just a friendly place, it's an unexpectedly huge one. There are hundreds of brands, thousands of influencers, and millions of products — so it's fairly spectacular that the paths of Kassajikian and Rosario crossed at all. Kassajikian resides in Orange County, CA, but travels internationally for his gig with Urban Decay. 2019 marks his 11th year with the brand, but he's been working for around 13 years as a makeup artist, and cites his mom as his earliest inspiration.
Kelsey Rose
"As a kid in the early '90s, I was a big mama's boy — still am," he tells me. "I loved watching her get ready. It was so crazy to see how she would change with just a swipe of a lipstick, or a black line on her lids. Not only did she change outside, but it totally changed her persona and attitude."
When he was old enough to stay home while his mom went out, Kassajikian would sneak into her bedroom and try on her lipstick. In later years, he would join the theatre department in his high school and do classmates' makeup for plays. This would turn into a full-fledged career doing makeup professionally, starting with Benefit CosmeticsTM and leading to his global role at Urban Decay.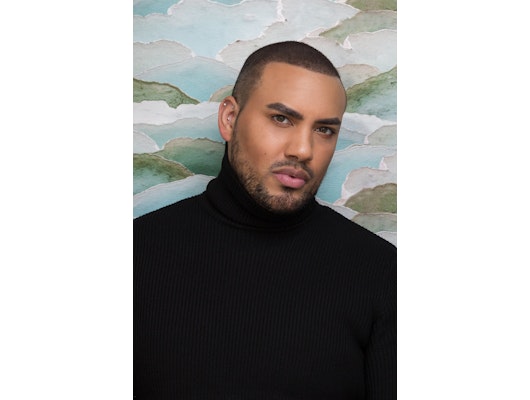 Kelsey Rose
Rosario, on the other hand, lives in Queens, New York, working as a self-taught fashion illustrator and beauty influencer. "It was something that I couldn't control [growing up], because I was in elementary school drawing in all of my textbooks," he recalls. It was when he started posting his work to Instagram that he got recognized for his talent. "I started taking inspiration from celebrities and fashion icons — and one of my first celebrity drawings was Kim Kardashian." Kardashian began following him and promoting his work, and Rihanna, Ariana Grande, and Jennifer Lopez soon followed suit.
Interestingly enough, Rosario relies on makeup for his work as well — and not just on himself. Many of his masterpieces use eyeshadow, eyeliner, and brow products in lieu of typical paints or pencils. "I love working with shadows," he explains. "Part of my sketch routine is using four or five colors just to blend skin." He also likes Urban Decay Brow BladeTM (a double-ended brow pencil and stain pen inspired by microblading) to create that "soft, wind-in-the-hair effect" on his illustrations, and the Razor Sharp® Liner in BumpTM to sketch wedding couture, or add a little sparkle to the eyes of his subjects.
Kelsey Rose
Despite their creative commonalities (and the love for a brand they have in common), the bicoastal couple met through a true moment of fate. Rosario attended a NYC Urban Decay event as a plus one of a friend, despite feeling too tired to stop by. It's your classic meet-cute story — that is, if your typical meet-cute involves see-through shirts and a fierce beauty beatdown. "I went all out," Rosario says of his look. Kassajikian was there hosting the event, but Rosario assumed he was a fellow male beauty influencer. "The first thing that he says to me is, 'Nice shirt!'" Rosario remembers, laughing. "I said, 'Oh, thanks,' and I walked right by him, like, OK, thanks, move it along. I didn't care." 
Though they had an inauspicious start, the men ended up spending the entire evening talking to one another, getting to know each other on a more personal level. By the conclusion of the event, they were finishing each other's sentences, even talking about long-term relationship goals and future children. "I thought it was flirting," confesses Kassajikian, who asked Rosario for his number. They haven't stopped talking since that night, and made their relationship official a few months later in Disneyland® (the couple is obsessed with the House of MouseTM).
By the way the two interact, you'd never guess that they don't live together, let alone live on opposite coasts. They both work and travel so frequently that they tend to only see each other once a month. But the spark burns strong, and that's due to regular communication. FaceTime® in particular is a game-changer for them.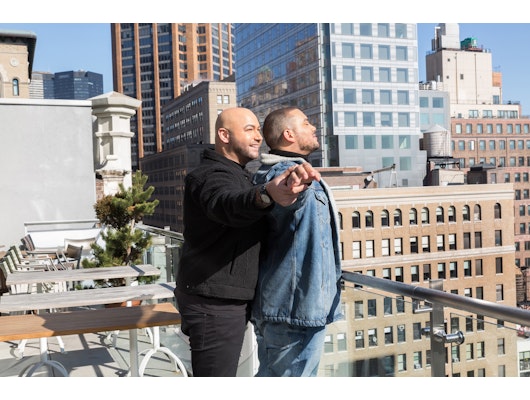 Kelsey Rose
That said, they also both respect each other's professions and how much time they dedicate towards them — and that being active on social media is part of the job. "It's nice to be with someone who doesn't make me feel bad about posting something on social, even if I haven't spoken to him for hours at a time," says Kassajikian. Agrees Rosario, "If I'm doing something on social, that does not mean that I don't want to talk — it's that this has to get done." Not only are they not jealous of each other's Instagram habits, they are supportive of them. A scroll through the guys' feeds reveals that the top comments are typically from each other, complimenting the makeup, artwork, or just a selfie.
That feeling of support extends to the two men's grooming routines — they frequently trade tips and tricks with one another, as well as (when in the same city) share products. Perhaps unsurprisingly, they are both skincare junkies, with thorough, intensive regimens. "If your skin is not right, and you're not prepped right, then it doesn't matter whether you're wearing the most inexpensive makeup or the most high-end brand, it's not going to look good," warns Kassajikian. His personal routine is about six steps in the morning and seven steps at night. Favorites include PeterThomasRoth® Anti-Aging Cleansing Gel, Drunk Elephant® C-Firma® Vitamin C Day Serum, Drunk Elephant Shaba Complex® Eye Serum, and PeterThomasRoth Water Drench® Hyaluronic Cloud CreamTM.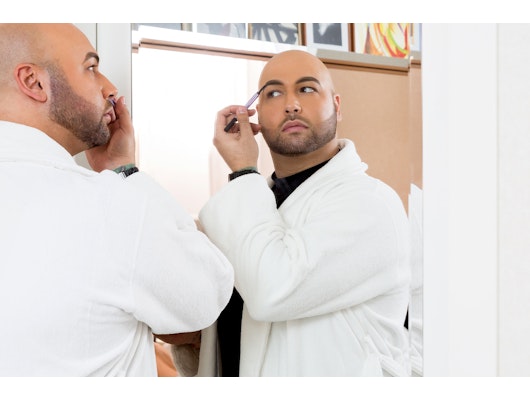 Kelsey Rose
Rosario admits that his routine is more or less the same as Kassajikian's, but has a few additional needs. "I have more hyperpigmentation, so if I do break out, I need more," he explains. "Glycolic acid is my best friend." He uses the BeautyRX® glycolic pads, which have 10 percent glycolic acid, because he found that using them not only cleared up post-inflammatory hyperpigmentation marks, but also made his skin more radiant. Rosario additionally swears by the medical-grade Enhance Skin Care Eye Depuffer AwakeTM and Emollient Sunscreen DefendTM SPF 40. "It's a tinted moisturizer, but it helps give me that glow," he adds. "I feel more confident just wearing it daily. I get complimented so much on it."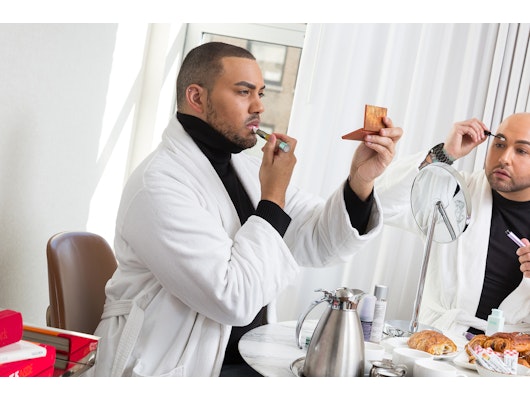 Kelsey Rose
The two even share many of the same makeup products, despite having different skin tones. Kassajikian admits to swiping Rosario's "holy grail" KKW Beauty® Concealer. Both also use Urban Decay Beached Bronzer — though Rosario contours with it, and Kassajikian dusts it on his head (yes, really!) to blend the Naked Skin® Foundation on his face with his scalp. ("I always joke that the first three seconds of my shower is brown," Kassajikian quips.)
Clearly, they both also care deeply about their eyebrows. "I love a bushy brow, as you can tell," Rosario says. Both swear by the new Urban Decay Brow Blade. "It gives you a precise line, but it doesn't look super heavy or tattooed on," says Kassajikian. They also get their brows professionally maintained. Rosario had his arches microbladed at Perfect FrameTM in Los Angeles, while Kassajikian gets his brows done every three weeks by Tammy (a former Benefit colleague) at Diva SalonTM in Orange County. "I learned that if I don't reschedule before I leave the place, it's not going to happen," he notes.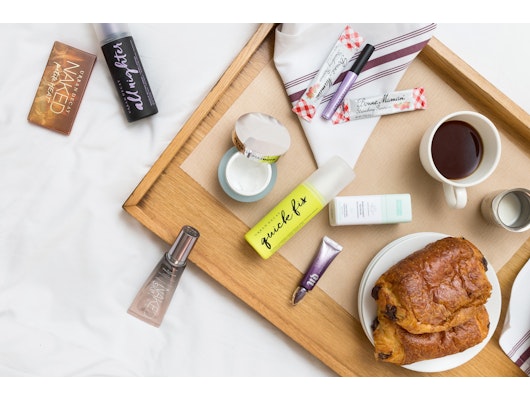 Kelsey Rose
He also regularly schedules pedicures (monthly) and facials with Alicia in the Huntington Beach location of Ulta Beauty® (every four weeks). "I focus on extractions, so my face is always clean." Inspired by Kassajikian, Rosario also gets regular facials now — more specifically, HydraFacial®. "It really does help your skin, more than just skincare — they [can treat] things that you can't possibly get on your own," Rosario says. "Your skin is so much more delicate than you think."
Those aren't the only professional treatments the two have tried. "I started getting injectable wrinkle reducers about two years ago," shares Kassajikian. "I do it about two to three times a year, and I'm obsessed [with the results]." He gets his forehead and elevens treated by Sylvia Ferris at Newport Medical and WellnessTM, who did Kassajikian's laser hair removal years ago. "I love the results."
---quiz start
---quiz end
[Editor's note: Injectable wrinkle reducers are used to temporarily smooth the look of moderate to severe wrinkles in certain areas of the face such as the forehead, frown lines, and crow's feet. They should not be used more frequently than every three months. Like any medical treatment, they have potential risks and side effects. Be sure to talk to a licensed provider to see if they're right for you. Have more questions? Chat with our team of trained aesthetics specialists now.] 
---quiz start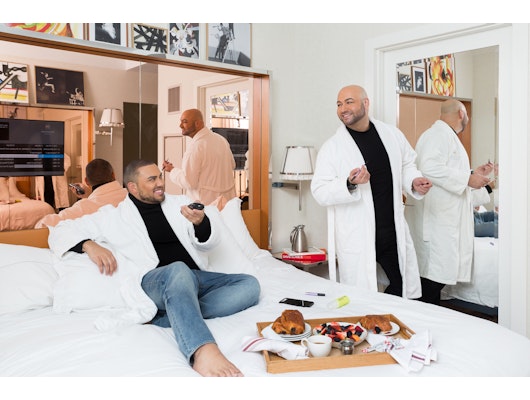 Kelsey Rose
---quiz end
Rosario has also tried injectable wrinkle reducers. "I got it in my forehead and the crow's feet area," he reveals. He worked carefully with his provider, Dr. Irene Gladstein, to make sure that he remained expressive after treatment. "I've only done it once, [but] I liked [the results]." He's also tested injectable filler. "I only like doing things that [help] what I already have," he explains. "If someone asked me, 'Would you do it again?' Hands down, [I would] do it again." 
---quiz start
---quiz end
---quiz start 
---quiz end
[Editor's note: Injectable filler is a temporary treatment that adds volume to areas of the face such as the lips, cheeks, and laugh lines. Like any medical treatment, it has potential risks and side effects. Be sure to talk to a licensed provider to see if it's right for you. Have more questions? Chat with our team of trained aesthetics specialists now.]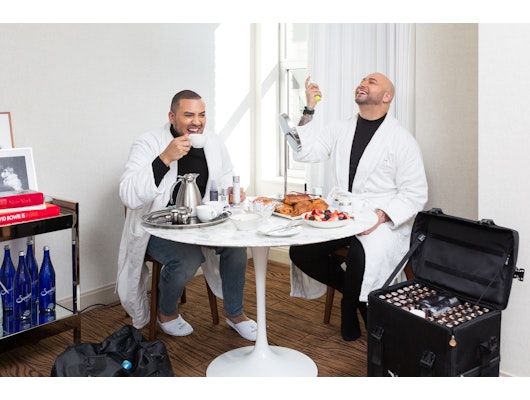 Kelsey Rose
"I'm open to trying all of these different things, as long as it's going to [help] what I have," agrees Kassajikian. Adds Rosario, "Do it because you like it, or do it because you feel like it [helps] what you already have. I don't think that there's anything wrong with that."
And that perspective is perhaps the true cornerstone of the beauty community: the celebration of self-love. "You do you" is practically our mantra. What's important is that you love the way that you look, whether that's after you've gotten lip and cheek filler or applied a dramatic smoky eye at 7 a.m.
After all, when you pair self-love with the support of friends, colleagues, and significant others, you can achieve anything. And considering that Kassajikian and Rosario have found all three in one another, I wouldn't be surprised if the sky was the limit.
Product prices may vary from the time this article was written.
Allergan® may receive commissions for purchases made through links in this article.