In The Path, we spotlight different women making a difference in the fashion, beauty, wellness, and medical aesthetics industries. Here, Riawna Capri shares her road to success.
If you follow a young Hollywood "it" girl — Selena Gomez, Ruby Rose, Julianne Hough — she has likely sat in the chairs of hairstylist Riawna Capri or Nikki Lee at Nine Zero One salon in Los Angeles. That said, don't call Capri a "celebrity stylist." Rather, the non-pretentious pro prefers to be thought of as an artist who happens to have major movie stars and Grammy Award-winning musicians as clients.
Her recipe for success is simple: work with your best friend (Lee is hers), hire "good people," and love what you do. The booming business and numbers speak for themselves — at press time Capri had almost half a million Instagram followers, and Nine Zero One had 260K. She has built a following interested in her signature sunkissed, beachy hair color, as well as her glamorous life (yes, she does hang out with a few of those A-listers after hours). In addition to building the Nine Zero One empire, Capri and Lee have an exciting new venture in the works. Spotlyte has exclusively learned that they are (finally!) releasing their own line of hair care products.
Before Capri headed on a surprise engagement-moon trip to Italy with her fiancée, we caught up with her on everything from the perks of working with your friends, where she gets injectable treatments, and why social media is the new resume.
(Of course, we have the scoop on that hot, new product she created! Keep reading.)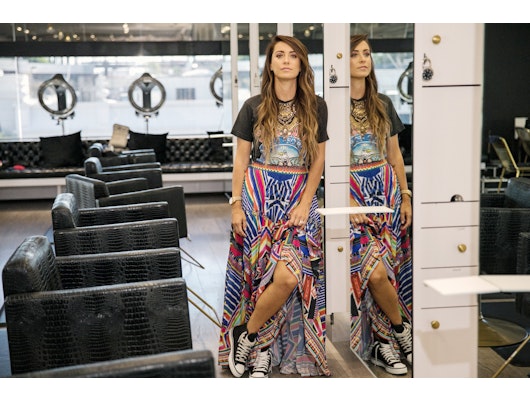 Christopher Brown
Spotlyte:Did you ever think that Nine Zero One would be the empire that it is today?
Riawna Capri: Absolutely not. When Nikki and I opened Nine Zero One, we just wanted a place to hire all our friends, play really good music — really loudly — and serve rosé and Blue Moon®. 
Spotlyte: Tell us the story of how it came to be!
RC: When we were working at a [salon] prior, it had one guy's name on the front door. It was all about that one guy. When we got fed up there, we started looking at other salons with other people's names on the door. We realized, the grass isn't greener on the other side. When we set out to do Nine Zero One, we wanted to create a friendlier environment, where people actually smile at you. In L.A., [there is a] pretentiousness that surrounds the area, and I feel like I don't belong half the time. That's why we created our own little cubby of good people, good energy, and good vibes.
Spotlyte: How do you choose who you're going to hire?
RC: We always say, 'We can teach someone how to cut and color hair, but we cannot teach someone how to be a good person.' In order to get hired here, you have to go through three other interviews [with the staff] before you reach Nikki and me. People can pick up on other things.
Spotlyte: Female friendships are important to you. How does that help you to build your business?
RC: Nikki and I became friends when we were assistants. [It's important to] have a partner or a companion by your side as you go through your career. You can tell them your frustrations and they really, truly understand. No matter what, our friendship comes first. Now that we are 15 years in, she knows when I'm having a bad day; and she'll pick up the pieces and vice versa.
We were able to collect a unique, amazing, and positive group of people at Nine Zero One. [Many of them] are roommates. They found friendship within their workspace, which is key. If people are friends with each other, everything else follows. You have each others' backs.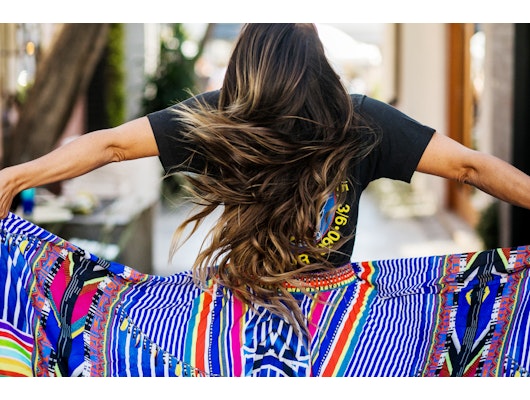 Christopher Brown 
Spotlyte: In addition to building relationships, you are amazing at social media. How did you use it to grow the brand?
RC: I f*cking hate [social media] and would be very happy if it came to an end one day. On the flip side, it has helped build my career and Nine Zero One. If you're an artist — be it a painter, chef, hairstylist, or makeup artist — social media can be used as your portfolio. No one is going go to www.com and look at your work as much as they would if it's on Instagram. It's the best way to be able to showcase what you can do. It's free advertising.
Spotlyte: Advice for others trying to grow brands on social?
RC: I personally don't like doing redheads, because I don't feel 100 percent confident in it. Can I do it? Sure. Can I do my taxes? Sure. Do I want to? No. I would rather give that client to someone who enjoys doing redheads. So, on my social media page, I don't post that many redheads, because I don't want to get that many clients asking me to do it. You can [use Instagram to] really curate your clientele.
Spotlyte: What does success look like to you?
RC: My ultimate goal in life is to do hair for fun; not do hair for a living. I want to be able to look at someone on the street, see their hair, and tell them, "Oh my God, I want to do your hair! Come in and let me do it," and not have to worry about that fact that I should be doing a full-paying client. It's my form of art, and no matter who I'm [working on], it's awesome. I get to make somebody happy at the end. There's nothing greater than making somebody feel good.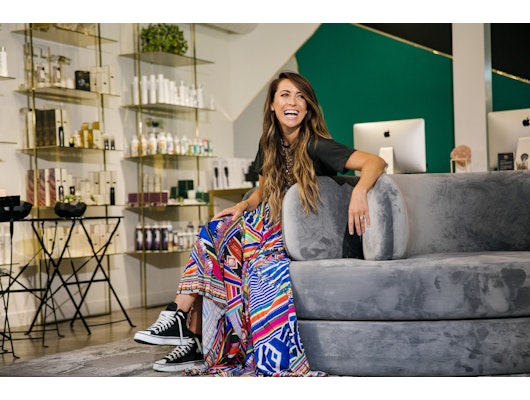 Christopher Brown
Spotlyte: And it helps when those people just happen to be huge celebrities with big followings. How have A-list clients paid a part on your success?
RC: Obviously, we're very lucky to be in LA. Celebrities like coming in because they feel like an equal [here]; they're just one of the girls. Sometimes this town might lack that [vibe]. That's the reason why I never, ever, ever call myself a "celebrity hairstylist." I'm just a hairstylist who happens to have celebrity clients.
Spotlyte: Tell us about your new brand, In Common.
RC: We're super excited about In Common. Nikki and I always said we would never do it, but we're doing it. We're starting the product line. It's a treatment line to physically help hair. I want people to instantly feel a difference. I'm not looking for hair sprays, pomades, or gels right now. I'm sure we will eventually get into styling gear.
Spotlyte: What does the name In Common mean?
RC: We all want good hair. We all have that in common. We want this line to an inclusive brand. We want everyone to feel equal and part of the same team. [This line] is not geared towards any one woman. It's really for everyone.
Spotlyte: What can we expect from the products?
RC: Our first product, out in November, is called Magic Myst. About eight more are coming in March/April. Magic Myst is what every woman needs. It's a leave-in conditioner that protects hair from UV rays and heat. You can spritz it and leave it in; or you can blow it out and smooth your hair. It's an all-in-one type of product. It's basically vitamins for your hair. You wouldn't go a day without your face lotion, so why would you go a day without your hair lotion? Same concept.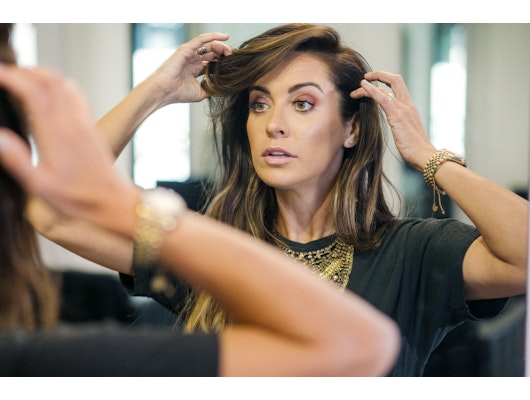 Christopher Brown
Spotlyte: How will you distribute In Common?
RC: We're creating this tech platform, which allows hairstylists to sell it to their clients on an iPad or iPhone. [The product] gets shipped to the client's house, and the hairstylist receives a 30 percent commission. So, [the salons] don't have to carry $8,700 worth of products and hope it all sells. That goes along with the name In Common — of just having this all be on the same ground, same tribe, same team, helping each other out.
Spotlyte: Since Magic Myst is about hair health, we would love to know: what does healthy hair mean to you?
RC: Healthy hair is beautiful hair. If your hair is not healthy, your hair most likely is not beautiful.
You can go to the best salon and buy expensive products; but if you're flat ironing your hair every single day, then most likely, your hair is not going to be healthy.
Spotlyte: Can color-treated hair be healthy?
RC: You can have healthy hair when it's dyed, but it's about patience and timing. If a client wants a color that they cannot handle, you have to say no. If they get mad and storm out, it is what it is. Because you are just going to make their hair unhealthy. Stylists who are making hair really blonde need to use Olaplex© or a treatment to keep hair healthy. If you want to go from black to blonde in one day; yeah, you're going to be a little toasty. But if you do it in three to five tries, your hair is going to be much healthier.
Spotlyte: So, who does your hair?
RC: Cutting-wise,  I'm really particular. I like a perfectly f*cked-up edge. A lot of times, I will do it myself, and then someone will help me with the back. A hairstylist is probably the worst client because we have our own vision, and we're trying to explain it to somebody else. Coloring-wise, I've honestly probably gone to everybody [who works] at the salon. If I don't feel comfortable getting my hair done by these people, then how the hell can I expect clients to?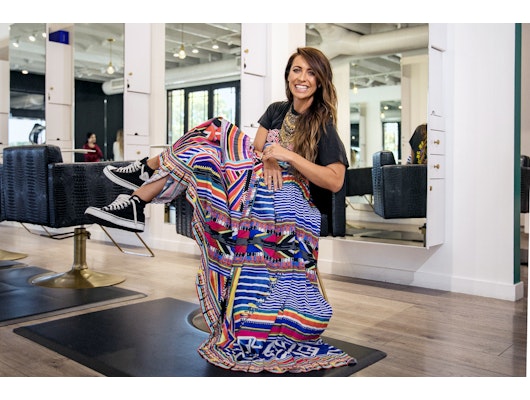 Christopher Brown
Spotlyte: What is your personal approach to injectables?
RC: I first starting getting injectable wrinkle reducers when I was 25. I was cutting hair and Eva Longoria yelled at me from across the salon: "Riawna, relax your face." I had a line in between my eyebrows. I was focusing and cutting hair, and I made that face while doing it.
There was a woman who worked next to me at the salon for two years, [I admired her look]. Finally, I asked her about what her secret was. She said, "I started getting injectable wrinkle reducers, because [it looked like] I made a face, as well, when cutting hair."
So, I [got the treatment], and I believe in it so much. Now, when I make my "concentration face," I don't have deep elevens . Also, I smile so big that my crow's feet should be a lot deeper than they really are, but because of wrinkle reducers, [they aren't].
[Editor's note: an injectable wrinkle reducer is a treatment performed by a professional to temporarily smooth the appearance of moderate or severe lines on the face in areas such as elevens, frown lines or crow's feet. As with any prescription, be sure to talk to your doctor about all the risks and benefits.]
Spotlyte: What plays into your skincare routine when it coming to anti-aging?
RC: I'm Native American, and I think that helps. My mom and my aunt look so young, and they haven't had [anything done]. I think it's something in the DNA of Native Americans.
One trick to youthful skin is getting regular facials. You can get your oxygen treatments, microdermabrasions, and lasers — and those will all be great — but you also need extractions and purification. Every time I leave a facial, I look so much better. I go to Kate Somerville for facials every four to six weeks.
Lastly, to stay youthful, you've just got to be youthful. I love Sundays. I love having people over. I love doing cannonballs in the pool. Be active and do things you love. Go running with your dogs or to the beach. Have girls' nights. Be youthful at heart, and it will shine through your skin.
Spotlyte: Have you thought about your wedding beauty prep yet?
RC: Wedding beauty prep would probably be workout, workout, workout. That's probably every bride. I do know that I want long hair for my wedding. There are more things you can do with long hair, especially if it's a three-day event. I'll probably have a different hair look for each day.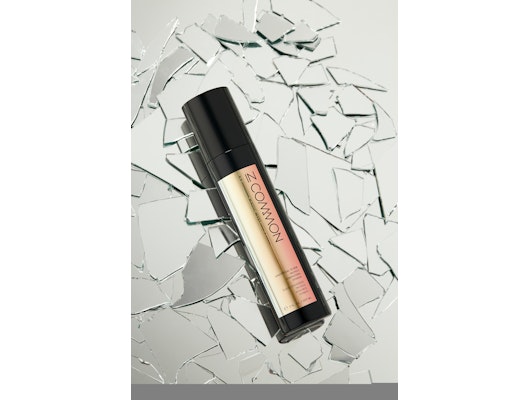 Spotlyte: You're about to leave for your engagement moon trip. What are you packing?
RC: Magic Myst, purple shampoo, and a hair mask. Every time you get out of the ocean or pool, use the leave-in conditioner because, again, it's like vitamins for your hair. Purple shampoo helps counteract the sun's rays, [which can turn] hair coppery. Pack a deep conditioning mask because wherever you go, the water could be [bad].
Spotlyte: You're such an inspiring woman in the industry on so many levels, what does that mean to you?
RC: I'm a leader?...Nikki and I put all of our money together, opened a salon, and luckily it worked out. I want to inspire others to do the same. We opened a salon at 27 and 28 years old in 2009, when there was an [economic] crisis. Live in the moment and go for it.
That can go for anything; [even my] engagement to Morgan [Beau]. Neither of us had dated girls before, but we had such a strong connection, so we decided to say, "F*ck it. Let's go for it." We dated for four years after being roommates for two years. It was the best thing I ever did. I didn't know what I was doing.
There's something really strong to be said about living in the moment. I know it's so cliché, but live in the now. My sister was in a car accident about nine years ago, and she lost her left hand, which is horrible, but she didn't lose her life. For me, that was a huge wake-up call. We don't know if tomorrow will come, so why not just make today the happiest it can be?