A workout that doesn't involve sweat or lifting weights? And it's for your face? It sounds peculiar, but that's the entire concept behind Skin CampTM, a new facial bar that recently opened in West Hollywood. LA residents have been flocking to the adorably pink boutique for its Instagrammable interiors and effective facial massages alike.
Unlike a traditional facial spa, Skin Camp offers an extensive "workout" menu for your face to help lift and sculpt via facial massage. It's designed for clients on-the-go, with options varying in length depending on your needs and time restraints. Go-to offerings include the 15-minute CEOTM workout to help plump and resurface, the 30-minute Sculpt (the most popular, meant to lift and firm), and the 45-minute Detox which has all the bells and whistles, including extractions with high frequency. And, get this: the CEO facial is even an option on ClassPass® for those weeks when you feel like skipping a workout but want to make use of your credits. Brilliant, right?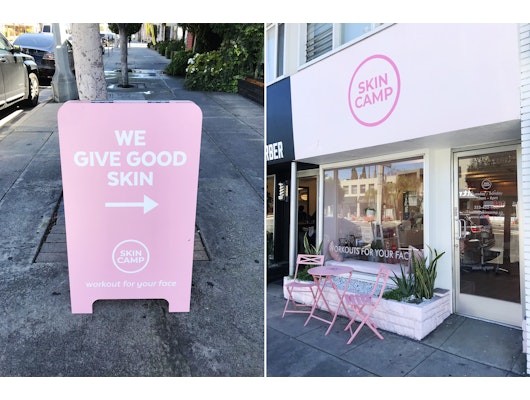 I was eager to pay Skin Camp a visit because I'd never had a facial that focused so heavily on the facial massage element. Sonia Vargas, the lead esthetician at Skin Camp, treated me to the Detox ($80). It started off with a few relaxing breaths with essential oils, then went into a deep cleanse with detoxifying tea tree oil, kale, and melon to prep and purify the complexion.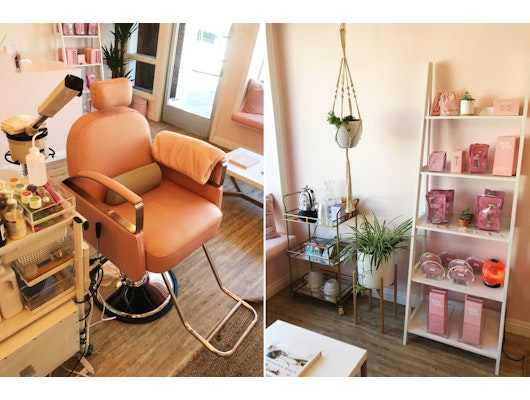 She slathered on two masks: The Body Deli® Peaches and Cream Masque ($24), which has a yogurt base to hydrate and balance bacteria; and a glacial mud mask to draw out impurities around the chin and jawline. After letting the masks sit on my skin for about 10 minutes (during which I got a wonderfully relaxing scalp massage), she went right into extractions. Since I've been dealing with stress, hormonal blemishes, and clogged pores, I was excited for a good pore cleaning. It was promptly followed by high-frequency to ward off bacteria.
But what really sets the Skin Camp experience apart is, of course, the facial massage. Sonia started with roulage. "[This is] a massage technique that means 'to roll,'" she explained. "We literally pick up the skin with our fingers and then we roll it to the side." According to Sonia, this can have a detoxifying effect on the skin and also stimulates blood flow. Post roulage, Sonia went into a series of motions all promising to de-puff, lift, sculpt, and tone, ranging from light presses around the sinuses and eye area to rapid upward motions on the neck and jawline.
The only slightly uncomfortable part of the entire experience was the intense pressure on the side of each cheek, which really helps relieve jaw and chin tension, as well as release blood and lymphatic blockages. "A lot of people come to Skin Camp to help with their TMJ," Sonia told me. "We help them release pain that they hold in their face that can distort facial muscles," she said, adding, "It's super important to release tension in the face."
The minor temporary pain was worth it, because my face felt dramatically less tense, more malleable, and somehow lighter almost instantly. I've always known I had a fair amount of facial tension, but I was blown away at how free my muscles felt after my workout.
But we weren't done yet! Facial cupping came next, which is said to promote skin detoxification by bringing oxygen-rich blood to the surface. This can also help lessen wrinkle depth, decongest skin, and make it appear brighter. She even used teeny-tiny cups on my undereye area, which is wonderful for those who suffer from dark circles.
We finished off the treatment with a medley of Skin Gym's signature tools — the dermarolling GoldieTM ($68) to help contour and smooth texture, the Face SculptorTM ($69) to firm and lift, and the Face TrainerTM ($58) with built-in microcurrent and germanium stones to rectify sagging skin.
Though a face workout had sounded strange, I was completely sold on the concept once I left Skin Camp. The entire experience left my face lifted and more sculpted — and I noticed the results got even better the following day. Who knows? I might start swapping one of my weekly workouts for a facial workout instead.
---quiz start
---quiz end
Complimentary service was provided to the author for the purpose of writing this article.
Product prices may vary from the time this article was written.
Allergan® may receive commission for purchases made through links in this article.