Every beauty junkie has a weakness —mine is tools and gadgets. If it oscillates, lights up, heats up, massages, or emits steam, I want it. The promise of elevating my current skincare routine with an extra boost of science or technology is impossible to resist. So when Madonna launched the MDNA Skin® Beauty Roller ($200), which tapped into my ultimate aesthetic goal of a chiseled jawline, I was too vulnerable to ignore it.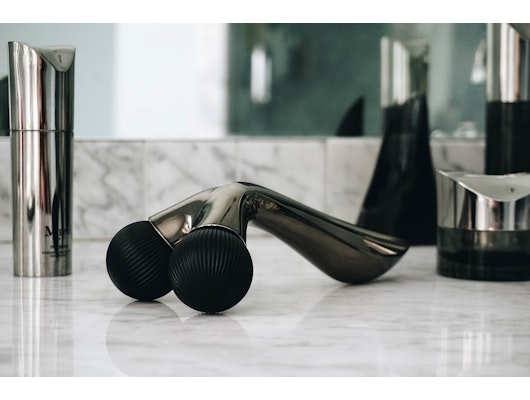 Bart Kaczanowicz
The MDNA Skin tool is an ergonomically, visually intriguing tool with two spheres attached to a sleek handle. At first glance, it does look a little . . . peculiar. (If you agree, get your mind out of the gutter and re-focus.) Each sphere is intricately carved with vertical ridges, which gently grab onto the skin as they roll across your face or body. This experience is reminiscent of a massage with a light pinching motion — my favorite part of a professional facial.
[Editor's note: If you take blood thinners, talk to your doctor before using the tool.]
"It is designed to lift and contour the face and body while improving circulation and firmness," explains Edyta Jarosz, Global MDNA Skin Brand Ambassador and Lead Aesthetician at PFRANKMD® in New York. She also adds that using it enhances the absorption of your skincare products, as it's literally pushing them into your skin. And as someone who wants to get the most out of his SkinMedica® TNS Essential Serum® ($281) and Votary® Super SeedTM Face Oil ($110), I do not take this statement lightly.
While the Beauty Roller looks intuitive, there is a method and technique you should practice in order to maximize its efficacy. Start at the forehead and roll it up and down the center, from the top of the nose to your hairline. Repeat the same move over each eyebrow (this personally helps me look more alert). Follow by rolling only in the upward direction from your cheekbone to the temple, repeating 10 to 15 times for best results. Then, roll from the chin (along the jawline, toward the ear) with similar repetitions. After finishing both sides of the face, roll behind my ears and down the neck.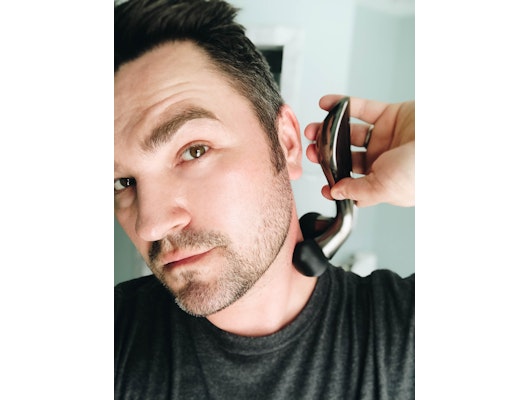 Bart Kaczanowicz
As mentioned previously, you can also use the Beauty Roller on your body, including your arms, legs and décolleté — wherever you want to help visibly lift, firm, or tone the skin. There are practically no rules to using the device except one: use upward strokes on your face, which promote both the lifting effect and lymphatic drainage. Then, when you use a downward motion on your neck, you help drain the lymphatic fluid, helping to reduce puffiness. (Not surprising, then, that Madonna herself recommends it for relieving hangovers.)
Furthermore, you don't need to apply your full skincare routine before rolling to reap the benefits of the device. "The Beauty Roller also works amazingly well on bare skin," affirms Jarosz. That's why sometimes I reach for it mid-afternoon and pair it with a few spritzes of MDNA The Rose Mist ($120). It perks me up as I'm hitting the wall in front of my MacBook® (and it's a way healthier alternative to a cookie). Because my morning routine is minimal and often rushed, I typically roll over my serum between sips of espresso. At night, I choose to invest a few extra minutes to roll away the fatigue and stress of the day. This ritual powers up whichever face oil or night cream I have in rotation.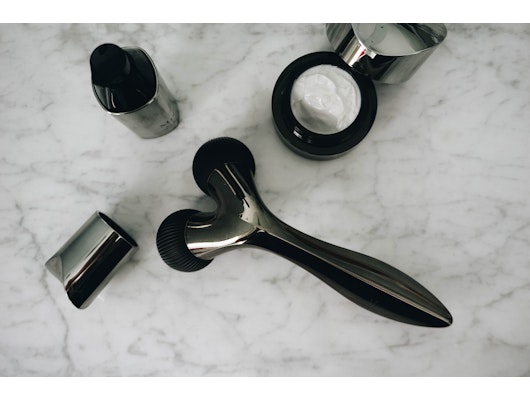 Bart Kaczanowicz
It's important to note there isn't anything new about the concept of a facial roller. I've owned a somewhat similar-looking tool which, like the MDNA device, is also made in Japan. But that's where the similarities end. Remember, she who defines reinvention — Madonna — is behind this roller, and it has more benefits than meets the eye.
"The MDNA Skin Beauty Roller is made of carbon, which is the first of its kind," confirms Jarosz. Remembering back to what you were expected to memorize in chemistry class (I don't remember anything beyond the molecular structure of water and oxygen), carbon is a nonmetal that absorbs and re-emits ultra-infrared energy. Energy is technically heat, but it's a gentle heat that you can't really feel. Nothing will burn, I promise.
As I'm a skeptic by nature, I decided to put the Beauty Roller against an ice cube to see this energy in action. I was mesmerized by how quickly it melted on contact with the roller's spheres — and no, there was no sizzling nor smoke. This is all to say that the slight increase in temperature of this device will help treatment serums and creams absorb even deeper into the dermis.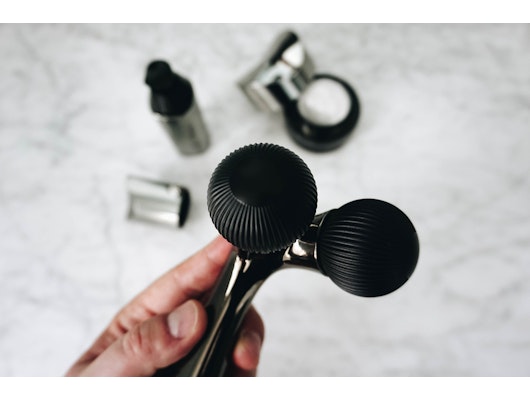 Bart Kaczanowicz
That means that the MDNA Skin Beauty Roller is neither skin type- nor age-dependent: almost everyone can reap these benefits. I may not need major lifting or firming at 38, but my life features enough late nights and travel that can cause my face to look puffier, duller, or more fatigued than I'd like. When the roller glides over the skin, it increases circulation and relaxes the muscles. Extending the application down the neck to your shoulders can lessen stress and tension.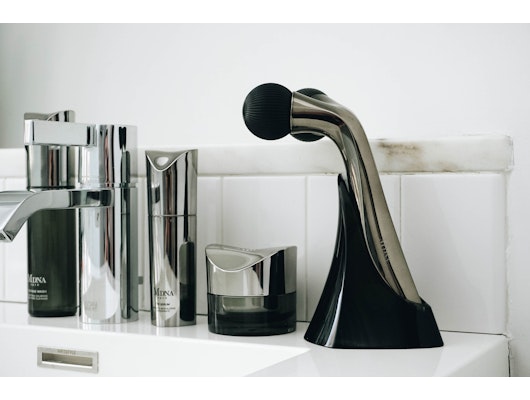 Bart Kaczanowicz
For all these reasons, I have no excuses to not pick up the carbon roller — especially considering that consistency is crucial for those of us wanting to achieve visible results. That said, I have not given up my BeautyBioTM Rose Quartz Roller ($60) just yet! It is still in the fridge as my emergency go-to a couple of mornings a week. But MDNA did replace my other dual-sphere rolling tool, proving that second best is never enough.
Complimentary product was provided to the author for the purpose of writing this article.
Product prices may vary from the time this article was written.
Allergan® may receive commission for purchases made through links in this article.
SkinMedica® is an Allergan-owned skincare line.