You've no doubt heard vitamin C come up in conversations with your dermatologist, in vlogs starring your favorite beauty gurus, and/or in articles featured on sites just like this one. Afterall, it's one of those illustrious skincare ingredients that seemingly solves a slew of skincare woes (think: brightening skin, boosting collagen, and possibly even thwarting UV damage). But there is a great deal of contradictory information on how to use it: some experts advise evening use, while others say it's all about morning application. Many claim you can't combine it with other active ingredients, but conflicting opinions say that's not true.
We spoke with NYC-based dermatologist and founder of the Dr. Dennis Gross® Skincare line, Dr. Dennis Gross and SkinCeuticals® Global Scientific and Medical Affairs consultant Hina Choudhary to uncover the basics behind this antioxidant-enriched treatment.
What does topical vitamin C do for my skin?
There are three key benefits worth noting.  First and foremost, it's an antioxidant — meaning that it fights free radicals. Essentially, free radicals are unstable atoms that are seeking balance from anywhere possible — and that includes your skin. This affects the molecular composition of your complexion and weakens it. "Free radicals are these 'bad actors' that act like arrows and actually poke holes in the skin's collagen," he explains."[Free radicals] can [also] create dullness and redness in skin. [They've] been implicated in inflammation as well."  (Learn more about free radicals here.) 
Vitamin C has also been shown to stimulate collagen, which we all inevitably lose as we age. "Fine lines, wrinkles, elasticity, droopiness, and crepiness [all happen] because you're losing collagen," says Dr. Gross. Incidentally, Gross says that ingesting collagen and/or applying it topically does not necessarily translate to actual collagen in your skin. The good news: vitamin C can stimulate collagen production, according to Gross. Using and consuming vitamin C can trigger fibroblasts (the cells in your skin that create collagen) to begin collagen synthesis. The result can be firmer, tauter skin. (For a more in-depth look at collagen, including other ways to rebuild it, go here.)
Finally, vitamin C can help minimize various forms of skin discoloration. "It helps reduce the excess production of melanin, which is what is implicated in melasma, in postinflammatory hyperpigmentation, age spots, sun spots, [and] acne marks," Gross explains. Vitamin C does this by inhibiting melanocytes (the cells responsible for creating skin pigment) and their ability to darken. He adds, "the sheer diversity of what vitamin C [can accomplish] is unmatched."
What is an effective form of vitamin C to look for in skincare products?
Don't just grab any ol' vitamin C-infused serum and hope for the best. To get the most benefit, look for L-ascorbic acid. According to Choudhary, it is vitamin C in its purest form. Dr. Gross agrees that L-ascorbic acid is a highly effective form in the vitamin C world. However, he says it has limitations, particularly because the natural form of L-ascorbic acid is only soluble in water. "Things that dissolve in water do not dissolve in oils and lipids," he explains. Because our skin is part oil as well as water, the L-ascorbic acid can only be absorbed so deeply, meaning you might not get as much of an impact from your product as you'd hoped.
To combat this phenomena, Dr. Gross created his own molecule called 3-O-Ethyl ascorbic acid (Gross added a "tail" to Vitamin C in its ascorbic form.)  "That tail makes it lipid soluble, and the molecule itself is still in water," he says. "So it migrates [through] both phases of the skin. It's more concentrated, so you get better results." His proprietary vitamin C formulation can be found in his "super concentrated" C + Collagen® Brighten + FirmTM Vitamin C Serum ($78).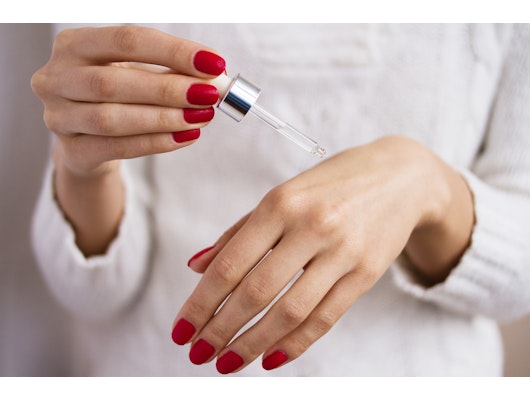 iStock / iprogressman
Despite its limitations, L-ascorbic acid plays a key role in the cult-classic  Skinceuticals C E Ferulic® ($166) — along with 1 percent vitamin E and 0.5 percent ferulic acid. "It effectively increases vitamin C levels in the skin due to pure L-ascorbic acid, [which is] at an optimal concentration and pH," Choudhary says. The serum is ideal for normal and dry skin types thanks to nourishing vitamin E. If you prefer a different application format, ferulic acid, vitamin E, and vitamin C are combined in the DERMAdoctor® Kakadu C® Intensive Vitamin C Pads ($78), which deliver the ingredients via a simple (and lazy) to use wipe. PeterThomasRoth® Potent-C® Targeted Spot Brightener ($58) also blends the three powerhouse ingredients in a formula specifically designed to target hyperpigmentation spots.
It's also important to note that your skin can only absorb so much L-ascorbic acid as it is — namely, a 20 percent concentration — so seeking out that level of vitamin C in your products is ideal. Of course, make sure your skin is properly exfoliated before applying your formula of choice (you don't want any dead skin cells to soak up all that vitamin C!). Then slather on a serum with a 20%high concentration of vitamin C, like Obagi® Professional C Serum 20% ($127) every day to reap its benefits.
Should vitamin C be applied in the morning or at night?
Generally, vitamin C can be included in either your morning or nighttime skincare routine. However, Choudhary points out that it might be more efficacious to tap into its antioxidant power in the daytime.  
"Sunlight is known to induce damaging free radicals," she explains. Therefore, vitamin C and its antioxidant superpowers can help provide a shield between your skin and the harmful effects of UV rays. You can get the most sun protection from vitamin C by seeking out a formulation that combines the ingredient with SPF. The Murad® Essential-C Day Moisture Broad Spectrum SPF 30 / PA+++ ($65) pairs these two essentials with phospholipids, to keep skin hydrated as well as protected.
Does it matter if my skin is wet or dry when vitamin C is applied?
According to Choudhary, if the product is formulated at the right pH and concentration, it will be effective no matter if the skin is damp or dry. "Of course, overly wet skin will just dilute the product, so it's better to avoid," she says. Dr. Gross agrees: "Water can block penetration — you don't want to have skin that's [too] wet."
Do I have to wait to let vitamin C absorb before moving on to the next step in my routine?
Technically, no, you don't. But allowing your skin to dry after applying a vitamin C serum— even for as little as two minutes — will help it better absorb into your skin. Plus, Choudhary says giving your products a moment to penetrate will also help reduce the potential for them "balling-up" after they are applied, otherwise known as pilling.
Is it true that retinoids/retinols and vitamin C should not be applied at the same time?
Dr. Gross explains, "Retinol is vitamin A, vitamin C is vitamin C . . . Both of them are in every multivitamin there is." In fact, you can find the two paired in many products, including the popular Kate Somerville® +Retinol Vita CTM Power Serum ($98) (which also includes hyaluronic acid to stave off dryness). That said, if you have sensitive skin, you may want to consider alternating your retinol and vitamin C applications. 
[Editor's note: Retinol shouldn't be used by those who are pregnant, considering getting pregnant, or nursing. Please consult with your doctor before use.] 
Choudhary, on the other hand, is a bit more wary about cocktailing these potent ingredients — the potential for irritation, she explains, might come from how the product was originally crafted and not from the ingredients themselves.
"The pH often plays a role in the compatibility of certain ingredients," she explains. "The pH of a Vitamin C product formulated at an optimal pH level can be much lower than most retinols." As a result, mingling the two could cause irritation.  For more information on retinols, read our ultimate guide to retinoids here. 
Do I need a separate vitamin C product for use under the eyes?
Just because vitamin C has brightening properties doesn't necessarily mean you should slather it on your shadowy undereye area with reckless abandon. It's best to get a separate, lighter-weight product specialized for the delicate, thinner, and often more vulnerable undereye skin.
"It's not just about the ingredient, it's about how it gets into the skin and [how it is] delivered to the layers you want it to go," Dr. Gross says. "I want something a little more hydrating, more emollient in that area. The skin around the eyes doesn't really have oil glands, so you have to use something more hydrating, more rich." For a boost of radiance under the eyes, try the Ole Henriksen® Banana Bright Eye CrèmeTM ($38), which also includes collagen and brightening pigments to help illuminate and color-correct.
At what age should I start introducing vitamin C into my regimen?
It's never too late to start using antioxidants — even 20-somethings who may not be worrying about the negative effects of sun damage just yet.
"Remember, it builds collagen. You may not see wrinkles [but there could be collagen breakdown]. Using vitamin C preemptively is very smart and recommended for that age group," says Gross.
Product prices may vary from the time this article was written.
Allergan® may receive commission for purchases made through links in this article.