From afar, my complexion appears decent. Aside from hormonal breakouts here and there, acne was never a struggle of mine, so I don't have much scarring. However, I grew up a chronic face picker. I've spent hours squeezing those sporadic zits, along with blackheads in the mirror, and though I've cut down on the habit with age (and by never stepping foot near a magnifying mirror), I have the enlarged pores to prove it. Just ask my mom, an esthetician, who reminds me of them every time she examines my face under a magnifying lamp.
In addition to my enlarged pores, I have moderate to severe lines on my forehead, so diminishing their appearance is a constant goal of mine. From microdermabrasion to at-home chemical peels, I've experimented with a vast array of treatments in pursuit of "perfection." I'm not quite there yet (after all, perfection is rarely achievable!) but I'm determined to make 2020 the year I inch a little bit closer. Below, I've outlined my step-by-step process for trying to make that happen. I'm putting a flawless complexion and look on my list of 2020 resolutions — feel free to follow them, too!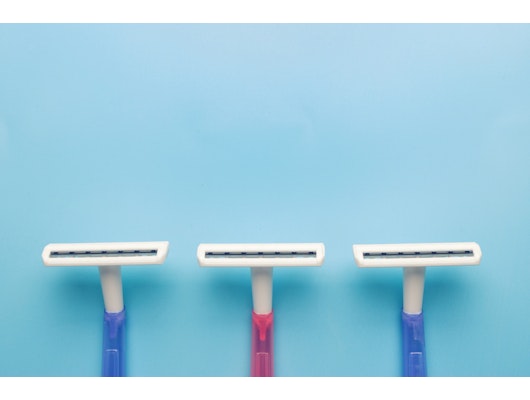 iStock / Liia Galimzianova
Dermaplaning for removing peach fuzz
Most people gasp when I tell them I shave my face once a week. And I get it — it can be hard to envision a woman taking a razor to her chin and cheeks. But the results, I've learned, are worth the confused reactions, and I'm happy to explain why it's a must in my facecare routine.
The most advanced version of facial shaving is called dermaplaning, and this process acts as an intense exfoliating treatment. According to Joie Tavernaise, esthetician and founder of JTav Clinical SkincareTM in New York City, "dermaplaning is a painless method of exfoliation, which uses a blade to remove dead face cells and vellus hair, aka 'peach fuzz.'"
The results: immediately softer face that lasts for weeks at a time. If you'd prefer to "shave" your face at home, try an at-home device, such as the DermaFlash® 2.0 Facial Exfoliating Kit ($189). The device offers less intense exfoliation than a pro treatment, but the face feels smoother and fuzz-free nevertheless.
[Editor's note: Talk to your doctor before starting or stopping any new treatment.]
Laser for a smoother texture
That smooth, filtered look you see on celebrities in real life is often the result of laser treatments. According to Hollywood dermatologist Dr. Harold Lancer, one that works to achieve those results is called PicoWay®, and it's effective on all face types.
"It's a color-blind laser that is used on all ancestries and ethnicities to reduce pore size, soften scar tissue, and reduce excess pigmentation," he explains. "It uses a near infrared frequency of light, transferring the light energy into mechanical acoustic energy to break up excess melanin clusters." Translation: fewer age spots and an overall more even complexion.
Injectable wrinkle reducers for smoothing moderate to severe lines on the forehead
I began experimenting with injectable wrinkle reducers at the age of 24, when I became fixated on the two (now three) horizontal moderate to severe lines that span the length of my forehead. My dermatologist told me it was a good time to start, and I'm glad I did. Now, I keep up with it about every five months in order to smooth the appearance of those lines.
---quiz start
---quiz end
[Editor's note: Injectable wrinkle reducers are used to temporarily smooth the look of moderate to severe wrinkles in certain areas of the face such as the forehead, frown lines, and crow's feet. They should not be used more frequently than every three months. Like any medical treatment, they have potential risks and side effects. Be sure to talk to a licensed provider to see if they're right for you. Have more questions? Chat with our team of trained aesthetics specialists now.] 
Microdermabrasion for extreme exfoliation
I try to exfoliate with a scrub or Clarisonic® brush at least twice a week, but sometimes an at-home scrub just isn't enough. For a more intense face slough, I swear by microdermabrasion. In the words of celebrity esthetician Joanna Vargas, the treatment entails "mechanical removal of dirt and dead skin cells via a machine that either has a diamond-tipped wand, [sand], or crystals that shoot at the surface of the face."
Because microdermabrasion provides such intense exfoliation, it allows products to sink more deeply into the face. For the same reason, the treatment should be limited to a once-per-month basis, Vargas notes.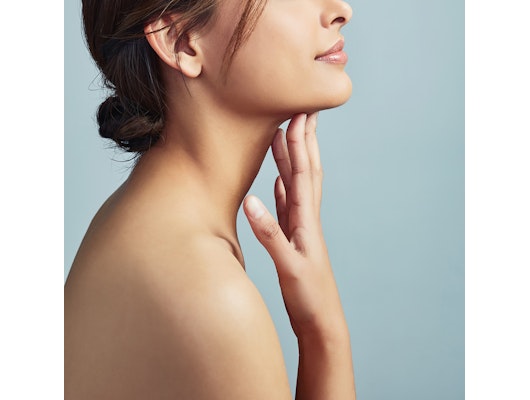 iStock / PeopleImages
Chemical peels for a major glow
A few times a week, when my face is feeling dull, I swipe on an at-home chemical peel to gently exfoliate and remove dead face. My current favorite: PeterThomasRoth® Un-Wrinkle® Peel Pads ($45), which use alpha-, beta-, and gamma-hydroxy acids to support cell turnover. Simply take out a moist pad (doused with said acids), swipe it over your face, and wait for up to three minutes before rinsing with cool water.  The formula tingles while it's on, but the afterglow is totally worth it.
Retinol for overall maintenance
Before bed, I slather my face in SkinMedica® Retinol Complex, which I layer beneath a rich moisturizer like Weleda Skin Food® ($10) to prevent dryness. "Retinol is a synthetic derivative of vitamin A, which works to replace dead skin cells with new cells, reducing the appearance of fine lines and wrinkles, discoloration, pore size and providing an overall more radiant, smoother complexion," explains Dr. Lancer, who recommends using it at nighttime. "The skin's repair mechanisms are at a higher gear during hours of sleep," he notes. A word to the wise: Your face may need to build a tolerance to retinol if you've never used it. Start off applying twice weekly before slowly progressing to more frequent use.
[Editor's Note: If you are pregnant or considering becoming pregnant, you shouldn't use retinol-based products. Please consult your doctor before use.]
Some products were gifted to the author for the purpose of writing this article.
Allergan may receive commission for purchases made through links in this article.
SkinMedica is an Allergan-owned product line.