In this series, Top 11, influential people share 11 ways they take care of themselves including beauty, skincare, and aesthetics. Knowledge is power!
It's said that creativity doesn't exist in a vacuum, but style influencer Brittany Xavier's career disproves that theory. Xavier founded her blog Thrifts and ThreadsTM in 2013, when she was working a "very corporate job" as a marketing executive, and yearned for a creative outlet. "My husband and I thought, 'Let's show what we're doing on the weekends as a family and show my outfits,' because I loved to show affordable styles mixed with designer pieces," she explains. Month over month, her number of followers — and brands that would feature her — grew. Just two years later, in 2015, she turned her side hustle into her full-time gig.
In fact, the 32-year-old mom and entrepreneur's success grew so exponentially that Xavier's husband Anthony joined her shortly thereafter, quitting his job to work on Thrifts and Threads full-time, too (he shoots all of her photos). And it's that hard work — and interpersonal connections — which she says are essential to making it big as an influencer. "Networking is the epicenter of any business, especially blogging," she shares. "Also, be ready to work hard!"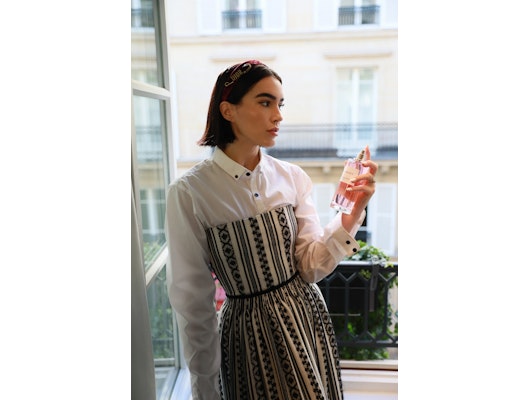 Anthony Xavier/Thrifts and Threads
Xavier is pictured wearing Dior and Dior Makeup.
Anyone viewing the life of an influencer from the comfort of their Instagram® feed might believe that the work is anything but hard, but Xavier points out that this is a common misconception. "It's funny — because we're doing these trips, and different events, and I'm there to create content, I have very little downtime," she explains. "But from the outside, it seems like, 'Oh, we're going to lunch.' I'm not showing all the behind the scenes . . . [how I'm] up until 4 a.m. working on my computer and meeting our deadlines."
Those late nights are frequent (even during Fashion MonthTM, for which this year, she headed to London with Dior®), but despite that, she always makes time to keep her skin healthy and glowing. "I never go to sleep without taking off my makeup and washing my face," she insists. "Even when I'm extremely exhausted during Fashion Month, I'll be doing my whole skin routine at night."
Skincare is especially important to Xavier now, because of past sun damage. "Protect your skin from UV!" she warns. "I laid out in the sun at the beach so much during high school and would burn my skin — something I really regret, because the damage is already done." But just a quick glance at her complexion would never betray her past skin indiscretions. Her skin is truly radiant, and perfectly framed by bold brows (which she credits to her half-Argentinean heritage, brow stylist Tyler at Los Angeles's StriiikeTM, and Hourglass® Arch Brow pencil ($34) for added definition).
To discover exactly how Xavier accomplishes such radiance, keep reading. Below, she shares the Top 11 products she swears by for her luminous, healthy skin, plus her other must-have beauty essentials.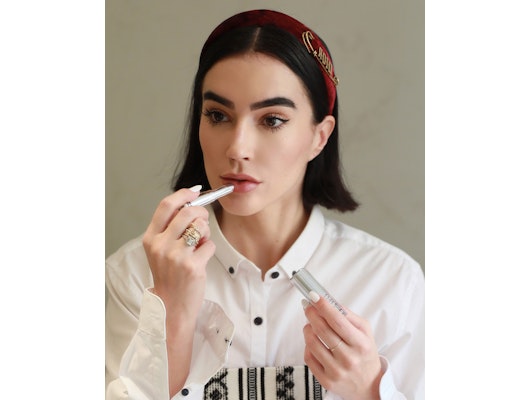 Anthony Xavier/Thrifts and Threads


Xavier is pictured wearing Dior and Dior Makeup.
 1) Sonya Dakar® Sensi WashTM ($59): "This face wash smells amazing, but never leaves my skin feeling dry. It's also great for sensitive skin."
2) Sonya Dakar Organic Omega Booster® ($52): "This has all natural oils, and right out of the shower, I press a few drops into my skin to really get it moisturized before starting my makeup."

3) Dr. Barbara Sturm® Glow Drops ($145): "I love how this serum makes my skin look dewy, and my foundation sits better with it underneath."

4) By Terry® UV Base Sunscreen Cream SPF 50 ($55): "It's so important for me to have a lightweight sunscreen that I can wear daily and this one is great."

5) Tata HarperTM Skincare Crème Riche ($185): "All of Tata Harper's products are very natural and this makes my face feel amazing. The jar is a little larger for a moisturizer and I still go through it [fast] — because I use it so frequently!"
6) Dior Pump 'N' VolumeTM Mascara ($30): "I love a good bottom lash and found that some other mascaras I've tried leave a black residue under my eyes by the end of the day. This one stays in place and makes my lashes look full."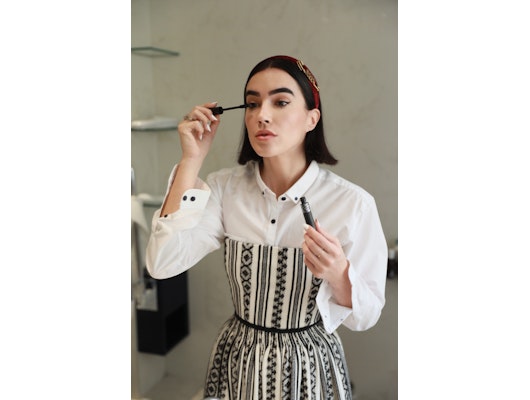 Anthony Xavier/Thrifts and Threads


Xavier is pictured wearing Dior and Dior Makeup.
7) tarte® Clay Stick Foundation ($39): "One of my really good friends, who is also a makeup artist, got me hooked on using this as a foundation. The consistency is dewy, but still stays in place."

8) Dior Holy Peony® Fragrance ($220): I just discovered this new scent on my recent trip to London and it's very fresh, a great day fragrance. Just a spritz on each wrist and I still can smell it toward the end of the day.
9) beautyblender® ($20): "This is a necessity for applying concealer under my eyes and giving my cheek area more of a lighter pop of foundation. I get the sponge barely wet and squeeze out any excess water before using it."

10) TarteistTM Double Take Eyeliner ($24): "When I have a little extra time to do my makeup, I love a good winged liner and this one is great."

11)  Dior Addict Lip Maximizer® in Beige ($34): "I always wear a lip liner, but like to top it with gloss — otherwise I feel too dry. This gloss smells amazing, but adds a bit of plumping, which I love."
Product prices may vary from the time this article was written.
Allergan® may receive commission for purchases made through links in this article.