There's no question that exercise is one of the best things you can do for your body and your mind: It's a heart-strengthening, bone-building, sleep-improving, weight loss-inducing, attitude-adjusting, stress-reducing, memory-sharpening miracle. If we listed all the health advantages of exercise here, the volume of data would make your computer run slow. 
On the flip side, it's hard to miss the somewhat less pleasing effects exercise can have on the way you look: Your skin gets sweaty and makeup slides down your face; your nails get whacked against equipment and broken; and you can just kiss your blowout goodbye. Go beyond those short-lived cosmetic crises, however, and you'll find that exercise has some very worthwhile beauty benefits. Our experts in skin, hair, and nails share some of exercise's surprising aesthetic side-effects, the pitfalls to avoid (or at least mitigate), and myths it's safe to ignore.
Skin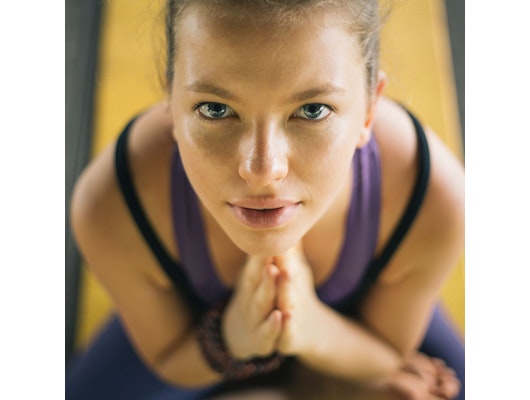 Stocksy United / Jovo Jovanovic
The Good: "I've seen people [that do endurance training] come into the workout with gray, tired-looking skin and walk out looking fresh and alive," says David Kirsch, fitness and wellness curator at The Core ClubSM. "Clients leave feeling younger, happier, and sexier." And there's a scientific reason for that.  Endurance exercise normalizes age-related mitochondrial dysfunction. It may promote longevity through pathways not uncommon to the effects of caloric restriction. Damn good incentive to get on that elliptical, eh? 
The Bad: Unsurprisingly, exercising outdoors without sun protection can undo all the good you're doing to your skin. "As trends in what women wear during their workouts change over the years, we're getting more sun exposure and damage when we exercise outdoors," says Amy Wechsler, MD, a New York City-based dermatologist and psychiatrist and a lifelong athlete. "Tanks and skimpy workout tops leave so much of the back, chest, and arms exposed." 
There's nothing better than covering up: crew-neck shirts, biking gloves, sunnies, and hats. For areas you can't cover with clothes, Wechsler recommends SPF 30 to 50 mineral sunscreens with zinc oxide and/or titanium dioxide, which she finds "stick to your skin better and don't sting if they get in your eyes." Try Chanel® UV Essentiel Multi-Protection Daily Defense Sunscreen Anti-Pollution Broad Spectrum SPF 30 ($55), which is lightweight and non-greasy (perfect for outdoor exercise).
The Myth: High-impact cardio can cause sagging. "Most competitive runners run outside, so it's hard to parse whether it's the sun or the impact against the pavement doing the damage," says Wechsler, who sees the sun as likelier culprit, and hasn't seen any studies demonstrating the latter.  
In addition to the UV exposure, David E. Bank, MD, a dermatologist in Mt. Kisco, NY, posits that "runner's face," the bony, jowly look common among marathoners, is because extreme athletes lose so much fat all over, including the subcutaneous (just-under-the-skin) fat on the face. A skilled injector can do a fat transfer procedure, transferring living fat cells from a donor area to restore volume to those sunken areas.


Hair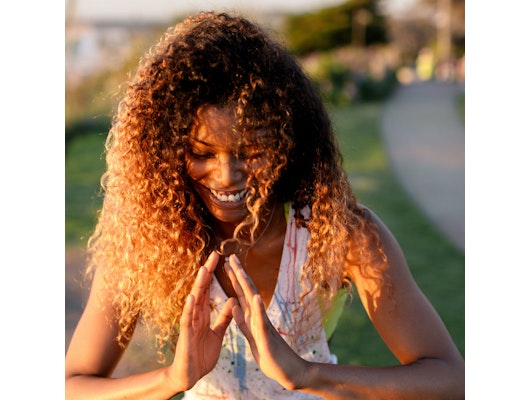 Stocksy United / Rob and Julia Campbell
The Good: "We tend to attribute hair loss to external factors, like chemical or environmental damage, but just as often, hair loss is triggered by something internal, like sudden weight loss, hormones, or stress," says celebrity colorist Rita Hazan owner of the eponymous salon in New York City. "Increasing blood circulation to the scalp helps combat all the causes of hair loss."
The Bad: Ponytails and top knots keep your hair out of your face while you sweat. But if you've ever struggled to extract a hair tie from a simple updo, you know that those elastics can rip your strands right out. "Never use a hair tie with metal seams," warns Hazan, who instead recommends bringing the '90s back with a terrycloth or silk scrunchie like Slip® Silk Scrunchie ($39 for three). These will easily glide out of your hair without snagging. 
The Myth: Sweat can alter your hair color. "That's B.S.," says Hazan. "It's not the sweat that's the problem; it's that you have to wash your sweaty hair, and the shampoo can remove some of the color." The solution: Use a shampoo that prevents fading, like the sulfate-free Aloxxi® Hydrating Shampoo ($19), and a weekly at-home gloss treatment like Hazan's own Rita Hazan True Color Shine Ultimate Shine Gloss ($26), to refresh and add vibrancy to your color.
Also, because sweat itself isn't the issue, Hazan would like us all to just back off dry shampoo after exercise: "Would you put powder right onto your sweaty face?" Ew, no. "Think of your scalp as skin — too much powder will clog your hair follicles and cause scalp breakouts," she says. (Or worse — congestion in the scalp could eventually lead to hair loss, because the hair won't be able to emerge from the follicles.) "You're better off leaving your hair sweaty and just hitting it with a blow dryer than using dry shampoo every time."  
Nails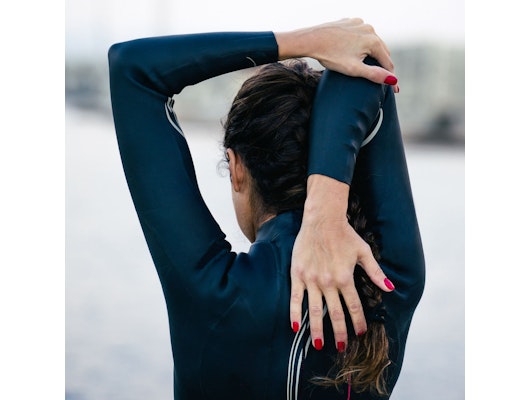 Stocksy United / BONNINSTUDIO
The Good: That blood flow we talked about earlier is great for your nails, too! "Exercise helps to increase our blood circulation which [may] bring more oxygen and nutrients to the matrix area where the nail cells grow," explains Tom Bachik, OPI® global nail artist. "Regular exercise also can lead to better sleep which proper sleep helps aid in cell renewal. The combination of these things lends to healthier, faster growing nails."
The Bad: If you drop a kettlebell onto your fingernail, it is going to break. But there are ways to prepare your nails for thwarting lesser evils. "Your nail's strongest shape is the mirror image of your own cuticle," says celebrity nail stylist Elle, who cautions against filing along the sides of your nails to achieve that shape. You'll also want to avoid post-workout hand sanitizers and antimicrobial soaps, which dehydrate nails and increase the chance of cracking, splitting, and peeling, says Bachik.  
Both nail pros really, really want all of us to use cuticle oil daily to keep our nails hydrated and resilient. Try OPI ProSpa Nail & Cuticle Oil ($10), which features grapeseed, sesame, and kukui oils to provide lightweight but nourishing hydration.
The Myth: Nails need time between polish or enhancements to be naked and breathe. "False!" says Elle. "Nails don't have lungs — they don't breathe." Explains Bachik, "because nails receive oxygen and nutrients from the bloodstream, they do not need to receive oxygen to penetrate from the open air." However, your nails can tell you if your body isn't getting enough oxygen: Blood that turns bluish-red, indicating a lack of oxygen, can sometimes make your bare fingernail look blueish. If that's the case, you need an MD, not a manicure.
Cheryl Kramer Kaye received complementary products for the purpose of writing this article.