In a world where clocking in eight hours of shuteye seems less plausible than winning the lotto, many of us need all the help we can get to look bright-eyed and well rested. Trusty concealers and light-reflecting eye creams aside, one way to enhance the upper third of our faces is via our lashes. Long, thick, dark lashes not only make your eyes stand out, but can make you appear more youthful as well as awake. Below, five ways to get your eyes popping — without a single swipe of mascara.
Ditch Strip Lashes for Individuals
Raise your hand if you'd rather scoop cat litter than apply a set of strip lashes. While gluing the fibers one by one may sound like an even more frustrating feat, that's often not the case."Some people find individual lashes easier to apply than strip lashes," confirms Jadene Munson, Global Brand Ambassador for Ardell® Lashes.
Unlike fitting an entire strip perfectly across the eyelid, individuals afford you the freedom to place an accent lash precisely where you want it — without having to fuss with lining up a queue of lashes. Munson advises using a slanted tip tweezer for optimal placement control.
"To avoid unevenness, start by applying one individual [lash] in the center of your lash line first," Muson advises. Simply pick up the lash and dip the base into a dab of glue. Once it's gotten tacky, hover over the area you'd like to accentuate, and let go. "Individual lashes are feather light; you can easily drop one [once you've decided where you want it]," Munson says.
Using this central lash as a guide, work your way towards the outer corner. Once you've lined from center to outer edge, repeat the process — this time from the center of the eye toward the inner corner, Munson says. This technique will give a full-fringed look. Best of all, individual lashes can be toggled to create a look that's as dramatic or subtle as you like.
As you apply your lashes, remember that it's important to consider their lengths. "Avoid [using] lashes too short to where you can't see them, or too long that they touch your eyebrows," Munson warns. Moderation is key! And unfortunately, unlike strip lashes, individual ones cannot be reused. Luckily, most individual lashes come in large packs, so a single purchase will likely last you a while.
Load Up on Lash Extensions
Just as hair extensions can create instantly an fuller-looking mane, lash extensions can add significant oomph to your eyes that lasts for weeks on end. "Women of all ages can benefit from lash extensions," says Clementina Richardson, founder of Envious Lashes® and lash artist to stars like Mary J. Blige, Naomi Campbell, and Kate Capshaw. "You can toss away your eyeliner and mascara because your lashes will look flawless and fresh without a stitch of makeup!"
In addition to adding more length and/or volume than mascara could ever muster, extensions can give the illusion of longer eyes, wider eyes, or what Richardson calls an instant "lift."
Once you've found your lash stylist (more on this shortly), prepare to block out a good two hours for your extension appointment. (Your eyes will be closed the entire time, so you can think of it like as a scheduled nap.) Your lash stylist will place pads below and above your lash line before using a super-strong glue to bond the faux lashes directly to your real ones.
Richardson warns against steam and/or wetting your lashes for the first 48 hours post-application, which could cause the glue to disintegrate. Using heavy creams and oil-based products (including oil-based eyeliners) with lash extensions is another no-go, as oil can loosen the bond. "Only use cleansers specifically formulated to be safe for eyelash extensions," explains Richardson. "Other products may contain ingredients that can weaken the bond of your lash extensions and cause them to shed prematurely."
However, it's worth noting that lash extensions can get pricey, with costs surging to around $500 per appointment for high-demand artists. To protect your investment, Richardson advises applying a protective topcoat like Envious Lashes Protective Coating ($30) two days post-service. This can secure the bond between your real and faux lashes, preventing it from weakening too quickly. Sleeping on a silk pillowcase could also help, as it will reduce lash friction and pulling.
Moreover, to protect your lashes, it's crucial to find a certified lash stylist. "Depending on the state, the stylist also needs to be licensed, [in addition to] certified," says Richardson. Safety aside, the adage, "you get what you pay for" certainly applies to lash extensions. "Lash extensions are a lot easier to mess up than they are to get right," Richardson warns. "If you go to an inexperienced lash stylist, chances are, you're going to end up with uneven, clumpy-looking lashes. Even worse, they can damage your natural lashes which can also prevent regrowth."
Doing your homework is key, Richardson adds. "Just like you would research a great hair colorist or personal trainer, avoid going to any lash stylist that can see you at that exact moment, or who is offering a [suspiciously] low price."  
Enhance the Hue With a Tint
Similar to how our hair eventually turns grey, our eyelashes can also lose pigment — either at the tips (which can cause an unintentional ombre effect) or the entire lash. According to lash expert and founder of Starr BeautyTM, Andrea Starr, lash tinting aims to bring lashes back to their most vibrant, natural-looking hue. Depending on your coloring, the most flattering shade might be something other than inky black. "If someone has red or auburn hair, they might want lashes that are a medium brown," she says.
Whichever color you choose, the process entails slathering a vegetable-based or henna-based tint over the area. Unlike coloring your hair at a salon, tinting your lashes takes a mere minutes. (Incidentally, never, ever allow someone to use actual hair dye on your lashes — it's unsafe and downright illegal.) Tinting lasts until your lashes naturally shed, which usually equates to a month or two. A little bit of caution right after treatment will help the tint last to its fullest potential. Starr advises waiting around 12 hours before applying mascara over your newly-tinted lashes and/or getting them wet so the color can set.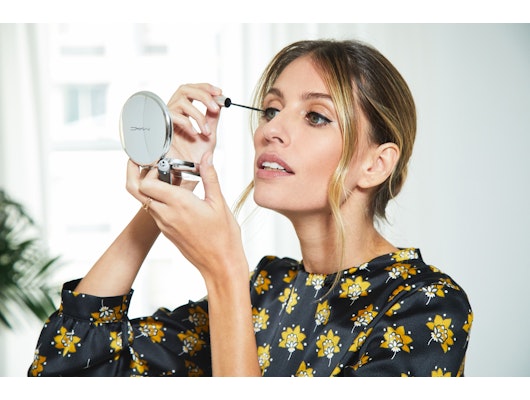 Photo by: Ben Stone
Smooth Them Out With a Treatment
With age, lashes can become dull and/or weak. One way to return them to their natural lustre is with a lash conditioning treatment. "[These formulas] are fortifying treatments for your lashes to make them softer and silkier — picture a conditioning keratin treatment for your hair," Starr analogizes. "Your lashes definitely feel a lot healthier afterwards." (SpotlyteTM's Senior Beauty Editor tried a lash conditioning treatment and the results delivered.) Not only will conditioning treatments promote a glossier fringe, but they can also help resuscitate damaged lashes.
To apply this treatment, your lash stylist will adhere two pads underneath your lower lash lines to protect the undereye area. Then, they'll slather a creamy substance (similar in feel to a hair conditioner) over the top lashes. After a few minutes, the treatment will be removed to reveal instantly softer lashes. For an at-home lash softening treatment, try a product like the Lashfood® Conditioning Collagen Lash Primer ($20), which contains peptides, keratin, and arginine to strengthen weak lashes.
Crank Up the Curl
If you're constantly coaxing limp lashes with your lash curler, consider giving your them longer-lasting kick (er, curl) in the right direction. Similar to how a perm can add curl to your hair, eyelash lifts temporarily change the curl structure of the lash with a specially formulated chemical solution.
[Editor's note: All chemicals have potential risks and side effects. Be sure to talk to your doctor before starting any new treatment.]
As with any formula used near your eyes, it's crucial to ensure you're getting a safe solution. Starr says a lash lift should not emit a chemical smell and should not sting your eyes. For lash lifts, it's vital to see a lash specialist (not just someone who happens to do lifts on the side!).  Another note on formula: Lash lifts come in various degrees of curliness, depending on how drastic of a lift you're looking for. The result: perkier lashes that'll make you forget your eyelash curler at home. Better yet, Star said the lift can last six to eight weeks.
Product prices may vary from the time this article was written.
Allergan® may receive commission for purchases made through links in this article.