Depending on who you ask, I am either an old millenial or a young member of Generation X. This is important information to know when you want to visualize the state of my brows prior to getting them professionally tattooed. The look of the popular, pencil-thin lines of the '90s was at its peak when I was in high school, and though I did eventually put the tweezers down in favor of a more natural shape, sadly, some eyebrow hairs appear to be gone forever.
In an ideal world, my brows would match my hair: thick, full, and just unruly enough that it looks like I'm not even trying to make them look "done." I've tried nearly every brow pencil, stencil, gel, dye, growth serum, and powder, but I've just never had the patience (or frankly, the skill) to make my brows fuller than they naturally are. This frustration is what drew me to microblading in the first place.
Over the past three years, microblading has become very mainstream (there are over 7.9 million #microblading posts on Instagram® alone). While it is promoted as being semi-permanent, it is, in fact, a cosmetic tattoo. It is traditionally done with a handheld blade (which resembles an X-Acto® knife) that's intended to create subtle, natural looking brows by imitating the small strokes of eyebrow hairs.
I am actually somewhat embarrassed to admit that my first microblading experience was done following the purchase of a Groupon® in January 2017. The total for the treatment was well under the going rate (which is typically $400 to $1,400, depending on your location and the artist), and in hindsight, you do get what you pay for.
I still had to fill in my brows every day, the arch wasn't as clean as I had wanted, and the pigment faded into weird splotches that looked like someone had tried to shade my brows with a sheer brown marker. I knew if I ever had the chance to get microblading done again — and I definitely wanted to after seeing so many successful, realistic looking brows on Instagram — I would have to do some serious research on who to go to and not just let my desire for a "good deal" take over.
When I got the chance to revisit the procedure with Atlanta-based cosmetic tattoo artist Sara Justice, I decided a road trip from my home state of North Carolina was absolutely worth it.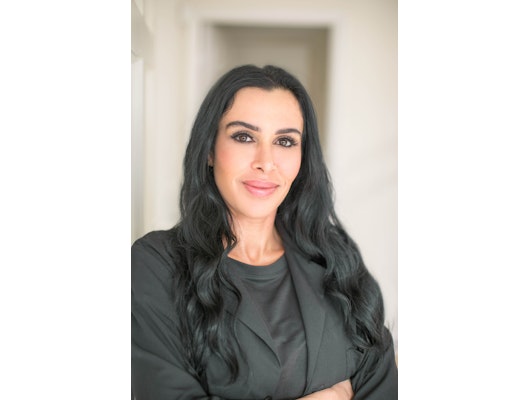 Heidi Geldhauser
Justice has been in the industry for more than 20 years and has placed a very strategic emphasis on becoming an expert in shaping the brows. There is not one standard industry certification for microblading yet (a plethora of them have popped up — like The Official PHIBROWS® Academy and the AMA Allure Microblading AcademyTM — but none of them are considered to be the official one), so Justice maintains a number of them by taking around three masterclasses a year, often traveling as far as Russia, Germany, and Estonia to attend. "Sometimes, I revisit a course or technique I've already learned to ensure I am perfecting my technique," she says.
Justice is among only a handful of technicians here in the US who use a digital cosmetic tattoo device instead of a manual blade. Her machine, which is equipped with nano-sized needles, is very similar to a conventional tattoo machine, but not nearly as forceful or large (her needles range in size from .18mm to .25mm). She prefers to use a machine because it gives her the ability to be more precise and has helped her mitigate the risk of damage to her clients' skin. She notes, "There's much more control of the depth, and you are not cutting into the skin, so trauma to the skin is minimal."
With traditional microblading, the manual "blade" is actually made up of a group of stiff needles. That tool both cuts the skin in the brow area in hair-like patterns and then places the pigment in those slits. "Imagine getting a body tattoo with a razor blade, then stuffing the pigment into the slit with the blade — and repeating that for the rest of your life on the same area!" Justice explains, calling the process "primitive."
Instead, by using a machine, Justice is able to replicate real hair strands while injecting microdots of pigments into the skin at the same exact time. This treatment has been called "nano brows," "nanoblading," and "nanoneedling," but she's working to trademark her own name, "hyper-realism brows," to convey the idea that the results are as realistic as possible.
She averages about three new brow clients a day, with usually at least one of them coming to her with injuries from previous, unsatisfactory microblading. "The hope is that the previous microblading is not too dark, saturated, or scarred so that a cover up can be performed," she explains. "Some I can successfully cover up, and some I can't. It must be determined on a case by case basis." (If you're wondering, scarring from my first brow tattoo was thankfully very minimal.)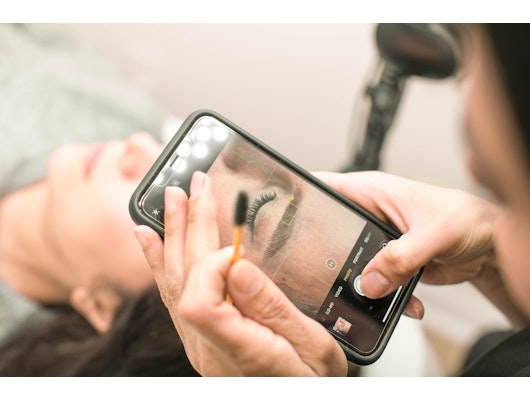 Heidi Geldhauser
The Prep Step
Justice's space is located inside a skincare spa and is as tranquil and clean as you would hope when you are about to get your face tattooed. She greeted me with a warm smile and has that certain kind of charisma that allows you to feel excited and yet relaxed all at the same time.
Before the consultation began, I was asked to sign a consent form, which (as I recall from my first experience getting microbladed) is very standard practice. You're basically attesting to the fact that you're not pregnant or nursing, that you are aware of the risks/complications, and that you will follow post-procedure instructions (or otherwise you could jeopardize the outcome). Justice also asked on her contract to indicate if I approve the use of my image on her social media channels.  
With all of the formalities out of the way, I showed Justice some pictures of brows that I love (my main inspirations came from actresses Jenna Dewan and Lucy Hale), so that she could get an idea of my overall preferred look, which I would describe as thick and sculpted.
From there, she sat me down on her flat-top cushioned table, stood about one foot from my face, and studied me as we engaged in small talk. She explained she wanted to see how my face moved as I made different expressions so she could see how my brows behaved on their own.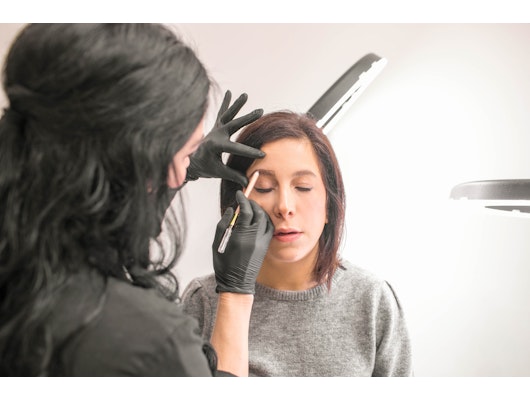 Heidi Geldhauser
Once she took my "before" images, Justice used a brow pencil to create an outline of my new brows based on our conversation and my face shape. I then checked the mirror, gave my feedback, and she adjusted the outline as needed. We went back and forth about four times (10 minutes or so), until we both agreed it was on par with my preferences while not looking too unrealistic.
The first time I had microblading done, the specialist did this same thing, but I don't recall her truly studying me beforehand. On the other hand, I do clearly remember her suggesting removing all of the hair on my left brow(!) to compensate for my naturally asymmetrical bone structure. (Specifically, my left brow bone is much lower than my right — her solution was to eliminate the hair entirely and microblade a more evenly placed brow in its place). I, thankfully, declined this suggestion and laughed about it with Justice when she said that was definitely not something she would ever suggest. Instead, she said she would make my brows appear more symmetrically aligned and even use a special ruler to double check.
In addition to her hair stroke technique, Justice's brow service menu also includes the option to combine it with an "ombre powder" brow tattooing technique (or a client can choose to do one of these individually). "The powder [style] is for someone that wants a more filled-in look; someone who wears makeup often and does not want to draw their brows in anymore," she explains, adding that no matter which route a client chooses, the estimated longevity is still one to three years.
I indicated that I wanted to do a combination of powder and hair stroke — after all, anything that could potentially help me remove the monotonous chore of filling in my brows every morning was a good thing in my book!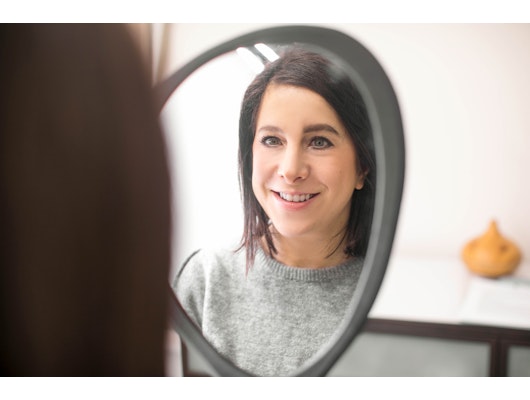 Heidi Geldhauser
The final step in our consultation was deciding on a color. I have dark brown hair and prefer my brows to match or even go a shade darker. After I expressed concerns about wanting to avoid warm-toned browns, she assured me that she was going to use a brown that leaned cooler.
Just as she instructed me to lie down, I admittedly had a moment of panic after glancing in the handheld mirror for one last time. "Did I have her draw the outline too thick?" I worried aloud. She said that all of her clients say the same thing, and she confirmed that the final brow shape would fall inside the outline, so it wouldn't be that thick.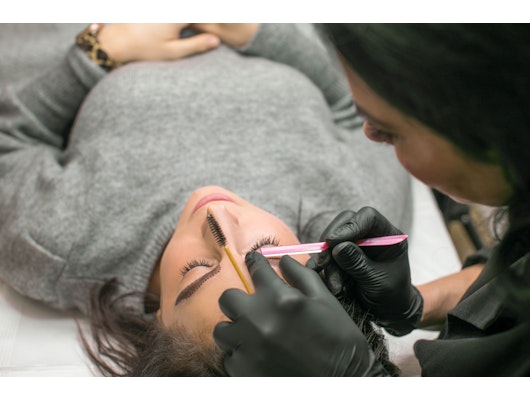 Heidi Geldhauser
The Process Begins
By the time I actually laid down, nearly an hour had already gone by. Getting all of the aforementioned prep work just right was absolutely necessary in my opinion. When someone is about to stick a needle so close to your eye, I imagine you, too, will be thankful they were so meticulous!
The procedure itself began with Justice turning on a bright overhead light and donning a headband magnifier. She started by lightly going over both brows with the machine so that the numbing cream (which had yet to be applied) would absorb faster. I did not feel any pain or pressure on my "naked" skin during this step. It felt like a newly sharpened pencil was being used to fill in my brow hairs one by one.
As I recall from my original microblading experience, the tech applied the numbing cream before she began the procedure (I remember lying there playing on my phone for about 30 minutes just waiting for it to take effect), so I was curious as to why Justice's process strayed from this. As it turns out, it's more efficient.
"The numbing is topical, and if I were to put it on first, it would take at least 20 minutes for it to have any effect," she explains. "By gently working on the skin for a few seconds — essentially prepping it — the topical anesthetic will be much more effective because it's absorbed better." The numbing cream sat on my skin for a total of three minutes, after which I was instructed not to speak or move my head at all as Justice began to "draw" on the hair strokes.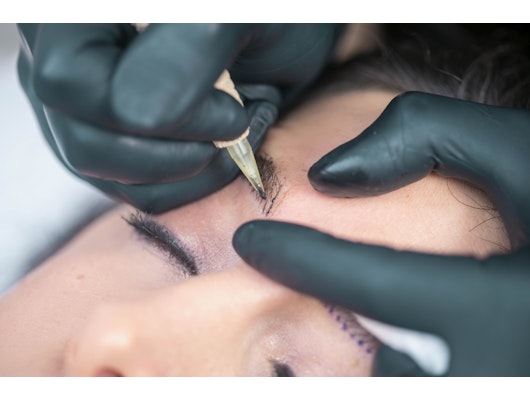 Heidi Geldhauser
This is when the discomfort started. The numbing cream did help (and I would even say took about 10 minutes to really kick in), but I was still fully aware of the pressure on my brows. I would not describe it as a clench-your-fist type of pain because that seems too extreme. Imagine there was a mascara wand with metal bristles, and then picture that wand being scraped over and over again on the surface of your skin — that is how it felt when Justice would press the needle down and create the lines. If I were to compare this to my first experience, I would say that traditional microblading is more painful: the blade is actually digging into your skin to make cuts, so that felt much more like a sharp knife than a metal comb.
Every few minutes, Justice made sure to ask how I was doing and if I needed any more numbing cream. I told her the pain was tolerable and she continued. Once she was done with the hair strokes, she switched the needle cartridge on her machine and began the "powder" fill-in portion. This used the same technique and seemed to go much faster since it didn't require nearly as much precision.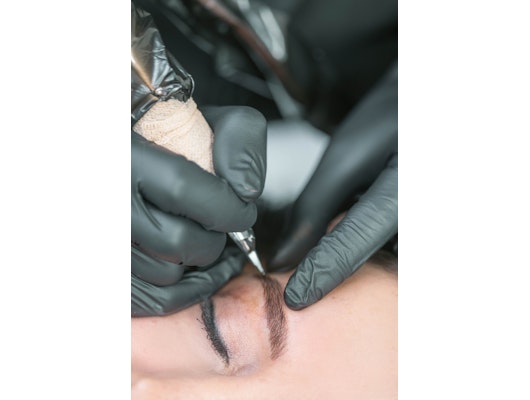 Heidi Geldhauser
About 45 minutes later, she asked me to sit up and look in the mirror. I was so amazed at how well she interpreted my vision: I actually had a natural-looking arch! It was incredible. She asked me if there was anything I wanted adjusted, and I told her I wanted the tail end of my right brow just a smidge longer. So I laid back down and she added some more strands. She reminded me that she does a follow-up appointment (which comes with the cost of the initial procedure) so that her clients can "live" with their brows for a few weeks and then decide if there's anything they want to change.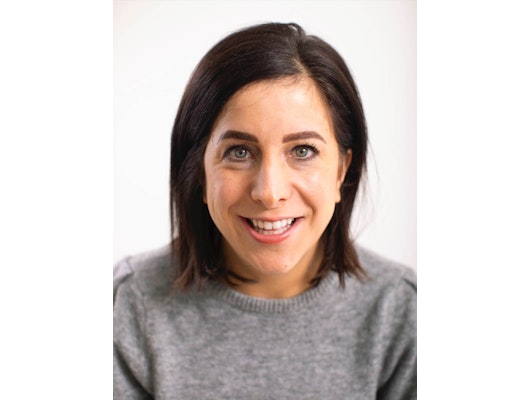 Heidi Geldhauser
Aftercare
Once the "after" photos were taken for her personal records, Justice handed me a sheet with a full list of instructions for the coming weeks and then went over them one by one with me. She reinforced how imperative it was to follow them in order to maintain the color and detail.  
I wanted to make sure I was setting myself up for success, so I really did follow her guidelines to a T. Three hours following my treatment, I gently rubbed my brow area with a damp cotton round and CeraVe® Hydrating Face Cleanser ($12, per the instructions, the soap needed to be mild), lightly patted it dry, and then ran a teeny-tiny amount of Aquaphor® Healing Ointment ($7, which Justice sent me home with) on a cotton swab over my brows.
I know some microblading technicians instruct clients not to wash the brow area at all for a specified number of days, but Justice was very insistent that this light rinse would not remove any pigment, but would help remove bacteria and dead skin. "This wash is extremely crucial," she notes on her sheet.
I repeated the above cleansing method morning and night until my flaky skin had stopped falling off on its own, which was on the eight-day mark for me. I also avoided direct sunlight (I was told not to apply anything topical to the area, especially sunscreen, until it was healed), sweaty workouts, and any chemical or physical facial exfoliants. On day nine, I pretty much reverted my skincare routine back to normal, and I have made more of a concerted effort to make sure I apply my SPF over my brow hairs every day.
All in the all, the aftercare steps themselves were not burdensome, but I don't want to gloss over the physical impact of having your face cosmetically tattooed. For me, the blotchiness and itchiness was very minimal, while the redness and tenderness was much more evident. For about 48 hours after my appointment, my brow bone area felt bruised and sort of sunburnt, though no one said anything to me about it looking swollen or weird. Still, keep in mind that everyone heals differently.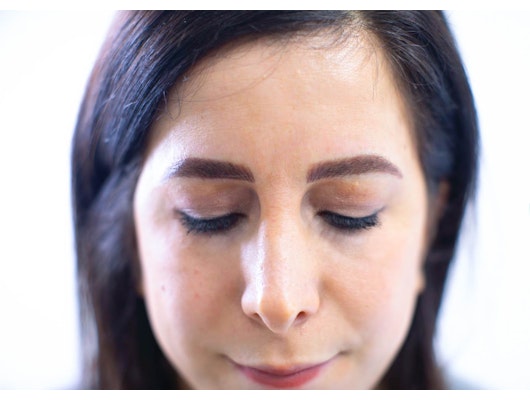 Heidi Geldhauser
Justice warned me in advance that I should expect my brow color to fade anywhere from 10 to 15 percent within the first 30 days. At the time of writing this article, I am on day 24 and can confirm my bold, dark brown shade has faded into more of a light taupe. Around the six-week mark is when I am told I can expect my skin to stop regenerating and the color of my enhanced brows to lock in.
Still, I truly love how they've turned out and have yet to feel the need to fill them in like I previously used to. Every now and then, I do enjoy using a brow gel — my favorite is the Milk MakeupTM KushTM Fiber Brow Gel ($18) — to give them some oomph while the healing process is still taking place.
Touch-Ups
Justice's aftercare sheet also points out that it is "necessary" to come back for the complimentary touch-up appointment six to nine weeks following the initial procedure. This two-step process is standard for all microblading treatments, because the follow-up is when the technician perfects the brows: she or he assesses how the skin reacted to the pigment and makes any other adjustments. For my touch-up, I plan to have Justice apply more of the ombre powder — I really like the idea of my brows being as no fuss as possible. I also understand that I will need to reintroduce the aftercare rules again.
From there, Justice recommends a maintenance appointment every 12 to 18 months in order to keep brows looking their best.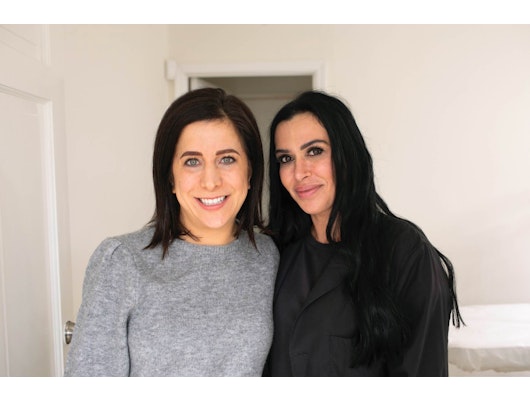 Heidi Geldhauser 
Though I still have one more appointment to go before my latest cosmetic brow tattoo experience is considered "complete," I am very pleased with my brows so far. Justice stresses that "permanent makeup is an art, not a science," and after experiencing two different kinds of cosmetic brow tattoo applications, I can appreciate that sentiment.
It serves as a nice reminder to anyone considering getting any form of microblading done that your brows are the canvas, so you'd better make sure you trust the artist. Do your due diligence by looking at before and after photos and then take it a step further and ask what method(s) they use to achieve the hairstrokes. Finally, remember that your face is unique to you, so go into it with realistic expectations if you want to come out with realistic results.
Service was gifted to the author for the purpose of writing this article.
Product prices may vary from the time this article was written.
Allergan® may receive commission for purchases made through links in this article.