Though the beauty landscape is constantly changing, one thing has remained consistent for Atlanta-based dermatologist, Tiffany Clay — her commitment to better skin. However, she didn't always want to be a dermatologist (though Clay had planned on being a doctor since she was a preteen). "I thought it would be so fun to deliver babies," she shares. "However, I realized that I don't like my sleep disturbed — and I don't really like messy jobs." It was due to a few dermatological issues of her own that she decided to pursue her current field.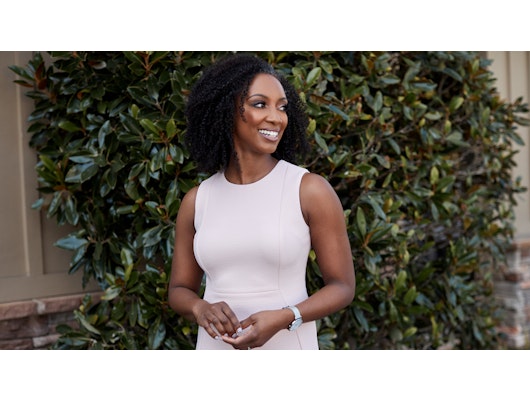 Kelly Lane Photography
"As a child, I got a fungal infection on my scalp that caused me to lose a lot of hair — thankfully it all grew back," she explains. "As a teenager and to this day, I have had acne, for which I still use a prescription retinoid. Despite my acne being pretty mild, I recall being teased for having pimples on my face." During her high school years, she determined that dermatology would be an ideal fit, as she could help heal people's skin and impact their self-worth and self-esteem. "I know that I feel my best when my skin is having a good day," she adds.
[Editor's note: Retinol shouldn't be used by those who are pregnant, considering getting pregnant, or nursing. Please consult with your doctor before use.]
Clay has been on a mission to ensure her patients all have good skin days themselves. With a patient roster heavily made up of women of color, she's been particularly adamant in coaching them through the importance of sun care — no matter how deep or light their complexion. "We grow up thinking, 'my melanin protects me,' 'I don't need any extra protection,' 'I'm not going to get a sunburn,'" she explains.
"I see a lot of women of color who are concerned about discoloration, dark spots, or hyperpigmentation. The number one thing to help improve that is wearing sunscreen every day — but it's such a hard routine to start." She admits that even as a dermatologist, it wasn't until about three years ago that she started wearing sunscreen regularly herself. (Though, she was telling people to wear it long before that.)  
A big reason many women of color avoid sunscreen is because until recently, formulas weren't developed to mesh well with deeper complexions. "Nowadays, there are very good sunscreens that are tinted or untinted that'll blend in well, but back in the day, all the sunscreens made you look purple or white or ashy," she says.
The doctor calls herself a beach lover, and recommends protective clothing for other people with active lifestyles, like golfers, tennis players, and runners. In fact, she sells protective hats and gloves in her practice. "It's going to protect you long after your sunscreen wears off," she insists.
Keep reading to discover more of Dr. Clay's advice, including her beauty favorites (and go-to sunscreen), how social media is impacting her role as a skincare expert, and more.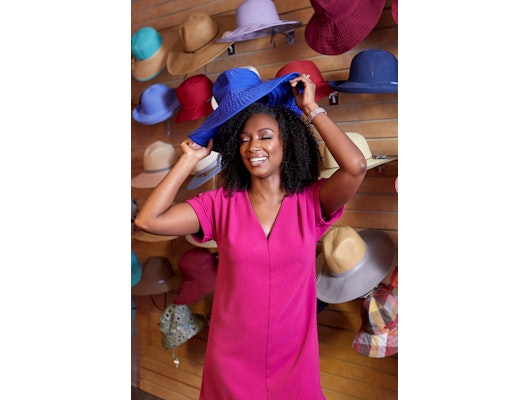 Kelly Lane Photography
Spotlyte: When thinking about skin, where do you think women need to pay the most attention?
Dr. Tiffany Clay: Basic skincare. I think that sometimes, we feel like more is more. Sometimes less is more. Women in general tend to not take the advice of board-certified dermatologists, and can go by what their beautician says or what they heard on a YouTube® channel. So, just paying more attention to medical advice versus hearsay. 
Spotlyte: What are the biggest skin challenges that your patients of color deal with most often?
TC: The number one thing that I see the most is acne — a lot of adult women with acne, and many times, it's just due to hormonal changes with age. And following that, hyperpigmentation or discoloration on the face or on the body. That can come from a number of things. Most commonly from acne. Or if a patient has had rashes like eczema for years, that causes discoloration on the skin. The big problem is that patients often want the hyperpigmentation gone, but I often tell them we have to actually get rid of the root cause first. Because then we'll end up chasing our tails forever trying to treat every dark spot that comes up. Hair loss is a big one as well.
Spotlyte: What kind of hair loss?
TC: There's a type of hair loss that only happens in black women, called CCCA, [which] stands for central centrifugal cicatricial alopecia. I see several black women with it. I'm ecstatic when they come in and we catch it very early. But it's only found in our community and it's disfiguring. I have some women who come in after several years of dealing with it — they're pretty much bald and I really can't do anything to get that hair to grow back. 
Spotlyte: What causes that and how do you treat it? And what are some early signs that people should look out for that differentiates that from other types of hair loss?
TC: We still do not know what causes it. If you'd gone back maybe 10 years ago, dermatologists didn't see as many cases of it. But it used to be called "hot comb alopecia" or "hot comb hair loss." It was thought that due to processing and heat styling, [we] black women were damaging our hair and it was making the hair fall out. But there are women who have been diagnosed with this who have never had a relaxer, never had it flat-ironed, never had a blow dry, who've been completely natural their whole lives. There are some dermatologists who are doing lots of studies and trying to pin down what factors are contributing.
Typically, it starts at the center of the scalp — right at the crown — and it'll appear as if the hair is not growing as much there as it is in other areas, or the hair might seem shorter or broken. Some women won't experience anything visibly, but they will feel a soreness, or their scalp will feel  little bit more soft or boggy or tender in that area.
Spotlyte: What do you do to treat it if someone comes to you early enough?
TC: There are several different treatments and we don't really know which one works the best. I typically tell patients if they're open to it, then we can work together as a team, and I would like to be as aggressive as possible. This means using topical medications, including things that they would leave on, or medications, like shampoos that they wash off of the scalp. I [also] treat them with injections into the scalp to help stop the process. 
Sometimes I'll use medications by mouth to stop inflammation in the body. And then later on, once it's stable, I can refer these patients to have hair transplantation if they want to increase the appearance of more hair. 
[Editor's note: Talk to your doctor to see what treatment options are best for you.]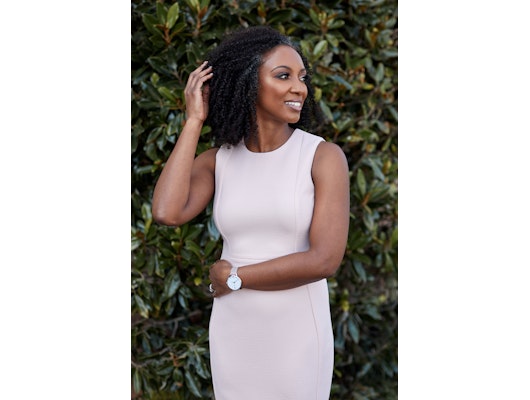 Kelly Lane Photography
Spotlyte: What do you personally use on your hair?
TC: I must have my leave-in conditioner — Aunt Jackie's® QuenchTM Moisture Intensive Leave-in Conditioner ($8) — and SheaMoisture® Curl Enhancing Smoothie ($4). I usually wear a wash-and-go and it'll last me maybe five days or so. So as soon as I wash my hair and it's still damp, I put in the leave-in conditioner. Immediately after that, I put in the Curl Enhancing Smoothie. That usually keeps my curls pretty hydrated. From day to day, just after waking up, I use Cantu® Comeback Next DayTM Curl Revitalizer ($6). It gives my hair a little bit more shine so it's not dull, and makes my curls pop again.
Spotlyte: What is your skincare regimen like? Please share some of your favorite products and tell us why you love them.
TC: In the morning, I use Revision Skincare® Gentle Cleansing Lotion ($32) to wash my face. And then I apply an antioxidant. My favorite is Revision Vitamin C 30% Lotion ($119). I use that in winter and summertime. That's a staple for me. 
Next, I will put on my sunscreen, depending on which season it is. I'll use the Revision Multi-Protection Broad Spectrum SPF 50 ($67) [in winter], which is more moisturizing, or the Elta MD® UV Clear Sunscreen ($33) if I'm a little bit more oily.
At bedtime, I use that same gentle cleansing lotion, plus a little bit of eye cream. I have a couple that I alternate between. One is Isdinceutics® K-OXTM Eyes ($68). And then the other one that I use is Revision D.E.J.TM Eye Cream ($97). The D.E.J. does a lot for me as far as plumping and helping fine lines. If I'm feeling a little bit more dry or I feel like my eyes are a little bit more crepey, I'll tend to go to that one. Whereas the Isdin K-Ox Eyes is great for undereye circles, so if I'm looking a little bit more hollow or noting that I have more hyperpigmentation, I'll go to that one. 
Finally, I put on my prescription retinoid all over my face. I apply lash growth serum to my eyelashes. And depending on if my skin is dry or not, I'll put a little bit of Vanicream® skin cream ($14) on my face, just to hydrate me at night.
Spotlyte: What are your don't-leave-home-without-them skincare favorites?
TC: I always keep a brush-on sunscreen in my purse. It's a mineral-based sunscreen by ColoreScience® ($65). And they actually make a brown one. I use the darkest shade. It's SPF 50, so if I'm out and I either forgot my sunscreen that day or if I know I've probably rubbed it all off, I keep that in my purse and it's easy to just tap it and then you just brush it on. And it gives you this nice, matte color and you're protected again.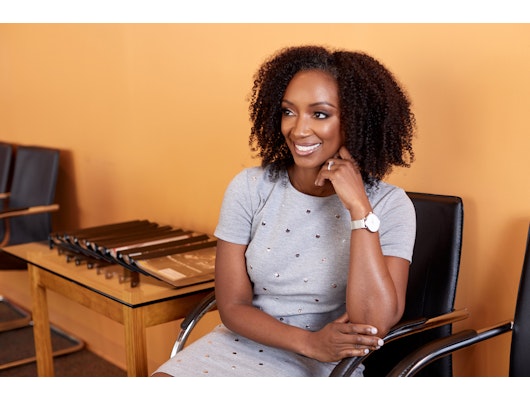 Kelly Lane Photogrpahy
Spotlyte: What's your anti-aging philosophy?
TC: It's that you should've started yesterday. Start early. I'm like a broken record, but [you need] sunscreen and sun protection. Anyone who is tanning or laying out or doing anything like that should definitely stop. [Approximately] 80 percent of the aging process on the skin happens from ultraviolet exposure. That's just sunlight that we get on our skin every day. 
Number two: use a retinol or a retinoid, which are vitamin A-derived creams or gels or topical medications. Most people are introduced to them in their teens because they are a main component of many acne medications. I started using a prescription retinoid when I was about 18, and I still use it now in my thirties. I still have a little bit of acne as an adult, so I use it for that. But now I know that it's an anti-aging cream as well — I'm just reaping the benefits of using it for a few decades.
Spotlyte: Who do you look to for your own skin needs?  Do you get facials?
TC: I love getting facials! The extractions, the massage — I am all over a pampering session. I am blessed to have wonderful aestheticians at my practice who I entrust with the care of my skin. My favorite procedure at the moment is dermaplaning. This is an exfoliation method where a blade is scraped across the skin to remove dead skin cells and those fine little peach fuzz hairs off of the face. After I have this done, my face is so smooth and my products go on so much easier.
I try to get a facial monthly with dermaplaning. Based on if my skin is very dry or oily at the moment, we may add a mask treatment or mild chemical peel to normalize my skin. Monthly facials don't make up for my daily routine though — it's more of the icing on the cake.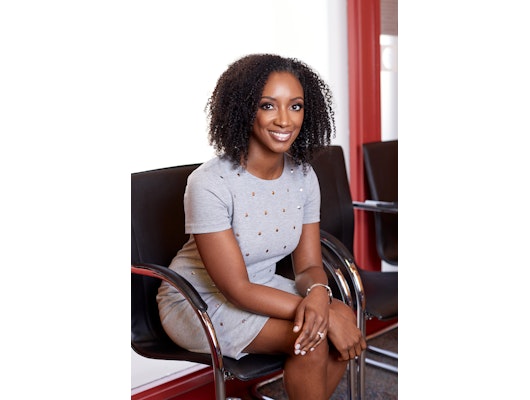 Kelly Lane Photography
Spotlyte: What is your stance on cosmetic injectables?
TC: Oh, I [appreciate] them so much.
Spotlyte: Which are most popular amongst your patients?
TC: Injectable wrinkle reducers. Those are extremely popular. They're great for patients who want to reduce the appearance of lines on the expression areas of the face: the forehead, the frown lines, or the crow's feet. Usually, when patients start something like an injectable wrinkle reducer, then they are more open to trying other things.
---quiz start
---quiz end
[Editor's note: Injectable wrinkle reducers are used to temporarily smooth the look of moderate to severe wrinkles in certain areas of the face such as the forehead, frown lines, and crow's feet. Like any medical treatment, they have potential risks and side effects. Be sure to talk to a licensed provider to see if they're right for you. Have more questions? Chat with our team of trained aesthetics specialists now.] 
Spotlyte: Have you personally done any cosmetic injectables? If so, what did you do and what was the experience like?
TC: Yes. In residency, when we learned to do these injections. We practice on very forgiving patients who usually get it for free. And we practice on ourselves and on each other. That's how I got introduced to injectable wrinkle reducers, and I have been doing them ever since. I am hooked. I actually do my own.
I've also done dermal filler too, in my cheeks. As we age, we lose a little bit of fat in our cheeks. I plumped my cheeks up a little bit [to add back some volume].
Spotlyte: What is the most common concern among your patients regarding cosmetic injectables?
TC: The biggest thing is that they do not want to look overdone, like people that they see on TV. They want to still look like themselves — a conservative look — and they don't want anyone to notice.
Spotlyte: Have you personally ever done any other cosmetic procedures like laser treatments or any body treatments?
TC: I have. I typically try to experience as much as possible so that I can explain what to expect, expectations, and the sensation of the treatment to patients. I haven't done everything because there are lots of lasers that women with skin of color should not do, due to risk of hyperpigmentation.
Spotlyte: What have been some of the biggest challenges you've faced while building your career? Biggest wins?
TC: The biggest challenge I've faced while building my career is being a young, black woman. In college and medical school when I expressed that I wanted to become a dermatologist, I would always hear, "That's a tough specialty," or "There aren't many black dermatologists," or "What's your backup plan?" There were so many barriers from people who were supposed to be inspiring and pushing me forward.
Once I became a dermatologist, the biggest barrier was also my being a young, black woman. I look much younger than my age, leading patients to ask me my age or how long I've been in practice or if I'd done this before. A few year agos — and even last week — I am always proving myself to people by running my bio to them, giving them my educational history, telling them I've been in practice almost four years, or making them aware I am old enough to be their doctor.
Spotlyte: How has the current beauty landscape, particularly social media, impacted your job as a dermatologist?
TC: It's been kind of like the good, the bad, and the ugly. The good is that it's making people care more about their skin and their skin health. They have more awareness of what a dermatologist is and what I would do to help them. It's increasing awareness that way, in a positive light. So that if they can't fix something on their own, then they know that they can go to a dermatologist.
The bad is that patients are sometimes a little too trusting of "experts" who are not necessarily physicians or board-certified dermatologists. The analogy I use with my patients is: would you let a car enthusiast work on your car? They're not really a mechanic. You kind of have to take everything with a grain of salt — and if you're not really getting the results that you need, then it's probably time to see a dermatologist.
The ugly is just the side effects from some of the things that people are recommending, or trying. I've seen patients who had chemical burns and disfigurement from [trying] things. It's upsetting that that's happening because of someone who did not have the medical knowledge recommending something to someone who it may not have been the best for.
Kelly Lane Photography
Spotlyte: Tell us a bit about your perspective on inclusivity in the beauty business. TC: As far as racial inclusivity goes, I think we have a long way to go. Unfortunately, there is a disparity in the number of skin of color dermatologists. The community is so small that many of us know one another, or there's a small degree of separation. This cannot be easily repaired, as black women and men are less likely to be accepted to medical schools and much less likely to be accepted into dermatology residency programs. It is improving, however, not fast enough. Studies show that diversity in medicine leads to greater health outcomes. Patients who have a doctor who looks like them are more likely to be compliant with their treatment and way more trusting.
Product prices may vary from the time this article was written.
Allergan® may receive commission for purchases made through links in this article.