In Spotlyte'sTM series Her Regimen, influential individuals divulge their most trusted resources for every aspect of their beauty, skincare, and aesthetics regimens. Consider it your pre-vetted primer to all things gorgeous. 
Lauren Finney, 35, is proof that being one of the "nice guys" can certainly land you that coveted spot at the top of a glossy magazine masthead. Her career kicked off during a time period when the fictitious editor-in-chief Miranda Priestly was trending in book clubs and on silver screens, yet Finney simply ignored fashion's mean girl culture. Eventually, she worked her way up from an assistant at Cosmopolitan® to her current prestigious role as the editor-in-chief of Modern Luxury Interiors AtlantaTM and The Atlantan®. There were stops along the ways at outlets like Lonely Planet® and Niche Media® (which is now Modern Luxury®), as well as with brands, such as LOFT® and Eileen Fisher®. But her current role seems like the perfect fit for the Atlanta native, who now resides in West Midtown.
"I strongly believe in just being kind and having a good attitude, and think that my Southern upbringing really helped me stand out," Finney says. "I literally had no connections coming into it!" [Editor's note: She got her first big break interning at Cosmo by applying via snail mail, and flew in for an interview in NYC just three days later. She credits her success to being a "yes" person.] "In the beginning of my career, people always commented on how 'nice' I was. I wrote handwritten thank you notes for every dinner or gift (it's a compulsion), but that was just what I thought was good manners."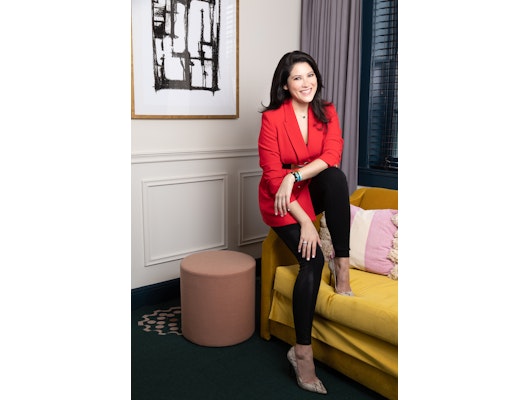 Patrick Heagney
Now she has the 9-to-5 that a million girls and boys dream of. "I realize very few people get to do my job," she admits. "Who gets to write about travel, food, fashion, beauty, and design and get paid for it? I get some really awesome perks — attending Atlanta's best charity galas, traveling the world (best trip was in Qatar), seeing new fashion collections before anyone else, and getting to write about them."
Fashion WeekTM soirees and once-in-a-lifetime press trips aside, it takes hard work and dedication to get this job done well. "There are days I'm buckled down writing, balancing multiple events, or perhaps styling an interior for a shoot," Finney explains, noting she's currently working on four magazine issues in various stages at once. Her role includes everything from outlining to writing to proofing to producing. "I get on the floor and crawl around and comb carpet fringe and move furniture or help my photographers move lights," she adds. "In today's media landscape, you have to be an all-hands-on-deck kind of person — which works for me, because that's really my personality." 
No matter how intense magazine production can be, Finney doesn't crack under pressure. "I love deadlines!" she enthuses. "Is that weird? I love the workflow of putting together a magazine, the drama of a photo shoot, and the entire production of a magazine from beginning to end. It's so rewarding to have a finished product I can physically share with people. I get DMs and messages all the time from friends telling me where they saw one of my magazines. I love that."
Since Finney is an expert on all luxe things Atlanta and always appears polished, we had to know where she goes for her beauty, wellness, and fitness services.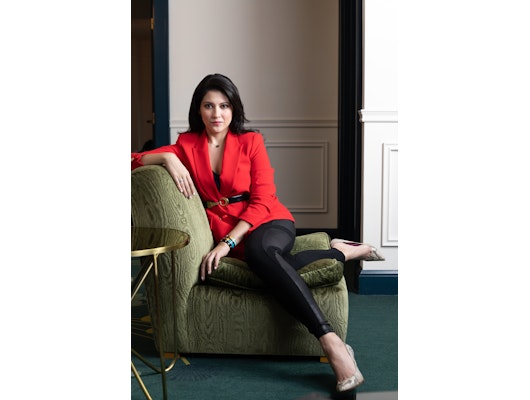 Patrick Heagney
"Atlanta is a fun beauty destination because it's so old school and new school at the same time — it's the same across most sectors in Atlanta," she explains. "It's really the intersection of the old South and new South. My favorite part is going in for a blowout and not having to ask for extra hairspray and more volume! (New York stylists used to think I was nuts.)"
She continues about the beauty culture in her home city: "Atlantans are very loyal to their people. You'll find people who have been going to the same places and people for decades. But Southerners are also more open to trying trends than you'd think. So long as you show Atlantans how to use something, they're all over it." 
Ready to learn about (and maybe try) something new? Keep reading — Finney shares all about her own beauty, skin, and fitness routine. 
Facials: "I have lupus. Important to know because my skin is extremely sensitive. Lupus is an autoimmune disease in which the body attacks itself — and my body's chosen organ is my skin. I'm in remission now after 11 years, which is wonderful, but it really affects how I approach wellness and beauty, and skincare in particular. It's a lifelong chronic illness with no known cause and no known cure.
So I have really sensitive skin because of my lupus, but I do love getting a HydraFacial® with Amy Birdsong at Aviary®. She is such a cool and interesting person, and I always love going into her really intimate salon and spa. It's like being in a salon in Brooklyn. She has great hard-to-find-in-person brands, too, like Vintner's Daughter®."
Haircut: "I've been going to Toni&Guy® since I was 16. I used to actually fly back from NYC and get my hair cut here in Atlanta. I love it because I know it's going to be a good, stylish, quality cut every time — and affordable. Aaron Seskin (creative director) at Toni&Guy at Westside IronworksTM cuts my hair now, and he is extremely fast, which is really important to me. Fun fact: when I was 16, he tried to dye my hair lime green for a modeling job for the salon, and my mom about had a heart attack. We settled on clip-ins."
Hair Color: "I only just started coloring my hair two months ago, and it's just the roots. Ivy [White] at Toni&Guy does it. She held my hand through that traumatic first time. I was always worried my natural color is so dark and would be hard to replicate, but she nails it."
Blowout: "I rarely get blowouts — my hair is really thin and it just doesn't hold up to my Dolly Parton/Kate Middleton standards — but when I do, either Drybar® (can't wait for them to open in Midtown this spring!) or Jessica Joslin. Jessica does everyone's hair in town for galas, and she's super fun to hang out with too."
Makeup: "I love Woo® Skincare + Cosmetics, because they carry some of my favorite skincare/haircare brands: AveneTM, Glytone®, and Klorane® to name a few. Both locations of Woo are gorgeous and like shopping in a boutique. The owner Linda Silber is super knowledgeable, too. She keeps telling me CBD is the new beauty ingredient I need, and maybe one day I'll cave."
Nails: "NouvelleTM has a super-cute new location in Midtown West literally 10 steps from my door! I'm a real simple gal — [I often get] OPI® Bubble Bath — but Alayna [Hoang] talked me into nail art, and I'm into it."
Cosmetic Injectables: "Now that I'm 35, [I'm considering it].
---quiz start
---quiz end
[Editor's note: Injectable wrinkle reducers are used to temporarily smooth the look of moderate to severe wrinkles in certain areas of the face such as the forehead, frown lines, and crow's feet. They should not be used more frequently than every three months. Like any medical treatment, they have potential risks and side effects. Be sure to talk to a licensed provider to see if they're right for you. Have more questions? Chat with our team of trained aesthetics specialists now.] 
Personal trainer: Keisy Myumi at The ForumTM Athletic Club. "The Forum is a really intense-looking gym in Buckhead and at Ponce City Market. I now act like I own that place thanks to Keisy. (They have equipment I've never seen anywhere else.) She helped me lose almost 20 pounds in three months (three months!) and really tone up in a way a trainer never has before. It's pivotal for me to have a female trainer who really knows what I'm looking for in terms of goals, and a trainer who understands that my lupus sometimes restricts what I can do. I've never felt stronger or more in control of myself than with her."
Favorite boutique fitness class and instructor: "Westside YogaTM — their classes are the right mix of crunchy and modern. Beautifully designed studio, really informative instructors, and every class is an hour long, which suits my busy schedule. I also do Club Pilates® in Buckhead — I've been doing Pilates for about eight years, and I love focusing on the slow and minute movements. Kathie Bradley and Luke Drelling are the best instructors — I can only do it once a week because they both leave me sore!"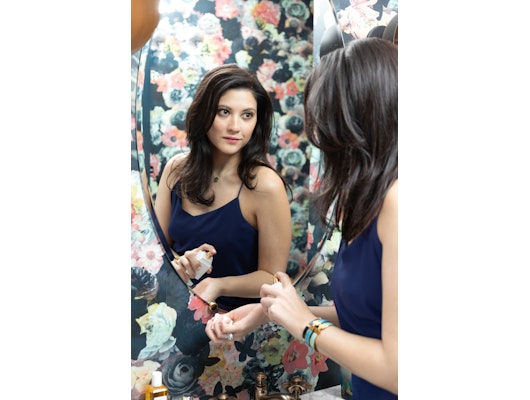 Patrick Heagney
Fragrance: "Sometimes I just go into Diptyque® at Shops Buckhead AtlantaTM to get a quick hit of their products — Lord knows I have enough and I don't need anymore. But I am obsessed with everything in there and have been for a long time. [I love scents like] Baies, Musc, Olene, Mimosa — I have them all. They don't judge my sniff-and-runs."
Clean Makeup: "I'm always popping into Aillea®, which is still relatively new in Atlanta, to see what they have. Their concept is to offer cleaner beauty from brands I love, like Kypris® (especially the Deep Forest Clay Mask)."
Masseuse: "Estelle Harford of Stellar Strength and WellnessTM is my savior when it comes to un-sticking my body. She is a Ki-hara master, which is a form of flexibility and strength training (she's the only one in the state). She also specializes in myofascial release, a type of massage that helps break up fascia, which is important for my lupus. I'm always texting her in a panic saying something is stuck and she'll unstick it in one session. Plus, she comes to me, which is awesome."
Supplements/Crystals: "I cannot say enough good things about Kelley and Brandon Knight at Modern Mystic® at Ponce City Market®. If they've offered it, I've done it: manifestation classes, palm readings, tarot, aura readings and, of course, I've shopped their crystal selection extensively. I love how open they are about sharing info and they make great recommendations. I've attended quite a few of their free classes as well just to educate myself. They also keep a good selection of Sun Potion® supplements on hand."
Infrared Sauna: "I haven't been yet, but I'm dying to try Perspire Sauna StudioTM, which is brand new to Atlanta. My co-workers have been raving. You pick the light color and the activity — you can be super low-key and meditate or watch Netflix®, or be type A and workout in the private sauna. I should probably just go ahead and schedule an appointment. I run extremely cold, so that sounds like my idea of heaven right now!"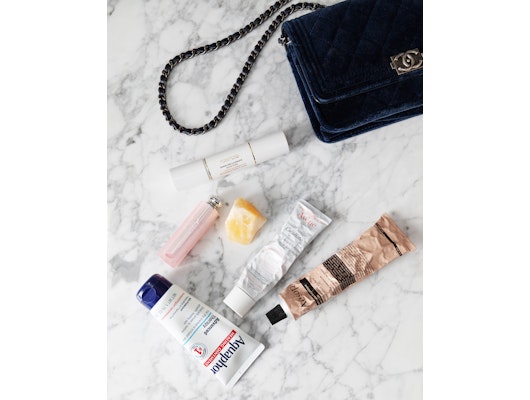 Patrick Heagney
Skincare Routine: "I'm very blessed with good genes (my mom is Filipino and is 66 and looks 50), but there's only so much genetics can do. Here's what I use for skincare.
Confession: I don't wash my face! You read that right. Water is extremely tough on my super sensitive skin, so I cleanse and remove makeup with Caudalie® Micellar Cleansing Water, then a pump of Glytone Age-Defying Vitamin C + E Serum. Next is either Embryolisse® Lait Crème Concentre or Nassif MD® Hydro-Screen for hydration, depending on how dry I am (answer: always). Sometimes, I use the Sisley® Paris Black RoseTM Skin Infusion Cream, and then Bioderma® Cicabio® SPF 50+. I have to apply sunscreen every day due to my photosensitivity (I'm literally allergic to the sun), and this is the only sunscreen that I can apply to my eyelids and that doesn't burn." 
Work Mantra: "I've gotten through it all by having sheer determination and being a 'yes' person. That doesn't mean letting people walk all over you — definitely stand up for yourself. I set myself apart by being 'game' for just about anything (and faking it 'til you make it in some cases).
I've been lucky enough to maintain a lot of [my work] relationships for the past 15 years both professionally and personally. I also feel like everything happens for a reason, and you really have to have faith in yourself every step of the way. Case in point: I would in no way have been as prepared to step into this EIC role with Modern Luxury had I not worked at Niche Media before. Now that Niche is Modern Luxury, it's been so cool to see my hard work come full circle."  
Product prices may vary from the time this article was written.
Allergan® may receive commission for purchases made through links in this article.