Some bloggers "make it" by just looking fantastic in photos and having a knack for high-low styling, but Jasmine Crockett of XO JasmineTM also genuinely loves the wordsmith part of it all. The 28-year-old Atlanta influencer has a side hustle as a freelance writer. Oh, and did we mention she's also raising an adorable 21-month-old son? (Just see the photos here of Marcus Crockett Jr., a.k.a. KJ, and try not to melt.)
Crockett seems to not only have it all, but have it altogether. When I met her onset at our photoshoot in Atlanta's trendy Hotel ClaremontTM, she exuded an air of ease — even with her husband and son there. And, of course, the Alabama native oozed with Southern charm.
"Southern charm is described as kind and welcoming," she explains. "I've been living in the South all my life and everywhere I've been here, everyone is always welcoming. I think I have the Southern charm, because I'm always looking to help others and welcome everyone to our home as if it was their own."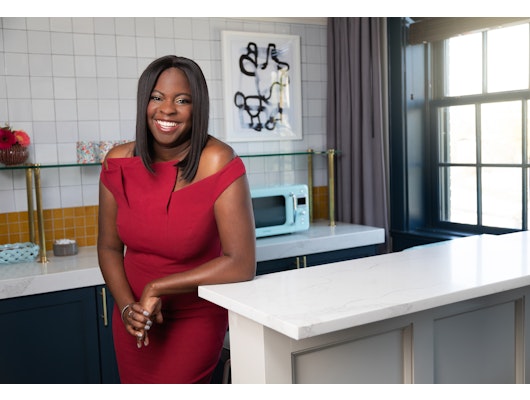 Patrick Heagney
If you follow her Instagram® feed, where she amassed 128k followers at press time, you'll discover gorgeous photos of Crockett showing how to dress up a military-inspired jumpsuit, breezy sundress, or cozy sweater.
"My style varies depending on the day," she says. "I bounce between simple chic style and casual. More casual when I'm in mommy mode. When it comes to beauty, I'm all about less is more. I believe you don't have to have your face filled with layers and layers of makeup to make yourself beautiful."
But real life is not always as perfect as the well-filtered photos we see. Here, Crockett opens up about everything from overcoming racial barriers (spoiler: a brand called her "too dark" for their audience) to how she balances building a brand while raising a baby. She also shares how cutting out dairy cleared up her skin, the top beauty treatment in Atlanta she wants to try, and how to get noticed in the crowded influencer space. Keep reading!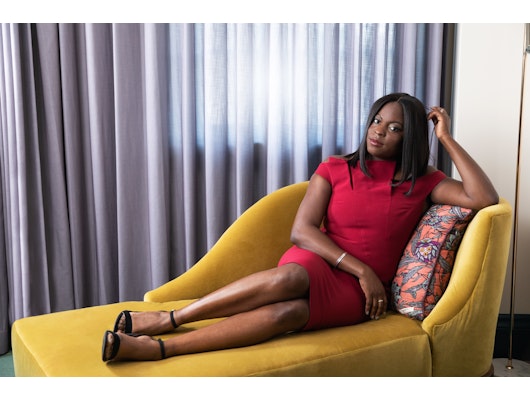 Patrick Heagney
Spotlyte: How did you decide to start a blog? What got you to pull the trigger and do it?
Jasmine Crockett: Blogging has always been a fit for my personality. My major in college was journalism, and I always knew I wanted to write — I just wasn't sure on the space.
I first started to blog when I moved from Alabama to Texas right after graduating from college. This was at the end of 2012 so "blogging" was still really new. I thought of it more as an online journal to keep my family and friends back home connected to what my then fiance, now husband, and I were doing in our new city. As I continued to keep them up to date, people were finding my site from other people sharing my take on things to do in the city, etc.  
As new eyes were coming to my site, some people would ask where I got certain things from or my thoughts on specific things, and I was amazed that people were really caring what I wrote about outside of the family. So, it really just took its own spin into what it is today as I became more interested in fashion and sharing my personal style and other lifestyle topics. 
Spotlyte: Did you face challenges along the way?
JC: To be honest, what made me buckle down and make this happen was when someone at a brand accidentally copied me on an email that said I was "too dark" for their audience and my "audience" clearly wouldn't be a fit for them. It honestly pissed me off because regardless of my work and what I could bring to the table, they only saw the color of my skin. From that day, I knew building my space on and offline wasn't just for me, but for all of the young girls who needed someone who looks like them in their corner and showing them they can make anything happen regardless of setbacks. People talk all the time about diversity, but adding one or two African American women to your list to meet some quota doesn't count.  
So, yes, I can say to this day it can be a struggle if you let it be a struggle. You have to build yourself up to know your value and never let anyone or anything say otherwise. I've learned that for every "no," there are 10 major opportunities with a "yes" right behind.
Spotlyte: How do you manage to stay so calm and cool while running your business and raising your son?
JC: When I first got back to work, I can't lie — it was hard. Trying to manage a business and a newborn is not for the faint of heart. You have to sit down and make a detailed plan on what you're going to do and when. I've spent many nights after he's asleep working on projects. "If not now, then when," is what I like to tell myself.
I learned early on that being stressed doesn't solve anything or help anyone in the situation. I try to get as much done on my to-do list as I can during the day, but I have a firm cut-off time when he's home and I'm in mommy mode. I don't do any work on the weekends unless necessary. Being in this business, you're always on, so finding that balance just not to do anything has helped me find my calm energy every day.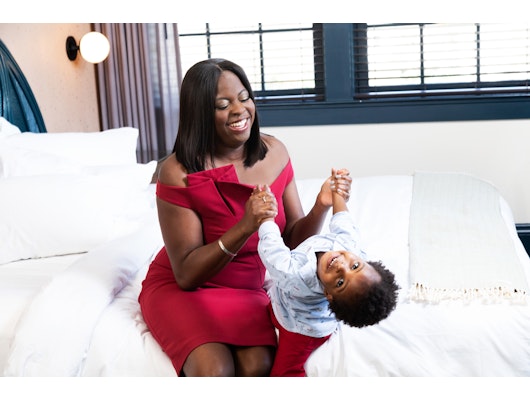 Patrick Heagney
Spotlyte: How did you come up with the name for your blog?
JC: My blog initially began as "Heels & MimosasTM," because mimosas were popular in Dallas, and I loved heels. At the time, I was sharing my style and things we did in Dallas, so I thought it made sense. It's so funny to look back on that name. What's even crazier is I landed my first national press placement in People® StyleWatch® within my first few months of starting my site featuring that name. After a year or two, I saw the real business this could grow to and how I could expand it, so I decided I wanted a new name with my name within the title. And that's where XO Jasmine was born. 
Spotlyte: Very cool that you freelance write! Do you still do it?
JC: Yes. I started a few years ago when the opportunity came up to write a piece for a local tech publication in Dallas. I instantly fell in love with the process of pitching my ideas and writing a variety of topics outside of my usual [work]. I currently still freelance write and am always open to jumping on new opportunities that are a fit. Freelance writing helps my creative juices on a constant flow.  
Spotlyte: What brought you to Atlanta?
JC: After my husband and I graduated from University of Alabama®, Atlanta was our first choice. But we got our first jobs in Dallas, so we lived there for three years. We wanted a bigger city, so Atlanta was at the top of the list. We moved here in 2016.
Spotlyte: What advice do you have for budding bloggers trying to make it in a crowded space?
JC: Honestly, just be yourself. We're in a space where everyone is trying to copy certain things, because they think it's "cool" or will attract attention, but it's not really that easy. A particular person built their following based on being themselves. Do the same. You'll be surprised how much you're able to grow by just being yourself.  
It's also important to have a great support system. You don't have to be in a blogger "clique" to be successful. Make sure you're building strong and genuine relationships online and offline. This also goes for having great support from family and friends outside of blogging.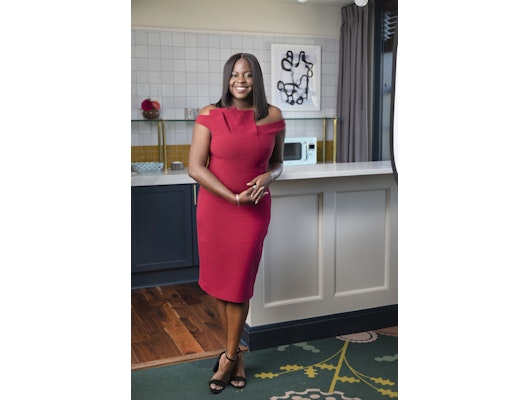 Patrick Heagney
Spotlyte: What is the Atlanta blogger scene like?
JC: Atlanta's blogger scene is honestly still on the rise. When I lived in Dallas, it was definitely growing like crazy because one of the biggest affiliate companies for bloggers, RewardStyle®, is based there. I think as more brands take notice of the bloggers living here, the culture, and just how unique the city of Atlanta is, the more the blogger scene can really grow.
Spotlyte: What are your favorite places to go for beauty and skin services in Atlanta?
JC: I'm honestly trying to still figure this one out. I've been living here for three years and have really loved discovering new talent through apps like GlamSquad® and even Instagram, to be honest. There's a huge growing talent base of beauty and skin services here in Atlanta, so depending on what I'm looking for, I love trying new places. I recently went to BlissTM at the W® for a facial, and it was amazing!
Spotlyte: What is your skin type? How do you take care of it?
JC: My skin type is oily. I've had clear skin for years, but when I was pregnant with my son, my skin did a 180 and went crazy. When you're pregnant, most dermatologists are pretty strict on what they can and can't prescribe during this time. Once I had my baby, I visited Peachtree DermatologyTM and Dr. Sylvia W. Wright made magic with my skin. I saw my skin clearing up within a few weeks. Cutting out dairy also made a big impact. 
Spotlyte: Tell us more about cutting out dairy.
JC: I decided to cut dairy out of my diet after talking with my dermatologist and learning about the potential side effects it has on your skin. After doing more research, I decided to try it out for 30 days and was amazed at the results. My breakouts were completely gone, and I didn't feel sluggish anymore. After a while, I decided to add it back to my diet but slowly and not as heavy as before. I still occasionally eat dairy, but I can always tell with my skin the difference when I start again. 
Spotlyte: What are three skincare products you use everyday and why? What do you like about them?
JC: The Tatcha® Cleansing Oil and Sunday Riley® Slip Cleanser, plus my prescribed dermatology medicine, are my daily go-to products. I can't go a day without the Tatcha, because I feel a huge difference in my skin after each use. I also travel a ton so I always take the Summer Fridays® Jet Lag Mask to use after my cleansing oil. I'm currently trying out an Olay® moisturizer.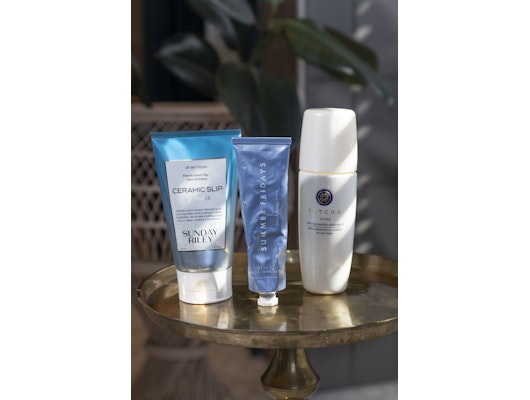 Patrick Heagney
Spotlyte: What skin or medical aesthetics treatments have you tried or would try?
JC: I've been wanting to try a peel but honestly, I've seen how intense it can be and just haven't made the leap. I've also been thinking about trying microblading, because a few that I've seen done have been super cute. Getting my eyebrows done so often seems to be a beauty chore that I can take off my list. I'm also interested in adding more hair because my eyebrows grow really crazily, so microblading will give my eyebrows a more uniformed, clean look.
Spotlyte: What is your stance on injectables?
JC: With injectables, it's a case-by-case conversation and depends on what makes you comfortable.
[Editor's note: Injectable wrinkle reducers temporarily smooth the look of moderate to severe wrinkles in certain areas of the face, including the forehead, frown lines, and crow's feet; they should not be used more frequently than every three months. Injectable filler is a temporary treatment that adds volume to areas of the face such as the lips, cheeks, and laugh lines. Like any medical treatment, both injectable wrinkle reducers and injectable fillers have potential risks and side effects. Talk to a licensed provider to see if they're right for you. And learn more now by chatting with a trained aesthetic specialist.]
JC: Spotlyte: How would you describe the general beauty and aesthetics scenes in Atlanta?
With so many great doctors in the city, many people get injectables and fillers. 
Plus, there are many great beauty specialists here. This makes services for semi-permanent looks — from microblading to big hair and extensions — available.  
Spotlyte: Speaking of hair, tell us about yours! How do you do it and keep it straight and silky?
JC: Limited heat! I used to swear by blowouts every other week, but it caused more damage than good. Now I only get it blown out once a month and other times I'm wearing protective styles, such as extensions. Also, drinking lots and lots of water also keeps my hair looking full and healthy.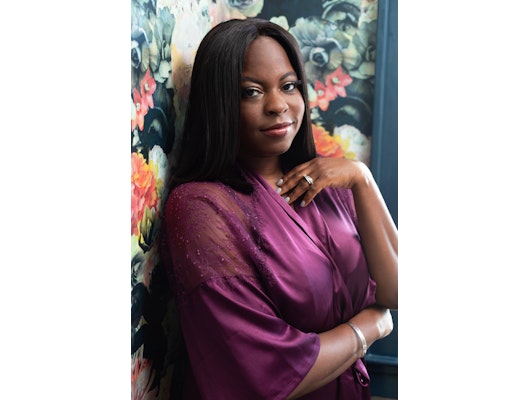 Patrick Heagney
Spotlyte: Who cuts your hair?
JC: I don't get cuts too often, more of a trim of my ends in between wearing protective styles like my extensions. When I do get my ends trimmed, I go to my hair stylist, Jasmine Iverson at Precise CuttsTM. She handles my natural hair in between extensions.
Spotlyte: What are your favorite makeup brands for women of color and why? Tell us what to buy!
JC: Fenty Beauty® by Rihanna without a doubt. I love Rihanna, and the fact that she started her company including all shades of women is amazing. You see a lot of brands now trying to get on board with this, and having X number of shades, but some are still missing the mark and not completely inclusive of all women.
Spotlyte: How did becoming a mom change your beauty routine?
JC: Becoming a mom made me really focus on what products I actually need and what can help me get the job done with limited time. My son is now in his toddler phase, so he wants to be into everything, and I need to focus on him. I find it easier when I'm able to master the look I'm going for within a few minutes.
Spotlyte: What do you hope to teach your son as he grows up?
JC: There's so much I want to teach him. And I know there's also so much he'll learn from me and my husband about never giving up on even the wildest dreams, being kind to others, and believing in yourself no matter what. There's so much comparison going on in the world now, especially with social media, and if we're able to help our children from the beginning know they are perfect just the way they are, that's a great start.
Spotlyte: Who or what inspires you?
JC: To be an inspiration to others. I try to build my content on helpful things that I know any woman can relate to, and I hope that they are inspired every time they come across my social media or website. I have people telling me they read a Bible verse I posted or a blog post, and how it helped them. That truly inspires me to keep pushing out great content and get better each day. 
Spotlyte: Who inspires your style?
JC: Other moms. When you become a mom, it's an automatic thought that you are expected to be in baggy shirts and no makeup at all times, which isn't true. With my style, I hope that [it's] not only them being an inspiration for me, but that I am also an inspiration for them; that you determine your own style, not what society expects to be your style.
Spotlyte: If you weren't a blogger, what would you do?
JC: If I wasn't a blogger, I definitely think I'd still be in the digital media or marketing space. I love writing and all of the new digital publications launching lately, like SpotlyteTM [Editor's note: thanks!]. I also love the background work of marketing that it takes to pull everything together for brands such as influencer marketing campaigns, social media, photography, etc.
Jasmine Crockett was paid by Allergan® to be featured in this article.
Product prices may vary from the time this article was written.
Allergan® may receive commission for purchases made through links in this article.