In The PathTM, we spotlight different women making a difference in the fashion, beauty, wellness, and medical aesthetics industries. Here, Kate Ward shares her road to success.
There's something missing from Bustle Digital GroupTM Editor-in-Chief Kate Ward's office. Glance around the window-lit room, and you'll find plush jewel-tone couches, lounge chairs, a coffee table, and knickknacks. But there's no computer monitor, mouse pad, or desk chair. It seems more like a place you'd go to drink wine and enjoy a cheese platter with your book club than the traditional corporate exec's HQ. The 34-year-old says the space reminds her of the beginnings of Bustle, when a small team worked out of a Williamsburg apartment.
In 2019, the workspace outside of her cozy office has evolved from its Brooklyn roots. Bustle Digital Group now spans three floors on a desirable Park Avenue South block, where quite literally 100 people report into Ward. Currently, Ward oversees editorial operations and content for Bustle®, Elite Daily®, Flavorpill MediaTM, MicTM, Romper®, and The Zoe Report®. The millennial networks have collectively amassed 82 million unique readers a month, with a reach of 23.8 million people on social media. There are 350 to 400 pieces of content going up across the networks in any given day.
With stats like those, Ward might just have discovered the secret sauce for winning social and editorial traffic in the 21st century. And to most, the sheer amount of content being worked on at once sounds head-spinning. Yet, Ward is impressively cool and calm. It seems like creating content is effortless for her — much like breathing.
"Growing from 0 to 80+ million unique readers a month required — no surprise — a lot of work and creativity from many of my very talented coworkers at Bustle Digital Group," she says. "I worked long hours, but I also worked smart hours — our success was best achieved through experimentation, innovation and, more than anything else, looking within. After all, we were our reader, so we were able to anticipate our readers' needs. It's unbelievable to see where we're at now. I would never say that I'm surprised, though, because if any team could accomplish this level of success, it's this team."
It would be easy to have an ego if you were in her shoes (which are usually combat boots or sneakers). She has already checked off some of the most impressive boxes for women in tech: Forbes'® 30 Under 30, Ad Age's® 40 Under 40, and Business Insider's® Silicon Alley Insider® 100 list. But she's all about promoting her team — not herself. Catch Ward for a coffee or cocktail, and she'll gush when discussing the diverse women she's hired to run BDG's digital empire. It's clear that female empowerment doesn't just run through BDG's content, it's also in the DNA of the company culture.
"Don't be a jerk!" she advises. "Perhaps it's because, unlike every reality show star, I really am always here to make friends. I've been most successful in my career when I've been kind and understanding of every member of my team. And empathy is contagious — the more a manager cares about their team, the more their team will care about them. These days, we all need to take care of each other, so let's do it!"
Here, she shares a look into that digital magic, the one drugstore beauty product all runners need, and the '90s literary character who inspired her to go blonde.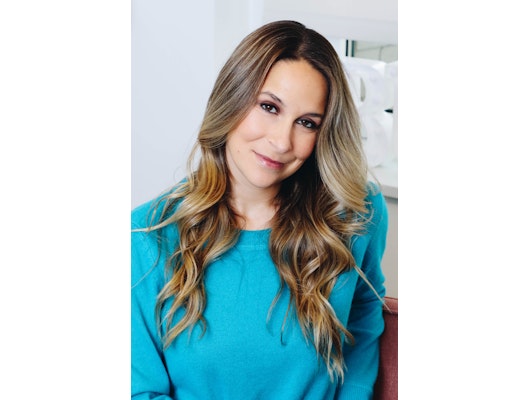 Joslyn Blair
Spotlyte: Tell us the short version of how Bustle and BDG were born, and how you got to where you are.
Kate Ward: In 2013, we set out to create a brand that allowed us to amplify women's voices on a variety of topics, no matter their backgrounds. We were ecstatic to see that audiences were quickly able to relate to our writers and editors and the content they created every day, and Bustle's growth only made us more excited to build out other brands. In 2015, Romper — the first site for millennial moms, by millennial moms — was born and, in the following years, we welcomed Elite Daily, The Zoe Report, Flavorwire, and Mic into our family. We're so proud to be able to be serving over 82 million readers every month, and can't wait to see where the next few years take us.
Spotlyte: Did you ever think you'd be an EIC? Was it a dream you had growing up?
KW: If you asked five-year-old me what I wanted to be when I grew up, the first answer would be "a cat." That said, by the time I was 14, I knew I wanted to be a journalist, but my initial sights were set on celebrity profiling. I couldn't dream of the opportunities that digital media would later bring me, and to be named Editor-in-Chief by 30 was never at all on my radar.
Spotlyte: The media has changed so much. What do you think it means to be an EIC in 2019?
KW: It means ultimate flexibility. During my day-to-day, I'm not editing headlines and hobnobbing with celebrities (despite how Hollywood might paint the job) — instead, I'm strategizing how my brands can grow and become more efficient. And that takes flexibility, and an ability to challenge your own thinking. The most dangerous thing in media is to be complacent — my job is to ensure we're always evolving and always innovating.
Spotlyte: What's the most rewarding part of your job?
KW: Easily, the best part of my job is collaborating with the hundreds of writers and editors who work for Bustle Digital Group. The level of talent I work with is extraordinary, and my colleagues not only make me a smarter person, but a happier and better person as well.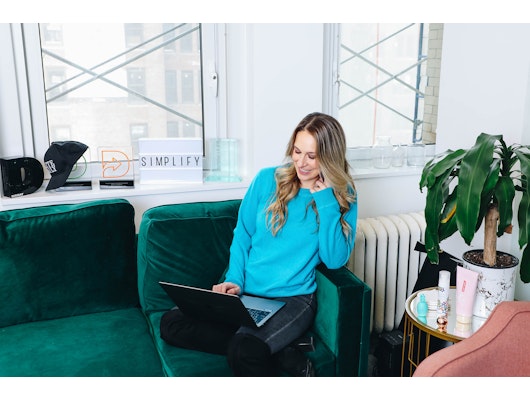 Joslyn Blair
Spotlyte: Any advice for people trying to break into digital media in 2019? What do you look for when you hire?
KW: More than anything else, an eagerness to learn and an eagerness to teach. Since the landscape is constantly evolving, we have so much to learn from each other.
Spotlyte: What advice do you have for brands trying to launch new content sites in a cluttered space?
KW: Though it's great to get inspiration from your peers, make sure that you aren't trying to be your peers. Even in a crowded space, you have to discover exactly how you are different. What can you offer that no one else in the marketplace is currently offering? No matter what field you enter, that's the most important question to answer.
Spotlyte: How has your job affected your beauty routine?
KW: Admittedly, prior to working at Bustle, my beauty routine was soap and water. I had next to zero knowledge about how to care for my skin. Working with talented beauty editors like Bustle's Kara McGrath, Elite Daily's Theresa Massony, and The Zoe Report's Khalea Underwood helped me realize just how much I was missing out. Before, I didn't even know to look for ingredients in what I put on my face — now, I enjoy testing so many different brands out to see how each benefits me.  
Spotlyte: What products have you discovered that you didn't know about before?
KW: I'm ashamed to say I never knew to wear daily sunscreen before my days at Bustle Digital Group. Now I know I can't leave home without it. I also had never tried a mask(!). I'm picking up knowledge on a daily basis from my editors, and I especially love just how much The Zoe Report exposes me to new products and brands. I am always willing to try anything new!
Spotlyte: You also went blonde last year! Is life as a blonde more fun? What inspired the change?
KW: After never adding any color to my hair for almost 15 years, I decided to lean into my never-ending quest to become Dawn from The Baby-Sitters Club. Verdict: I've got a long way to go before I could be as cool as Dawn. Working on it, though. I see Stephanie Brown at the IGK® Salon in Soho. She is phenomenal, and makes it look so easy. Plus, I don't think I've met another person who loves reality TV just as much as I do.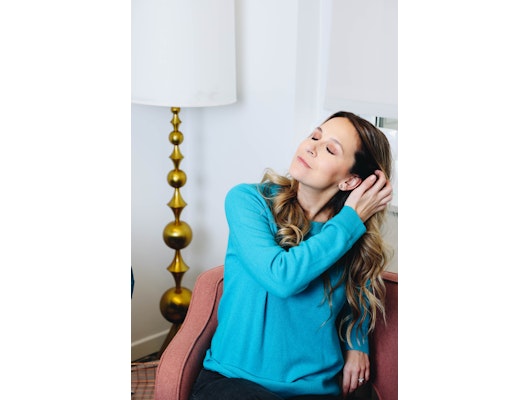 Joslyn Blair
Spotlyte: Any products you rely on to maintain your hair color?
KW: I've found Rita Hazan'sTM True Color Shampoo to be the best bet for newly colored hair. Not only does it smell amazing, but it smooths out my hair like few other shampoos.
Spotlyte: And you run marathons. What is your beauty and body care advice for runners?
KW: Aquaphor®, Aquaphor, Aquaphor! It's a miracle product, and necessary to apply to your underarms, thighs, and chest before any long race to avoid chafing. Feel the burn during your run, sure, but do what's necessary to avoid literally feeling the burn.  
Spotlyte: What are three skincare products you use daily? Why do these work for your skin type?
KW: At 17, I was absolutely covered with acne, but I've been lucky in my adult life to have pretty easy skin to care for. Each day, I'll make sure I use a face wash, moisturizer, and a nightly face mask, but I'm never picky about brand. I often switch things up to be able to sample an array of products on the market (even if I might be a bit partial to Drunk Elephant® products, which always make my skin feel so smooth).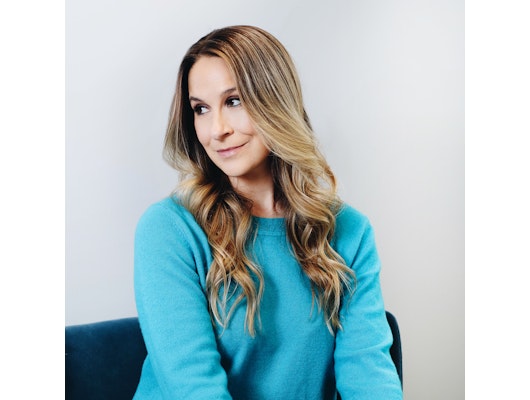 Joslyn Blair
Spotlyte: What are you using now?
KW: Right now, I'm using a [FAB] First Aid Beauty® Face Cleanser, Allies of Skin® Day Cream, and Laneige® Water Sleeping Mask. The pump on the Allies of Skin moisturizer ensures there's no drop left behind, and the Laneige water mask provides a great cool burst before bed that somehow is less energizing than calming. And First Aid's products are always winners — perfect for any dry skin in the winter.
Spotlyte: What is your go-to spa?
KW: Admittedly, if choosing between a facial and massage, I will always lean massage. (All those long runs!) But the best facial I ever had was all the way in Skaneateles, New York, at the Mirbeau Inn & Spa® (an essential getaway location for anyone in the New York area).
Spotlyte: Any other recommendations?
KW: For treatments and injectables, I [go to] Dr. Lara Devgan. She's also an absolute inspiration, juggling her own practice, a podcast, conferences, and six kids. I'm truly amazed!
Spotlyte: How have you seen the beauty industry change in terms of inclusivity in the past few years, and where do you hope it's heading?
KW: We've certainly seen strides in inclusivity across the industry, but we're not there yet. Though it's easy to applaud every brand's efforts to expand their products to include all skin shades and highlight all body types, the industry's work is never done. I'm optimistic, though, that the future is one in which everyone feels represented — even if that future still might be a ways away.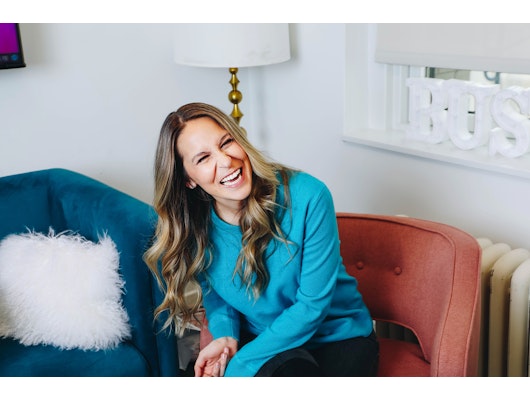 Joslyn Blair
Spotlyte: Besides the BDG sites, where do you like to read about beauty?
KW: I know I'm cheating here, but I could not stress enough how much everyone should read The Zoe Report's Beauty section — you'll walk away not only with increased knowledge of the products you put on your face, but also a shopping list of new products that you'll be absolutely obsessed with. Win-win! But outside of Bustle Digital Group's brands, I've developed so much respect for Allure's® dedication to inclusivity in the last five years and, of course, I learn a good bit about new products from (where else?) Instagram®.
Spotlyte: If you weren't an EIC, what would you do?
KW: If I could figure out a way to combine my three favorite things into one job (cats, cheese, and Hawaii), I would. All ideas are welcome.
Allergan® may receive commission for purchases made through links in this article.