When you think about what a dermatologist might do during her off hours, your mind might go straight to activities like getting a regular facial or slathering on tons of SPF by a pool. Hobbies like raising chickens and taking portraiture classes are probably your last guess for the ideal off-hours of most doctors, but board-certified dermatologist Christine Law just isn't your average derm.
Yes, the 40-something Atlanta-based mother of twin girls enjoys tending to her backyard vegetable garden, but she loves taking care of her patients even more. Here, Dr. Law shares exactly why she takes those portraiture classes (hint: they give her a leg up at her practice), what her own skincare regimen involves, and her stance on injectables.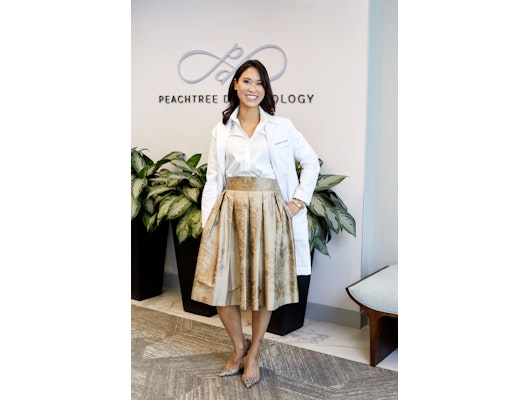 Kelly Lane Photography
Spotlyte: When you were a little girl, what did you want to be when you grew up? How did you end up in dermatology?
Christine Law:  My father was a physician, and I grew up going around with him in the hospital on the weekends, checking in on his patients. It was amazing to see what an important role he played in helping patients heal and improve their quality of life. I knew very early on that I also wanted to be a doctor, so that I could make an impact on patients' health and well-being. As an added fact, I have always had a passion for the visual arts and have been fascinated by the complexities and unique qualities of the human face. To this day, I continue to take portraiture classes in my spare time. I love cosmetic dermatology because it is all about achieving proper proportions, balance, and harmony within a patient's face.  
Spotlyte: Can you speak more about how portraiture classes help you in your practice?
CL: Studying the details and intricacies of the human face in portrait painting classes has definitely given me an advantage when assessing and treating cosmetic patients in my practice. The portraiture classes have trained my eye so that I am acutely aware of the facial features in both male and female faces.  The classes have increased my perception of depth and volume changes regarding the face.
Spotlyte: Do you have any advice for someone interested in pursuing a career in dermatology?
CL: The field of dermatology is fascinating because there are so many different angles that you can pursue: the field of research, medical dermatology, cosmetic dermatology, surgical dermatology, and dermatopathology, to name a few. There really is something for everybody. Regardless of what field of dermatology you pursue, it helps to be very detail-oriented. For instance, with medical dermatology, the smallest changes in a skin lesion can signal a dangerous outcome. Being able to detect these small changes can potentially save someone's life.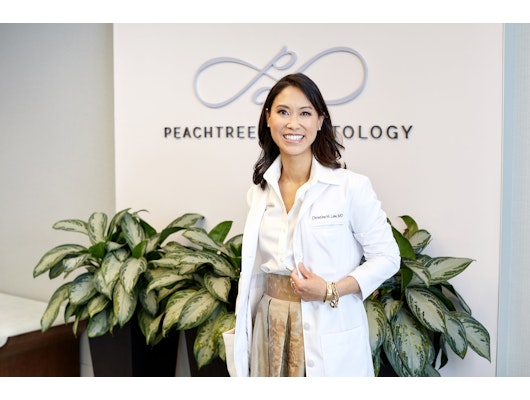 Kelly Lane Photography
Spotlyte: What is your day-to-day like at the office?
CL: I find that each day holds a unique combination of patients, but there's always a good mix of surgical procedures, cosmetic procedures, laser treatments, and general dermatology issues, such as mole checks, various skin rashes, and acne. The variety always keeps things interesting!  
Spotlyte: What is your favorite type of procedure or treatment to perform on clients? Like a laser, extractions, cosmetic injectables, etc?
CL: The most gratifying procedure is cosmetic filler injectables since the results are instantaneous.   
---quiz start
---quiz end
[Editor's note: Injectable filler is a temporary treatment that adds volume to areas of the face such as the lips, cheeks, and laugh lines. Like any medical treatment, it has potential risks and side effects. Be sure to talk to a doctor to see if it's right for you. Have more questions? Chat with our team of trained aesthetic specialists now.] 
Spotlyte: Speaking of injectables, what do you think are common misconceptions about them?
CL: It is sad that so much attention is drawn to the bad outcomes that it deters patients from wanting to try cosmetic injectables. Little do they know that they probably pass by so many people throughout the day that have had cosmetic injections, yet it was done [properly] and [with] the proper touch so that it is not obvious — that is the key. In the right hands, cosmetic injectables can yield a very [subtle] outcome.
Spotlyte: What advice do you have for someone who is interested in getting injectables for the first time?
CL: IIt's always best to start slow: it took decades for the creases and hollows to appear, so I would not recommend erasing all of them in a 20-minute office visit.  
Spotlyte: Are there particular treatments or services offered at your practice that you have observed to be more popular in Atlanta than in other regions? If so, what are they?
CL: Atlanta has the same cosmetic treatments and services that other metropolitan cities offer; however, I do find that regardless of the procedure, most Atlantans prefer to have a more "natural" look rather than look overdone.   
Spotlyte: What would you say is the most challenging part of your job?
CL: The most challenging part about the field of dermatology is the fact that many skin conditions are chronic in nature and do not have a cure. Dermatologists can help with managing and controlling these conditions, but as of yet we cannot permanently clear conditions such as eczema and psoriasis. With ongoing medical research, I'm hoping that a cure for these conditions is on the horizon.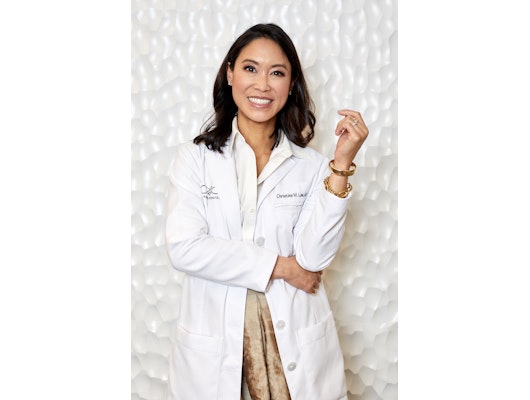 Kelly Lane Photography
Spotlyte: For our readers out there, how do you know if you have a skin condition (like acne, eczema, discoloration, etc) that's mild enough to treat with over-the-counter products, or if you have a specific skin condition that requires a dermatology visit?
CL: Certainly patients can try to self-treat by purchasing over-the-counter skin treatments, but if there is no improvement after one to two weeks, then I would suggest making an appointment to be evaluated in the office. If there is any sign of an active skin infection (which is typically accompanied by redness, tenderness, swelling, warmth, oozing, and/or crusting) then I would not hesitate and I would recommend making an appointment right away. 
Spotlyte: What medical aesthetics treatments have you personally tried?
CL: [Laughing] I've tried them all! My personal policy is to try everything on myself before I perform these treatments on patients. That way, I know how it feels and I know what the recovery and outcome are so that I can better advise my patients on these procedures and what to expect. I routinely undergo microneedling treatments, chemical peels, HydraFacial®, injectable wrinkle reducer, and filler injections..
[[Editor's note: Injectable wrinkle reducers are used to temporarily smooth the look of moderate to severe wrinkles in certain areas of the face such as the forehead, frown lines, and crow's feet.  They should not be used more frequently than every three months. Like any medical treatment, they have potential risks and side effects. Be sure to talk to a licensed provider to see if they're right for you. Have more questions? Chat with our team of trained aesthetics specialists now.
Spotlyte: What are your favorite skincare products to use on yourself?
CL: My skincare regimen varies depending on the season. I live in the South, so when summer comes and it is hot, sunny, and humid, I gravitate towards lighter weight skincare products and more heavy-duty sun protection. Every morning, I apply Revision® Vitamin C 30% Lotion ($119) followed by Revision Intellishade® TruPhysicalTM SPF 45 Moisturizer ($75). In the evening, I use SkinMedica® Retinol Complex 1.0 ($93) and a lightweight moisturizer such as Revision D.E.J.TM Face Cream ($140). My summertime cleanser alternates between Glytone® Mild Gel Wash ($33) with glycolic acid and PCA Skin® Pigment Bar ($41) to help with pigmentation.
In the winter months, my skin gets so dry that I reach for more emollient, hydrating products and gentler cleansers. My cleanser alternates between Elta MD® Foaming Facial Cleanser ($25) and PCA Pigment Bar. Each morning, I apply a few drops of ISDIN® Flavo-C® Ultraglican® Vitamin C Ampoules ($82) and then apply Revision Intellishade Original SPF 45 ($75). In the evening, I use SkinMedica Retinol Complex 0.5 ($78), decreasing the strength to minimize dryness and irritation, then I apply a few drops of ISDIN Melatonik® 3-in-1 Night Serum ($120), and I finish off with a thick layer of SkinMedica TNS Ceramide Treatment Cream ($69).  
[Editor's note: Retinol shouldn't be used by those who are pregnant, considering getting pregnant, or nursing. Please consult with your doctor before use.]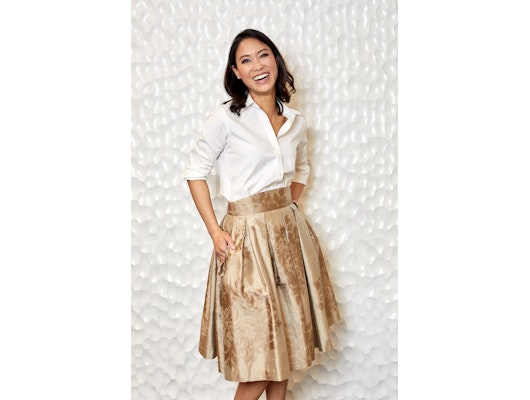 Kelly Lane Photography
Spotlyte: If you weren't a dermatologist, what do you think you would be doing instead?
CL: In my dream life, I would be traveling the world with a portable paint palette and camera in tow. I love meeting new people, exploring different cities, learning new languages and customs, and trying new foods and experiences.  
Spotlyte: Speaking of food, can you talk more about your outdoor garden and chickens?
CL: After work, you can often find me in my overalls, large-brimmed hat, and garden clogs tending to our organic vegetable and herb garden with my husband and daughters. I love to be outdoors in nature, it is my therapy! We have a flock of beautiful free-range hens that are named after some of my favorite country music singers: June Carter and Tammy Wynette, to name a few. My daughters love collecting the fresh eggs, and we put them to good use in breakfast dishes and baked goods.
A lot of the chicken waste, as well as our kitchen scraps, go into compost bins which produce rich, black compost that we place in our raised garden beds. And the chickens love to feed on the compost worms. It's a great big natural cycle and it's wonderful to have the whole family involved in planting, harvesting, and cooking what we reap from our backyard. My husband is an accomplished chef and I love to bake, so together, we make a very good match!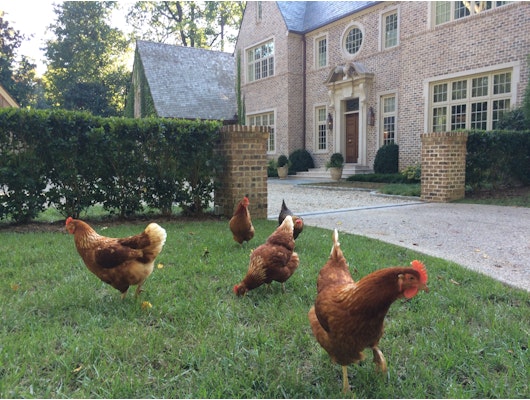 Courtesy of Dr. Law
Spotlyte: It sounds like you spend a lot of time with your daughters outdoors. What skincare (and life!) advice would you pass onto your two girls?
CL: Out of all my accomplishments, I am most proud to be the mother of twin 10-year-old girls. And they already know the importance of daily sunblock and sun protection! I have tried to instill in them the values of hard work, honesty and, most importantly, gratitude and kindness to others. After all, true beauty comes from within.
Product prices may vary from the time this article was written.
Allergan may receive commission for purchases made through links in this article.
SkinMedica® is an Allergan-owned skincare line.