Quick — think of your favorite summertime fruit. (We know, this can be a challenging exercise in brutal winter temperatures). Perhaps you imagined sinking your teeth into a ripe, juicy peach. In addition to being the sweetheart of Georgia (it's called "The Peach State," after all!), the crucial component of a cobbler, and fodder for emoji innuendo, the fuzzy fruit is also rife with skincare benefits.
Just ask Ido Magal, founder of Lavido® skincare, who discovered that the seemingly benign peach kernel is, in fact, a skincare goldmine. During a trip to India, Magal met an elderly couple producing peach kernel oil. "The quality [of the oil] was the most beautiful I have ever seen in my life," he recounts. The extraction process, he says, was equally as impressive; the couple used a heavy wooden stick to crush the peach pit by hand. 
Peach kernel oil is thin, fast-absorbing, and relatively non-greasy, which makes it texturally ideal for skincare. Plus, it's incredibly nutrient-dense. "Peach kernel oil [contains] oleic acid and linoleic acid," Magal notes. Both are fatty acids, which can work to promote supple skin. "The oil also contains calcium, magnesium, potassium, and many more skin-supporting minerals," he adds.
For this reason, peach kernel oil can soften very dry skin, Magal explains. Try adding it to your bathwater via bath a pure peach oil ($4), or treat yourself to the Peachy Bath Bomb from Lush Fresh Handmade Cosmetics® ($7), which contains real peach fruit extract. Towel off and seal in moisture with an oil like Aromatherapy Associates® ReviveTM Body Oil ($68), which contains the hero ingredient, too. If your skin runs oily, you don't have to ditch peaches — consider the Votary® Clarifying Clary Sage and Peach Oil ($102), which balances the oil with clary sage, a natural astringent.
Peach kernel oil can also help smooth dry hair. Take it from hair care brand The Mane Choice®, which is launching an entire line infused with the stuff. "Peach extract helps to promote softness and natural shine," explains Courtney Adeleye, CEO & Founder. "It's also a natural thermal protectant." Try the gorgeously-scented Peach Black Tea Anti-Shedding & Intense Volume Therapy Mask ($18), which leaves all hair types soft and shiny.
Peach flesh itself is brimming with skin-brightening vitamin C, which would explain why beauty brands give it a starring role in skincare formulas. The TONYMOLY® Peach Cleansing Water ($17) is like a micellar water of sorts — but instead of micelles, it contains pure peach extract to give your skin a glow. Similarly, the SkinFoodTM Peach Sake Cleansing Water ($15) features peach fruit extract to brighten, as well as peach kernel oil to soften. To get your fix on the go, try the Burt's Bees® Facial Cleansing Towelettes with Peach and Willowbark($5), which remove makeup and leave skin luminous.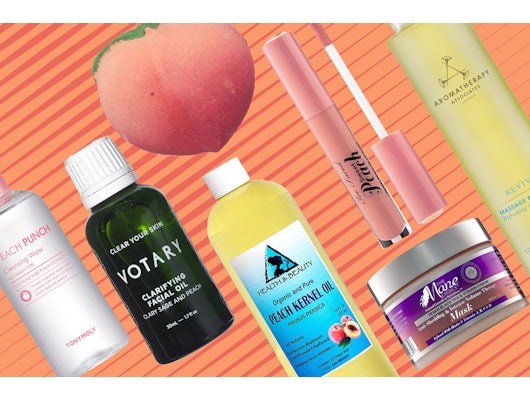 Courtesy
Lastly, we'd be remiss not to mention the fruit's presence in makeup products. Perhaps one of the most prominent examples is the Too Faced® Peaches and Cream collection, which contains a smattering of blushes, shadows, and lipsticks infused with extracts and oils from the fruit. Don't miss the Creamy Peach Oil Lip Gloss ($19), which relies on peach fruit extract to make your lips look just as juicy as it's namesake fruit. (It smells like a cobbler to boot!) Wander Beauty® uses a less conventional part of the peach — the leaf — in its new Mile High ClubTM Volume and Length Mascara ($26, out in February). The peach leaf extract fortifies lashes over time. Talk about a superfood.
Some complementary products were provided to the author for the purpose of writing this article.
Product prices may vary from the time this article was written.
Allergan® may receive commission for purchases made through links in this article.