In The PathTM, we spotlight different women making a difference in the fashion, beauty, wellness, and medical aesthetics industries. Here, Hip-Hop Yoga instructor Jaimee Ratliff shares her road to success.
31-year-old Atlanta native Jaimee Ratliff didn't start her yoga journey with the intentions of becoming an instructor. It started with the intention of healing, first as a teen recovering from a major surgery and then as a young adult getting over a traumatic event. But despite all the peace that yoga gave Ratliff, she found that the routine didn't fully reflect who she is. Noticing the lack of diversity in the classes she was taking (and not just in terms of skintone), Ratliff decided to broaden the scope.
From that desire for change, she launched her Hip-Hop Yoga class, which blends yoga and self-care with inspirational hip-hop tracks. Ratliff's mental escape quickly turned into her full-time gig, and she now teaches sold-out, pop-up classes around Atlanta and beyond, in addition to leading leading retreats around the globe. She caters to yogis of all backgrounds — to a backdrop of hip-hop and R&B tunes assisting the flow. Here, she shares more about how she turned her self-care time into a lifestyle, and why chilling out may the best thing you can do for your physical and mental well-being long-term.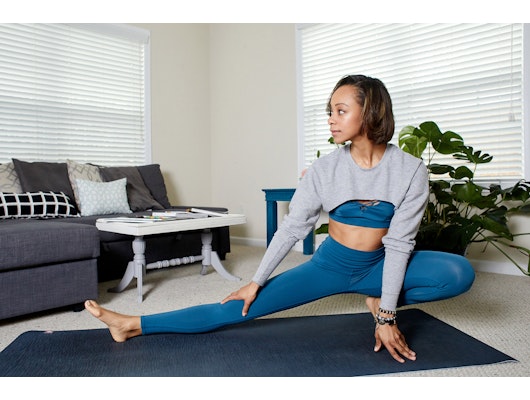 Kelly Lane Photography
Spotlyte: How did your Hip-Hop Yoga class come to be? When and how did the brand go from an idea to a real thing?
Jaimee Ratliff: I started teaching Hip-Hop Yoga in January 2017 to make yoga a more inclusive practice. I wanted to share the benefits I've experienced in my own yoga practice with people of all colors, shapes, sizes, and socioeconomic statuses. From day one, my classes were selling out. It's been surreal. 
Spotlyte: What makes Hip-Hop Yoga special or different from traditional yoga?
JR: The music! We still do the same traditional poses, but the atmosphere is not your typical room, where everyone feels like they're on an island by themselves. Friendships develop in my classes. We use each other in certain postures to help people feel the support from their community and to know that they are never alone in life's challenges. 
Spotlyte: When was the first time that you ever did yoga and can you describe what that experience was like?
JR: The first time I practiced yoga was after undergoing a spinal fusion to straighten my spine from scoliosis. My surgeon recommended it as a way to keep mobility and flexibility in my back. Back then, it was just a physical practice for me. But now, it has become something that helps me both mentally and spiritually.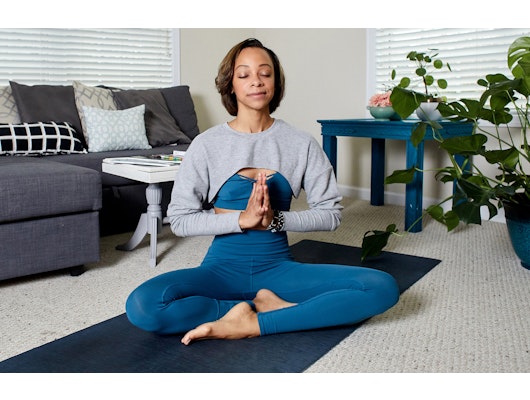 Kelly Lane Photography
Spotlyte: What are your thoughts on women of color and yoga? Is it something that you think is embraced?
JR: More women of color are doing yoga now than ever before, and I think it's a beautiful thing. It's definitely something that is embraced. [Many people can benefit] from a yoga practice.
Spotlyte: From your perspective, why is yoga particularly important, particularly to women of color?
JR: Women of color, particularly black women, [tend to] constantly [take] care of everyone else. That's just our culture. It's rare that we make time to take care of ourselves because that is deemed as being "selfish." But self-care is not just a buzzword anymore. We are truly learning how to pour back into ourselves and also creating that time to do so. Yoga is one of those ways that we can continuously fill our own cups before pouring into the cups of others.
Spotlyte: Where does Hip-Hop Yoga fit into the overall wellness landscape that has boomed in the last few years?
JR: Hip-Hop Yoga is for those who are seeking fun and community in their yoga practice. It's a safe space where you don't have to feel judged or ashamed if it's your first time. In my classes, we get off our mats and get to know the people across the room from us. We may link arms in tree pose. I may crack a joke to get people to loosen their facial expression in chair pose.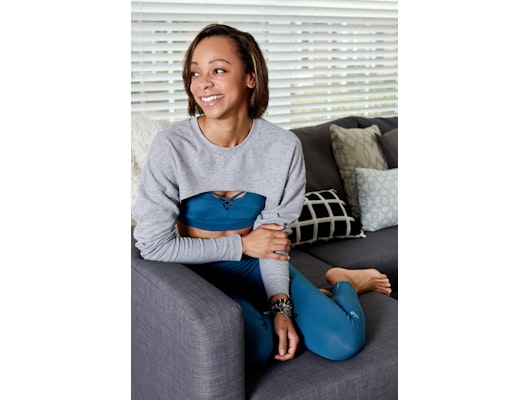 Kelly Lane Photography
Spotlyte: Tell us about your personal hair routine.
JR: It's really simple actually. I go to the salon weekly as a part of my self-care routine. I love getting my scalp massaged. I use minimal heat on my hair.
Spotlyte: Do you find it challenging as a woman of color with textured hair to find styles that work with your fitness/workout goals?
JR: Yes, it is very challenging, but I love getting protective styles, like braids. I usually will get my hair braided and keep them in for two weeks at a time when I'm really on the go.
Spotlyte: Do you find that hair is a deterrent that keeps women of color from working out and doing yoga?
JR: Yes, I do think some women shy away from getting a good workout in because they don't want to sweat their hair out. I totally understand, though. It's tough!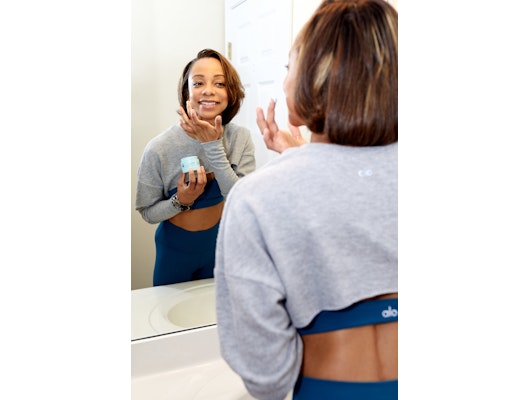 Kelly Lane Photography
Spotlyte: Are there any skincare products you rely on before or after a workout?
JR: I have been washing my face with raw African black soap for a long time and it just works well for me. I also follow up with a mask. I'm currently using Fré® Detox MeTM Post-Sweat Clearing Mask ($54). I also use rosewater and jojoba oil ($10). 
Spotlyte: What are your beauty must-haves?
JR: My rosewater ($10)! It makes me feel so refreshed whether I'm traveling or just need a quick pick me up. Also, having some water to drink will always be the holy grail of "beauty" products. Beauty really starts from the inside out.
Spotlyte: What's your stance on cosmetic injectables?
JR: I personally don't use them, but I don't judge anyone who chooses to.
Spotlyte: What is your anti-aging philosophy?
JR: Don't stress! Everything will take care of itself. Easier said than done, I know.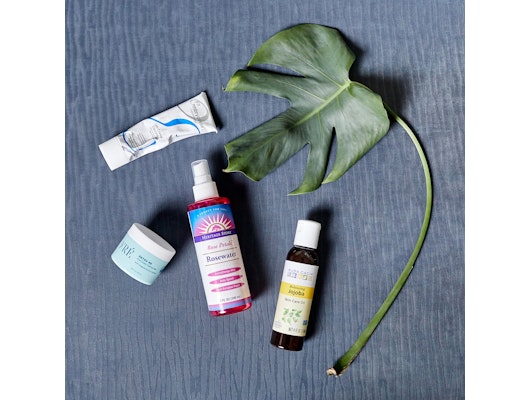 Kelly Lane Photography
Product prices may vary from the time this article was written.
Allergan® may receive commission for purchases made through links in this article.