If Leah Wyar looks familiar, it's probably because you've seen her on the small screen. The 40-year-old veteran beauty editor has appeared in E's!® So Cosmo® docuseries, in addition to Lifetime's® makeup competition show, American Beauty Star® (alongside the likes of Ashley Graham). It's rare for beauty editors to transition from behind-the-scenes reporter to national TV personality, but Wyar has proven she's not a one-trick pony.
That's not to say she isn't — for lack of a better expression — crushing it in the editorial world. Wyar has been rising through the ranks at prestigious glossies since 2002, and has worked within the walls of every magazine tower in New York City (Condé Nast®, HearstTM, and Meredith®, which acquired Time Inc.). For the past decade, she was at Hearst — first as the Lead Beauty Editor at Cosmopolitan®, before she took on the position of Chief Beauty Director (basically, she was like the editor-in-chief of all the beauty directors at different Hearst titles).
"It was a lot of hard work, but it was truly a blueprint of women supporting women in the workplace," Wyar said of working with the "tremendously talented" Hearst beauty group, citing her former boss, Joanna Coles, as one of the smartest women she knows. "We are bonded forever. I learned how to manage extreme change. I was responsible for 22 people, and I took that very seriously. It wasn't just about coaching them through the intense logistics and politics that surrounded all of of us — it was equally about keeping them positive and motivated to come to work everyday." (Wyar has read every book by motivational speaker Simon Sinek for management strategies.) 
This January, she officially left print and leapt into the world of digital, taking on the job as General Manager for Byrdie® and MyDomaineTM (after both sites were bought by digital media company, DotdashTM). "I feel inspired, energetic, and incredibly motivated!" she says of her new role. "Seriously, everyday I'm more and more excited about going to work . . . I am super lucky to have landed at a digital company that's the perfect fit for my personality and work ethic. There's an infectious top-down energy at Dotdash." 
She hopes not only to share takeaways from her 18+ years as a beauty editor with the Dotdash teams, but also to learn from the group. "I'm in this incredibly privileged position: I've inherited the teams responsible for the success of both of these brands — and they are brilliant." Wyar enthuses. "Plus, I get nearly 400 geniuses at Dotdash who know how to successfully grow content better than anyone in this business. I plan on persuading every last one of them to teach me everything they know."
In addition to working with an army of digital disruptors and rubbing elbows with company executives, Wyar has a special little boss at home: her four-year-old son, Axel. And, on top of all of these responsibilities — raising a family, TV filmings, editorial duties, and managing multiple teams — Wyar still shows up at beauty editor events all smiles. No ego. She has a reputation for being one of the friendliest, kindest beauty editors in the biz. (Not to mention, she has noticeably smooth, glowing skin.) 
Given her demanding schedule and ability to always look so polished, we had to know all about her routine. So we visited Wyar at her charming apartment in Chelsea, New York. There, she opened up her medicine cabinet and let us peek at her vanity tray to see all of the beauty products she uses. Plus, she shared which medical aesthetics treatments she gets, her secret sauce to layering products, and what she eats to hydrate her skin from within.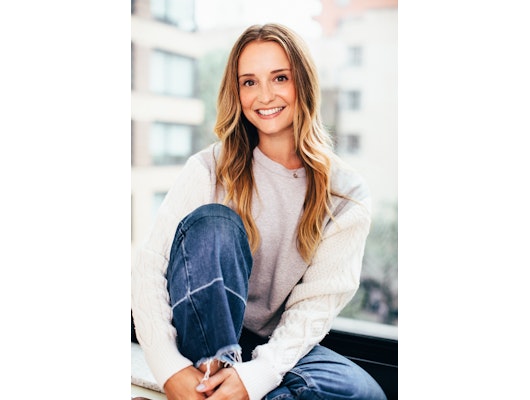 Ben Ritter
How Her Skin Has Changed in Her Forties
"Something definitely happens in both decades [thirties and forties], at both milestones. At 30, you're like, 'Oh my god, I might look old soon, right?' So you start to experiment with things that will keep you looking young. Maybe you never wore sunscreen in your twenties, but your thirties is a tipping point.
In your forties, you start seeing stuff, and you're like, 'I have to treat it.' Now, I'm like at the place where I'm gonna try Fraxel® for the first time. I have so much pigment right now that I'm dealing with."  
Her Approach to Aesthetic Treatments and Facials
"Injectable wrinkle reducers are part of my routine. I started getting them around my 30th birthday. I do it in my forehead, and I've experimented with it around my eyes [for crow's feet]. I don't love the way it looks on me when it's there. So, I stick to the elevens and my forehead. I've been going to Dr. Meghan O'Brien at Tribeca Park DermatologyTM. 
[Editor's note: Injectable wrinkle reducers are used to temporarily smooth the look of moderate to severe wrinkles in certain areas of the face such as the forehead, frown lines, and crow's feet. They should not be used more frequently than every three months. Like any medical treatment, they have potential risks and side effects. Be sure to talk to a licensed provider to see if they're right for you. Have more questions? Chat with our team of trained aesthetics specialists now.] 
I haven't tried filler yet. I will probably get to a point where I want to. I just haven't gotten there yet.
[Editor's note: Injectable filler is a temporary treatment that adds volume to areas of the face such as the lips, cheeks, and laugh lines. Like any medical treatment, it has potential risks and side effects. Be sure to talk to a licensed provider to see if it's right for you. Have more questions? Chat with our team of trained aesthetics specialists now.]
I do a lot of peels, I've done microdermabrasion, and I get a lot of facial services that are techy. I think that stuff can help over time. I'd rather have a facial that uses some sort of device that's going to do something, [rather] than just have somebody massage lotion around.
I go everywhere for facials. The last great facial I had was at Barneys®. Mila Moursi has a room there. The cryo portion of it was heaven."
Her Approach to Skin Treatments
"We've come a long way in terms of textures and ingredients in products, which is good. But stuff in the bottle is not [always] the answer. It can maintain what you have, but if you really want to change stuff — diminish the wrinkles or fade the spots, then you have to be going to the doctor's office.
I will try products that claim to fade spots, and then they don't work. I would so much rather go into the dermatologist's office — to get a laser or have a series of peels to fade that stuff — than waste time."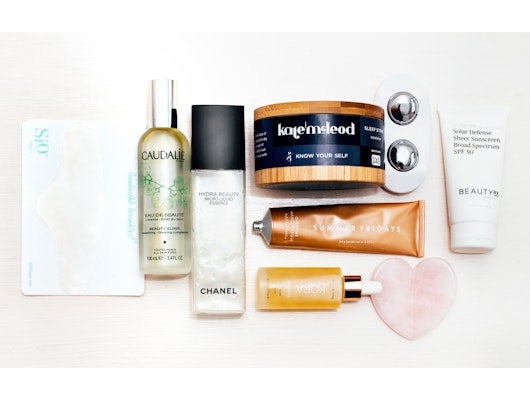 Ben Ritter
Her Skincare Routine
"My skin type is fairly normal. If anything, it's a bit dry in the winter or if it's irritated. It's also a little sensitive.
I don't subscribe to the whole idea of using consistent products everyday. I'm more into a consistent routine everyday. I'm also a huge believer in just moisturizing your face like crazy. I do it in layers. In the morning, before I even put my foundation on, I will have four layers of hydration. Usually, it's a hydrating mist, hyaluronic acid essence, face oil, and sunscreen.
Some people freak out about that, because they're afraid to look shiny and greasy. I feel like we're in a place in life and society right now where a glow makes you look youthful, more beautiful, and less tired. So, I am not afraid of looking like I have a little bit of oil or products on my skin. It makes me more confident."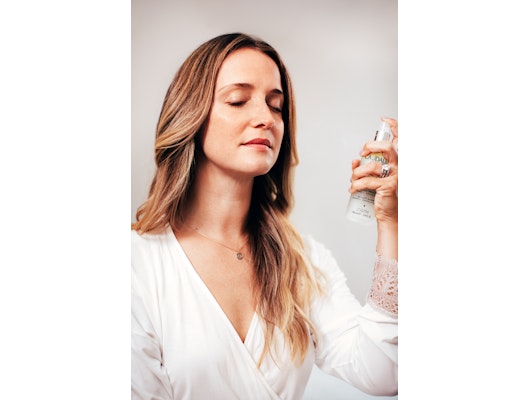 Ben Ritter

Her Favorite Products
Caudalie® Beauty Elixir ($49): "I've been using this for probably 10 years. To me, this is where the wellness world blends with skincare, because the fragrance is so relaxing and offers aromatherapy. It's addictive. Even the way it just sprays so evenly and perfectly. It feels cooling. I have to start my day that way, and I have to start my evening routine that way."
Chanel® Hydra Beauty® Micro Liquid Essence Refining Energizing Hydration ($100): "Immediately after that, I use that Chanel Hydra Essence. It has hyaluronic acid droplets in it. That kind of pushes the spritz in, and it just gives you an extra wash of hydration."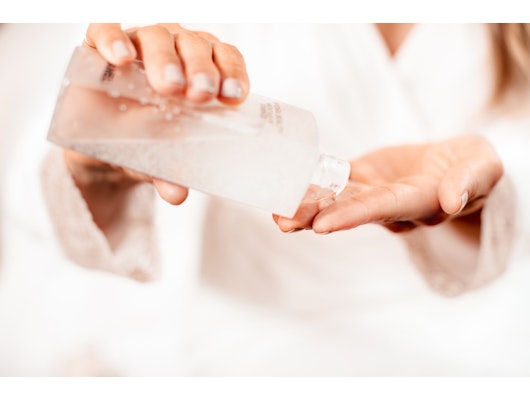 Ben Ritter
KORA OrganicsTM Noni Glow® Face Oil ($68): "I go straight into an oil, and I'll either use Miranda Kerr's KORA oil or the Elemis® one. I use those particular ones because they're not super thick. As soon as I put them on my skin, it just kind of mixes in with the hyaluronic acid [essence]. It's a really good texture. It's not heavy. It absorbs into the skin, and then I lock it all in with a cream."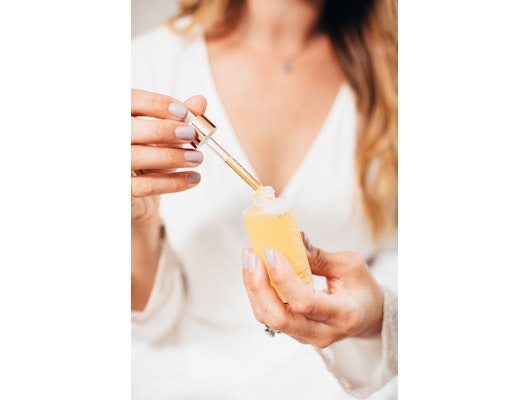 Ben Ritter
KORA Organics Rose Quartz Heart Facial Gua Sha ($58): "A lot of times if I wake up puffy, I will use the oil with this. It's shaped like a heart, which is really great because you can get into different grooves of your face. It's perfect for underneath your eyes. I grind my teeth a lot. I know that sounds like a dental problem, but it's actually an [aesthetics] problem, because you build up so much muscle in the back of your jaw that it starts to change the shape of your face.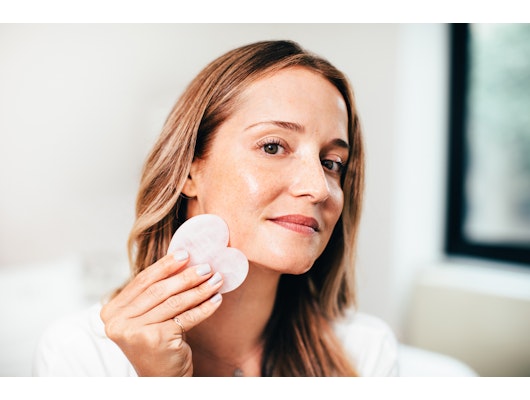 Ben Ritter
[Editor's note: If you take blood thinners, talk to your doctor before using a Gua Sha tool.]
Facialist Nichola Joss does a massage in the mouth during her facials, and she really gets those muscles to relax. She is somebody I do see regularly, although she's based in London, so I have to wait until she's here every quarter. She helps to really manipulate that for me, and then I use the KORA stone to just loosen everything up in the morning. You need the oil to create the slip."
BEAUTYRX by Dr. Schultz® Solar Defense Sheer Sunscreen Broad Spectrum SPF 50 ($42): "In the morning I'll use Dr. Schultz's [sunscreen], in the SPF 50. I have gotten so many people hooked on this product, because it's the loveliest cream. You don't feel like you're wearing sunscreen."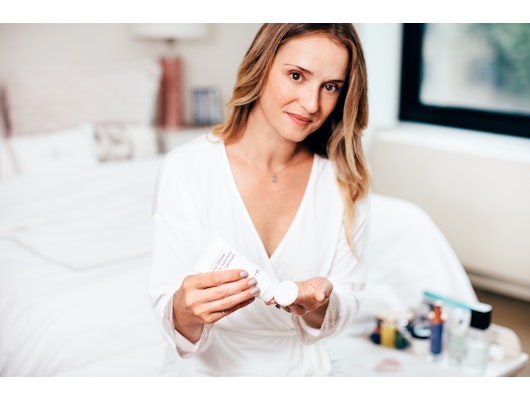 Ben Ritter
Summer Fridays® Overtime Mask ($44): "I have a wardrobe of masks — because depending on what is happening with my face, I'll use something different. I'm loving this pumpkin mask, because it has the enzymes that dissolve all the dead [skin] cells. It also has exfoliating powders in it, so you're getting a two-in-one. It's like a scrub plus a mask. It smells like Thanksgiving — a little cinnamon-y, a little pumpkin-y. I also love that whole brand, in general — it's just so cool."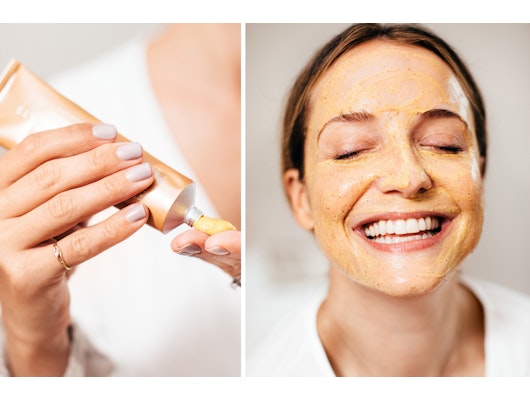 Ben Ritter
SiO FaceLift® Eye Overnight Wrinkle Smoothing Patch Pack ($50): "The SiO forehead patch is a newbie to my routine. I've been wearing it fairly consistently, and it's that medical-grade silicone stuff that people do on their chests — like to prevent the sleep creases. It's a really good fix. Temporary, obviously. You wake up, and [your] lines are a little more plumped. Then, it goes away, and you have to do it again. What's great is that the patch lasts for 15 uses, so you can use it for two weeks, and then get a new one. It's effective and efficient." [Read the SiO beauty founder's inspiring story here.]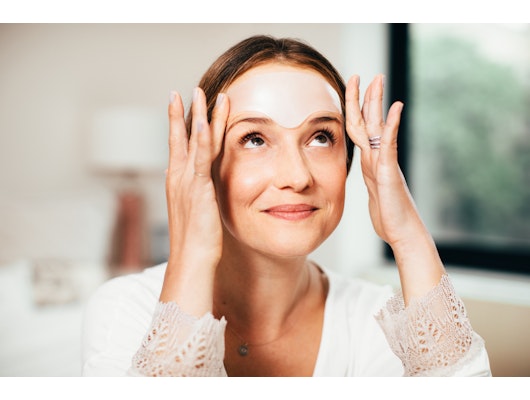 Ben Ritter
ZIIP Beauty® Nanocurrent and Microcurrent At-Home Facial Device ($495): "I was so intimidated by the technology, that it just sat around. But it is really super easy. You use your iPhone® [and the app] to find the facial that you want. There are about eight different ones for pigmentation, fatigue, puff, and more. It works by sending a signal to your phone, and you watch a video that shows you exactly where to hold it. It sends electrical pulses to the skin. [The results] depend on what pulses are coming out of it, and how you're using it on your face.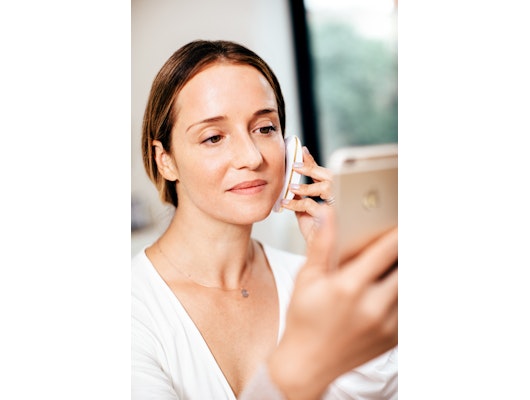 Ben Ritter
Melanie Simon, the creator, calls herself an electrical aesthetician. So you're getting her expertise and her work in this little handheld device, and it's kind of amazing. It's super cool, and the technology, in my opinion, is just some of the most interesting stuff that I've used in a really long time."
Her Wellness Philosophy
"Wellness is so tied into skincare now. There are so many ways to turn your skincare routine into a wellness routine, and take a minute for yourself. It sounds super weird, but Miranda Kerr got me into this whole idea of crystals. She once had an event [for editors] at the Woom CenterTM, which is a meditation studio. She had her crystal healer there with her, and she gave everybody crystals.
Where we are in beauty, people are so much more open-minded to a lot of things. We are open-minded to thinking that weird things like crystals can possibly do things. If you believe that it's helping you relax and calm down from a stressful day, then why wouldn't you do it?
I'm super open-minded about things like acupuncture, yoga, meditation, and crystals — and how these plays into your overall health. Which is, of course, tied to your skin. I look at my skincare routine as a moment to relax."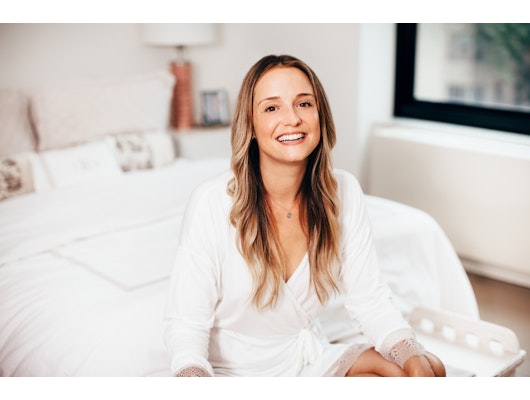 Ben Ritter
Her Fitness Routine and Diet Approach
"To stay in shape, I see a trainer once a week. I go to Focus Integrated FitnessTM. I do Flywheel®, so I spin. I try to do it once or twice a week. And I weight train on the other days, because I just feel like weights are what makes the biggest difference. And I do try to jump on the treadmill when I'm doing the weight training.
I'm fairly loose with my diet. It's hard having a four-year-old around — with [things] like mac and cheese available anytime I'm looking. But I try to have a smoothie or eggs and avocado in the morning. I do have coffee, although I've tried to keep it decaf lately. I'm trying to stop the caffeinated spikes. I'm pretty good about salad and protein for lunch. It's in evening when things can start to go off the rails, but I do try to keep it to a protein, healthy fats, greens, and veggies. It's afterwards that, you know, the wine comes into play, and the ice cream, or whatever. But I try to keep it under control.
I drink cold lemon water and have some avocado every morning. I'm also a fan of Bulletproof® Coffee in the mornings, which has MCT oil (medium chain triglycerides from coconut oil).
I really believe that what you eat can really affect your skin. I think it's the reason why we're seeing this supplement boom that's happening. Everything that you ingest is just going to help you, and I believe that. So, hydration [is] 100 percent [key]. I love the lemon for the detoxification. I feel strongly that the omega-3s in the avocado help so much with skin, hair, nails. You know, I just think it's kind of a miracle food."
Product prices may vary from the time this article was written.
Allergan® may receive commission for purchases made through links in this article.