If you saw the amount of oil I slather on my face each night, you'd probably assume I'm totally on top of my moisturizing game. While it's true that I love a glistening face, I lack the discipline to do the same for the rest of my body. (Plus, I hate the feeling of greasy palms.) So when I learned of an intense moisturizing body treatment that requires an hour of time but no lotion-to-hand contact, I decided to give it a go.
For context: The combination of harsh February temperatures and my aversion to body lotion leaves my skin decidedly unsexy for the entire season. Usually, I ignore the itchy discomfort, but scaly skin does not fare well for Valentine's Day — which, serendipitously, happened to be the day Daphne StudioTM had an appointment opening for its hydrating body wrap ($195).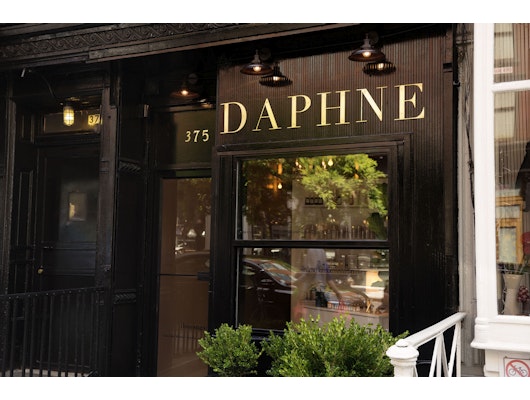 Courtesy of Daphne Studio
Daphne Studio is committed to making skin look and feel sexier — which explains why it's a destination for pre-fashion show pampering for A-list models. Tucked away in the Lower East Side, its interior is uncharacteristically serene for New York City: small, cozy, with a warmly-lit glow that transforms its white brick wall into a buttery beige. There is even a sign at the front desk that requests quiet voices. I happily obliged (I am naturally soft spoken) and followed my treatment specialist, Yuliya Gerchik, into a room. I undressed and slid on a pair of disposable underwear.
The hydrating body wrap promises to deliver softer skin in three steps: a dry brush, a warm balm, and a cocooning body wrap.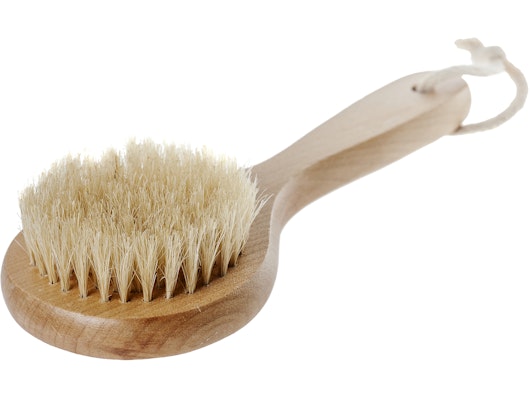 iStock / olga_sweet
Yuliya instructed me to lie on my back. Starting from my legs and working upward, she maneuvered a dry brush in quick, firm upward strokes. The sensation borders between pleasant and uncomfortable, like when someone with particularly long nails offers a back scratch. The process, I was told, is meant to increase circulation, exfoliate my skin, and prime it for the hydrating portion of the treatment to come.
 Next, she worked the moisturizing elixir into my skin. I hadn't expected an actual massage, but the kneading felt amazing and helped the moisturizing product absorb more effectively. And then there was the mere smell of the oils: like expensive, nut-studded cinnamon raisin bread. The warm, skin-softening mix featured a combination of sunflower, avocado, and jojoba oils to ensure my body was extra hydrated.
 For the last — and most blissful — step, I was wrapped in a cozy cocoon of blankets. The wrap felt like a warm hug, and generated heat that allowed the oil blend to further sink in. In addition to maximizing the benefits of the skin-softening step, this warmth also helped relieve muscle tension and inflammation. The cocoon felt as I imagine a weighted blanket might feel — coddling; more calming than claustrophobic. I remained in this state for 30 minutes and felt like I was lying in an extended savasana the entire time. My eyelids felt heavy, and the soothing sound of piano music and crashing waves washed over me through the speakers.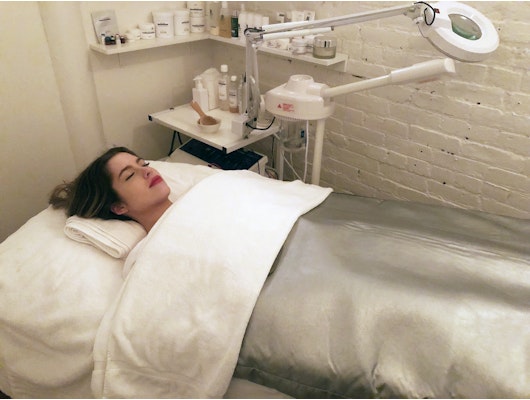 When I was gently alerted back to reality, I was entirely blissed out. I accepted a damp washcloth to wipe away excess oil. Yuliya instructed me not to shower for a few hours post-treatment to allow the oil to further sink in, which I gladly obliged. As I walked out onto the bustling city street, I felt a renewed sense of confidence. I was glistening; I smelled amazing; I was more relaxed than ever.
Upon my arrival home, I was still radiating good vibes and glowing skin. My body felt as if it had received a facial — and stayed smooth, soft, and supple for Valentine's Day and for days beyond. While I can't say this treatment replaces the need to ever touch body lotion again, I would highly recommend it to anyone who neglects moisturizing their limbs as much as I do. If nothing else, it's the perfect reminder of how lovely it can feel to kick dry skin to the curb.  
Service was gifted to the author for the purpose of writing this article.