Do you have one or more makeup application "musts" that you think you'd feel naked (or worse!) without? Unfortunately, I've had quite a few. Despite being a writer and editor for a long time, working at SpotlyteTM is the first time in my life I've been so entrenched in the beauty world. And — holy headspin — I'm learning the ropes of a whole new reality. That includes the fact that some of my most deep-seated makeup techniques were limiting (rather than enhancing) some of my features.
Being around nothing but the highest quality products, tips, and expert advice, I figured it was time to personally try something new. What I didn't expect was that just one small change would make a huge difference, even catching the attention and wonderfully flattering accolades of my fellow team members on the Spotlyte editorial team.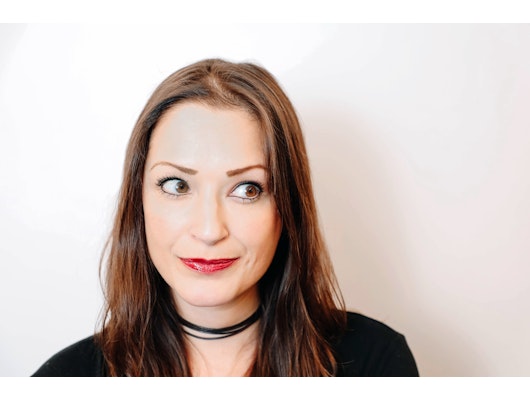 Joslyn Blair
That small change was ditching my morning routine of putting eyeliner on my lower lash line. Leaving this behind wasn't as easy to do as it sounds: it's something (swallowing my pride here) I had been doing since I was a teen. There were many years when I wouldn't even leave the house without full makeup on.
The day I came into work without that swipe of black on my lower lid for the first time, my colleagues immediately noticed a difference. That said, they couldn't quite put their finger on what had changed. Eventually, one of them complimented my eyebrows, saying they looked especially good, and asked me if I did something to them. Suddenly everyone started commenting that I looked fresher, wider-eyed, and brighter. Taken aback a little by the friendly scrutiny in their eyes while they tried to peg what changed, I blushed and came clean: all I did was skip the liner on my lower lid.
My flawed thinking regarding eyeliner was that wearing more would draw attention away from my mostly-genetic eyebags. Instead, it was drawing attention to them. And rather than accentuating my eyes, it was diminishing them.
"Here's the thing: when you surround anything in black, it looks smaller," explains Dana Rae, founder of ABLE Cosmetics®. "The same idea goes for your eyes. Rimming your upper and lower lids in a dark color will make your eyes appear smaller."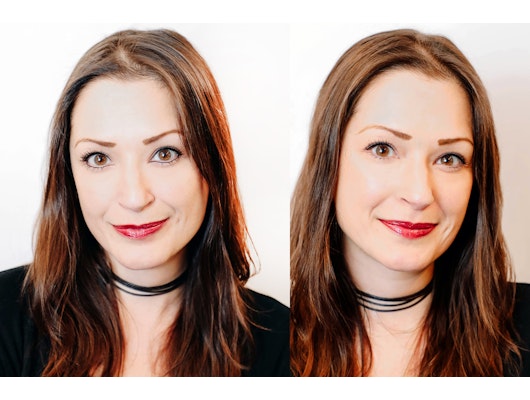 Joslyn Blair
Instead, she recommends lining only the top lid, keeping the bottom clean — unless you want a more dramatic, edgier look. In that case, Rae might use a light brown shadow or brown pencil underneath and finish it off with lots of mascara (like her brand's No Mess'CaraTM!, $29) on the top and bottom.
Celebrity makeup artist Carl Ray, whose clientele include heavy-hitters like Michelle and Barack Obama, Meryl Streep, and Claire Danes, also advises against lining your lower lid. "I love the look of eyeliner just on top lids," he says. "It's so fresh and it really opens the eyes up. Sometimes eyeliner on the top and bottom lids can make eyes appear smaller and tired." For a softer look, he recommends using a pencil on the upper lid and smudging it.
Now that I've possibly convinced you to give up your lower lid liner in the name of bigger-looking eyes, know that you have a few more options to enhance them. Black pencil may make them appear smaller, but Rae says using a flesh-toned liner will have the exact opposite effect. If you're on the fair side, try applying a lighter, champagne shade like Marc Jacobs® Beauty Highliner Gel Eye Crayon Eyeliner In the Buff!TM ($25) to your waterline, while those with deeper complexions should opt for a warmer beige like Charlotte Tilbury® Rock 'N' Kohl® Eyeliner Pencil in Eye CheatTM For Bigger, Brighter Eyes ($27).
Joslyn Blair
Another favorite trick of Rae's is to cut back on lining your upper lid, too. "A nice way to use liquid liner on the top is to start the line in the center of your eyes and not the inner corner," she shares. "Leaving the inner corners clean will create space." If you're a cat eye aficionado, Rae also recommends topping off your look with half of a strip lash on the outer corners of your eyes. "This brings all of the attention outward instead of inward," she adds.
Joslyn Blair
I love that I'm now armed (you too!) with multiple expert eyeliner techniques from crème de la crème pros. Now I can finally truly amplify my eyes, look more refreshed and alert, and draw attention to the rest of my features (like my apparently "better-looking" brows).
Product prices may vary from the time this article was written.
Allergan® may receive commission for purchases made through links in this article.