"Patient" is not an adjective I'd use to describe my attitude towards my skin. When I feel a pimple begin to flare up or notice the beginnings of a fine line, my Type-A personality wants to take immediate action and slather the affected area with as many formulas as I can find. Unfortunately for me, there's no instant, lightning-in-a-bottle way to tackle skin concerns. Or… is there?

Enter pimple patches, or zit-sized stickers that do claim to diminish blemishes over the course of a few hours. The premise of how a pimple patch works is simple: You stick a small, acne-fighting bandage over your blemish, go to sleep, and wake up healed — or at least with a smaller-looking pimple.

It's an enticing idea, and clearly skincare brands have noticed. Anyone looking to try pimple patches currently has a variety of options to choose from. There's the viral CosRX® Acne Pimple Master Patch (three packs of 24 stickers for $9), three different iterations of Mighty Patch®, Skyn Iceland® Blemish Dots (48 dots for $20), Peace Out® Acne Healing Dots (20 dots for $19), ZitstikaTM, the soon-to-launch starfaceTM, and many more. I've even seen people wearing pimple patches out in the wild, so it's possible that they're on their way to becoming a fashion statement, as well as a quick skin fix. Plus, as New York dermatologist Melissa Kanchanapoomi Levin, MD tells me, pimple patches are "huge in Asia."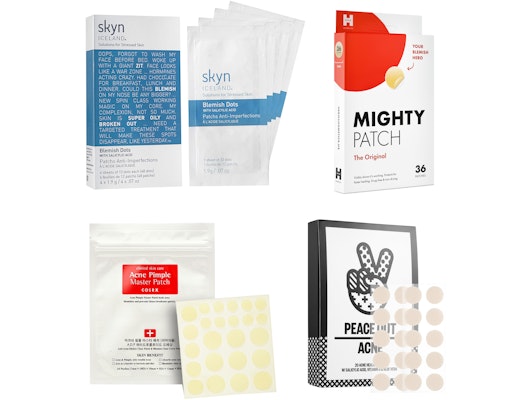 On paper, pimple patches are the zit-zapping miracle product of an acne sufferer's dreams. But acne isn't as one-size-fits-all as a sheet of stickers, so we spoke to dermatologists about what you need to know before you peel and stick.
How do pimple patches work?
"Pimple patches are hydrocolloid bandages, which is what doctors used for decades for chronic ulcers and wounds," says Levin. Picture a clear, adhesive sticker that's cut to size to fit right over a blemish. "[It] provides an environment that's more conducive to wound healing," she notes.

They also draw moisture from the pimple, which helps to flatten it, explains Los Angeles-based dermatologist Anna Guanche, MD. "Some types of patches have active ingredients such as salicylic acid, [an exfoliant], which increases effectiveness," she says.

Similar to how a sheet mask works by helping your face absorb active ingredients, a pimple patch can deliver acne-fighting active ingredients "more efficiently" than just a topical medicine, says Ava Shamban, MD, a dermatologist in Los Angeles.

Brands like Zitsticka take the concept of a healing bandage one step further: the Killa StickaTM ($29 for eight) is designed with microneedles. "[These make] tiny pinpricks in the skin to drive and deliver acne-fighting ingredients deeper into the skin," says Shamban.  

Perhaps most importantly, the sticker protects the pimple from probing, impatient fingers that may be inclined to touch or pick the zit — a feat that Guanche describes as "three-quarters of the battle."
What type of pimples can benefit from a patch?
"Pimple patches can be a great adjunct to acne treatments, especially for those singular, angry looking Mount Vesuvius-type blemishes," says Guanche. Both Guanche and Shamban agree that patches are best-suited to work on cystic pimples — those hard, red, painful bumps that appear under the skin. "Blackheads and whiteheads are not highly inflamed or swollen, so the patches won't affect them one way or another," says Guanche.

Timing is another important factor to consider when deciding whether to use a pimple patch. Levin advises patients to try to catch the zit at its first appearance — so reach for a sticker the moment you feel a zit starting to form. "There are different stages of a pimple, whether it's starting to become a pustule, a cyst, or when it's a hyperpigmented patch that's healing. Patches are not appropriate for a pimple that's already been picked or popped," she explains. Shamban agrees, "They would also not be recommended for blood-filled acne or acne that's been picked to become an open wound."
Is it really that easy?
In a perfect world, we'd be able to twitch our noses BewitchedTM-style and make a pimple disappear. In a slightly more realistic world, we could slap on a zit sticker and peel it off a few hours later to reveal nothing but a memory of the blemish that was. While the results of these products aren't so dramatic, Shamban says patients can still expect positive results.

"Some of the symptoms can dissipate considerably, such as lessening inflammation, and redness can be greatly improved," says Shamban. "A patch delivery system can make an event more tolerable without bringing a zit as a second chin along with you."

Still, users should keep in mind that patches may not be a total, magical cure-all. "There is never full healing of deep angry acne in a short period of time with any topical, including a pimple patch," Shamban continues. "The calming and some redness relief is a good benefit for a short term, less than 12-hour day, but is not curing the acne itself," she says. "Faster relief is usually done with a shot called a corticosteroid injection," she says, which will make the acne dissipate totally within two to three days. (Ask your dermatologist to see if this type of treatment is right for you.)
Are there any risks to using pimple patches?
As with anything you apply to your skin, dermatologists advise checking the ingredient list on your specific pack of patches for any potential allergies. "A potential concern is irritation if the person is sensitive or allergic to salicylic acid," says Guanche. Make sure to check the packaging before use.

"It is also possible to overdo the patches, which could lead to dryness and flakiness of the skin surrounding the pimple," says Guanche. Even worse, dry, flaky skin "is difficult to cover with makeup and thus defeats the purpose," she says. Look for a package with moisture-binding ingredients like hyaluronic acid to help prevent skin from getting dehydrated while your sticker is doing it's thing.
When should you go to a dermatologist, instead of spot-treating at home
Pimple patches may be a great quick fix, but each dermatologist reminded me that a few well-placed stickers aren't a substitute for thorough acne treatment. "The backbone of treating acne is prevention and full-face treatment. Pimple patches don't replace that," says Levin. She tells clients to reach for patches if they get pimples very rarely, such as the occasional breakout around your menstrual cycle.

Dr. Shamban suggests clients tackle individual cysts once or twice at home, then seek professional help. "Cystic, angry acne often requires a visit to a doctor's office to determine a best course of action or whether it's time to bring in the 'big guns,'" she says.

That said, if your face starts to resemble a sticker-covered middle school notebook, it's probably time to call your derm. As Shamban reminds us, "If the acne persists, always see your dermatologist."
 Product prices may vary from the time this article was written.
Allergan® may receive commission for purchases made through links in this article.