When you think of dermatologists, images of pimple popping, skin scraping, and a stern "Don't forget to wear sunscreen!" may come to mind. Sure, dermatologists do all the above, but there's so much more to the job than that. For an inside peek at what the years of schooling entail (including how coveted getting into a dermatology program is), and what a dermatologist's daily workload is like, we asked a couple well-respected doctors to chime in.
Dermatology Schooling: Only the Best and Brightest Dare Apply
Like many of us, dermatologists begin with four years of undergraduate school, which requires them to take a series of classes with a "pre-med" focus. Should a student decide late in the game (or even post-graduation) to go into the medical profession, they'll need to circle back and take all those prerequisites.
As aspiring dermatologists near the end of undergraduate school, they hunker down and begin studying for the Medical College Admission Test® (MCAT). In order to get into medical school — let alone a top-tier school — they must score well, so this test is taken extremely seriously. Once accepted, it's on to four years of med school.
"These years are really challenging," explains Dr. Hadley King, a board-certified dermatologist based in NYC. "There is so much information to learn and understand, and also you begin working in the hospital and getting exposed to the schedule, dynamics, responsibilities, and skills required there."
She adds, "If you're thinking about dermatology, it's a very competitive residency application process so you need to make sure that you are getting excellent grades, test scores, and recommendations — and probably doing research in your free time."
To make a long schooling story short, there are numerous steps to take during and after the four years of med school. Once someone becomes board-certified, they must fulfill a one-year internship program. Some compare this to a first-year residency program, as they work with fully qualified doctors and a medical staff, and train under their supervision. Dr. King says this time period is potentially one of the most grueling of a dermatologist's life.
Once all the above is completed, they move on to the final step of the licensing exam. But class isn't dismissed just yet. Dermatologists must then complete three years in a dermatology residency, where they continue to learn and hone their skills.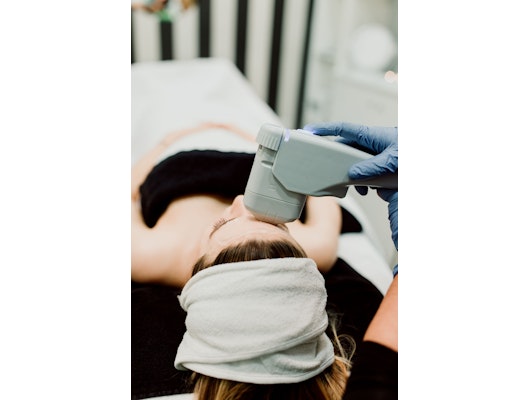 Stocksy United / Javier Pardina
"Because dermatology is one of the most difficult residencies to get, you need to be in the upper echelon of your medical school class, as well as have the highest possible scores on all standardized national exams while in school," notes Dr. Ellen Gendler, a board-certified dermatologist who's also based in NYC. "Without these credentials and research or clinical experience while in medical school, your application will not even be considered. And once it's considered, it's beyond competitive to earn a residency spot anywhere."
When they're not seeing patients during their residency, they're studying for their dermatology board exam, which Dr. King says is the most difficult test she's ever taken. Once passed, they're officially board-certified.
Bottom line: dermatologists work exceptionally hard to get through undergraduate school and medical school and then residency, and sometimes even highly gifted students don't make it into the coveted dermatology program. Wow! The next time you see your dermatologist, give them a high five for all that hard work.
A Day in the Life of Dermatologists
A dermatologist's day is all about their patients, and the workload ranges from paperwork to taking biopsies to surgery to patient interaction. Dermatologists spend their day diagnosing patients, administering treatments, and even performing dermatologic surgeries.
"I have a lot of nursing support because I like my patients to be seen promptly and thoroughly," says Dr. Gendler. "The nurses help me take histories, review any prescribed medications with the patients when we are done, and assist me in procedures. They also return many patient phone calls during the day and enter prescriptions in the computer system for me to confirm."
It also helps to be detail-oriented in this field, as Dr. Gendler can attest to. "I am compulsive with details — like cataloguing biopsy specimens, following up on skin cancers, and matching patient photographs to charts," she explains. "This is the only way that mistakes are few and far between."
When t's aren't being crossed, dermatologists spend their time face-to-face with patients for medical, surgical, and cosmetic procedures. Some specialize more in one category than the other, but many do a combination of all three.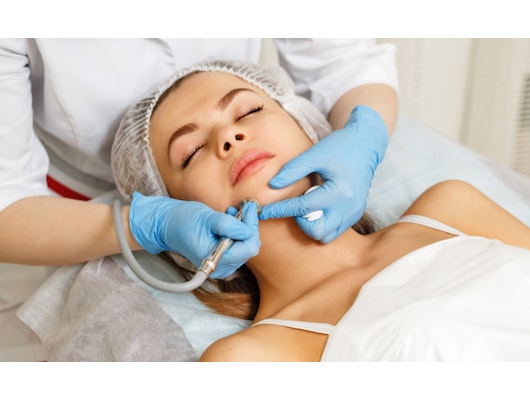 iStock / Vagengeym_Elena
"When we see medical dermatology patients, we are often performing total body skin exams where we inspect all of the skin to make sure we don't find any spots that look unhealthy or suspicious," says Dr. King. "We also address concerns like acne, rosacea, psoriasis, eczema, hair loss, nail changes, itching, discoloration, seborrhea, and ashes."
This involves asking lots of questions, answering lots of questions, carefully examining skin, taking samples for biopsies, and writing prescriptions when necessary.
Dr. King adds, "For dermatologic surgeries, we are usually removing skin cancers or troublesome benign lesions. And when we see cosmetic patients, we are doing injectable wrinkle reducer injections, dermal filler injections, and using lasers and devices that use other energy modalities such as radiofrequency and ultrasound."
[Editor's note: Injectable wrinkle reducers temporarily smooth the look of moderate to severe wrinkles in certain areas of the face, including the forehead, frown lines, and crow's feet. Injectable filler is a temporary treatment that adds volume to areas of the face such as the lips, cheeks, and laugh lines. Like any medical treatment, both injectable wrinkle reducers and injectable fillers have potential risks and side effects. Talk to a licensed provider to see if they're right for you. And learn more now by chatting with a trained aesthetic specialist.]
---quiz start
---quiz end
Why Seeing a Dermatologist is Important
Dermatologists offer a range of services that can improve a patient's physical health and, in some cases, their emotional esteem. One thing sometimes overlooked when scheduling an appointment for cosmetic reasons is that dermatologists are perfectly equipped to assess skin and look for cancer. In fact, they're diagnosing and treating cancer, tackling ongoing skin disorders, as well as assisting people in reaching their cosmetic goals.
"Helping people navigate through dermatologic conditions like skin cancer, psoriasis, atopic dermatitis, and alopecia feels like a very important service," says Dr. King. "Some of these conditions can have profound impacts on a person's quality of life and some can even be life-threatening. And, because the skin is so accessible and assess-able, even minor skin conditions can have major effects on self-esteem."
Dr. Gendler adds that there's also extreme joy in taking care of such a range of people — healthy or sick, from newborns to the elderly.
"I am so blessed to love what I do so much and am so lucky to have built an incredible practice," she says. "I can't think of any profession I would rather have chosen than this one. It's a calling for sure, and incredibly hard work all the time, but so worth it."
---quiz start
---quiz end
Dr. Ellen Gendler is a paid Allergan® consultant.