"You never know who you'll meet, you never know what you'll learn, and you never know what a conversation can do to open your eyes to something you may not have seen." These are the words that Natasha Cornstein, CEO of Blushington® (an affordable makeup and beauty lounge that provides professional beauty services — think Drybar®, but for makeup), lives by. It was this open mindedness, relentless work ethic, and ability to go after what she wanted — literally — that she believes led her to where she is today.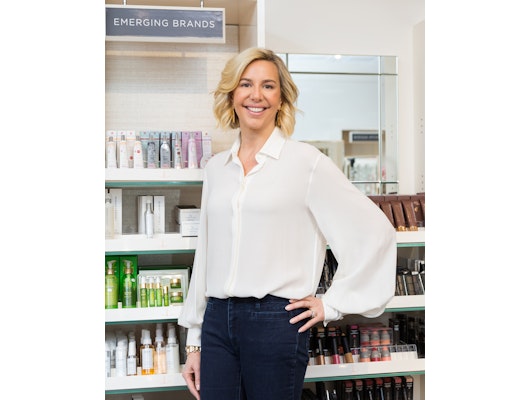 Kelsey Ann Rose
She wasn't always in the beauty industry. It was after working in the political space on mayor Rudy Giuliani's re-election campaign and as a producer at Fox News® that Cornstein was bit by the entrepreneurial bug. Switching gears, she went on to build a sports agency from the ground up with her husband, and then became the Director of Brand Management for a jewelry business.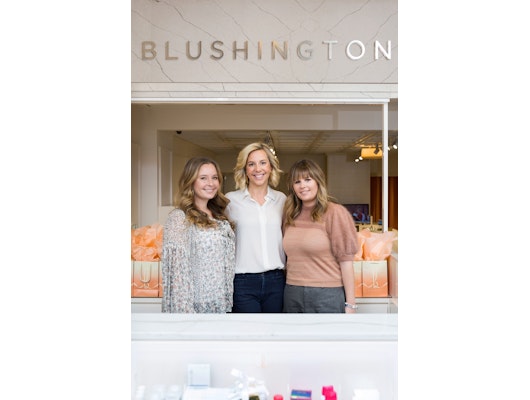 Kelsey Ann Rose
It was during this time that she walked through the door at Blushington. She fell in love with the concept immediately — and left feeling four inches taller. She decided she had to get in on this amazing opportunity and, shortly thereafter, connected with founder Stephi Maron, who eventually named Cornstein president and then CEO. Today, Cornstein curates Blushington's luxury aesthetic that still appeals to the everyday consumer. She feels that every client deserves to be pampered and feel like a million bucks.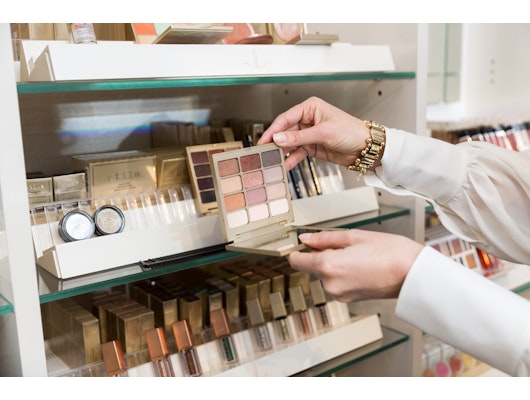 Kelsey Ann Rose
However, it's not just the Blushington client that gets dolled up! Below, Cornstein tells us all about her beloved skincare routine, how she ensures she feels her best, the injectable treatment she swears by, and more.
Spotlyte: Tell us how you became the person you are today?
Natasha Cornstein: After graduating from Washington University® in Saint Louis, I was lucky enough to get this amazing opportunity to be a Coro® Fellow in NYC. It was nine months of rotating through a government agency, political campaigns, labor union, not-for-profits, and news outlets that helped put me on the path to where I am today. It taught me the power of collaboration and how to develop meaningful relationships . . . All of this led me to my role at Blushington. I started as president of the company in 2015, and in June of 2016 moved into the CEO role. 
Spotlyte: What challenges did you face when you stepped into this role?    
NC: I have the most incredible founder, Stephi Maron. She created this beautiful concept that didn't exist. When you look at the landscape in retail today, everyone is chasing this notion of experiential retail. When I joined [the team], the challenge was: how do we take this incredible concept and experience and make it scalable and profitable? That's what we've been very hard at work on over the last three years.
Spotlyte: What's your best career advice?  
NC: To be open! Just go for it. Do not be afraid to try something new. Don't feel like you have to follow a set path. Whether you're starting out or want to make a change — don't feel pigeonholed.
Kelsey Ann Rose
Spotlyte: Switching gears a bit, could you tell us about your beauty philosophy?
NC: I love a natural look. For me, beauty is about discovery, taking care of myself, and enjoying the ritual of doing so.
Spotlyte: On that note, could you tell us about your beauty routine?        
NC: I am a fanatic about taking care of my skin. I use Bioderma® Sensibio® H2O ($15) to remove my makeup, and follow it up with the Tata HarperTM Regenerating Cleanser ($42). Three times a week, I keep the cleanser on and layer the Tata Harper Resurfacing Mask ($62) over it. I also love the BeautyRx® Triple Vitamin C Serum by Dr. Schultz and the Tata Harper Resurfacing Serum ($88). And I alternate them depending on my mood. For my moisturizer, I love Angela Caglia® SouffleTM Moisturizer ($70). I also use Sara Happ® The Lip Slip® One Luxe Balm ($28) — it's a beautiful lip treatment that keeps my lips soft and hydrated.
Spotlyte: Could you tell us about your makeup routine? 
NC: I'm currently loving the EveryHue® Beauty ($36) tinted moisturizer. And I like to mix shades 10 and 11. I also use the Erborian® Glow CrèmeTM Illuminating Face Cream ($42) to give me a lit-from-within glow. I mix the Girlactik® Matte Bronzer in Casablanca ($26) with the Vita Liberata® Trystal® Pressed Self-Tanning Bronzing Minerals ($35). I have a very simple routine for my eyes. I use an eye primer all over my lids and it's a very soft, light look. I also use the The BrowGal® Skinny Eyebrow Pencil in Blonde ($23). No liner and no mascara during the day, but at night I bump it up with the Stila Cosmetics® Matte 'n MetalTM Eyeshadow Palette ($49) and brown eyeliner. For lips, I use The Lip Slip or a gloss from Nude Envie® ($30).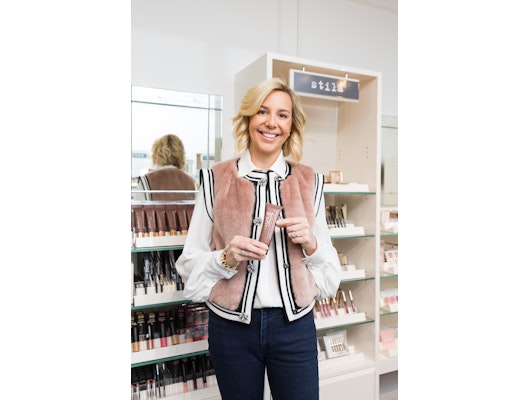 Kelsey Ann Rose
Spotlyte: Let's get into hair! Who does yours?
NC: I've been seeing Valery Joseph for 18 years. For my highlights, I see Nicole Gache. She's at Valery Joseph® and she's done my highlights almost as long as I've seen Valery. I'm a loyalist.
Spotlyte: Anything else you want to add?
NC: I love fragrance. It's that extra special step at the end of my routine. My favorite perfume is RavenTM by Ellis Brooklyn® ($100). 
Spotlyte: Do you do any skincare treatments?
NC: I get glycolic peels at Blushington religiously every three weeks on my face, décolletage, and hands. I also see dermatologist Dr. Neal Schultz. 
Spotlyte: What else do you do regularly to help you feel your best each day?
NC: I do Pilates two to three times per week with a private instructor. I also love to walk, particularly in Central Park. I drink water all day. I love lemon and ginger tea which my team knows — we drink it together all day long.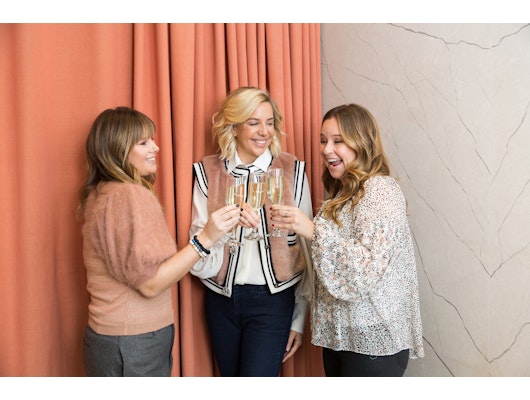 Kelsey Ann Rose
Spotlyte: What about your medical aesthetics routine?
NC: I see Dr. Adam Kolker for injectable wrinkle reducers. That's something I'm pretty new to, but I am a big believer. I'll be 45 in April, and just started to get it done about two years ago. When I concentrate or listen really intently, I furrow my brow, so the injectable wrinkle reducers help [reduce the lines]. I love it. I love [the results]. 
[Editor's note: Injectable wrinkle reducers are used to temporarily smooth the look of moderate to severe wrinkles in certain areas of the face such as the forehead, frown lines, and crow's feet. Like any medical treatment, they have potential risks and side effects. Be sure to talk to a licensed provider a to see if they're right for you. Have more questions? Chat with our team of trained aesthetics specialists now.]
Product prices may vary from the time this article was written. 
Allergan® may receive commission for purchases made through links in this article.