Once you hit a certain age, all it takes is to spot yourself in unflattering overhead lighting, and you'll see it: sagging skin. Whether yours manifests as a downturned mouth or deflated cheeks, it's an unfortunate truth that sagging is inevitable. Genetics, personal habits, and environmental factors all play a key role in when most people start to experience it. For many, though, the visible effects usually become apparent right around our mid-thirties to forties.
Light sagging, wrinkles, and fine lines that are just starting to form around your eyes and mouth indicate that skin is beginning to deflate slightly. According to Dr. Raymond Douglas, a board-certified Beverly Hills plastic surgeon specializing in ophthalmic and reconstructive surgery, there are two main causes.
"The first is loss of volume, which causes a deflation effect, much like a deflated balloon," Dr. Douglas explains. This creates hollows and bags, as well as a sagging look. "Where the plumpness once was, skin appears to drape over the bone with very little fat underneath."
The second reason, he says, is a gradual reduction in bone mass — the very foundation of our skin. Though this second cause isn't something that can be easily addressed with plastic surgery or non-surgical medical aesthetics treatments, the former can. "[Volume loss can be mitigated] if we help our skin strengthen itself by boosting the collagen production," notes Dr. Sheila Malek Kassir, a board-certified plastic surgeon at Inside Beauty SpaTM. Once early signs of sagging skin and wrinkles are visible, it can be a good idea to start looking into treatments.
With expert guidance from Dr. Kassir and Dr. Douglas, we've outlined professional medical aesthetic treatments to improve the appearance of saggy skin — from non-surgical injectables and lasers to full-fledged under-the-knife.
Filler
Dr. Douglas says filler can be an effective treatment. Currently, injectable filler is FDA-approved for use in cheeks, lips, and laugh lines around the mouth. Because lost volume can contribute to a sagging look, the addition of filler could help correct that "deflated balloon" appearance and add a bit of lift. The average cost is $600 to $1,000 per area, depending on where you live, who you see, and the area being injected. Consult with a trained provider in your area to see if injectable filler is right for you.
[Editor's note: Injectable filler is a temporary treatment that adds volume to areas of the face such as the lips, cheeks, and laugh lines. Like any medical treatment, it has potential risks and side effects. Be sure to talk to a licensed provider to see if it's right for you. Have more questions? Chat with our team of trained aesthetic specialists now. ]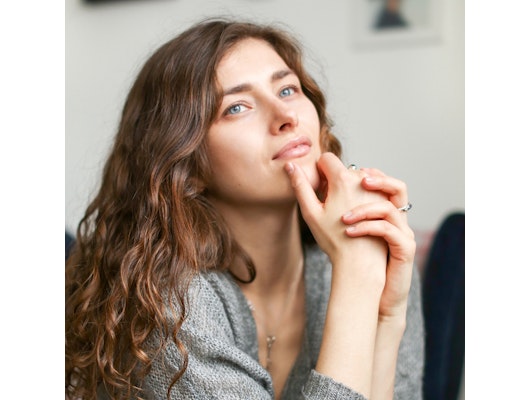 Stocksy United / Milles Studio
Exilis® Ultra 360TM
Exilis is the only FDA-cleared skin tightening treatment that combines radiofrequency and ultrasound technology. It's a non-surgical procedure that's approved for all areas of the body and face, and costs roughly $1,000 to $2,000 total. Two to four 15- to 30-minute treatments are recommended for most people, with about a week between each treatment, though individual treatment plans vary person to person. It's said to be a pretty comfortable procedure (some compare the sensation of it to a hot stone massage), and there is no downtime required.  
"The ideal candidate for Exilis is [typically] anyone that would like to have tighter skin and reduce wrinkles without any invasive surgery," says Dr. Kassir. "We use it mainly on jawlines, necks, eyes, lips/mouth, belly, decolletage, breasts, arms, hips, thighs, and hands."
Fractional CO2 Laser
Fractional CO2 lasers have two primary functions. First, they resurface skin to nix spots, lines, and wrinkles for a more even complexion. Second, they boost collagen production, which helps to firm and tighten the treated area. "Fractional CO2 laser treatments are best for patients with sun spots, age spots, acne scars, deeper wrinkles, [and laxity]," says Dr. Kassir. She describes the technology as the "ultimate skin rejuvenation device." Though the laser can treat any area of the body, it's mainly used on the face, neck, hands, and décolletage. "These are areas of the body that experience the most sun damage," Dr. Kassir explains.
Each treatment can take anywhere from a fifteen minutes to two hours, depending on the area being treated, and whether or not an ablative or non-ablative laser is being used. And yes, you'll want the numbing cream to reduce any discomfort. A full face treatment starts at roughly $1,000 to $2,000 and you'll need to buffer in anywhere from a few days to a couple weeks of downtime while your skin heals. 
Surgical Options
The collagen and elastin in your skin are responsible for its firmness. But unfortunately, their production slows dramatically with age, and at a certain point, your skin won't get firmer with any stimulation (even lasers!). "As we get older, surgical options that remove the excess skin are the very best way to tighten," notes Dr. Douglas.
Surgical skin-tightening options can range from blepharoplasty (the removal of excess skin on the eyelids) to face or neck lifts, to full tummy tucks. There are different approaches to each, and the cost depends on your doctor, your location, and the surgery itself. Note that not everyone is a candidate for surgery, and it's not a decision to take lightly.   
As is the case with every treatment discussed in this article, each person's experience with surgery or any other option will vary greatly. It's important to be forthright with your doctor about what your goals are, and for your doctor to be transparent with you about what course of action is best for you — and what results you can reasonably expect.
---quiz start
---quiz end