With what seems like an ever-changing roster of buzzwords, packaging on skincare has started to read more like a mixologist's cocktail than an ingredient list. But there's one power player in particular that's been hard to ignore, as it's been a constant staple in many formulations for years: the antioxidant.
 This class of ingredients does exactly what it sounds like — it fights against the oxidizing of cells. To be more specific, it works to counteract free radical damage. Numerous studies demonstrate that antioxidants limit the production of free radicals, which are unpaired oxygen cells that go AWOL on skin. These free radicals are incredibly unstable and disrupt the molecular makeup of your complexion, causing a weakened skin barrier and premature aging, including fine lines and wrinkles. To avoid these pitfalls, slathering on an antioxidant-infused formula is key.
"Antioxidants are essential and are great to fix [many problems]," says celebrity esthetician and facialist Joanna Vargas. "Since [many] are anti-inflammatories, they [can help] strengthen the skin and protect against environmental damage caused by exposure to the sun and pollution. Without them, your skin will age [more quickly]."
It's also been shown that topical application is more effective in protecting skin compared to oral consumption. That's why daily use — preferably in the morning, before you're exposed to the sun — is so important. We reached out to a handful of top skincare experts who shared their favorite, most potent antioxidants. From more famous ingredients like vitamin C to rarer ones like date fruit, keep reading to find some new skin-protecting favorites.
Courtesy
The antioxidant: Vitamin C
Why your skin loves it: Vitamin C comes in many forms, including ascorbic acid, L-ascorbic acid, THD ascorbate, and ascorbyl tetraisopalmitate, among others. (Picking one can be complicated, so we trust the professionals to share their recommended picks.) Cass Perez, esthetician at Paul Labrecque® Salon and Spa at The Royal Poinciana PlazaTM in Palm Beach, Fla., says that ascorbyl tetraisopalmitate is his favorite form. It helps prevent oxidation to reduce signs of aging, while providing antioxidant protection.  
The product pick: Perez recommends Environ® Intense C-Boost® Mela-Even Cream ($86) and notes that, "It is amazing for hyperpigmented skin, especially when cocktailed with other products from the line."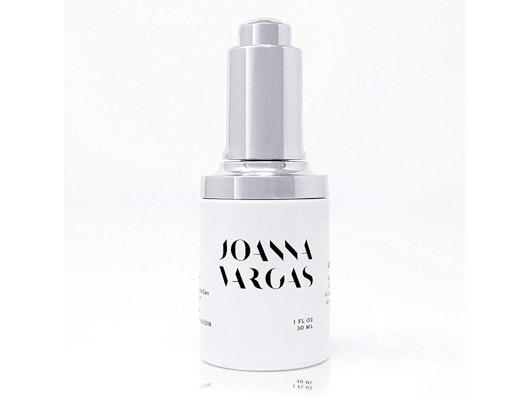 Courtesy
The antioxidant: Elderberry
Why your skin loves it: Consider elderberry the trendier, more potent replacement for açai (which is still a legitimate and popular source of antioxidants). "The antioxidants from the elderberry may help prevent cell mutation, which helps smooth the appearance of lines and wrinkles," says Vargas. "It also contains vitamin C, a necessary element [for] important functions within the body, including collagen production."
The product pick: Vargas's own Rescue SerumTM ($150) contains elderberry, vitamin C, and squalene to hydrate, nourish, brighten, and protect. As a bonus, it also feels like fine silk when applied.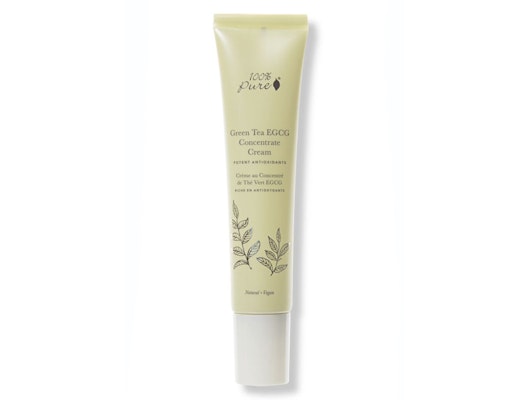 Courtesy
The antioxidant: Green Tea
Why your skin loves it: It's not just a soothing morning ritual when drinking a hot cup of it — there are strong skincare benefits, too. "Green tea has powerful antioxidants," says dermatologist and Shiffa® founder Dr. Lamees Hamdan. "Studies have shown that applying green tea to the face has protective benefits against the aging UV radiation in sunlight."
The product pick: EGCG is the antioxidant found in green tea that makes it so potent. Try 100% Pure® Green Tea EGCG Concentrate Cream ($45). The tube may look tiny, but the contents (which also include fellow antioxidants açai butter and yerba mate) pack a punch.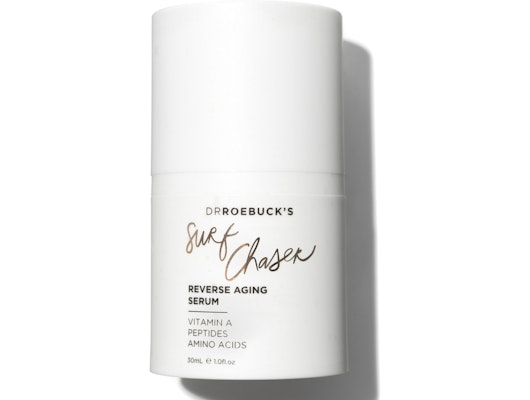 Courtesy
The antioxidant: Vitamin A
Why your skin loves it: Perez says that vitamin A is arguably the most important molecule for healthy skin, and it's been proven to help reverse signs of photoaging. "The more vitamin A we provide to our skin, the more protected our skin will be against sun damage," he says.
The product pick: Dr. Roebuck'sTM Surf ChaserTM Reverse Aging Serum ($60) combines vitamin A with collagen-building amino acids and skin-bolstering peptides.
[Editor's note: Retinol shouldn't be used by those who are pregnant, considering getting pregnant, or nursing. Please consult with your doctor before use.]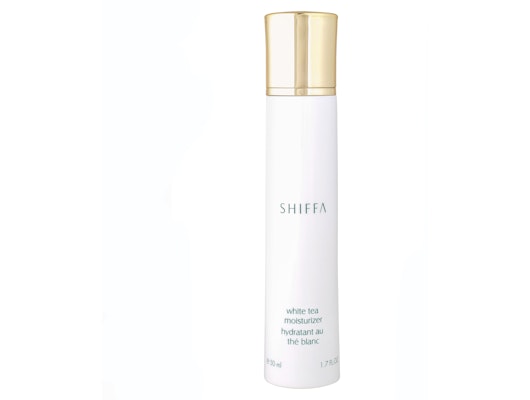 Courtesy
The antioxidant: Date Fruit
Why your skin loves it: "Dates have been nourishing the people of the desert for centuries, but this extract is also a powerful antioxidant," says Dr. Hamdan. It also is said to help stimulate collagen production, meaning the iconic fruit works double duty for your skin.
The product pick: Shiffa® White Tea Moisturizer ($142) was formulated by Dr. Hamdan herself, and is packed with a bevy of antioxidants including date essence, white tea, hyssop, and resveratrol.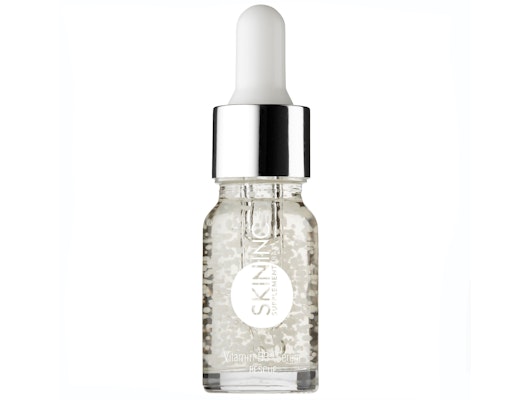 Courtesy
The antioxidant: Vitamin B3 (Niacinamide)
Why your skin loves it: If you want your antioxidants to work overtime for you, niacinamide is an ideal pick. "Not only does it neutralize aging free radicals, but it also works to lighten uneven skin tone and pigmentation," says Dr. Hamdan. It also helps increase the free fatty acid levels in your skin, preventing moisture loss.
The product pick: Skin IncTM Supplement Bar Vitamin B3+ Niacinamide Serum ($35) is specifically formulated for acne-prone skin. It helps target redness and breakouts to create a more even complexion.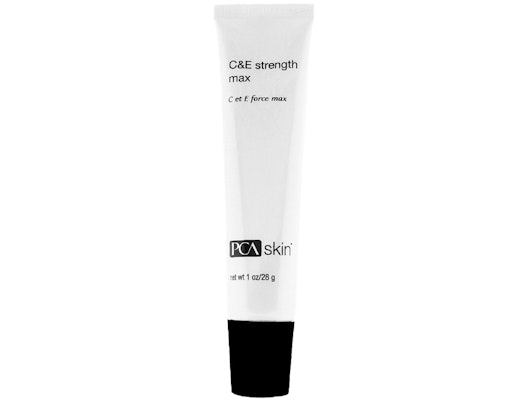 Courtesy
The antioxidant: Vitamin E
Why your skin loves it: Vitamin E doesn't often get top billing in skincare products, but you'll see it listed in many of them (almost always as tocopherol). Go ahead and dig through your beauty loot and see for yourself — we'll wait! Its inclusion is important: vitamin E is the name given to a group of oil-soluble antioxidants that restore cellular damage, hydrate, and protect from future free radical damage.
The product pick: PCA Skin® C&E Strength Max ($75) is a dynamic duo of pure vitamin C and pure vitamin E. This innovative, near-dry ointment can be applied straight to skin or mixed with your favorite moisturizer or booster.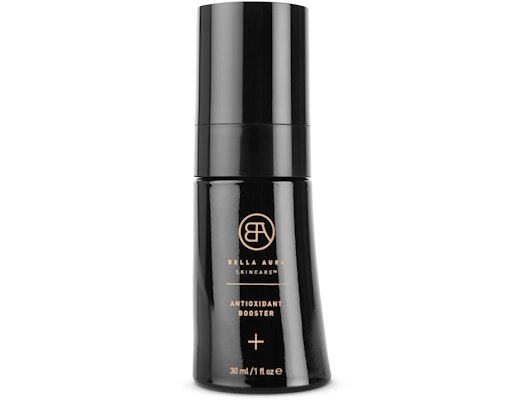 Courtesy
The antioxidant: Argan Oil
Why your skin loves it: Vargas says that argan oil has one of the highest concentrations of antioxidants in a naturally occurring substance in the world. "I love it because, although it's an oil, it's great for acne-prone skin," she notes. "It will help the healing of breakouts without creating oily residue on the skin."
Its antioxidant powers also make it a perfect choice for anti-aging: "It will stop cell mutation that occurs from the sun and pollution, and it supports elasticity, as well."
The product pick: Argan is the superstar in the Bella Aura SkincareTM Antioxidant Booster ($105), but it also contains a slew of other skin-loving ingredients, including prickly pear, barley, rosmarinic acid, and rutin.
Some complementary products were provided to the author for the purpose of writing this article.
Product prices may vary from the time this article was written.
Allergan® may receive commission for purchases made through links in this article.