Blame it on the alcohol. We're all for a couple of cocktails or glasses of wine from time to time, whether you're celebrating something special or just unwinding after a busy workday. But while drinking alcohol can be part of a fun evening, it can also wreak havoc on your complexion.

The primary reason for this is that drinking alcohol is dehydrating — and it messes with your hormones. "Drinking inhibits [the release of an] antidiuretic hormone, which causes a net loss of water from the body," New York dermatologist Dr. Dendy Engelman explains. "There is a loss of sodium and water when drinking alcohol, which is why you awaken thirsty and craving salty — and often fattening — foods. Hydration is important to keep toxins flushed and fluid moving efficiently through the capillaries."
Besides waking up wanting to chug water straight from the Brita® pitcher and order a bacon, egg, and cheese, your skin is also parched and struggling to recalibrate. Here are some of the most common beauty concerns you may see from booze, and how to combat them.
Puffiness
After a night of drinking, your face can look swollen and bloated the next day. "The poor water balance in the body leads to swelling and puffy eyes," Dr. Engelman reveals. Her pro tip: stash skincare products in the fridge the night before to help bring down the swelling, stat. "It cools the area and makes the underlying blood vessels smaller," explains Dr. Engelman. A metal rollerball-tipped product can also help, as it gently helps drain lymphatic buildup in the area. "I love the metal rollerball application to instantly de-puff and constrict blood vessels," she adds. You can also use a jade roller to gently massage skin and help drive product into your face.
Editor's Note
If you take blood thinners, talk to your doctor before using products for lymphatic drainage.]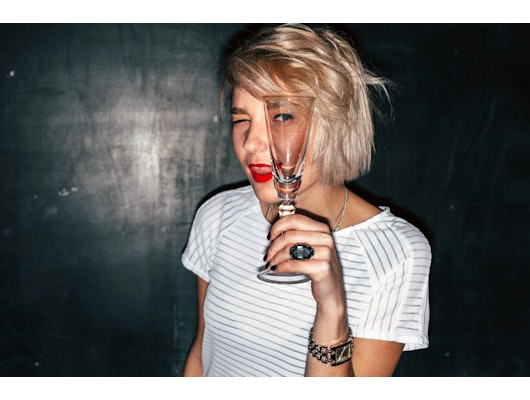 Viktor Solomin
Dark circles
If you feel like you need more concealer than usual the morning after happy hour, it's not your imagination: drinking makes your undereye circles worse. "Inflammation causes tiny blood vessels to expand and push against the skin, causing the skin to look darker," Dr. Engelman explains.

But before you reach for that concealer, apply a product with vitamin K or caffeine. "These ingredients cause vasoconstriction — constriction of blood vessels," she says. "Products with hyaluronic acid and ceramides will help to plump the skin and push skin up and away from pooled blood." She personally reaches for Elizabeth Arden® PREVAGE® Anti-Aging Eye Serum ($100), which she loves because of its formula: it's loaded with powerful antioxidant idebenone and hyaluronic acid.
Editor's Note
As always, talk to your doctor before starting or stopping any new treatment.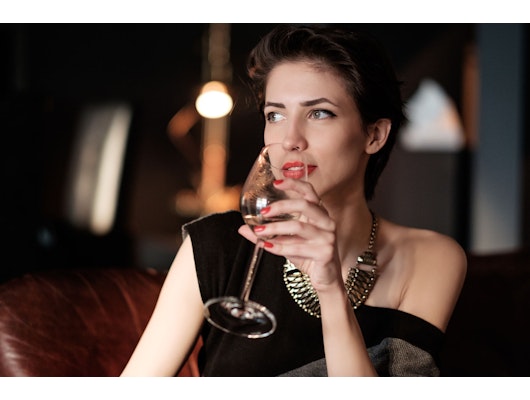 Brkati Krokodil
Breakouts
Booze disrupts your hormones and causes inflammation: two factors that lead to skin flare-ups. Plus, if you've been drinking all night, you're probably less likely to wash your face, remove your makeup, and adhere to your regular skincare routine when you get home. To banish blemishes, Dr. Engelman recommends Differin® Gel ($26 for two), which doesn't require a prescription. "It contains a powerful retinoid to clear [and prevent], as well as to prevent acne scarring," she says. "It is the first retinoid available over the counter and it is gentler compared to others." For more information on managing acne at home, click here.
Editor's Note
Retinol shouldn't be used by women who are pregnant, considering getting pregnant, or nursing. Please consult with your doctor before use.
Broken blood vessels
Drinking makes your blood vessels enlarge, which is why you may get flushed when you have a few, but it's not always a temporary effect. "Alcohol causes vasodilation, and over time, tiny capillaries can stay dilated and look 'broken,'" Dr. Engelman warns. The good news: laser treatments can get rid of broken blood vessels for good. "Broadband light (BBL) or intense-pulsed light (IPL) are broad spectrum light treatments that are very good for improving color balance within the skin by reducing areas of redness or hyper-pigmentation," she explains.

Bonus: little to no downtime is needed for these laser treatments, which cost around $350 to $750 per session. You'll likely need at least three treatments for best results, but consult with your provider to see what is ideal for your needs. Discover what happened when one writer treated her broken blood vessels here.

To lessen all booze-induced beauty bummers, steer clear of sweet mixers and sugary cocktails and have a glass of water in between each alcoholic drink — or just stick to water all night every now and then. "In the long term, inflammation [from drinking leads] to rapid aging and serious skin concerns," Dr. Engleman cautions. Your skin will thank you for your smart sipping behavior with a clear, glowing complexion.



Dr. Dendy Engelman is a paid Allergan consultant.

Product prices may vary from the time this article was written.

Allergan may receive commission for purchases made through links in this article.