If there is any beauty look that has withstood the test of time, it's the cat eye. It's effortlessly elegant and a favorite of Cleopatra, Brigitte Bardot, and Lauren Conrad alike. But this ever-stylish beauty look is as classic is it is challenging: cat eyes can be tricky and when they go wrong, they go really wrong.
Anyone who has experimented with this look and a tube of liquid eyeliner has faced this struggle before, which is why I'm here to share a few secrets I've picked up over my years as a beauty editor. From selecting the right cat wing for your eye shape to picking the right type of liner and sneaky little techniques you might be overlooking, let this be the year you finally make the cat eye your signature look without the hassle.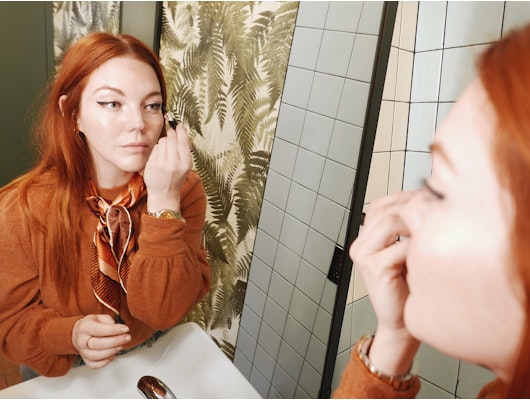 Courtesy of Allison McNamara
Choosing the Right Liner
I've tried hundreds of eyeliners, because I have greasy eyelids that can melt even the most precise, waterproof cat eyeliner in minutes. My no-fail go-to is Lancôme® GRANDIÔSE® Bendable Liquid Eyeliner ($32) for a number of reasons. For starters, I prefer the pot and brush situation more than an eyeliner pen with a brush. The brush on this one I use is thinner, which allows me to draw a more accurate line, and the handle moves all 360 degrees so you can get a steady, comfortable grip. Finally, I like how this eyeliner doesn't bleed when applied to the lash line, and it stays in place longer than any other brand I've tried.
Prepwork is also key to making sure my liner stays in place. I always put Smashbox® 24-Hour Photo Finish® Eyeshadow Primer ($21) on, then add a wash of eyeshadow that matches my skin tone prior to eyeliner application. This goes a long way in helping to prevent my lids from getting oily and destroying my eyeliner.
Creating Your Cat Eye
Even if your plan is to create a super dramatic eye look a la Amy Winehouse, start small first and build onto the shape as you go. It's much easier to define your cat eye and make both wings balanced this way. And when you do start, don't close your eye and tug on your lid to create a straight line to draw on. It might feel like second nature to do this, but it's actually not the easiest or most effective way (nor is it good to tug on your gentle eye area).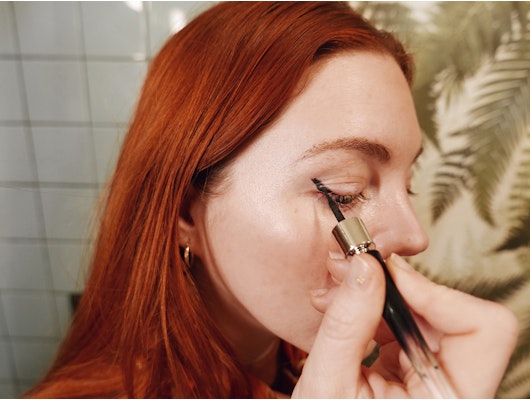 Courtesy of Allison McNamara
Instead, keep your eye open, and look into the mirror while you create your shape. This will make it simpler to sketch your straight line (after all, you won't be peering cross-eyed out of your open eye!). It also guarantees that you'll be able to see your wing and line when your eye is open, which is especially important if you have hooded or smaller eyelids.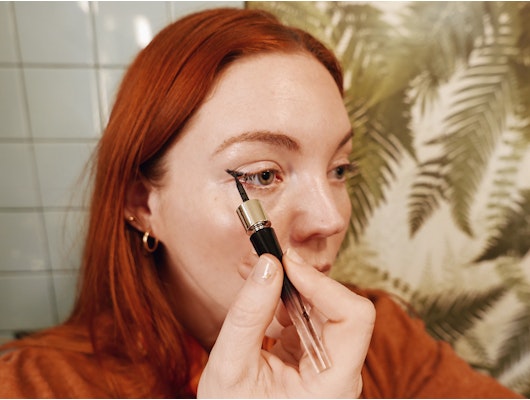 Courtesy of Allison McNamara
To make my cat eye, I always use the top center of my eyelid — the middle of my crease — as a guide. That determines the "height" of my wing, which I draw using a straight 45 degree angle line, connecting the tip of the wing to the outer corner of my eye. I then go back up to the tip of the wing and (with my eye open) lightly draw a line connecting the tip of the wing to the top of my eyelid, meeting right above my pupil. You should now have a shape that looks something like an empty triangle. Once you fill in the shape, sketch the line towards the inner corner of your eye, with the line thinning out as you get closer to your nose. Voila!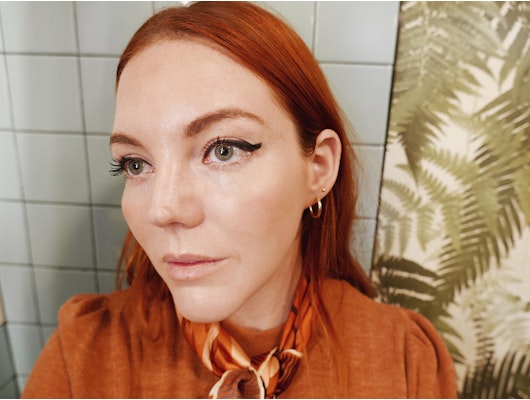 Courtesy of Allison McNamara
The Right Cat Eye For Your Eye Shape
The beauty and versatility of the cat eye lies in the ability to tailor it to your own eye shape. For those with wide-set eyes, shorter, more upward-pointed wings tend to be most flattering, while eyes that are set closer together look gorgeous with extended, more horizontal wings. If you have smaller peepers, a less precise, smudged cat eye will add volume and can look sexy. Or if you have monolids or hooded eyes, a super dramatic, thick cat eye will create the illusion that eye is more curved and spacious.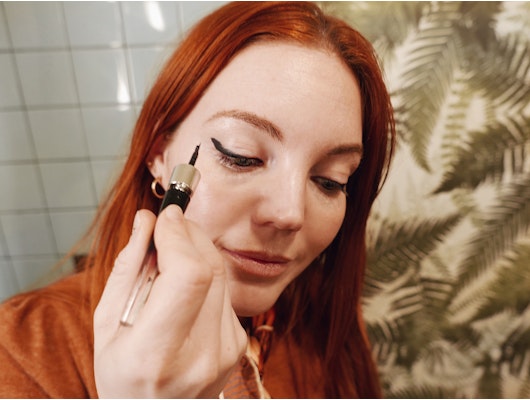 Courtesy of Allison McNamara
Unsure of your eye shape? A good rule of thumb is to follow the general shape and direction of your eye — because in theory, all you're really doing is continuing and enhancing the natural shape of your eyelid.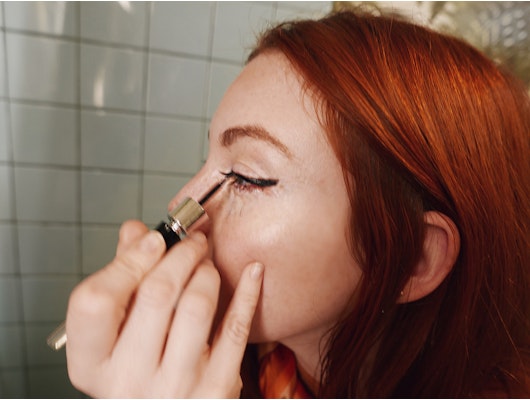 Courtesy of Allison McNamara
The Cleanup
I will confess that, yes, the hardest part of the cat eye is getting them to match each other — but that is why cleanup becomes a vital step. I rely on a good 'ol cotton swab that's been dampened with makeup remover to perfect my shape. There's also another tool in my arsenal, which I recently discovered: TPSY® Only Be Gone Makeup Eraser ($20). It is honestly genius for cleaning up a wonky cat eye, because it doesn't create a bigger mess. It's basically a Tide to Go® pen for makeup and it works like a charm. 
Once you've balanced your wings, slap on some mascara and pat yourself on the back: you've mastered one of the most iconic beauty looks in the world. Feel empowered to try it in different colors and with different liner formulas — again, the cat eye is incredibly versatile.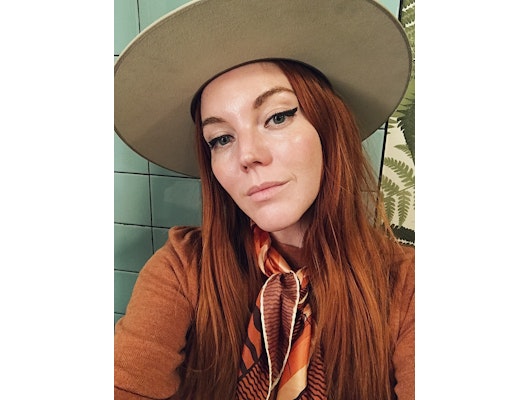 Courtesy of Allison McNamara
Some products were gifted to the author for the purpose of writing this article.
Product prices may vary from the time this article was written.
Allergan® may receive commission for purchases made through links in this article.