There are two reasons why I started my search for the world's greatest undereye concealer. The first reason was that as a professional makeup artist, I needed a miracle product that would work on all my clients. It's essential for me to have a secret weapon in my kit that can really conceal dark undereye circles. The second — and frankly, much more dire — reason is because I am a mother. When I first became a mom, I found that my dark circles and fine lines became more pronounced and (worse!) didn't seem to be going away anytime soon. I really needed to up my game.
Unfortunately, I found that with most concealers (as both a makeup artist and wearer), the products that cover and brighten the best are often heavily pigmented and thick. These attributes contribute to cakiness and accentuating texture under the eyes. Furthermore, so few of them last. Who wants to touch up their concealer throughout the day? Longwear and waterproof concealers are a must — especially if you're a bride or work long days. Often I would think I found the perfect product, only to find that it would inevitably melt, leaving behind traces of visible makeup, dark circles, and tears.
My quest has always been to discover the perfect blend of full coverage magic that doesn't crease or cake, and stays put. And that quest was a challenging one: I came across many amazing products to brighten my undereye area. I found many high-quality formulas to conceal my dark circles. I found lots of wonderful hydrating and anti-aging eye serums and creams. I bought them all. Yet, there was no product that could do all of these important tasks at the same time, which is what me and my clients really needed.
So after spending hundreds of dollars in the concealer department over the course of 10 years with little to no satisfaction, a miracle occurred: IT Cosmetics® introduced Bye Bye UndereyeTM Concealer ($26). This product changed my life — and those of countless brides and other makeup wearers in desperate need of a game-changing product.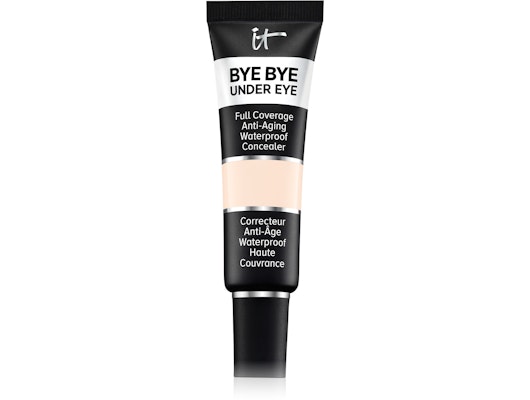 First of all, the coverage is unbelievable. The tiniest bit — I usually advise clients to use a pinhead's worth of product — can be smoothed under the eye for flawless perfection. Start by applying it by the bridge of your nose, where darkness is usually visible for most people. And dot the concealer in spots along your undereye area.  
For the most precise application, it's best to use a brush. I love the Sephora® Collection Pro Airbrush Detail Brush #57 ($24), because this fluffy brush creates an airbrushing effect. It buffs the tiniest bit of product smoothly across the skin, and the tapered edge of the synthetic hairs allow you to easily move your concealer into hard-to-reach areas like the inner corner and directly under the lashline.  
As you apply, remember that it is not usually necessary to smooth your concealer all the way out towards the cheekbones. This is a common mistake and could make you appear washed out, so be sure to concentrate the product where you really need it. Once you've done so, use your fluffy brush to buff out Bye Bye Undereye, blending it thoroughly without re-dipping into the product. (You can also sweep your brush over your lid to rid yourself of redness or discoloration and prep your eyelids for makeup.)
It might be hard at first to train yourself to not add more than that pinhead-sized amount of concealer — which is understandable, because you could be used to adding more and more of your old formula in order to hide everything. But because Bye Bye Undereye is extremely rich and pigmented, it's essential to use the smallest amount possible. If you use too much, it could have the exact opposite effect and call more attention to your skin concerns.
This product's creaminess is due to the fact that it's infused with anti-aging skincare, so it doubles as an eye treatment. The ingredients include peptides, vitamins, hydrolyzed collagen, hyaluronic acid, and antioxidants to help minimize puffiness, smooth the look of fine lines, and brighten up darkness and discoloration. I find that unless you are very dry, it can work beautifully without adding a layer of eye cream underneath. For drier skin types, adding a small amount of hydration won't hurt. I like the Bobbi Brown® Hydrating Eye Cream ($54) for my clients that need that little bit of extra moisture as it is a fast-absorbing formula that will hydrate without leaving skin too slick.  
Once applied, this product can be set with a setting powder if you like a more matte look. I like to use the new Secret Blurring Powder from Laura Mercier® ($28), as it is very finely milled and will set with a soft velvety texture that doesn't accentuate lines. For those that enjoy a dewy, hydrated look, this product left on the skin without setting powder will leave the user glowing. Do not fear that it needs to be set in order to stay put, it's 100 percent waterproof. This means that it will last all day, no matter the temperature. I wear this every day to the gym, I wear it on humid days at the beach, and even during the sweatiest of jogs or tennis matches — and it quite literally does not move, and I have never set it with powder.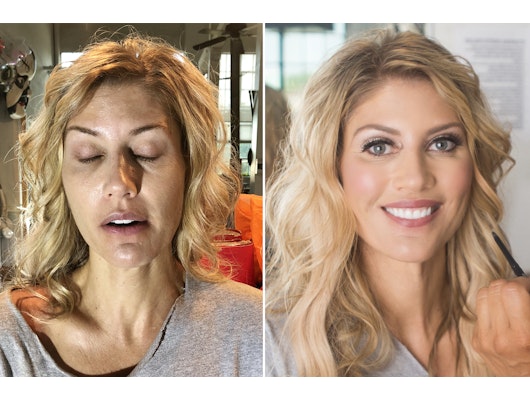 Courtesy of Nicole Moleti
Because of this fact, it won't crease, either. Creasing happens when makeup moves on the skin and collects into lines. Without movement, creasing is not a concern. Additionally, the formula is so creamy that it melts into the skin seamlessly, without leaving behind any clue that you applied makeup. You will just look like a brighter version of yourself.
Bonus: If you are one of those people that can't ever find the right match for your complexion, note that this collection offers 48 shades. You have warm, neutral, and cool undertones to choose from to help take the guesswork out of your selection.
A day does not go by when I don't apply this product to a client, hand her a mirror, and have the pleasure of watching her jaw drop in complete amazement. And she's not the only one — I do the same thing when apply it to myself.
Some products were gifted to the author for the purpose of writing this article.
Allergan® may receive commission for purchases made through the link in this article.