Wrinkle reducer parties have become a phenomenon around the nation. Just picture it: hors d'oeuvres and the company of your best friends cheering you on with every injection placed between your brows and around your eyes. Sometimes these parties are held at someone's home or at a salon, while other times they're held privately at an actual medical office.
To a medical aesthetics enthusiast, it all sounds pretty fabulous, but it does make one wonder if these parties are ultimately a good idea. To investigate, we spoke to two highly respected dermatologists — one who politely declines to partake in such parties, and another who's administered injectables in a party setting. We also spoke to an enthusiastic salon owner who hosts them at her space, and to someone who was willing to share their not-so-glamorous experience.
[Editor's note: Injectable wrinkle reducers are used to temporarily smooth the look of moderate to severe wrinkles in certain areas of the face such as the forehead, frown lines, and crow's feet. Like any medical treatment, they have potential risks and side effects. Be sure to talk to a licensed provider to see if they're right for you. Have more questions? Chat with our team of trained aesthetics specialists now.]
How Do Injection Parties Work?
D'Lisa Shayn Khademi is the owner of a high-end, comprehensive beauty salon in central Phoenix. In addition to providing hair, makeup, skincare, and waxing services, she hosts occasional injectable wrinkle reducer parties for guests.
"It's pretty straight forward," she tells us. "We have so many spots and people have to register. We call it a party simply because it is usually at night and sometimes, we have snacks. It is done at the salon, not at a house, and sometimes people will come in a group and have it as a private party."
Khademi says her parties are usually intimate with 10 or fewer guests in attendance, which seems to be fairly standard. She also noted that at her salon, the injector is a licensed nurse who works under the umbrella of a doctor's medical license. This is essential: should you ever attend such an event, the person providing the injections must always be an experienced medical professional. Dr. Joshua Zeichner, a board-certified dermatologist based in NYC, explains why.
"If [the injection] is not given properly, you may be very upset with the outcome," he warns. "Unfortunately, there is no antidote for the treatment besides waiting for it to wear off."
Also, it's imperative that the injectable wrinkle reducers being used are not counterfeit. In non-medically regulated parties, that could easily be the case. Counterfeit injectables are not regulated and therefore it's impossible to know what they contain or how they'll affect you. Only currently licensed medical professionals have access to legitimate, FDA-approved injectables. (Even then, there are instances when professionals still use counterfeit products, in which case a practitioner can lose their license and find themselves in serious legal trouble.)
If you're curious about what it costs to attend this type of event, it varies depending on your location, the treatment, who's providing it, et cetera, just like any medical service. However, prices are typically about the same as they'd otherwise cost if you visited an injector directly, though sometimes hosts get comped for their hard work.
"With most parties, you have a 'host.' That host gets a certain number of people to come and then their service is free," explains Khademi. "[For me], it has always been a good experience."
[Editor's note: Individual experiences and satisfaction with the results vary person to person.]
What is the Potential Downside of Injection Parties?
Board-certified dermatologist Dr. Papri Sarkar says that, like Khademi, she's been happy with her experiences, as well. She's been the medical administrator at a house party, though in recent years has stuck to working with groups in her Massachusetts office.
"Everyone is generally in a great mood. People are chatty and happy, it's really efficient and relaxed, [and patients] are generally lovely," she tells us.
That said, Dr. Sarkar has a list of ground rules and she's quick to acknowledge some of the unsavory or dangerous aspects of injection parties, as well. One of her biggest no-nos is alcohol consumption. It's also important to be sure the person injecting you is credible and a licensed professional.
[Editor's note: Be sure to talk to your licensed provider about any risks involved in drinking alcohol before or after treatment.]
Florence Williams experienced very serious bruising after her first (and likely only) participation in an injection party she went to last summer in Nashville. She also experienced several other atypical side effects.
"I'm scared of needles and it was my first time to do [wrinkle reducer injections], so I was really nervous, but I decided I would suck it up," she recalls. "The girl administering it was a Pilates instructor by day — so that should have been my first sign to not do it — but it all seemed very professional. Also, a couple of girls who had gotten it done with her before looked great, so I wasn't worried." She adds, "It didn't hurt at all in the moment, so I was happy about that."
She went to sleep that night, caught a plane the next day for a business trip, and all seemed to be going well — until that afternoon.
"I was hit with an excruciating migraine which is very unusual for me," she tells us. "I checked into my hotel and tried to sleep it off in the dark. I ordered room service for dinner because I couldn't bear turning on the lights. I woke up the next day to go to a client meeting and realized that my entire forehead was black and blue."
Williams says the bruising lasted for nearly two weeks, but that the headaches lingered painfully for a solid three months afterward. She also told us she was too scared and embarrassed to seek medical expertise, so she lived with the pain until it went away.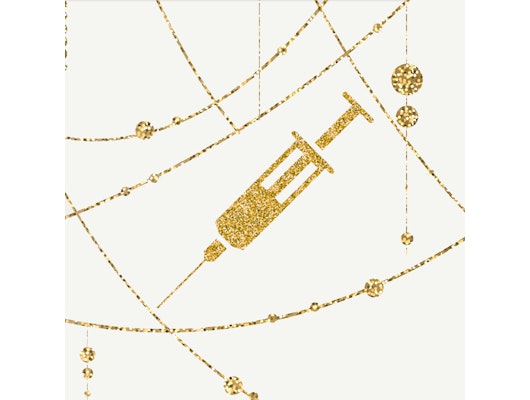 iStock / Puruan
Are There Possible Social Ramifications to Injection Parties?
Drinking alcohol hinders an attendee's ability to make informed, thoughtful, and cogent medical decisions, notes Dr. Sarkar. Further, when someone's sober, it's easier to relay medical details to them, to counsel them appropriately, and for them to follow important protocol (such as sitting still and not touching the injected area).
"I like a good glass of champagne or a martini as much as the next girl, but I don't mix alcohol and procedures," says Dr. Sarkar. "Even if nothing bad ever happens, it makes me feel more in control and better able to handle an emergency should one ever arise."
Outside of potential medical concerns, there's are some social downsides to consider, too. For starters, if there's a lack of privacy for a one-on-one consultation, this can lead to all sorts of problems. Because this is a medical visit, practitioners should discuss medical history with their patients. Private details, such as current prescriptions and pregnancy, are discussed. These typically aren't conversations to be had in front of others.
You might also want to consider who you're attending an injection party with, as the guest list could have some unexpected consequences ."If you have a negative or critical person in the group, they can point out things in their friends that their friend isn't ready to treat or doesn't bother her," says Dr. Sarkar. A judgment-free zone is obviously ideal. "[A party] that I did had someone like that in the group and it was a little hard — for me and the friend!"
Why Don't All Injectors Offer These Parties?
All of the above make some practitioners, such as Dr. Zeichner, say no to wrinkle reducer parties altogether.
"I personally have been asked to come to a patient's house to treat her and her friends in the setting of a party. I declined the invitation as it goes against my personal beliefs," he says. "From my perspective, I do not think they are a good idea. Cosmetic procedures should be performed in controlled environments. And, while many patients become quite friendly with their dermatologist, it is important to remember that when you are getting a cosmetic treatment your dermatologist is not a playmate, but your doctor."
There's clearly a gray zone when it comes to wrinkle reducer parties, and every host, attendee, and practitioner has a right to do only what they feel comfortable with. For some, that may mean creating a fun, intimate atmosphere in an office or salon setting; for others it may mean only working one-on-one with patients during normal business hours.
Whatever the case, we can all probably agree that outside of the gray zone there's a solid black line separating good and bad practice. Only highly-trained medical professionals should administer injections and you should run screaming from counterfeit injectables. You can also save any celebratory champagne toasts until well after your injections are over.
Want to chat about injectable wrinkle reducers?  Our trained aesthetic specialists are here to help! 
---quiz start
---quiz end