In The Path, we spotlight different women making a difference in the fashion, beauty, wellness, medical aesthetics, and more industries. Here, fitness guru and AKT founder Anna Kaiser shares her road to success.
Anna Kaiser, the driving force and founder of AKTTM, a fitness empire routed in cardio dance, believes in gold stars — both real and theoretical. She gives them to herself as she accomplishes daily goals. She doles them out to clients after they make it through an intense workout at one of her four (soon to be six!) studios. Even Shakira, one of Kaiser's many celebrity devotees, can confirm that a sparkly badge of honor works wonders, as she reportedly used the same reward system to potty train her son.
That said, a sky full of shiny gold stars isn't necessarily how Kaiser measures happiness, or even success. "My husband and I check in with one another to make sure we always have someone to love, something to do, and something to look forward to," she explains. "If we have all three, we feel like it's been a good day."
Aside from those three aforementioned must-haves, a "good day" never looks the same as the last for Kaiser. As the leader of a business, family, and global fitness community, she wears many hats that range from motivator to mom. Despite her dramatically defined Adonis belt and nearly superhuman ability to breeze through calorie-burning choreography that leaves the rest of us mere mortals drenched, Kaiser says the juggling act isn't easy.
"Time management is really hard," she admits. "Trying to figure out the right balance between spending time with my son and growing my AKT baby and sending that off into the world is really challenging. I always want to give both 150 percent." She adds, "I don't believe in a perfect balance, but I think every day, I get one step closer to enough of each."
Taking things one step at a time is exactly how Kaiser got to the top. That, and a lot of sweat. She danced professionally in shows like West Side Story and Fame; taught at Reebok® Sports Club in NYC; worked for various fitness personalities ranging from Denise Austin to Tracy Anderson; studied functional anatomy for movement injuries at Mount Sinai®; got certified at the National Academy of Sports Medicine®; and made a cameo in the Beachbody Insanity DVD alongside Shaun T.
If that sounds exhausting, know that these are merely a few highlights. Kaiser's incredible career began long before she developed her eponymous technique that "bridges the gap between the gym and the boutique studio." She differentiated AKT by fusing her wide variety of fitness experience — dance, interval training, Pilates, yoga, and lifting — into a unique program under one roof.
"Today, AKT is four classes: one is circuit, one is tone, one is band, and one is dance. They're all interval-based, but they target your muscles differently and they combine strength and cardio differently," explains Kaiser. "You really do get everything in one place and you don't have to run around to different studios." And if there's anyone who knows how to maximize the burn without getting burned out, it's Kaiser.
Here, the exercise guru shares her mantras for body, mind, and beyond.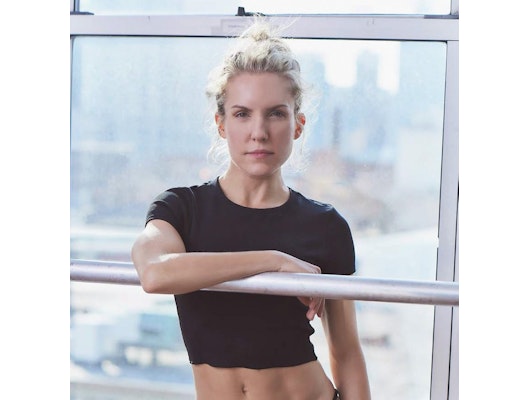 Credit: Courtesy
Get specific.
Whether you're trying to achieve a fitness goal or reach a new milestone at the office, Kaiser's advice is the same: Dial down to the nitty-gritty details and hold yourself accountable. "Be as specific as possible," she says. "So not just 'I want to lose weight,' but put a plan into action as to how you're going to do that and stick to it. I would even say write it down, put it up on the wall on a calendar that you walk by every day, and highlight the days you're going to work out, where you're going, and what time. Map it out for the entire month."
She continues: "In terms of food and career [goals], write them on the calendar, too. Don't make them complicated. Take small steps. If it's one thing with food that you want to change, or one thing that you want to focus on [at work], put it on the calendar. Then, write notes or give yourself a gold star everytime you complete something so that you can see it visually in front of you, feel that sense of accomplishment, and really celebrate it.
For me, actually having a visual representation and reminder of [each step] on a daily basis is really helpful. We're all running around in a million places and we have a ton of apps with tasks and to-do lists, so it's really nice to have something tangible that you walk by every day that's not on a digital device."
Don't attempt to do it all.
"My friend Lisa Sun, who is the CEO of Project Gravitas®, told me to know your strengths and weaknesses. Then, surround yourself with really smart people who help round you out. Being honest about what you do well and what you need to outsource or where you need support is really important. We so often try to make all of it happen, and it's not only just not possible, but an inefficient use of our time and energy."
Invest in yourself.
"Your health is an investment — not an expense. That is one [mantra] that I keep in mind. So often, I find myself saying, 'Oh, I've got to do this or I have to pay for that,' but I try to spin it into a positive. I try to not think about [exercise] as something I have to do, but really something that I want to do as an investment in my future, my son's future, and the future of my team and clients," says Kaiser.
For the fitness guru, getting in at least one workout for herself a week is a key component to a healthy mind and body. "It's really fun to take a class at AKT and not teach it. I also like to go with friends and make it a dance party. It's about stress relief, bonding with friends, and positive, happy endorphins. If I don't want to do it in the morning, I just think about how much better I'm going to feel afterwards.
That's such a huge motivator for me because I'm really busy. I wake up very tired most days, but working out instantly changes my mood and gives me more energy. Afterward, I'm ready to take on the day. For me, it's really important for my mental wellbeing — even more so than the physical benefits."
In addition to a quick cardio boost, Kaiser treats herself to at least 60 minutes of me time. "I try to have an hour a week where I go and do something for myself, whether it's getting a pedicure, massage, or a facial," she said. A few of Kaiser's favorite indulgences: a mani/pedi at her corner nail spot, a massage at home with Elinor Guzman (a therapist she met while working at Reebok Sports Club), a facial at Knockout Beauty®, or microdermabrasion with Dr. Amy Wechsler.
Credit: Courtesy
Do not be afraid to take it off — take it all off.
"When I was younger, I used to wear makeup everytime I worked out. Everytime. Then, I'd wash it off and put it back on my face. I wouldn't leave the house without makeup. I'm from Los Angeles — it's a thing. I'm so grateful that I moved to New York City because all that makeup was really hard on my skin. I've gone through quite a healing process," says Kaiser.
She credits her new routine to Cayli Cavaco Reck at Knockout Beauty, Dr. Wechsler, and Dr. Robert Anolik. She sees Dr. Anolik two to three times a year for injectable wrinkle reducers to smooth the appearance of forehead wrinkles. "I'm a really expressive person," she says. "I want [it to be subtle]."
[Editor's note: Injectable wrinkle reducers are used to temporarily smooth the look of moderate to severe wrinkles in certain areas of the face such as the forehead, frown lines, and crow's feet. They should not be used more frequently than every three months. Like any medical treatment, they have potential risks and side effects. Be sure to talk to a licensed provider to see if they're right for you. Have more questions? Chat with our team of trained aesthetics specialists now.] 
Kaiser has also refined her skincare and makeup arsenal over the years. She's pared down to a few key tools and products, including the BeautyBioTM GloPRO® Microneedling Regeneration Tool ($199), Environ® Cosmetic Gold Roll-CIT® ($298), Drunk Elephant® T.L.C. Sukari Babyfacial® ($80), Skin EssentiATM Dual Action Pre-Cleansing Oil ($40), Roscuba B3 ($40), Environ Youth EssentiA Vita-Peptide Eye Gel ($92), Focus Care Comfort+TM Vita-Enriched Colostrum Gel ($76), and Drunk Elephant Virgin MarulaTM Luxury Facial Oil ($72).
It's OK to take the occasional shortcut.
"I'm not as consistent as I should be — sometimes I skip stuff because I just don't have the time," admits Kaiser. "I use an organic body wash at the gym to cleanse my face if I'm rushing, but I am always good about not over-washing my hair. I'm not one of those people who always has perfectly coiffed hair, because I'm very active." She opts for sulfate-free Briogeo® Scalp RevivalTM shampoo and conditioner to prevent tangles, uses Teleties® to avoid creating creases in wet or dry hair, and keeps Recess® deodorant wipes ($15 for 26) on hand.
She also cuts her makeup down to a minimum when teaching class. "I try not to wear concealer, foundation, or anything on my skin," she says. Kaiser's current budge-proof must-haves: MAC® Cosmetics Pro Longwear Eyeliner ($22), Chanel® Crayon Sourcils Sculpting Eyebrow Pencil ($29), MAC Satin Lipstick in Brave and Twig ($19), and bareMinerals® Gen Nude® Matte Liquid Lipstick in Swag ($19). For a more polished look, she adds Lancôme® Teint Idole® Ultra 24H Long Wear Foundation ($47) and Bobbi Brown® Blush ($32) post-workout. Instead of lugging her must-have products around, Kaiser keeps multiple collections of them wherever she might need one: there's a set at home, a set in each studio, and one set designated specifically for travel. "This way, I can just go!" she says. No beauty excuses, only gold stars.
Product prices may vary from the time this article was written.
Allergan® may receive commission for purchases made through links in this article.