Anyone who is open about their decision to get injectable wrinkle reducers and fillers has likely been on the receiving end of skepticism or criticism at one point. Why would you spend that much money on something like that? But you don't need to do anything to your face! Unfortunately, there's still a lot of misunderstanding and misinformation around medical aesthetics, and talking about it can sometimes feel more like a trial than a conversation — especially with the person you're dating (or married to), who might fear you'll walk out of the injector's office completely unrecognizable.
One way to solve the problem: Take your significant other with you to your next appointment. They'll get expert answers to their questions, see how injectors treat moderate to severe wrinkles, as well as volume loss, and maybe — just maybe — they'll want in on the action, too. Below, two couples who get injected together by Gabrielle Garritano, PA, at JECTTM in New York City, share how the experience has brought them closer together. Sally*, 26, and Jack*, 37 have been dating for nine months. Andre*, 30, and his husband SG*, 31, have been together for five years.
 [Editor's note: Injectable wrinkle reducers temporarily smooth the look of moderate to severe wrinkles in certain areas of the face, including the forehead, frown lines, and crow's feet. Injectable filler is a temporary treatment that adds volume to areas of the face such as the lips, cheeks, and laugh lines. Like any medical treatment, both injectable wrinkle reducers and injectable fillers have potential risks and side effects. Talk to a licensed provider to see if they're right for you. And learn more now by chatting with a trained aesthetic specialist.] 
Spotlyte: When did you first discuss injectables and how did the conversation go?
Sally: Soon after we started dating. There have never been secrets between us. I was likely the one who brought up the conversation because I was working for a plastic surgeon at the time and had already gotten injectable wrinkle reducers in my forehead and glabella. The conversation was very casual and Jack told me he, too, was interested in getting injectable wrinkle reducers and had heard good things about them. No one had to be convinced; I simply set up an appointment for both of us.
Andre: About three years into our marriage, we started discussing it. I remember being supportive of SG's decision to get injectables and him being supportive of mine.
Spotlyte: Why did you want to get injectables?
Jack: I wanted to do something to take care of my lines, so I got wrinkle reducers in my forehead, crow's feet, and glabella.   
Andre: I always noticed the single line on my forehead from years of being very surprised all of the time, I guess. I liken injectable wrinkle reducers [to a]...a get-it-and-[temporarily]-forget-about-it method.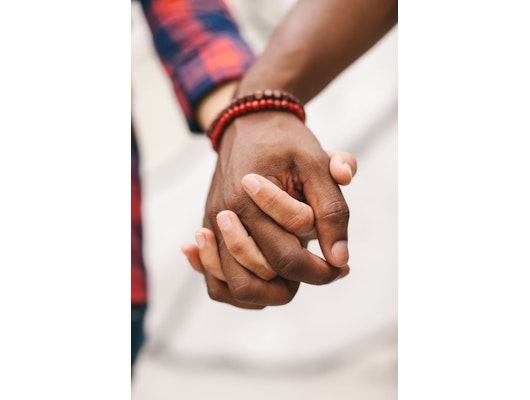 Stocksy United / BONNINSTUDIO
Spotlyte: What's the experience like when you get treated as a couple?
Sally: It's a bonding experience.
Andre: SG was with me for my first time and it made me feel really comfortable to have him there. He knows my face better than anyone. I also got laser hair removal [on my body] after and that hurt [more than I expected]! It was nice for him to be there because he had done laser [hair] removal years ago and helped prepare me.
SG: It was really fun going together. There was a lot of encouragement and excitement about [trying] procedures.
Spotlyte: Do you like the results on your partner?
Sally: Yes! The wrinkle reducers [really do help those lines].
Jack: I don't see as big of a difference with Sally as I do for myself.
SG: I was surprised by how Andre's forehead lines started [diminishing]. [They] worked so well.
Spotlyte: Do you feel there is a stigma around injectables?
Andre: I really don't. I talk freely about it because I feel no shame about getting injectables.
SG: I would say it is a little less talked about where I am from, but in New York, in our circle of mostly women and gay men, it is a pretty normal thing.
Sally: There has always been a stigma around injectables and plastic surgery in general. Before working for a plastic surgeon, I had opinions of my own . . . opinions my friends still have today. My mind was definitely changed seeing firsthand the results of injectables. However, I think so many people get their views from TV shows like Botched® or celebrity gossip magazines. Injectables and plastic surgery, when used correctly, [can provide excellent results].
Names have been changed.
---quiz start
---quiz end