You've likely heard of the Paradox of Choice theory, which argues that the more options people are faced with, the more anxiety and "choice paralysis" they feel. Too many possible 401k selections and employees tend to just opt out; consumers who buy a new lipstick from a shelf with 30 are more dissatisfied with their decision than those who only had 15 to pick from. But too many choices isn't always an issue, especially for those who work in the facial aesthetic field.
Today, there are more non-surgical cosmetic procedures than ever on the market. Because everyone is different, it's important to find a licensed provider educated in all the latest products and technologies who will customize a treatment plan that best delivers results in the timeframe you need. Below, we asked seven medical professionals to share the treatments they're most excited to share with their patients in 2019.
Injectable Wrinkle Reducers
"[Injectable wrinkle reducers] are [an effective temporary] way to provide [treatment for wrinkles]." — John Paul Tutela, MD, plastic surgeon at Tutela Plastic SurgeryTM in NYC and New Jersey
"We're actually seeing a significant growth in patients, particularly millennials, that are [appropriate] for wrinkle reducers and fillers. They're highly educated about their options." — Bob Basu, MD, plastic surgeon at Basu Aesthetics + Plastic Surgery in Cypress, Texas
[Editor's note: Injectable wrinkle reducers are used to temporarily smooth the look of moderate to severe wrinkles in certain areas of the face such as the forehead, frown lines, and crow's feet. Like any medical treatment, they have potential risks and side effects. Be sure to talk to a licensed provider to see if they're right for you. Have more questions? Chat with our team of trained aesthetics specialists now.]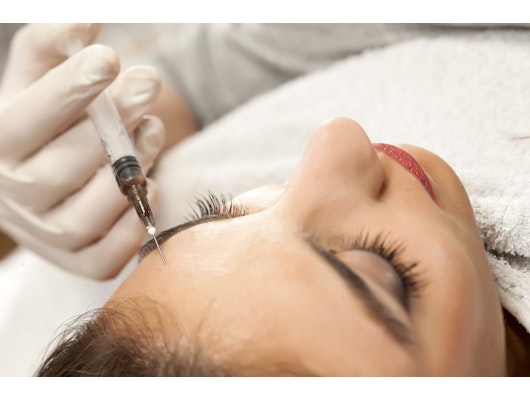 iStock / Vladimir Floyd
Injectable Fillers
"In 2019, [we're much more able] to customize the aesthetic treatment for our patients. When I first started in facial plastic surgery, all we had was [one option] to add volume to the face.
Now, we have injectable fillers that allow treatment that can last [anywhere from six months to] two years that allow us to volumize [specific areas of the face]. The more products available, the [more options we have to offer to] customize the results." — Manuel Lopez, MD, plastic surgeon at Advanced Aesthetics Lopez Plastic SurgeryTM in Texas
[Editor's note: Injectable filler is a temporary treatment that adds volume to areas of the face such as the lips, cheeks, and laugh lines. Like any medical treatment, it has potential risks and side effects. Be sure to talk to a licensed provider to see if it's right for you. Have more questions? Chat with our team of trained aesthetic specialists now.]
Chemical Peels
"I am passionate about educating patients on the versatility and efficacy of chemical peels. This starts with educating patients on how they work and the downtime involved. Thanks to the infamous Sex and the City® episode when Samantha's treatment left her face burned, many people think they need weeks of downtime after a chemical peel.
Today, the acids are the same, but the technology is different. Activation in the lower levels of the skin [during mild peels] results in powerful exfoliation with less trauma on the visible skin. This allows for better correction, with some chemical peels causing minimal to no downtime. Whether it is acne, scars, sun spots, melasma, dullness, or fine lines, we can really customize the treatment for the patient's specific issue and at a significantly lower cost than most laser treatments." — Gabby Garritano, PA, founder of JECTTM in NYC
[Editor's note: As always, talk to your licensed provider before starting or stopping any new treatment, medication, or supplement.]
Thread Lifts
"I'm excited about using threads, like Novathreads®, to help lift and contour the face. This technique is great for people with really displaced volume and sagging that need that extra push to lift." — Shereene Idriss, MD, dermatologist at Union Square Laser DermatologyTM in NYC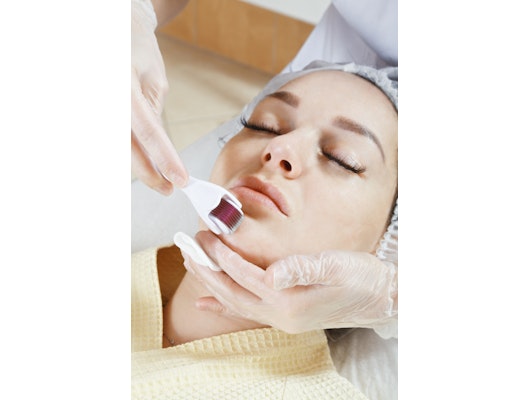 iStock / Forster Forest
Microneedling and Radiofrequency
"The procedure I am most excited about in 2019 is one that expands upon the trendy procedure of microneedling by adding heat to the needle tips — namely, microneedling and radiofrequency (RF).  [Many] women in their late thirties and forties want more than just a clear complexion with few lines; they want their face to show zero signs of sagging, without going under the knife. Non-surgical tightening procedures are extremely popular and, in my opinion, the microneedling/RF combo gives the best bang for your buck because it's a powerful two-in-one procedure like no other.
Microneedling on its own solely targets superficial skin texture, the idea being that wounding the skin with needles will trigger fresh, smoother skin to grow. It is the addition of radiofrequency heat at precise temperatures that shocks the deeper dermis, where collagen is made, and stimulates new collagen." — Estee Williams, MD, cosmetic and surgical dermatologist at Madfes Aesthetic Medical CenterTM in NYC
"Vivace® Microneedling RF by Cartessa® is the hottest treatment right now. It combines microneedling and radio frequency to stimulate collagen and elastin production, which tightens and smoothens the skin. It's great to reduce pores, scars, uneven skin tone, and fine lines. There is minimal downtime. A series of treatments is suggested and skin reveals an immediate glow that gets better over time." — Paul Jarrod Frank, MD, cosmetic dermatologist and founder of PFRANKMD®.
---quiz start
---quiz end