Throughout her 16 years in public relations, Megan Driscoll has worked with some of the biggest brands, names, and personalities in the beauty and aesthetics world (some you "keep up with" on TV weekly). While she's the founder and CEO of EvolveMKDTM — a marketing communications agency specializing in beauty, healthcare, and lifestyle brands — Driscoll didn't start out on top. She definitely worked her way from the bottom, before becoming the boss.
When Driscoll speaks to people around her, she's genuinely interested in what they have to say. The tall, fair-skinned redhead remembers personal anecdotes from conversations of yesteryear and making real connections with clients, media, her employees, and everyone else she comes across. The warm, often-smiling and sincere trailblazer graduated from the University of Chicago® in 2002 and landed her first public relations job — an internship — at global agency Edelman®, where she worked with big pharma clients like Pfizer® and Abbott®. "My job consisted of being the first to arrive in the morning, handling all the media monitoring for the healthcare team, as well as pulling media lists and generally being the gopher," she explains. "It was the furthest thing possible from a glamorous job!"
In 2015, after working in senior roles for other top firms for years, she left a New York-based agency to start EvolveMKD, which employs 20 people, including her own mom (a.k.a. the office manager). These days — 16 years later — Driscoll is no one's "gopher," but she still understands the importance of having a positive attitude, even if fetching coffee is part of the job.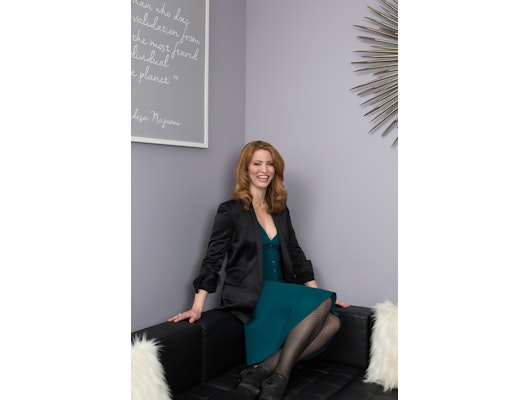 Kelsey Ann Rose
Read on for our one-on-one with the PR maven, as she reveals what it takes to succeed in the beauty and aesthetics industries, the best advice she's ever received, and what she's learned from working with celebs. Driscoll also reveals where she thinks the industries are going, and what products (and treatments!) she cannot live without.
Spotlyte: Since you started, what's been the biggest change in the beauty and aesthetics industries, from a media standpoint?
Megan Driscoll: In aesthetics, specifically, it's been the willingness of media outlets to cover in-office treatments and products with regularity. From a more traditional standpoint, it's been how much more important science and credentialing are for all products, even hair and makeup. It's now critical that there be a proven, differentiation point and reporters expect there to be some rigor and rationale behind the products being brought to market, whether that's from a clean standpoint or a science perspective.
Spotlyte: How have influencers shaped or changed the beauty and aesthetics landscapes within the past few years? How do you see Instagram®, YouTube®, and other mediums that have become essential to a brands' success, evolving in 2019 and beyond?
MD: What's really exciting about what's happening right now is that there are so many different avenues for reaching consumers and so many different ways, as a brand, to get your message out there. I see social media and influencers continuing to function almost like channels on your television. You can get advice and content on fashion, health, wellness, beauty, [and aesthetics] from influencers that love and are passionate about those spaces. I am also very happy to see so many of the aesthetic physicians that I love and admire using social media to educate on various treatments, procedures, and the importance of choosing the right doctor to see for them.
Spotlyte:  You've worked with many high-profile names – including Christie Brinkley, a few of the Kardashians, Marie Osmond, and more. What's the greatest lesson you've learned from working with famous faces and their teams?
MD: That good lighting and the right camera angle are truly gifts from God [smiles]. But in all seriousness, I've had the great fortune of working with some of the best in the business, not only from the actual celebrity perspective, but also from their teams' perspective. Some celebrities get a bad rap, but the ones I've worked with have shown me the value of really knowing your own brand and remaining true to that in the partnerships you take on. They've also taught me how important it is to protect your brand and surround yourself with people who also take that to heart and will go to the mattresses for you.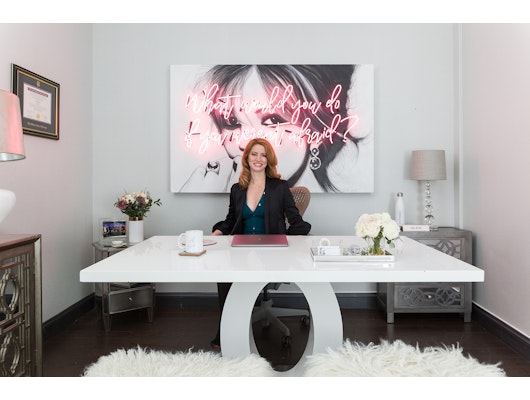 Kelsey Ann Rose
Spotlyte: Going out on your own is a dream for many but not a reality for most. What was the tipping point that inspired you, when you finally decide to go for it?
MD: For me, it was more out of necessity than anything else. I was a partner at another agency in New York City, and it wasn't working out. While negotiating my exit, I had a choice — go back and work for someone else, and potentially have the same thing happen again, or be brave and try doing my own thing. I decided to ignore my fear and go for it. It's definitely the best decision I've ever made, but it continues to be one of the scariest. Every day brings new challenges and forces me to expand beyond my comfort zone and what I think I am capable of. 
Spotlyte: Who has been your biggest supporter or cheerleader in terms of being your own boss? Why was this person significant for your success?
MD: I've been fortunate that I've had so much support from physician friends, former clients, media, and friends during this whole process. I would say the two people who were most instrumental then and still are every single day are my husband — who's just amazing — and a mentor/client of mine who's been in the [beauty] industry for a long time. While he can be tough, his advice is always the best — and keeps me from making expensive mistakes! 
Spotlyte: We have to ask the standard question: what's the best piece of career advice you received? Who gave this to you and why is it still relevant today?
MD: The two best pieces of career advice I've ever gotten were from my parents. The first one was: "You meet the same people on the way up that you meet on the way down." It means you need to be kind and nice to everyone. The second one was that you will likely always be getting someone coffee, no matter how senior you are, so drop the attitude and do it with a smile. They've been 100 percent right on both accounts, and I try to instill in my team both of those values. My mom's also our office manager, so she does a good job of keeping the team in line!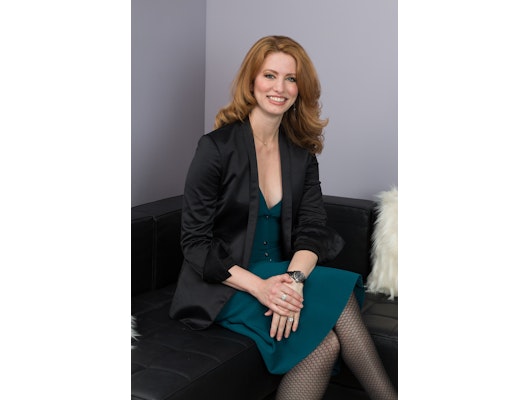 Kelsey Ann Rose
Spotlyte: What skincare products do you use regularly?
MD: For skincare:
Spotlyte: Are there any products you swear by for hair?
MD: For hair:
Spotlyte: What about makeup?
MD: When choosing makeup, I usually go with whatever celebrity makeup artist Rob Rumsey, who does my makeup for events, or Beauty Director Katie Becker of ELLE®, tells me to do.
Spotlyte: What is your stance on anti-aging?
MD: I just want to make sure I always look good — no matter what age I am. I love getting older — I am smarter, I know myself better, I know my body better, I have a way better wardrobe, and have been able to do insanely fun and interesting things with the best people. My friends are also my friends for life at this point. What I don't want to do is not look — or feel — my best. I always want the reflection in the mirror to match my energy level and the image I have in my mind. In my humble opinion, I've gotten better looking with age.  
Spotlyte: Have you tried injectable wrinkle reducers?
MD: I started getting injectable wrinkle reducers at the age of 28. I had three lines that showed up on my forehead. I get them done every three to four months. I definitely notice the difference when I am late in going. Dr. Doris Day is [my provider]. 
[Editor's note: Injectable wrinkle reducers are used to temporarily smooth the look of moderate to severe wrinkles in certain areas of the face such as the forehead, frown lines, and crow's feet. They should not be used more frequently than every three months. Like any medical treatment, they have potential risks and side effects. Be sure to talk to a licensed provider to see if they're right for you. Have more questions? Chat with our team of trained aesthetics specialists now.]  
Spotlyte: Have you tried injectable filler? If so, when did you start?
MD: I tried filler for the first time about two years ago. My [cheeks] just started losing volume, so I asked Dr. David Shafer for his opinion. I've received it twice now, and I go every 15 to 18 months or so. It's not adding anything additional — it's just keeping me looking the same, which is what I am going for!
[Editor's note: Injectable filler is a temporary treatment that adds volume to areas of the face such as the lips, cheeks, and laugh lines. Like any medical treatment, it has potential risks and side effects. Be sure to talk to a licensed provider to see if it's right for you.]
Spotlyte: What laser treatments have you tried?
MD: I have stress-induced rosacea — rumor has it that it's also red wine-induced, but I ignore that part! — so Dr. Day started treating it with the Vbeam® laser. There is actually a new Vbeam laser launching called the Vbeam PrimaTM that I am excited to try!  
I've also done Fraxel® treatments with Dr. Day and IPL treatments with Dr. Dendy Engelman — both to improve my skin tone and texture. For me, skin texture is a really critical part of your skin looking healthy and fresh. I also did miraDry® with Dr. Jeremy Brauer in my armpits. I can finally wear silk again to work meetings since I don't sweat profusely any more. 
Spotlyte: Which in-office treatments do you feel have made the biggest difference? Why?
MD: I am obsessed with my HydraFacials®. I cannot live without them — from the lymphatic drainage to the way they clean my skin — it's just all such good stuff. I also feel this sense of accomplishment when I see all the crap that came out of my skin in the device: I am like, "Yes, my skin is so clean right now." [Read our editorial director's review of the HydraFacial here.]
Spotlyte: Do you have any advice for people who are interested in trying medical aesthetics but are nervous or wary?
MD: Honestly, if you choose the right, board certified, trained physician, you will be in good hands. I always recommend that once people ensure they are seeing a reputable physician, they should book a consultation and ask all their questions.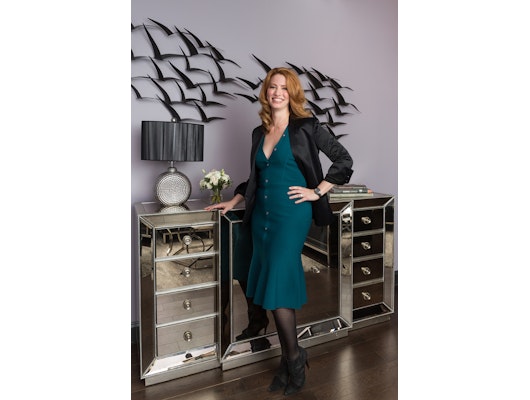 Kelsey Ann Rose
Spotlyte: What is your best advice to your current employees on how to be rockstar public relations professionals?
MD: It's pretty simple: be self-aware, willing to learn, prepared to work hard, and open to feedback. Public relations is not the glamorous job that It's portrayed to be. You have to be good at a lot of different things in a lot of different situations — with all kinds of people. Learning how to be adaptable, flexible, and open-minded is critical to being successful — and also, for life, it's generally good too! 
Spotlyte: Do you have a mantra? What is it and why?
MD: We just decided on our mantra at EvolveMKD, and it's "Be Kind, Don't Suck." Being kind is pretty self-explanatory, but the "don't suck" part really related to all aspects of life — don't suck at work, don't suck at being a friend, don't suck at being a partner, etc. Aim to do and be your best in all aspects, even if you fall short sometimes.
Spotlyte: Anything else you'd like to add?
MD: When I was in high school, I played a bunch of different sports and for whatever reason, every single season, every year, I'd win the "Most Improved" award on the team. The family joke became that I was winning the "You Used to Suck, But Now You Are Good" award, but as I've gotten older, I've realized that's the best award to win. Every year, you do want to be Most Improved and keep learning, growing, and evolving. I am so proud of what we've been able to build at EvolveMKD in just four years, but I hope in the next four years, I look back and think about how much the company has improved, grown, and continues challenging itself and our people to be and do the best.
---quiz start
---quiz end
Megan Driscoll and Doctors Doris Day, David Shafer, and Dendy Engelman are paid Allergan® consultants. 
Product prices may vary from the time this article was written.
Allergan may receive commission for purchases made through links in this article.
SkinMedica® is an Allergan-owned skincare line.