I'll just come right out and say it: I am obsessed with double cleansing. It all started a few years ago when my fanaticism with Korean skincare began.
To the uninitiated, double cleansing works as follows: First, you use an oil-based cleanser to help dissolve oil-soluble debris like makeup, dirt, and excess sebum. These cleansers come in many forms, but typically it's a straight-up oil, balm, or something in between. Follow with step two, a gel or milk-based cleanser to get other schmutz off your face. This two-pronged approach is supposed to give you a more effective, deeper cleanse.
My passion for this method wasn't love at first sight. Because double cleansing requires oil, it seemed counterintuitive to me at first. I had been trained to think that oil is the enemy (a common misconception among most people, especially men). But once I dove in, I never looked back.
If you're a regular makeup wearer the benefits of double cleansing are even better, because it really helps break down foundation, mascara, and tough-to-dissolve formulas. So I was not surprised to hear that British beauty brand Charlotte Tilbury® would develop a cleansing duo, the Goddess Cleansing RitualTM ($46), to work with her products.  I am already a fan of her Goddess SkinTM Clay Mask ($55) (it's one of the most luxurious masks I've ever tried, and I use it sparingly because I'm terrified of running out). So I  expected this duo to deliver some phenomenal results, too. I tested the Goddess Cleansing Ritual every day for a week to find out if it would meet my high expectations. Keep reading for my honest thoughts!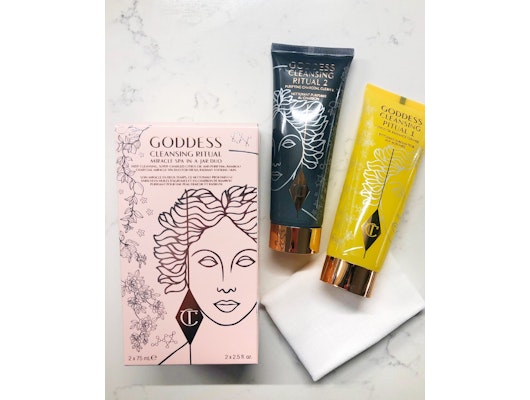 Garrett Munce
The Low-Down
This product pair is reminiscent of a K-Beauty double cleanse — but with a pore-purging twist. First, there's an oil cleanser dubbed Spa-in-a-Jar Ritual 1, followed by a water-activated cleanser (Spa-in-a-Jar Ritual 2). The box also contains a muslin cloth to wipe it all off with. It's worth noting that these formulas are beautifully packaged with gold details on the bottle (I've been keeping both tubes on my sink instead of hiding them in my medicine cabinet).
But it's what's inside the tubes that really sparks skincare magic. Spa-in-a-Jar Ritual One contains a bevy of citrus oils (primarily bergamot peel oil and lemon peel oil) that are rich in skin-brightening vitamin C.
The star ingredient in the Spa-in-a-Jar Ritual Two is bamboo charcoal, which pushes the product into cleanser/mask hybrid territory. (Click here to read about the best charcoal masks and other detoxifying formulas.) According to the packaging, this formula "draws out impurities through the natural power of absorption," the same way a clay or charcoal mask would. If you're prone to blackheads like I am, this is great news. Like the first formula, this one also contains bergamot peel oil and lemon peel oil.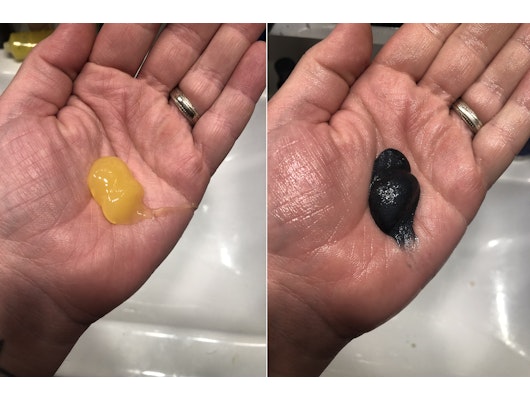 Garrett Munce
Step 1: Oil Cleanse
This oil cleanser comes in a tube, and it's not quite as thick as the balms I usually scoop out of a jar. That said, it still has a weighty feel to the formula, which I like. Sometimes I find thinner oil cleansers hard to apply. I was immediately struck by the sunny yellow color. It looks (and smells!) like an especially vibrant lemon curd.
I was surprised by how quickly the balm liquified when I massaged it onto my skin. Within seconds, it turned into a fine sheen of oil that made my face slick and shiny. I liked how smoothly it moved across my skin.
To remove, the directions suggest wetting the provided muslin cloth with warm water and swiping it across your face. I've heard that using some sort of cloth to remove cleansers has an exfoliating benefit, but I appreciated it mostly because it makes the whole process of removing oil with water a lot less time consuming. I also don't typically wear makeup (save for dabbling in concealer); but in the interest of reviewing, I did put some on just to wash it off. The cloth certainly helps with that. It removed all the makeup in one go — much better than water would have. In my opinion, this is where an oil cleanser developed by a makeup artist really shines.
Tilbury also recommends pressing the warm muslin cloth to your face for 20 seconds "for a magic steam-clean" and to open your pores. She does not specify whether to do this before or after removing the cleanser, so I tried it both ways.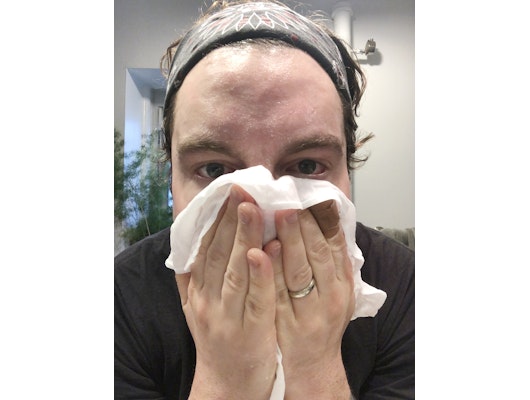 Garrett Munce
Step 2: Water Cleanse
Next up was the charcoal cleanser, which Charlotte suggests massaging onto a wet face until it turns white. The biggest surprise to me was that it looked thick, like a knob of iridescent black tar, but has a much thinner texture when smoothed over my face. I'm used to using charcoal masks, which glop on in a thick layer, but this doesn't have that same effect. It didn't lather, per se, but it did turn white, which made me feel like it's soapy. Since it has charcoal, I took extra time around my nose and T-zone, where I get the most blackheads.
To remove the mask, you're meant to use the same muslin cloth you used in step one. I have two problems with this. First, when I first did it, I felt a little like the remnants of the first step were going back onto my face. It took me a while to get the hang of using half the cloth for step one and saving the other half for step two. (Luckily, the cloth is big, so you just have to plan ahead.)
It's also more difficult to remove the charcoal cleanser than the oil cleanser. I kept missing spots, particularly around my nose, eyes, and hairline. I eventually did what I could and finished with a couple of splashes of cold water. I found that this helped remove any product I'd missed with the cloth and made me feel extra clean.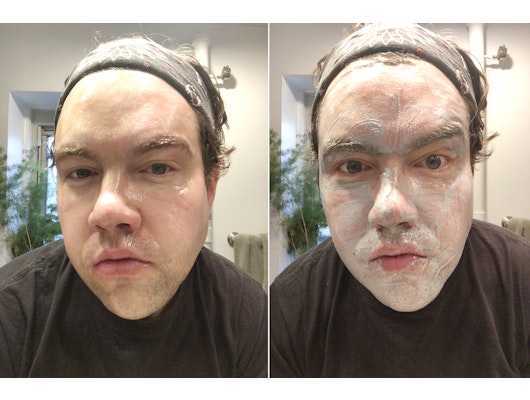 Garrett Munce
The Final Opinion
Like most things in Charlotte Tilbury's line, I found this to be more about the luxurious experience. Almost everything seems intentional, from the packaging and its colors, to the efficacy of the product itself. If you're a regular makeup wearer, this cleansing duo (especially the oil), really shines. And if you're just beginning your double cleansing journey, it's also a great introduction to the concept. I'd also recommend this to someone who just wants to feel a little more pampered. For veteran double cleansers, it may not leave you feeling quite clean enough, but it's certainly worth having in your rotation.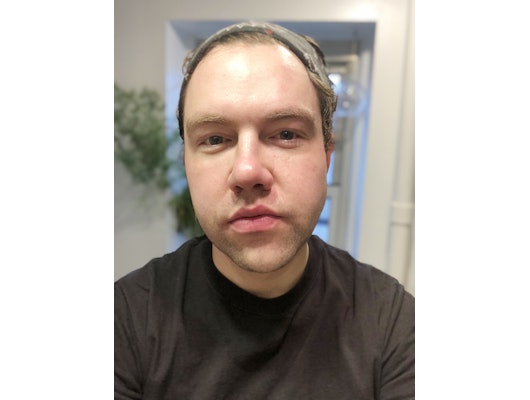 Garrett Munce
Some products were gifted to the author for the purpose of writing this article.
Allergan® may receive commission for purchases made through links in this article.