In this series, Top 11, influential people share 11 ways they take care of themselves including beauty, skincare, and aesthetics. Knowledge is power!
The story behind Clark's Botanicals® has been well documented, but bears repeating: At the age of 24, just beginning a bright career in fashion public relations, Francesco Clark suffered a swimming injury that left him paralyzed from the neck down. Doctors told him he would never be able to breathe on his own again, much less move.
Spoiler alert: he proved them wrong, but it took a long time. "I didn't leave the house for three years," says Clark. "A sense of guilt and depression put me through a phase where I thought, 'Can this please be a bad dream? Can this please be a nightmare that I wake up from tomorrow?' It wasn't." He became a wallflower, shaving his head and not looking in the mirror ("and I worked in fashion!" he says).
It was seeing his struggle through his mother's eyes that really got him out of it. Well, that and actor Christopher Reeve. "The day I heard that he passed away, I said, 'I need to take responsibility for what happened and do more to be part of the cure instead of expecting other people to do it for me,'" he says. "I had been asked to be part of an advocacy group for people with disabilities. So I said yes, but in order to go to the meeting, I was like, 'Mom, I have to leave the house. And I have to wear a shirt and pants.' And she was like, 'Oh, thank God.'"
Meeting Clark now at 40, it's hard to imagine he ever had such a dark moment. His eyes have a mischievous twinkle and he speaks with a wink in his voice, his sentences punctuated with sarcasm and chuckles. He has an energy and positivity about him that makes you instantly comfortable, which is a testament to just how far he's come.
But there was another hurdle in his journey. A side effect from his injury was that his skin stopped being able to sweat. "I developed the perfect storm of everything that could go wrong with my skin," says Clark. "It looked like it was 10 years older. It was oily, but dry in patches. I developed rosacea." Slowly finding himself again meant figuring out how to fix his skin, but after trying everything, he couldn't find anything that worked.
With the help of his father, a doctor trained in homeopathic medicine, he starting mixing up formulas in his family's kitchen. "It's the way I grew up," he says. "Every morning I would take different vitamins my dad put together according to our bloodwork. It was practically 30 vitamins a day, but I never missed a day of school." They finally landed on a concoction that worked for him — and it worked for his sister, his mother, and his father's patients. They were giving it away to friends, including his former boss Glenda Bailey, editor-in-chief of Harper's Bazaar®, who decided to feature it in the magazine. The rest, as they say, is history.
"I didn't [originally] make any of these products to sell them," says Clark. "But being a founder meant getting a sense of empowerment and voice. When the company started to build momentum, it meant building a sense of community with other people."
That authenticity is at the core of everything Clark's Botanicals does, but especially product development. Ever since the first formulas were whipped up in the kitchen, the brand has used the essential oil jasmine absolute in all its products, including bestsellers like the Smoothing Marine Cream ($115), Deep Moisture Mask ($72), and Anti-Puff Eye Cream ($87). That's because jasmine absolute is known to be a gentle essence with anti-bacterial and anti-inflammatory benefits. This makes it perfect for sensitive skin — not just Clark's, but that of his brand's loyal devotees, too.
The products are also all multitaskers, based on Clark's needs. "It's difficult for me to open a jar and pump products," he says. "So I need products that will do three things in one, but I'm not going to forego what I expect the results to be."
It's that philosophy that dictates his personal routine as well. "It's always about multitasking," he says. "I'm never just sitting there doing nothing. And when I am, it drives me crazy — which is ironic because I can't move most of my body. I just can't sit still." On the way to meet for our interview, he said he got dressed and brushed his teeth in the car, so he needs products that he can take with him everywhere.
What exactly does Clark do to keep himself looking every bit the modern-age beauty brand founder he is? Here are his Top 11.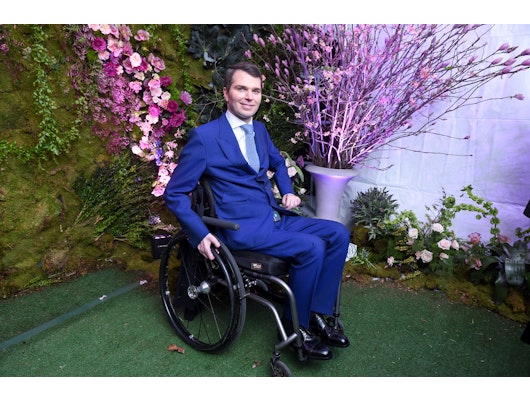 Joe Schildhorn/BFA
Clark's Botanicals Dual Charcoal Detox ($58): "I put it on for five minutes before I go into the shower. I leave it on, go in the shower, and scrub it off. I use it on my face, neck, and shoulders or wherever I want to undo any damage. I do it every day."
Briogeo® Scalp Revival® Charcoal + Coconut Oil Micro-exfoliating Shampoo ($42): "I love it because it's got tingling menthol. I'm not OCD about shampooing, but I'll shampoo three times in one shower. I'm not even kidding. So I go through a bottle in four days."
Fresh® Sugar Lychee Bath & Shower Gel ($20): "I don't know if it's the Catholic guilt that I'm trying to wash out or what, but I shampoo a lot. I use a lot of shower gel, body wash, and shampoo. I don't use conditioner at all."
Clark's Botanicals Smoothing Marine Cream ($115): "I stick to around three [skincare] products a day, but they're never the same ones. Right now it's charcoal, nourishing serum, and Smoothing Marine Cream."
Oribe® Dry Texturizing Spray ($46): "DJ [Quintero] at Serge Normant® cuts my hair, and he turned me on to it. It's the best. [But] the way that he cuts hair, even if I don't [use] anything, it looks great."
Clark's Botanicals Retinol Rescue Face Serum ($105): "If I'm going out at night, I'll use the Retinol Rescue Face Serum, because it has more protein in it. It will lift you a little bit wherever you want it."
[Editor's note: Retinol shouldn't be used by those who are pregnant, considering getting pregnant, or nursing. Please consult with your licensed provider before use.]
Braun® Series 7 Shaver ($200): "I use a Braun Series 7 because it's the best for sensitive skin. I can use it on my own even with an injury because the head tilts on its own. It's expensive, but it works well."
Clark's Botanicals Anti-Puff Eye Cream ($87): "I use our Anti-Puff Eye Cream, and then if I look really tired, I use the Retinol Eye Serum. [The eye cream was designed so] you can throw it in your bag if you want to get ready in the car . . . which is a reality of my life."
Tom Ford® Bronzing Gel ($49): "When I do TV, I have to use bronzer, because if I don't, I look like Casper. I think it's important if you have imperfection in your skin to make it look real, but to boost your radiance and boost your vibrancy. I'll just darken. I'll look more sunkissed."
Herbal Teas: "I always drink tea during the day, but I don't just do one bag. I'll do two different flavored teas and I know that those are botanical and natural, so then I'll know what scents can work together and which ones don't."
Meditation: "I learned the three-part breath technique because my former boss from MademoiselleTM became a yoga teacher. I do it every night before I go to sleep now, it's automatic. I reflect on the day. I need 45 minutes of just me in bed with candlelit lighting and nobody there and then I'm ready to sleep."
Product prices may vary from the time this article was written.
Allergan® may receive commission for purchases made through links in this article.