If it seems like injectable fillers have skyrocketed in popularity over the last few years (along with Kombucha and barre studios), that's because they have. Thanks to a broad range of temporary injectable filler options, today's filler technology can create natural-looking results to enhance volume in areas like the lips, cheeks, and smile lines. And according to the American Society of Plastic Surgeons, men and women around the country are hooked are wanting the natural-looking, instant volume treatment: injectable filler is the second most popular minimally invasive in-office treatment.
[Editor's note: Injectable filler is a temporary treatment that adds volume to areas of the face such as the lips, cheeks, and laugh lines. Like any medical treatment, it has potential risks and side effects. Be sure to talk to a licensed provider to see if it's right for you. Have more questions? Chat with our team of trained aesthetic specialists now.]
Want to get your fill, but not sure where to start? As with any medical procedure, it's normal — and encouraged — to ask questions about the process. As California based Board-Certified Cosmetic and General Dermatologist, Dr. Annie Chiu, puts it, "[Injectable fillers] should be a positive experience, and you want to feel connected to your provider." Read on for five questions to ensure you — and your injector — are on the same page.
Will injections in this area hurt?
We promise this question won't make you sound like a baby! Just as certain areas of your body are more sensitive to pain, different regions of your face experience various levels of tolerance. "It is fair to inquire so you are aware of the level of discomfort and possible downtime," Chiu says. Asking your provider to give an assessment of how much discomfort patients generally experience can be super helpful. After all, it makes sense that lip filler will feel different from, say, cheek filler.
Is it safe?
"Fillers have been on the market for over 20 years, and [are FDA approved]," Chiu asserts. Today, there are a plethora of filler options, ranging from fat to hyaluronic acid. The latter is the most popular substance. However, there are potential risks and side effects, so be sure to consult with your provider on what is best for you.
How much will this cost?
For many of us, filler is somewhat of a financial investment. Asking how much the total procedure will cost beforehand will help you avoid what Chiu calls "sticker shock." Based on your budget, you can usually opt to receive treatment all at once or receive treatment in steps (the latter helps to break up cost). Another way to spend smart: rather than beelining for the cheapest provider, snag someone who specializes in filler. According to Chiu, an expert injector can achieve more pleasing results using less product — and thus cost you less money. "They often know the little magic spots!" she says.
Thinking about a consultation? Chat with a trained aesthetic specialist to find providers near you!
Will I look fake?
Thanks to plenty of "bad work" out there, this question is totally valid. In fact, it's the most commonly-asked question Chiu hears from patients. If you see a seasoned provider, the answer is no. "Great work is invisible — in the sense that it won't look 'done,'" she says. Finding a provider who can answer with a similar sentiment is always a good sign.  
---quiz start
---quiz end
What are your qualifications, training and experience?
There are many provider options. Many are great. Others are not so good, and can even be practicing improper techniques. As NYC-based plastic surgeon, Dr. David Shafer, previously told Spotlyte, "there are loose regulations on who can purchase injectables and who can inject them."
Remember to ask your provider for his or her license, how long they've been injecting filler, and how many filler procedures they've done to date as well as patient before and after photos.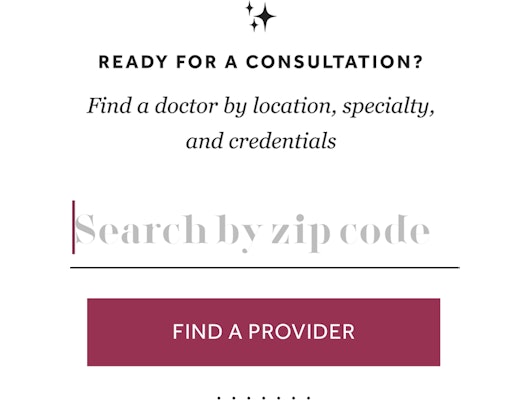 Dr. Annie Chiu is a paid Allergan consultant.