As a makeup artist, I gravitate towards any product that will make my lips (and my client's lips) look bigger. After all, a plump pout looks young, healthy, and undeniably sexy. So when my best friend told me about a new lip plumping gloss that was flying off the shelves, my ears perked up. The Dior Addict® Lip Maximizer®, she said, was sold out at her local department store because it had already gained a ravenous fan base. Naturally, I wasted no time racing to the mall after our conversation.
Luckily, my local store still had a great supply of the product, which comes in seven shades. Each gloss costs a hefty $34, so I refrained from buying the entire rainbow of jellybean-like hues. I swiped on a handful of pink, purple, and holographic hues. Each shade is pretty enough to wear alone, and sheer enough to swipe over a matte lipstick. After my flurry of testing, my lips looked very juicy and plump. Plus, they felt tingly, minty, and hydrated, which I enjoyed. Once I decided I liked the formula enough to use it regularly, I ultimately purchased the most neutral shade, beige, which I figured would fare well for an everyday look.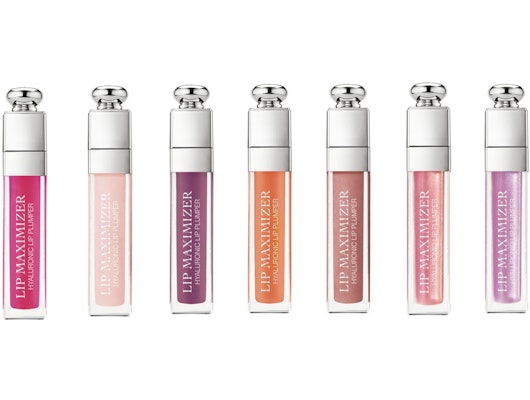 Courtesy
The reason my lips looked so plump and hydrated, I learned, was partially because of hyaluronic acid — a molecule that holds up to 1,000 times its weight in water and consequently can instill a plump appearance. The product contains the molecule in the form of hyaluronic acid spheres. Not only does this gloss make my lips look quenched, but it also delivers on its promise of 24-hour hydration. Despite cold winter temperatures wreaking havoc on my pout, it keeps my lips feeling soft and supple — and I notice immediate hydration after applying the gloss. That said, the initial high-shine glossiness absorbs into my lips after an hour or so of wear, so I have to reapply fairly often if I want to maintain that nude sheen.
 According to the brand, four weeks of consistent use can actually promote a longer-term plumping effect. While I don't doubt that this might be true, I would have to be diligent about applying daily —  and most women I've met aren't that diligent with their lip plumper.
After applying the gloss for three days in a row, I did notice a definite improvement in the texture of my lips. They looked juicier and more hydrated; as a result, my fine lines seemed smoother than usual. However, I can't say with certainty whether my lips look significantly bigger. Instead, I've decided that my lips generally look more voluptuous when they are healthy, which is true for most people. On the flip side, when lips are dry and flaky they tend to look shrunken due to dehydration. So, it makes sense that an ultra-hydrating formula would improve the appearance of my pout. 
A few days later, I resolved to stop using the product, since my lips didn't appear significantly fuller to my naked eye. I swiped it on one last time, and headed to work. When I walked in the door, a co-worker took one look at me and asked, "Did you get your lips done?"
That comment was all it took for this to become my new favorite product.
Product price may vary from the time this article was written.
Allergan® may receive commission for purchases made through the link in this article.