In this series, Top 11, influential people with share 11 ways they take care of themselves including beauty, skincare, and aesthetics. Knowledge is power!
Sania Vucetaj's obsession with brows started long before Instagram arches became a thing. It was a desire to look flawless in photos that prompted the pro's passion for impeccable brows. "I hated taking pictures because I had a scar that fell right on the back of my brow, so they always seemed uneven," she explains.
That's why, at 19 years old, she decided to take matters into her own hands. "I sat in front of the mirror determined to figure it out," she shares. Though she was nervous, she realized that it was an easy fix. "Once I took a few hairs out underneath, filled them in, and walked out [into the world], everyone was like, 'Oh my god, you did something different!' It made me feel good and look better. From there on out, I started practicing." 
And practice she did — on every friend and family member who would let Vucetaj work her magic above their eyes. "I've learned everything from my own imperfections or my family's imperfections," she says. "There is no brow I haven't handled."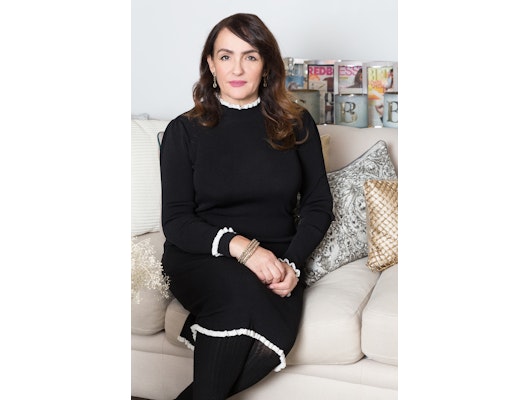 Kelsey Ann Rose
After shaping arches at Bergdorf Goodman® and earning a reputation as New York City's must-see brow guru, Vucetaj launched her own namesake Sania's Brow Bar® over a decade ago. "I remember when my four children were babies at home, I used to joke with my husband that I was going to open up a little booth and charge $10 per brow," she laughs. With Vucetaj's children now grown and her two daughters and niece working beside her in a brick-and-mortar salon in the Flatiron District, it's safe to say her dream has officially expanded well beyond a booth and become a full-fledged family affair.
Vucetaj is even dabbling with the idea of expanding her arch-shaping services into other cities like Los Angeles, where she recently hosted a pop-up at the Waldorf Astoria® Beverly Hills. She gets her passion and drive from her late father who immigrated to America from Albania: "He taught us to follow our dreams. He said, 'You're in the U.S., you can do anything. This is an amazing country,'" she explains.
In addition to meticulous tweezing, it's Vucetaj's vision for lush, natural brows that has set her apart and made her the trusted expert among A-listers like Sarah Jessica Parker, Rihanna, Kathie Lee, and Hoda. "As they say in Albania, brows mirror the soul on the face," she said.
Even if you're wearing sweatpants and no makeup (a common look among Vucetaj's clients who are dashing from a workout in Chelsea to Sania's Brow Bar), a quick shaping acts as an instant pick-me-up. "Women these days want to wear less makeup and feel comfortable in their own skin," she noted. "Brows are the one thing that make you look pulled together without trying too hard."
Keep reading to discover Vucetaj's 11 daily must-haves, her top brow tips, and why she still hasn't gone under the needle — at least not yet.
Sania's Brow Bar Slanted Tip Tweezers ($25): "After a while, you don't have to tweeze too often because the follicle gets [damaged] and the shape holds. I only have to tweeze my brows every three to four months, if that. It's the same for my daughters. I tell my clients to come in every four to six weeks."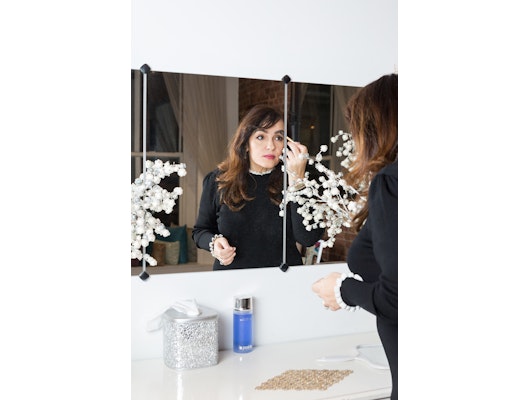 Kelsey Ann Rose
Sania's Brow Bar Angled Mechanical Brow Pencil ($30): "I can't live without this because half of my brow is missing! Most people start to notice that their brows begin to shed in their twenties and thirties, and that's [likely] because we're slathering so many layers of things onto our faces. I always tell my clients to pencil their brows in first and create a barrier before applying moisturizer, sunscreen, or any other products to their faces," said Vucetaj.
She developed her brow pencil, a product she affectionately calls her fifth "baby," after years of scouring the floor at Bergdorf Goodman and coming up short. "It goes on super subtle and isn't waxy. My pencil offers precision but has a powder texture that looks natural and allows you to see hairs through it. It never looks tattooed on, is free of any red color, and washes off with water so that you don't clog your hair follicles with makeup remover," she said.
Her technique for filling in brows: Outline your shape with the pencil and blend the pigment through the hairs with the spoolie for a soft and natural finish. Skip brow gels that "suffocate" the hair follicle or microblading (a form of brow tattooing that resembles individual hairs), which can change color after a few years and won't allow you to modify the shape as you age. "As gravity hits and your lids start to sag, you're stuck never being able to lift your brows," she explained.
Kelsey Ann Rose
La Prairie® Platinum Rare Cellular Eye Essence ($425): "I dab a little under my eyes, but never put it on my lids. Eyelids don't wrinkle, they sag."
La Prairie Skin Caviar® Luxe Cream ($485): "I'm obsessed with this. I studied skin and have an esthetician license and I honestly never get facials. I learned along the way that skin is elastic and less is more. I only put my moisturizer where fine lines appear, not all over. There are some areas that just don't wrinkle, so why oversaturate and tug on the skin?"
La Prairie Cellular 3-Minute Peel ($235): "I do this once a week in place of a facial to slough off dead skin. Every time I do it, people come in and tell me how hydrated my skin looks."
BECCA® Aqua Luminous Perfecting Foundation ($44) and Concealer ($32): "I don't use foundation on a daily basis, but when I do, I use BECCA. I like that it's light and hydrating so that skin still looks dewy."
BECCA Gradient Sunlit Bronzer ($38): "I put this around my face to give me a little color. It's a no-brainer — you just brush through all of the colors for a bit of shimmer."
MAC® Cosmetics Lip Pencil in Soar ($18): "This mauve color suits every face. I line my lips with it and layer on a nude lipstick. It's perfect for every day."
NARS® Cosmetics Velvet Matte Lip Pencil in Cruella ($27): "I know a lot of women are afraid of color, but why not enjoy looking your best? I love wearing lipstick on a regular basis. I think it's the European in me!"
Estée Lauder Sumptuous Knockout® Defining Lift and Fan Mascara ($28): "It doesn't clump and it's easy to wash off in the shower. I don't have to scrub with makeup wipes, which pulls on lashes."
Kelsey Ann Rose
Injectable Wrinkle Reducers: "I have a wonderful dermatologist, Dr. Anne Chapas . . . She suggests trying injectable wrinkle reducers or filler, but she's very moderate with [them] . . . I haven't tried injectable wrinkle reducers yet, but I'm starting to get a few lines here and there, so I'm thinking about my forehead. I've gotten lucky and I haven't needed it [yet]. I think if you hold off it makes more of a statement."
[Editor's note: Injectable wrinkle reducers temporarily smooth the look of moderate to severe wrinkles in certain areas of the face, including the forehead, frown lines, and crow's feet. Injectable filler is a temporary treatment that adds volume to areas of the face such as the lips, cheeks, and laugh lines. Like any medical treatment, both injectable wrinkle reducers and injectable fillers have potential risks and side effects. Talk to a licensed provider to see if they're right for you. And learn more by chatting now with a trained aesthetic specialist.] 
Product prices may vary from the time this article was written.
Some services were gifted to the author for the purpose of writing this article.
Allergan® may receive commission for purchases made through links in this article.