For nearly three decades, Tammy Fender has been practically single-handedly responsible for keeping the residents (and snowbirds and tourists) of West Palm Beach beautiful. She was doing holistic facials before they were cool, bringing a blend of plant-based skincare, reflexology, and meditation together for a treatment that transcended the usual facial and became an out of body experience. It's what keeps her loyal clients coming back and what makes them "look younger now than they did 20 years ago," says Fender.
I've been hearing about Tammy Fender for a long time. Each year, the beauty industry descends on Palm Beach for an industry-wide convention, and every editor I've ever met makes it a point to visit Fender for a treatment. It's demand like that which has cemented her place as the unofficial fairy godmother of the beauty industry. And that's why, on a recent trip to Palm Beach, my first stop off the plane was Tammy FenderTM Holistic Skincare. (Literally — I showed up with my carry-on bags still in hand.)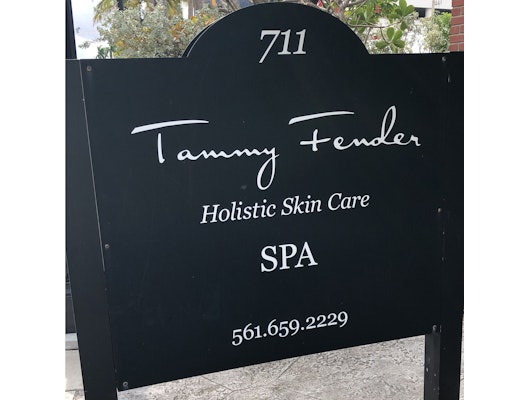 Courtesy of Garrett Munce
For someone whose mythology is so great, Fender's namesake spa is simple. It's tasteful and beachy, like an expensive vacation rental, with reception on the first floor and treatment rooms upstairs. Everyone speaks in a soft, smiling whisper, as if you've stepped into a meditation app. My bags were taken from me and I was led upstairs to the waiting area, where a tray of 13 vials awaited me. Each treatment begins by smelling the plant essences inside the vials and choosing three that speak most to you. "It is a diagnostic tool," Fender told me later. "The sense of smell is a direct connection to the brain, so what is appealing to you at that moment is what's beneficial." I chose clary sage, vetiver, and sandalwood (more on those later).
I was led to the treatment room which was large, airy, and dim. Candles burned in the corners and a huge table covered in bottles was off to the side. I was told to get undressed and get on the bed. "If it moves, don't freak out," said the attendant, Jackie. "It's an anti-gravity bed." It was a good thing she'd warned me, since it was like a massage table crossed with a water bed. As I climbed on, it sloshed and distributed my body weight as if I was lying on a cloud.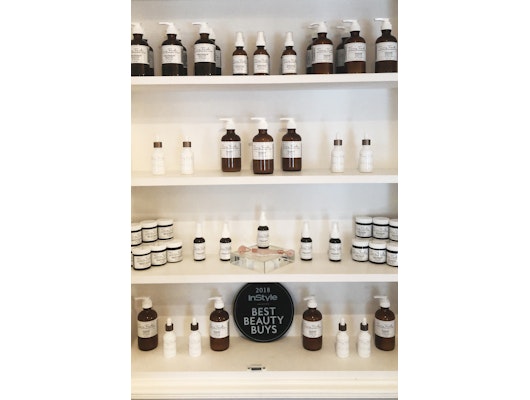 Courtesy of Garrett Munce
Even though she is tiny and soft-spoken, Fender's presence filled the room as soon as she opened the door. She started by explaining her philosophy on skincare in a gentle lilt. "There are over 70,000 plants that are used for medicinal healing," she said. "The beautiful thing about plants is that they carry a very high vibration and a positive energy. Essences are 400 times stronger than the dried herbs and have the ability to work at a deeper level." I had chosen two feminine essences (clary sage and vetiver) and one masculine (sandalwood), which meant that I was in need of nurturing, calming energy (yes, always). The clary sage brings healing energy to the adrenals and both sandalwood and vetiver are "ethereal" essences, which help open the mind while still keeping you grounded (they both correspond to the root chakra).
On paper, the Tammy Fender Signature TreatmentTM ($300 for 75 minutes) seems simple and straightforward, even by her own admission. But in practice, it's an entirely different experience. Fender's philosophy is the antithesis of the facial bar movement: she is not interested in getting you in and out of the treatment room as quickly as possible. Her philosophy is about subtlety, relaxation, and making slight adjustments that have a big impact.
"When you are relaxed, your skin is more receptive," she said. "The plants speak very quietly. They're not going to bang down the door. But when you focus and listen, there is a lot to learn there."
She started by cleansing my face with her Cleansing Milk ($55) and Bulgarian Rose Water ($65). She applied a serum that she'd mixed with my chosen essences and moved into what was without a doubt the most relaxing facial and head massage I have ever had.
At this point, the door opened and in walked Helya, an 80-year-old master reflexologist who has worked in tandem with Fender for 25 years. This is where things started to intensify.
"True holistic skincare is that the entire body receives healing energy," Fender said as Helya pulled up a chair to my feet. "As she starts to manipulate the nerve endings, they have an effect on the rest of the body. If we look at it energetically, when I'm at the crown and Helya is at the base, we're working with the chakra system. You'll feel movement throughout your whole body." (Fun fact: There are more nerve endings in each square centimeter of the foot than there are in any other part of the body.)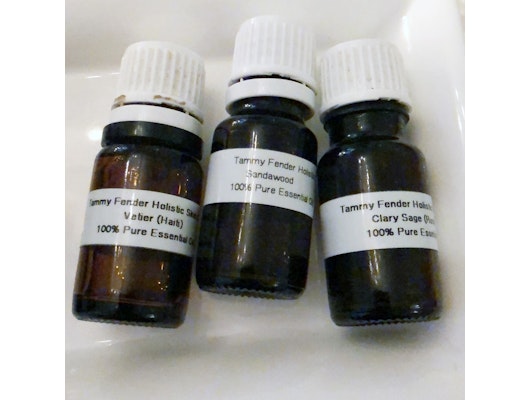 Courtesy of Garrett Munce
Helya started massaging my feet with the same blend of oils being applied to my face while Fender started in on a meditation, guiding my mind through the elements and exploring my subconscious. By the time the meditation was over and she applied the Epi-Peel® ($80), I felt like my body was rising off the table.
Fender waits to diagnose your skin till about midway through the treatment. After steam had been applied to activate the peel and then rinsed off with cool water, she brought over a light and took a good look at my skin. She started extractions at this point, but I was floating so high from those massages that I barely noticed (and I am certainly no fan of extractions).
Extractions done, she applied a thick layer of her Quintessential Serum ($175) and topped it off with a hydrating algae mask customized with essence of lemon and sandalwood. It was like the best possible version of a rubber mask, which helps to seal in moisture and force the serum underneath deeper into the pores.
Once the mask was dry, she gently peeled it off in one sheet and fired up the oxygen machine. The oxygen helps to kill bacteria in the pores, but also seals in the treatment. When combined with the facial massage from earlier, the oxygen also helps with microcirculation on the skin's surface. "The idea is to get that suppleness into the tissue and, of course, the energy of the plants," she said. "I layer it so the skin feels lifted. We're not taking away from the skin, but we're replenishing it."
By the way, Helya was still going strong on my feet.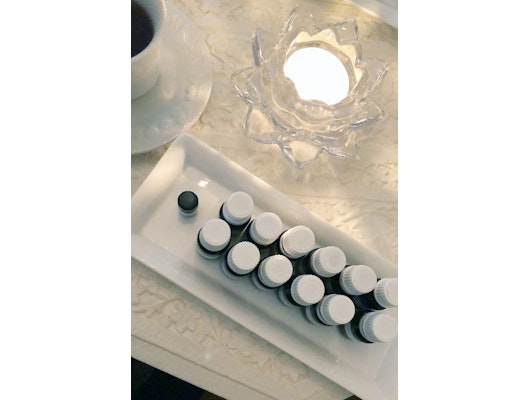 Courtesy of Garrett Munce
To seal the deal, Fender applied her Intensive Repair Balm ($130) and told me to not wash my face that night. "You want to let the treatment really sink in," she said. With that, she was done and let Helya finish up on my feet for another 10 minutes or so.
I'm a restless person, known for bouncing my knees and shifting my position constantly, but by the time Helya left the room, I didn't want to move. I could have laid on that bed, perfectly still, for the rest of my life (or at least the rest of the day if they'd let me). It was an active struggle to get up and back into my clothes, and the closest I've ever come to really understanding the term "blissed out."
The face looking back at me in the mirror wasn't some drastically different mug, but it did look healthy and clean with a subtle glow that only rich people have. You know, the type of glow that comes with a deep understanding of self pampering. But the biggest change was in my body. I felt lighter, my feet felt like they were floating a few inches above the floor, and my crown chakra felt open to the sky. After a glass of the most delicious (homemade) almond milk I have ever tasted, I left with a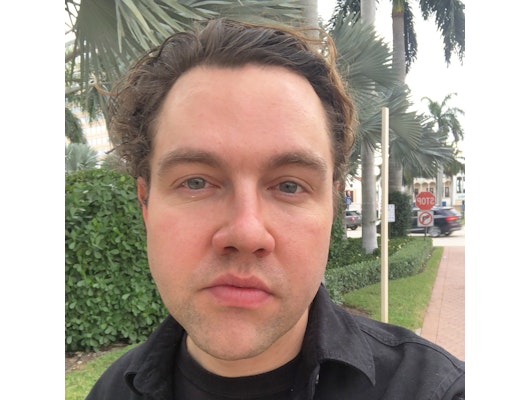 Courtesy of Garrett Munce
positive attitude (and shining face) that rivaled the Florida sunlight outside.
Because it's Oscar® season, I asked Fender what makes her Oscar Night TreatmentTM different from the Signature Treatment she gave me. "The Oscar Night won't have anything that could cause irritation [like extractions]," she said. It's for people who want to look great that night, so it relies more on the oxygen and plumping parts of the Signature. Oh, and it doesn't include Helya's reflexology (which is too irresistible to pass up).
Any one of the elements of the Tammy Fender treatment would have been worth the price of admission, but the whole thing together? That's worth the price of a plane ticket, too.
Service was gifted to the author for the purpose of writing this article.
Product prices may vary from the time this article was written.
Allergan® may receive commission for purchases made through links in this article.