Forget the New Year's resolutions that you are bound to break or forget. As a professional makeup artist, I can attest that one of the easiest ways to actually stick to a goal is by making a small one — in your makeup routine! I suggest starting by revamping your eyeshadow collection. One of the most common habits I see worldwide is people using the same boring, neutral taupes and browns for their entire lifetime — without ever trying something new. I promise, there are so many other options besides plain old browns! You might find that if you venture outside of your comfort zone, you will be surprised at how much more your eyes will pop.
I get it — neutrals are the safest bet when choosing an eyeshadow. That said, it's easier than you think to start integrating brighter colors into your routine. First things first: take stock of your shadow collection. Palettes have become bigger and better in recent years, and your standard "brown" palette will often have a couple of punchier shades sprinkled throughout the set. Start by mixing some of those hues with your trusted browns to create a look with a hint of color. (If you are like many makeup wearers, you will likely finish the same two or three pans well before the rest of your palette; take this opportunity to try one of those untouched colors instead of heading back to the store to repurchase.) 
Still nervous? Keep reading. I've outlined my top vibrant shadow picks and how to wear them (for all skin tones and eye colors!) below so you never have to get color-shy again.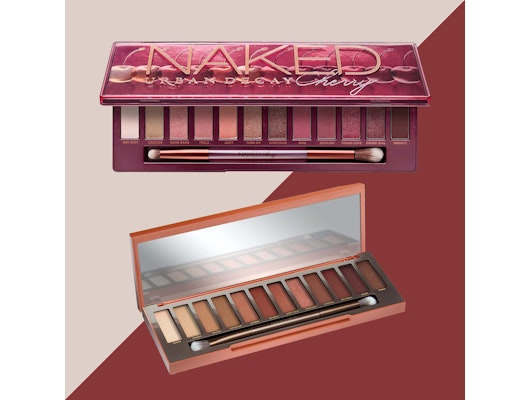 Trendy Reds
My favorite colors to incorporate into a fresh, modern look are hints of red and mauve tones. And I'm not alone — using this color around the eyes has become very popular lately, with some brands going so far as to create entire red-based palettes (like Urban Decay Naked Heat®, $54, and Urban Decay Naked Cherry®, $49). While it can be daunting to wear bright oranges or reds right off the bat, there are many soft options that are flattering for all skin tones and eye colors.
It's important to know a little color theory before experimenting with "edgier" shadow shades. Think back to primary school art class: remember the color wheel? It showed every hue of the rainbow — and its exact opposite. Shades directly opposite from one another are complementary. So if you have green or hazel eyes, choose a cooler red that has plum or mauve undertones (purple and pink are directly across from green and yellow on a color wheel). Orange-y or coppery red tones look stunning with blue eyes (as well as on redheads), while I love using cranberry or deeper reds on brown eyes. 
Remember, on fair skin tones, red-toned shades will read as true red, while they will likely appear more muted on deeper complexions. So if you're especially fair and are interested in sweeping red around your lash line like a runway model, proceed with caution. I personally tend to avoid this trend, as it is very tricky to effectively achieve (it's really easy to make it look as if you have an eye infection).  
Instead, I like using red tones as a "fun" neutral to replace your typical brown, adding it to the crease. Don't be afraid to go for it with a densely-bristled crease brush that will deposit bold pigment on medium to dark skin tones. Fairer complexions will respond best to these tones dusted softly in the crease with a fluffy brush. Like I mentioned previously, there are many palettes these days chock full of easy reds and pinks, but one of my favorites that works for all complexions is the Anastasia Beverly Hills® Soft Glam Palette ($42). For a bolder option with more shimmer, the Jaclyn Hill® Bling BossTM Eyeshadow Palette from Morphe® ($15) is a fun option.
Embrace Blues
If you are willing to try something bright, blues can be a perfect accent to an otherwise simple neutral eye. I've found that many clients are scared of the color blue, but navy or steely, smoky blues can look very modern. If you're nervous to brush blue tones straight across the lid, a less nerve-wracking way to incorporate it into your look is with a small smudge brush like the Sigma Beauty® E21 Smudge Brush ($15). Smaller tools like this one allow you to strategically place the color along the lash line. For a more pronounced pop, you can even wet your brush before dipping into the color. For those feeling bold enough to try using blue on the lid, opt for a fluffy crease brush like Morphe M332 ($6): it will allow you to sweep the color lightly in the crease.
Blue shadow looks stunning on every eye color. Because the hue is across from brown on the color wheel, it look exceptional when paired with that eye color. But truthfully, I really love to apply it on my blue-eyed clients, too. I tend to use neutral tones and golds on them, sneaking in a little bit of blue liner or shadow smudged at the lash line to make the look pop. My favorite blue is featured in the IT Cosmetics® Naturally Pretty Essentials® Palette ($28). The palette is made up of five neutral mattes and a slate blue shade, making it easy to dip your toe into the color family — either as an accent, liner, or crease shade.
Go With Green
For women with deeper complexions, teals and greens are my go-to color picks. Jewel tones like these really pop on darker skin, and they're so bold that they can be worn by themselves, swept softly across the lid, or added as an accent to neutral tones. Just remember that the deeper your skin tone, the heavier you can go with color as it will appear more subdued. If you are fair, tread lightly with bolder colors like these and be sure to apply them with a fluffier brush to keep the pigment diffused and delicate.
The Jaclyn Hill Eyeshadow Palette by Morphe ($38) boasts 35 gorgeous eye shadows, and features a bunch of basic browns, a great variety of reds and pinks, as well as three absolutely gorgeous greens, ranging from seafoam to crystal green. While this palette can seem very overwhelming for those not used to experimenting with shadow (many of the shades are very bold mattes), dive in! It's an exciting set to play with: the color range and the $38 price tag makes it a practically guilt-free purchase.
Pop With Plums
Plums can be tricky. If you don't choose the right shades in the right formula, you can end up looking like you have a black eye. (And for that reason, if you are prone to a lot of darkness in your undereye area, proceed with caution.) However, if you choose the right shades, the results can be stunning.
A good rule of thumb to follow is to seek out warmer, red-leaning plums. Cool, blue tones tend to be less flattering on most complexions, but also mimic the appearance of bruising or dark circles, so skip them. And if you have hazel or green eyes, purples and plums should absolutely be in your eye makeup rotation — in fact, you should opt for them as your standard go-to instead of brown. Like pinks and reds, this color family is across from hazel and green and will make your irises pop.
Unlike some of the other shades we've discussed, I love using light purples as a subtle pop of color all over the lid. It makes for a soft, easy look that flatters all skin tones and eyes. I'm particularly fond of Laura Mercier® LusterTM Eye Colour in African Violet ($25) and Laura Mercier CaviarTM Stick Eyeshadow in Orchid ($29).
Depending on your skin tone (or how daring you are), you can try deeper and bolder choices. If you are ready to make that plunge, I love MAC® Cosmetics Eye Shadow in Shadowy LadyTM ($17). It's the perfect matte with intense pigment to add to (or create) any plum look. If you are feeling edgy, you can press this shadow all over your lid for a gorgeous statement, but I mostly use it in the crease or on the lash line. I apply it with a fluffy brush, using soft, sweeping motions in the crease to diffuse the color so that it will be soft and blended. It's also an excellent option to use either wet or dry on the lash line.
Now that you're armed with these tips, tricks, and products, let this year be the one that you finally break up with your brown eye shadows. There's a good chance that once you start experimenting with new colors, you won't even notice your old standbys are missing from your life!
Some products were gifted to the author for the purpose of writing this article.
Product prices may vary from the time this article was written.
Allergan® may receive commission for purchases made through links in this article.