We live in an age of instant gratification, no doubt. This sense of urgency has bled into the way we eat to the way we date — and industries have accommodated. Skincare has become speedier in some respects, too, but conventional wisdom still holds: a new routine takes more than a day to make a noticeable impact. That's especially the case when dealing with time-honored ingredients like retinol. In fact, the anti-aging powerhouse might work much more slowly than you think.
Editor's Note
Retinol shouldn't be used by women who are pregnant, considering getting pregnant, or nursing. Please consult with your doctor before use.
First, what are the capabilities of retinol?
If you're interested in skincare, you've probably heard the buzz about the vitamin A derivative — and for good reason. "It sounds too good to be true, but [retinoids] are proven to decrease fine lines, improve texture, even skin tone, and fight discoloration," enthuses dermatologist Dr. Rosalyn George. "They help increase cell turnover, decrease collagen breakdown, and increase collagen synthesis.

If you've tried retinol only to discover that it leaves your face looking worse off — flaky, dry, red — don't be discouraged. In fact, this phase is often a necessary evil that can last a few weeks while your skin adjusts, George notes. If after a month of starting retinol you're still noticing dry, flaky skin, consider swapping your formula.

"Retinol products in a gel base can be good for oily skin, and retinol in emollient bases [like oil] can be better for people with more sensitive [or dry] skin," she explains. Try Differin® gel ($29) for oily, acne-prone skin, or the Sunday Riley® LunaTM Sleeping Night Oil ($105) for drier complexions. While peeling and pinkness can happen soon after you start using it, you'll have to be much more patient to reap the full benefits of retinol.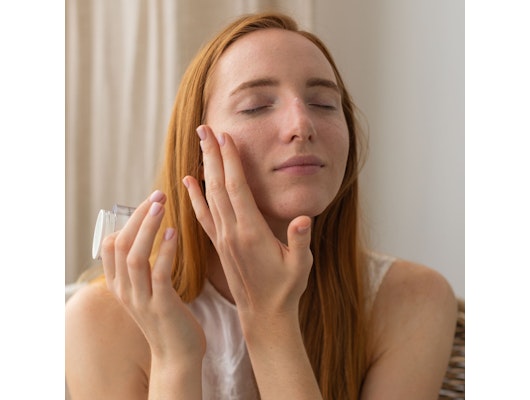 Javier Pardina
How long does retinol take to start making a difference?
Technically, the vitamin A derivative goes to work as soon as it hits the skin. "Retinols work by attaching to retinoic acid receptors in [your body]," George says. There, they're converted into retinoic acid — which is ultimately responsible for increasing cell turnover and improving skin texture. 

But these results take time. For most over-the-counter (OTC) retinol formulas, it takes 12 weeks of consistent use before you'll notice any improvement in skin texture (think fine lines, acne, and/or roughness).

Unfortunately, noticeable wrinkle softening takes takes considerably longer — somewhere in the neighborhood of six months to a year of consistent retinol application. Explains Connecticut-based dermatologist Dr. Deanne Mraz Robinson, this is because it can take six months for retinol to trigger collagen production. Even then, George says there are limitations: "Retinols can't make big changes in deeper wrinkles or replace lost volume." 
Are there any factors that can impact the speed at which retinol works?
There are two factors that can impact your personal retinol timeline. "The first factor is the strength of the retinol or retinoid you are using," Robinson says. Specifically, OTC retinoids are weaker than prescription retinoids (such as tretinoin and retin-A). However, not all OTC formulas disclose the exact percentage of retinol in the formula, so it can be hard to tell how much weaker the retinol percentage. To gauge the strength, try a formula that comes in a series of clearly-labeled strengths (0.25 to 5.0 percent). George suggests increasing the percentage of retinol after one year of use.

Prescription formulas deliver a more potent version of vitamin A. That said, they run a much higher risk of irritation. Prescription formulas like tretinoin could be an option if you're not noticing results from OTC formulas, and/or if you have significant visible skin aging. Ultimately, your licensed provider will advise whether or not you're a candidate before prescribing. 

The second factor is usage frequency. "Everyone's skin is a little different in terms of how much they can or cannot tolerate," Robinson points out, so it's normal for paces to differ. If you're new to retinol, Robinson recommends applying once every other night for most skin types, or twice per week for sensitive skin.

To limit the chance of irritation, try layering your retinol with a hydrating moisturizer, which could go a long way to help sensitivity. Another word of caution: "More is not alway better," says George, who recommends using a pea-sized amount.

Most importantly, be patient and take the time to experiment. As Robinson puts it: "Good things are worth the wait, and that holds true for retinols."


Dr. Rosalyn George and Dr. Deanne Mraz Robinson are paid Allergan® consultants.
Product prices may vary from the time this article was written.
Allergan® may receive commission for purchases made through links in this article.