When we go to the gym, we sweat — admittedly, some of us more than others — to look and feel good. Often, though, the result of a sweat session (be it 20 minutes or two hours) is that our hair and skin looks a little, um, different than it did when we first walked in the door.  
Despite our transformation from polished to unkempt at our local fitness studio, we noticed that trainers often look flawless before and after teaching classes — and even during instruction. We had to know how they do it, and more specifically: what beauty products are they using before and after exercising to maintain their untouched look?
 As it turns out, trainers take beauty very seriously. Take it from Kate DeGennaro, an instructor at SLTTM in Philadelphia. "My workout bag is basically my entire life," she exclaims. "Some days, I leave at 4:30 a.m. and don't get home until after 7 p.m.! It holds dry clothes, skincare, food, footwear, and the most lost item in fitness instructing: the microphone puff."
We asked seven exercise pros nationwide what items they apply to stay cool and combat sweat (even in temps above 90 degrees!) before and after getting their hearts racing. Here are the beauty products fitness trainers swear by to keep dry, look great, and maintain healthy-looking skin.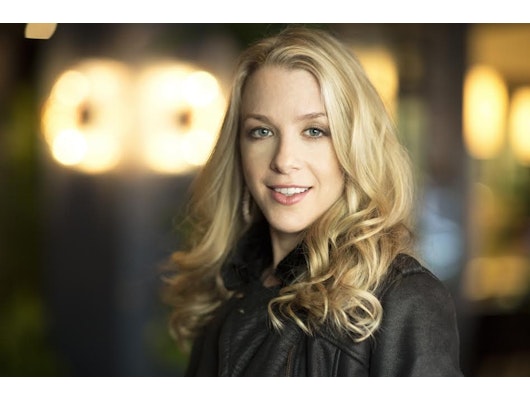 Garance Dore
Bethany Lyons, Lyons DenTM Power Yoga Founder & CEO
Age: 39
Location: New York City
Before a workout:
Fresh® Soy Face Cleanser ($38): "The Fresh soy cleanser makes sure my skin is clean, so whatever needs to be 'sweat out' doesn't get trapped in my pores! I also hate to be dripping makeup and toweling-off instead of focusing on my breath and practice."
After a workout:
Thayers® Alcohol-Free Rose Petal Witch Hazel With Aloe Vera ($7): "After the workout and shower, an easy-to-tote-around and inexpensive toner is Thayers Witch Hazel Rose Petal With Aloe Vera formula, from my favorite, quirky, local store New London PharmacyTM."
Odacité® All-Embracing Serum ($95) and Skin Laundry® Essential Daily Moisturizer ($30): "After toner: add one pump of this oil (Odacité All-Embracing Serum: watermelon and hibiscus, crystal-infused hydration found at The Detox Market®); and three pumps of Skin Laundry Essential Daily Moisturizer found at Skin Laundry, into your palm. Mix and pat into face and neck all over. It smells good, feels good, looks good, and does good."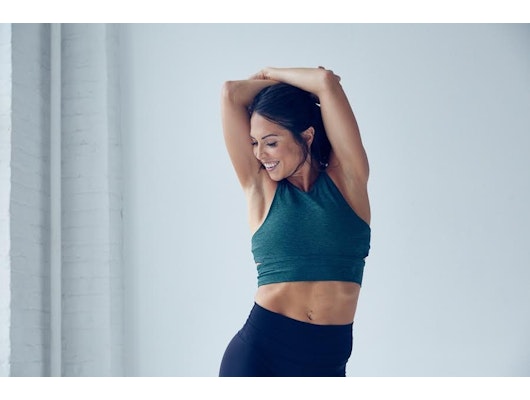 Tiffani Robbins, FithouseTM Sculpt and Bounce classes instructor and Sculpt Modality Lead
Age: 33
Location: New York City
Before a workout:
Indie Lee® Purifying Face Wash ($32): "My current favorite face cleanser is the Indie Lee Purifying Face Wash. I have been trying to transition to natural products that still work, and this brand is a winner!" 
Cocokind® Chia Face Oil ($13): "For some reason, I have been preferring oil over cream in dry weather, and I love this all-natural brand. It's light enough — and not too oily — that I can use it both at night and in the morning before putting on makeup or going to teach class."
 Amy KendallTM Eyelash Extensions ($150): "As someone who sweats for a living and doesn't really like to wear makeup a lot, I swear by lash extensions. My girl Amy keeps my lashes looking glamorous and natural all at once."  
BUXOM® Lash Waterproof Volumizing Mascara ($22): "When I do need to use mascara, my absolute fave is Buxom Lash waterproof mascara. It doesn't flake or smudge, and both thickens and lengthens without clumping!"
Well Told HealthTM Turmeric Booster ($35 for 62 supplements): "Another brand I love is Well Told Health. These supplements are all organic and natural. I especially love this turmeric booster to combat inflammation in the body."
[Editor's note: As always, talk to your doctor before starting or stopping any new supplement.]
After a workout:
R+Co® Badlands® Dry Shampoo Paste ($29): "I recently discovered that aerosol dry shampoos were making my scalp itch. So, my current fave is the dry shampoo paste from R+Co. This paste is vegan, absorbs oil, and gives great volume, hold, and texture! It also lasts a really long time because you only need a little bit. 
Ducalm Skincare® Walk Out CleanTM Shower Wipes($18 for 12 wipes): "A good body wipe for in between sessions, or when there is no time for a shower, is also a must. I recently discovered Ducalm shower wipes and fell in love! This wipe is vegan and alcohol-free, doesn't smell weird, feels great, and is nice and big — so one is plenty to cleanse the whole body!"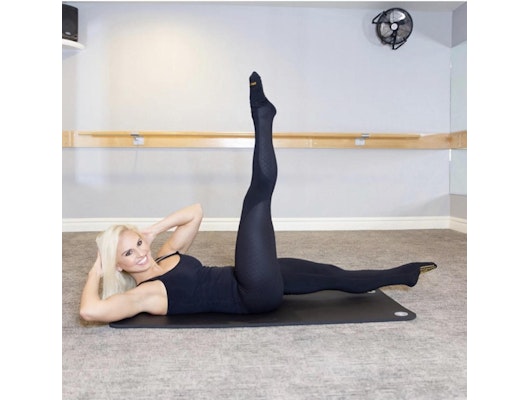 Courtesy of Barre Forte and Jenn Hernandez Photography
Melissa Brown, Barre Forte® Barre Instructor
Age: 30
Location: Highlands Ranch, CO
Before a workout:
Clinique® Dramatically Different® Moisturizing Gel ($28): "When you live in Colorado, you need everything you can get to keep your skin hydrated. I apply it to my entire face morning and night. It absorbs quickly and is not oily at all, allowing me to go into my class feeling moisturized and ready to sweat."
Not Your Mother's® Beach Babe® Texturizing Dry Shampoo ($8 for two bottles): "Having to teach 6 a.m. classes means a quick rinse before going in and no time to wash my hair every time. Thankfully, this dry shampoo absorbs the oil and rebuilds body and texture in my hair. I shake before using, holding it a few inches away from my hair, then I spray my roots, wait a few minutes, and brush it through my hair. Boom: fresh and ready to throw it up in a ponytail."
After a workout:
Kiehl's Since 1851® Intensive Treatment and Moisturizer for Dry and Callused Areas ($48): "Again: Colorado equals the driest skin ever. Post-workout and after showers, it keeps my skin — mostly my hands and feet — from cracking. It's wonderful."
Kiehl's Since 1851 Creme de CorpsTM Nourishing Dry Body Oil ($34): "This is kept with me at all times. A quick spray to any dry area hydrates and softens your skin. It's a fine mist that doesn't leave your skin oily. I know its a body oil, but trust me — you won't be oily! Just spray, massage in, and that's it!"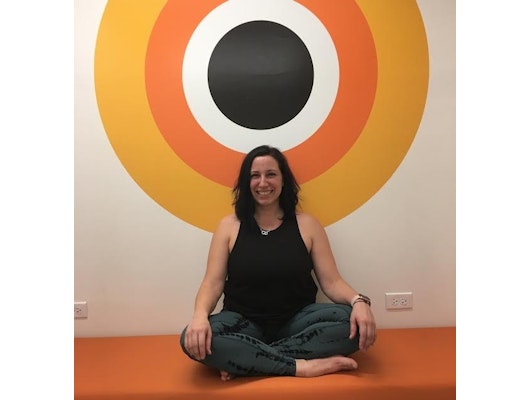 Courtesy of Core Power Yoga
Amanda Lanham, CorePower Yoga® Instructor and Area Leader
Age: 39
Location: Boston, MA 
Before a workout:
BUXOM Lash Waterproof Volumizing Mascara ($22):  "As a fitness instructor, eyes are on me, and I love feeling my best. Waterproof mascara is a must when teaching class. I love the volumizing effect of this mascara, which doesn't smudge no matter how much I sweat. It provides buildable volume, so I can use a light coat if I want a more natural look or use a few coats to really highlight my eyes." 
Beautycounter® Dew Skin Moisturizing Coverage ($45): "The sheer, moisturizing coverage of this product is perfect for putting on before I teach because the dewy tint evens out my skin tone and looks totally natural. The best part is that this product is made of organic, non-toxic ingredients, so I can stay healthy inside and out and I know it won't clog my pores when I sweat."
After a workout:
Drybar Detox® Dry Shampoo ($23): "I use semi-permanent color in my hair, and I lose color with every wash. This means I have to minimize how often I wash my hair each week, which is not an easy feat when you're teaching or taking class every day. Applying this dry shampoo after a workout absorbs oil, keeps my hair smelling great, and adds a little volume at my roots so that I feel confident that I look my best when I leave the studio. The travel size is a must for my gym bag!" 
Beautycounter Nourishing Rosewater Mist ($36): "I love to spray this product on my face after a workout — not only to nourish and tone my skin, but also to give my skin a refreshing pick-me-up!"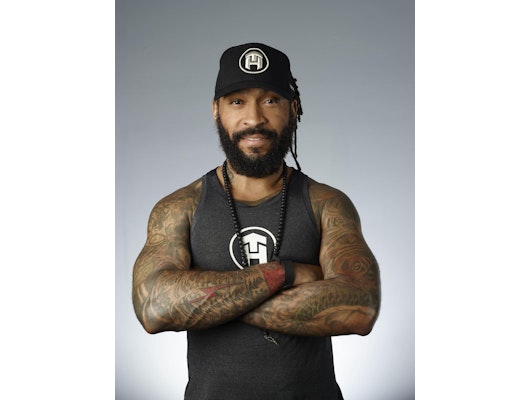 Photo by James Farrell
Shaun Robert Jenkins, Tone House® Senior Training Manager
Age: 42
Location: New York City 
Before a workout:
Aquaphor® Healing Ointment ($7): "I'm obsessed with using Aquaphor while training. I often train in tights, and they often create friction when I'm running or performing plyometric exercises. The Aquaphor protects my skin and actually helps in the process of staying warm." 
After a workout:
Dr. Bronner's® Pure-Castile Liquid Soap($16): "I love to shower with Dr. Bronner's Peppermint [scent]. I can wash my hair and brush my teeth with this product. You simply have to water down the Dr. Bronner, and it's a effective source to brush your teeth. It's the perfect fit pro essential."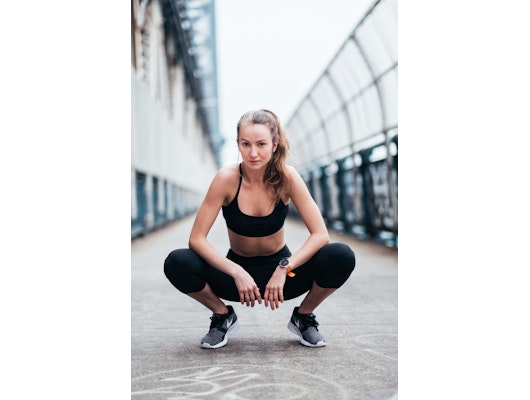 Courtesy of the Mile High Run Club
Corinne Fitzgerald, Mile High Run Club® Senior Coach
Age: 27
Location: New York City
Before a workout:
Aveeno® Positively Radiant® Sheer Daily Moisturizer SPF 30 ($12): "I'm a pretty simple person. I don't wear makeup. All I do to get ready is throw my hair up in a ponytail and walk out the door. Recently, I have understood the importance of sunscreen, and since I run for multiple hours outdoors a week, I have this simple face lotion with sunscreen included! I usually put it on first thing in the morning and reapply if I workout and wash my face throughout the day. It's also super lightweight and doesn't make my face oily. My face feels brighter and my skin feels healthier since I've been using this."
After a workout:
Zero° KTM Wipes ($24 for 30 wipes): "I typically run around all day from a client, to a workout, to coaching a class, and back again. I'm an on-the-go coach and runner, but I hate the feeling of my face and body sitting in sweat. These Zero° K wipes are perfect for a quick cleansing, and can be used for both face and body. They smell like peppermint, and the best part about them is the tingling sensation! They've become my favorite things to wipe my face, neck and shoulders down — and they cool your skin down to help you stop sweating!"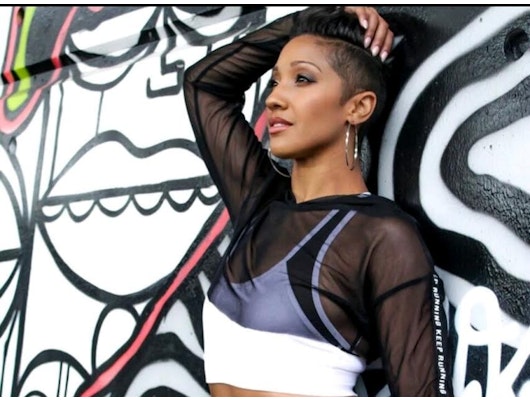 Courtesy of 305 Fitness
Jess Edwards, 305 FitnessTM Instructor
Age: 36
Location: Boston, MA

Before a workout:
Nivea® Blackberry Lip Care ($10): "Put in on and glow up! It adds a sexy tint while moisturizing — love!"

NARS® Radiant Creamy Concealer ($30): "Dab it under the eye and on those quick trouble spots. I have dark eye circles and hyperpigmentation issues. This gives me the natural look I want for the gym, but a touch of coverage just where I need it."

CoverGirl® Flamed Up Mega Curl® Mascara ($6): "It gives me long and full lashes. Since I haven't gone the lash extension route, this is my go-to, final add-on for a fresh face."

Nivea Essentially EnrichedTM Body Lotion ($5): "This is super moisturizing and adds that nice sheen to your skin for that ultimate fresh glow. It's great for those cold winter months!

After a workout:
Neutrogena® Makeup Remover Cleansing Wipes ($9 for two packs of 25 wipes): "These get my makeup off no problem and leave my pores cleared. If i can't wash my face right away, these are great and leave my skin feeling soft and moisture-rich."

Mary Kay® TimeWise Miracle Set 3D® ($110): "This face wash and moisturizer set has saved my skin! My face is clearer than ever, and the day moisturizer has more SPF than many others I've tried."

Thayers Alcohol-Free Rose Petal Witch Hazel With Aloe Vera($7): "As I have gotten older, my pores have gotten larger. This means easier breakouts — yuck! I love this toner for in between my wash and moisturizer. It cleans out my pores even more and helps to reduce the appearance of large pores. It's alcohol-free, so it's not drying — In love!"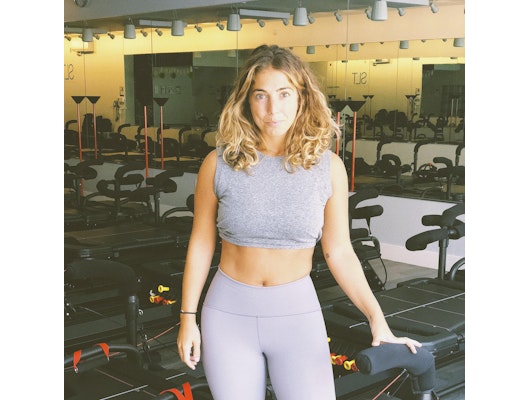 Courtesy of SLT
Kate DeGennaro, SLT instructor
Age: 26
Location: Philadelphia, PA 
Before a workout:
Boy Brow® by Glossier® ($16): "I can't live without styled brows, let alone workout or instruct. Therefore, Boy Brow by Glossier is a must! It's basically a small mascara with gel-based product tinted to match your natural eyebrow color! Comb your eyebrows upward with it's round tip brush, and you're ready to go! Holds perfect against sweat without smearing and will add drama to any side eye you give latecomers in class."
Drunk Elephant® D-Bronzi® Anti-Pollution Sunshine Drops ($36): "If you're not already obsessed with Drunk Elephant, I recommend buying the sample set ASAP. To give myself a little glow daily amidst our winter tundra, I use Drunk Elephant's Sunshine Drops. This tinted moisturizer lasts forever and it's one shade fits all, so it's usable all year. I pump two drops into my morning moisturizer and rub into my skin. It blends beautifully and gives you a natural 'I'm on a yacht in St. Bart's' glow."
ILIA® Balmy DaysTM ($26): "I'm a lip balm junkie. You name it. I've tried it, or simply lost it at the bottom of my handbag. But by far, the best balm is Ilia Balmy Days. It's smooth, conditioning. And since I spend the majority of my day talking, it doesn't get stuck to my teeth! 
After a workout:
Josie Maran® Bear NakedTM Wipes ($22 for 30 wipes): "I'm constantly wiping and washing my face, which isn't all that great for your skin. So, after classes and in between sessions, I swear by Josie Maran's Bare Naked Wipes. They're super clean and 100 percent organic."
 Drunk Elephant Virgin Marula Luxury Facial Oil ($72): "If I didn't already make myself clear, Drunk Elephant is my Gospel on all things glowing. After a quick wipe down, I use DE's Virgin Marula Oil. I never knew how dry my skin got from sweating until I started soaking it in this oil. My skin drinks it up! I always assumed facial oils left your sticky and of course, "oily," but this product is lightweight and instantly absorbed."
Little Barn ApothecaryTM Coconut + Mint Cooling Mineral Mist: "Beyond having adorable branding, this company is supercharged to nourish you. I use this mist at the beach and in between sweats. I spray it on my face, hair, and body."
Product prices may vary from the time this article was written.
Allergan® may receive commission for purchases made through links in this article.