New York is overflowing with sartorial splendor during Fashion WeekTM. (Just stand outside a show and prepare to watch the sidewalk transform into an ephemeral runway at any given moment.) Perhaps less apparent — but equally as gorgeous — are the beauty looks that accompany said outfits.
To prove it, we hung around outside some major shows (Kate Spade®, Jason Wu®, and more) to snap some of the most stunning hair, makeup, and skincare looks of the week. Even better, we asked 18 women to spill everything relating to Fashion Week beauty, from the facials they swear by after a long flight, to the bold lipstick hues they slick on before stepping out (in front of street style photographers nonetheless).  
But that's not all: some of them even shared the medical aesthetics treatments they invest in.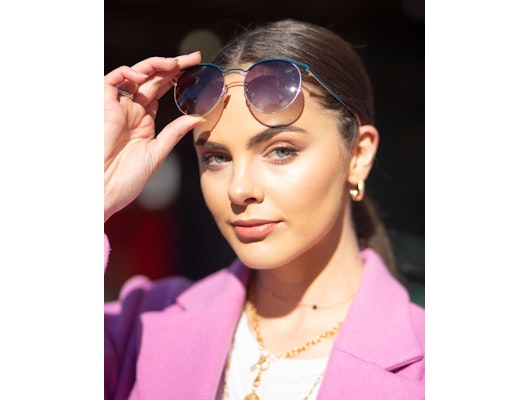 Mark Clennon
Name: Olivia Caputo
Instagram:@Olivia_Caputo
Occupation: Beauty, style, lifestyle blogger
Makeup: "The Hourglass® VanishTM Seamless Finish Liquid Foundation ($56) is the best full coverage foundation ever! My lipstick today is Beautiful RightsTM lipstick in Politically PoutTM ($18). It's an indie brand. I don't know much about it, but it's a really comfortable lipstick. It feels kind of like a [lip balm]. I am also wearing a liner from Jouer® ($16). I love it because it's long lasting and it's so smooth."
Skincare: "I'm using Knours.TM It's a brand that's made for women, so it works with our hormones. I'm also using an apricot toner from Elemis® ($36). It smells so good, it's one of my favorite steps. Two products I can't live without are the MDNA SkinTM The Reinvention Cream® ($75) and MDNA The Eye SerumTM ($180)."
Hair: "I threw it in a ponytail; I didn't want to deal with it. It was raining earlier!"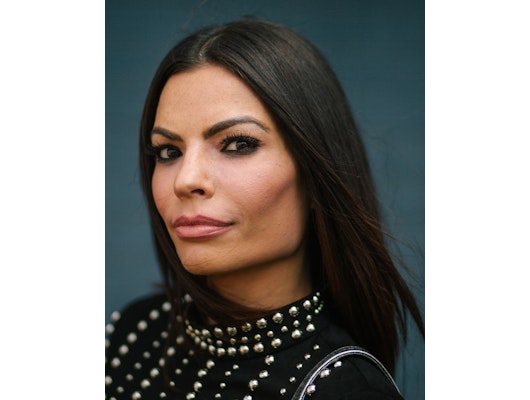 Marc Clennon
Name: Andrea Soliz
Instagram: @asdesign2020
Occupation: CEO/founder, GlambaeTM Fashion
Makeup: MAC lipstick
Skincare: "Today, I did a glycolic acid peel. For facials, I go to a lot of different places."
Cosmetic injectables: "Honestly, I've gotten both [injectable wrinkle reducer and filler]. I haven't done filler in a while, but I have gotten [IWR more recently]."
[Editor's note: Injectable wrinkle reducers temporarily smooth the look of moderate to severe wrinkles in certain areas of the face, including the forehead, frown lines, and crow's feet. Injectable filler is a temporary treatment that adds volume to areas of the face such as the lips, cheeks, and laugh lines. Like any medical treatment, both injectable wrinkle reducers and injectable fillers have potential risks and side effects. Talk to a licensed provider to see if they're right for you. And learn more now by chatting with a trained aesthetic specialist.]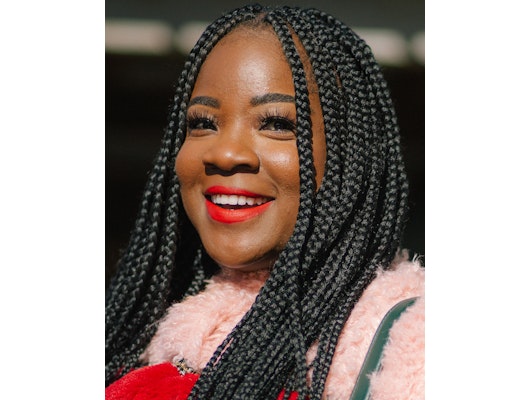 Mark Clennon
Name: Chimee
Age: 35
Makeup: "My lip is FentyTM StunnaTM Lip Paint ($24). For foundation, I use Maybelline® Fit Me® Matte + Poreless Foundation ($6). My lashes are from Miss LashesTM."
Skincare: "I have really sensitive skin. Usually I use BareMinerals® products; they have a really good products for sensitive skin." (Editor's note: don't miss the brand's Clay Chameleon® Transforming Purifying Cleanser, $22.)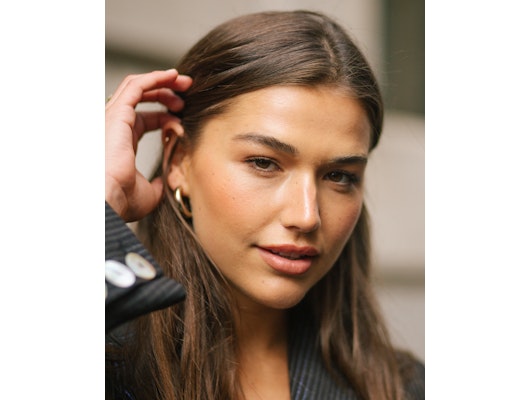 Mark Clennon
Name: Cassidy Morris
Instagram: @_cassidymorris
Occupation: Bravo®, NZ Host; Model
Age: 24
Makeup: "[Usually] I like a really light coverage foundation. Today, I had a makeup artist [who used] NARS® makeup."
Skincare: "I use the Osmosis® Cleanse Gentle Cleanser ($26), Osmosis Mineral Hydration Mist ($20), and Osmosis QuenchTM Intense Hydrator ($50). I recently had the Osmosis facial back in New Zealand, and I love it."
Mark Clennon
Name: Dawn Lucy
Instagram: @fashionshouldbefun
Age: 52
Makeup: "On my lips I'm wearing the Marc Jacobs® Le Marc Lip Creme in Miss ScarletTM ($30). I'm also wearing a Clinique® foundation."
Face care: "I do microdermabrasion. Injectables are just fine — I may have dabbled in them."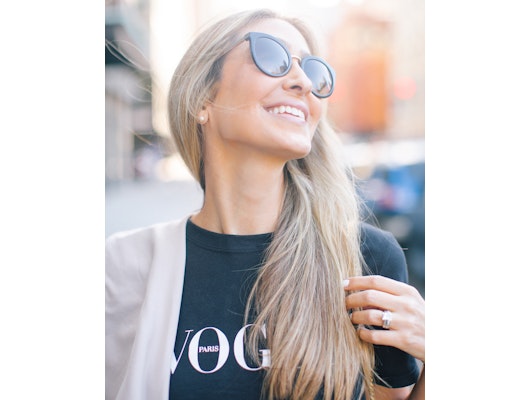 Mark Clennon
Name: Aline Lowry
Instagram: @alinelowry
Occupation: Fashion blogger
Makeup/skincare: "For foundation, I use a CC+® Cream from IT Cosmetics® ($39). It's very light — the coverage is perfect. I use Lancome® for my daily moisturizer."
Face care: "I get facials every six months — but I should do it more! I also get [injectables]."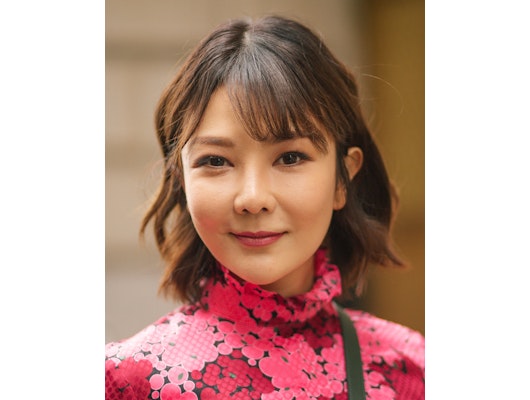 Mark Clennon
Name: Tong Bing Yu
Instagram: @tongbingyu
Occupation: TV/Movie actress
Age: 35
Makeup: "I had a makeup artist — she used all products by NARS."
Skincare: "I'm using products from La Prairie®, and Crème de la Mer® ($325)."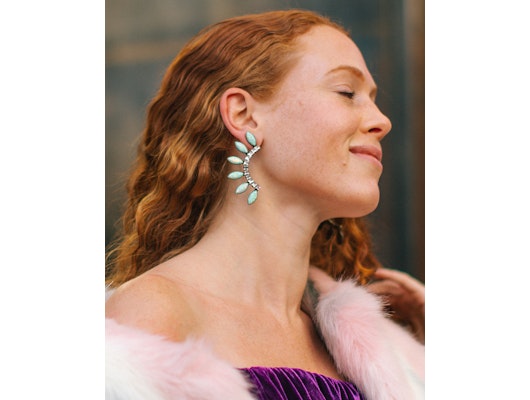 Mark Clennon
Name: Leah Bezozo
Instagram: @leahbezozo
Occupation: Actress, singer
Age: Late twenties
Hair: "[My hair texture] is natural. This look is straight out of the shower. For shampoo and conditioner, I go for whatever CVS® has — and it works!"
Skin: "Hydration, hydration, hydration. I love Drunk Elephant®, Tata HarperTM, and Laura Mercier®. The Drunk Elephant Marula Oil ($72) is my favorite."
Face care routine: "Heyday® is always great for a quick facial. I also love Facegym®."
Injectables: I haven't tried injectables yet, although I am approaching 30.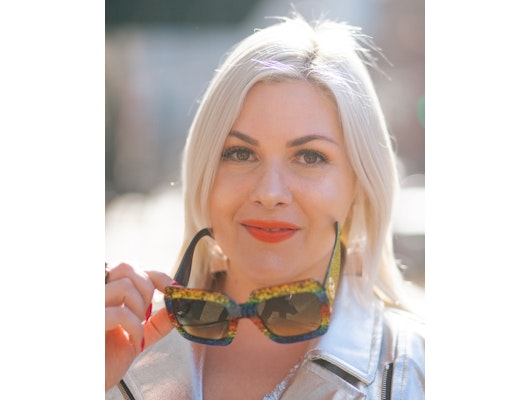 Mark Clennon
Name: Dani Sauter
Instagram: @Blonde_inthedistrict
Occupation: Body-positive blogger
Age: 34
Makeup: "I'm going for a fresh look because I just came in from DC. I wanted a fresh, light, glowy makeup look with a fresh pop of color. My lipstick is from [Giorgio] Armani®."
Skincare: "I use witch hazel and tea tree oil. Recently, I've been loving the Charlotte Tilbury® Magic Cream ($100)."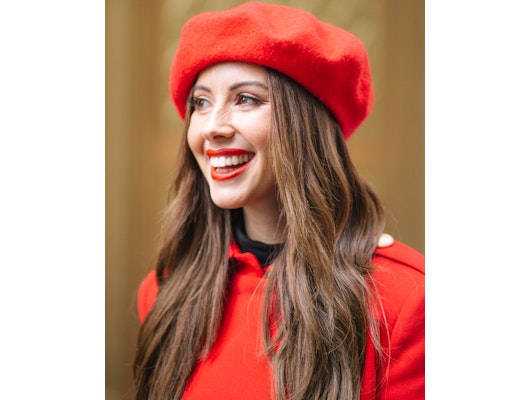 Mark Clennon
Name: Jasmine Howell
Instagram: @friendinfashion
Occupation: Blogger
Age: 30
Makeup: "It's a little dreary outside so it's all about the bold red lip today; it's all about bringing color to New York! I'm wearing MAC® lipstick in D for DangerTM ($22)."
Skincare: "I just got off a 30-hour flight from Australia, so moisture is crucial. In the lead up to Fashion Week, I will do a bit more [exfoliating] with alpha-hydroxy acids, but I'll stop a few days before [so I don't peel]. Fashion Week can be a nightmare on your skin, so I'm doing vitamin C every day and lots of masking. I actually just got back from Japan, and I picked up some incredible sheet masks!"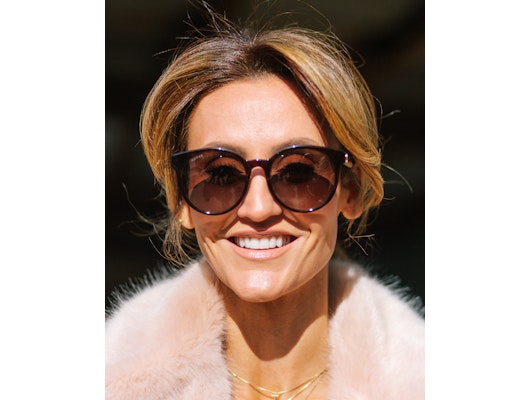 Mark Clennon
Name: Karina Reske
Instagram: @karinastylediaries
Occupation: Style blogger
Age: 39
Makeup/Skincare: "It's all about skincare! I am on a dermatologist regimen, but I really love Pixi® Beauty. All I brought [to fashion week] was their stuff, and I swear they're so good and enriching for my face. I am obsessing over it! The lipstick is amazing too. Also, I always wear sunscreen — I like Elta MD® ($33)."
Face care routine: "I do a little bit of everything! I do glycolic acid pads for exfoliating. I like microneedling. I do [injectable wrinkle reducers] every now and then. You have to find the right person [to inject]; I think that makes a huge difference."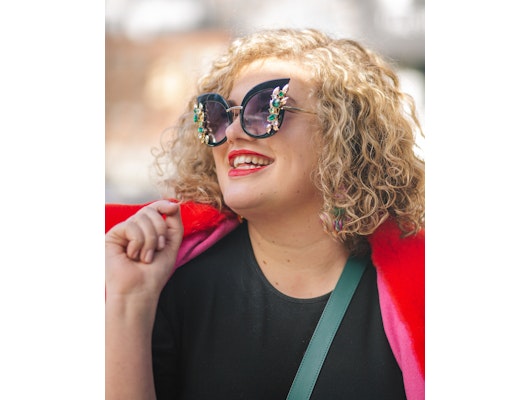 Mark Clennon
Name: Catherine Feeney
Instagram: @dreamyrealist_
Occupation: Fashion blogger
Makeup: "I'm wearing a lipstick from LipSense® ($35). My boyfriend got it for me as a gift! The rest of my makeup is pretty light. I'm wearing concealer from MAC. On my eyes is a Maybelline New York The 24K NudesTM Eyeshadow Palette ($8)."
Skincare: "I cleanse morning and night with a soft cleanser. Then I use moisturizer, oil, and face mist. I love the one from Mad Hippie® ($17). You can get it at Whole Foods Market®. My skin is very sensitive, so i'm into natural ingredients."
Hair: "This is my natural texture; I just use gels and hairspray. Also, a diffuser on a blow dryer is my number one!"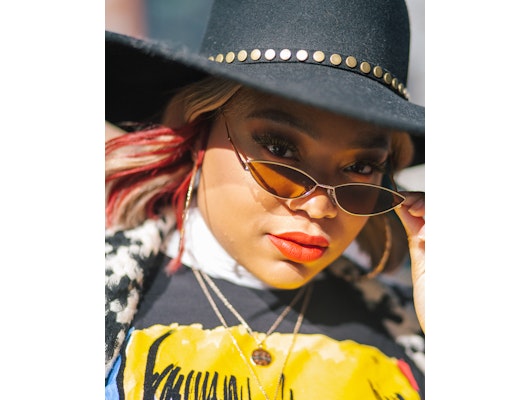 Mark Clennon
Name: Shantae Smith
Instagram: @outspokenlychic
Age: 26
Occupation: Style blogger
Makeup: "I'm from Houston, Texas. Every February and September, I'm here [for NYFW]. I actually just started playing with makeup. Today, I'm wearing Fenty Stunna Lip Paint ($24)."
Hair: "I change my hair like every two weeks. I wanted to go all blue, but it just looked too fake for me, so I did a natural look and we popped [some color] in."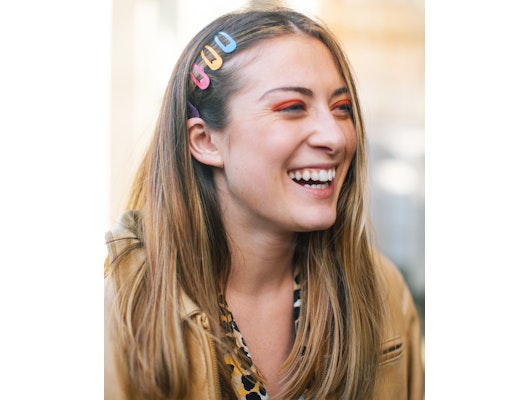 Mark Clennon
Name: Annie Caminiti
Instagram: @anniecamintini
Age: 23
Occupation: Associate Editor, DuJourTM
Makeup: "Bold colors are huge right now, especially for Fashion Week, which is about making bold statements. It's fun to use color on your eyes because you don't have to retouch. [This eyeshadow] is from Urban Decay®."
Hair: "I love the barrette trend right now. I feel like I wish these were bigger — that's why I put so many in!"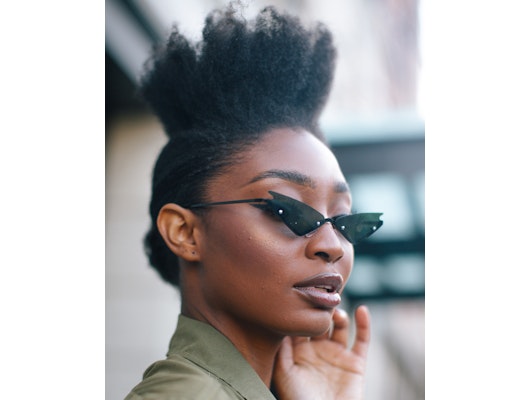 Mark Clennon
Name: Venance Chiepodeu
Instagram: @miss.cameroon
Occupation: Model
Hair: "I just used some gel to slick my hair, and then I combed it into this style. Then I sprayed it with some hairspray gel so it stays like this."
Makeup: "I'm wearing Black Opal® ($10) on my face. My highlighter is Fenty Killawatt® ($34)."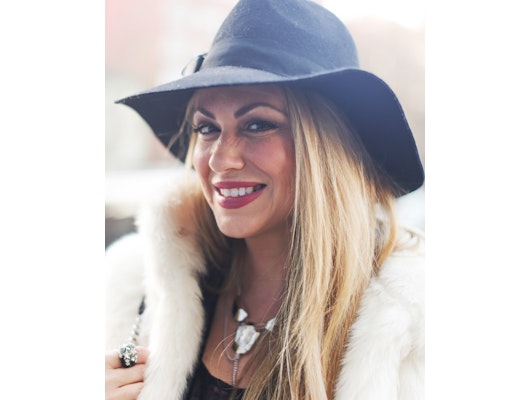 Mark Clennon
Name: Joy Jolise
Instagram: @purejoy_lifestyle
Occupation: Lifestyle blogger
Makeup: "I'm wearing one of the new Khloe Kardashian® BeccaTM collab lipsticks ($24). They're really moisturizing."
Skin: "I've been using [Perricone MD's®] products all my life. But the new thing I've done lately is WelleCo® ($135). I've been drinking it and I do feel like it's brightening my skin. I also do HydraFacials®." (Read our Editorial Director's review of the HydraFacial here.)
[Editor's note: As always, talk to your doctor before starting or stopping any new treatment, medication, or supplement.]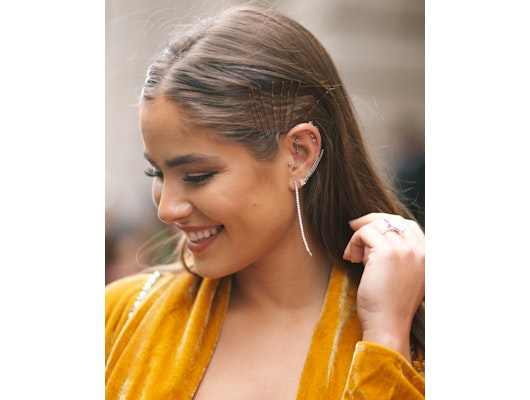 Mark Clennon
Name: Jamie Kidd
Instagram: @Jamienkidd   
Occupation: Travel blogger, model
Age: 27
Makeup: "I'm wearing Ardell® lashes and makeup from Charlotte Tilbury and Too Faced®."
Hair: "I knew I was wearing velvet, so I wanted to slick my hair back [to balance the look]. I used an entire tray of bobby pins — I just kept going!"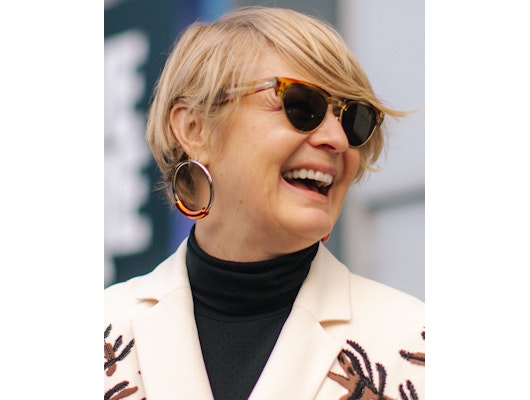 Mark Clennon
Name: Julia Perry
Occupation: Celebrity stylist
Age: 55
Skincare: "I go and see my esthetician before Fashion Week. She does a facial and microdermabrasion. She also tints my eyebrows."
Hair: "I go to Julien Farel [in NYC]."
Product prices may vary from the time this article was written.
Allergan® may receive commission for purchases made through links in this article.