My handbag weighs nine pounds: the weight of a large newborn or a plump cat. Every day, I lug around my phone, laptop, gym clothes, keys, gum, mints, emergency kid snacks, and enough makeup to create a range of looks from playdate-appropriate to "mama's gonna party tonight!" I cannot carry one more damn thing in my bag — except I have to. I have fallen in love with a rose quartz face roller, and I don't want to be without it.
So why a rose quartz roller? Well, I am not one to fall for gimmicky skincare tools. I have fled from the scene of a galvanic facial, get the heebie-jeebies from microneedling, and giggle every time I see a microcurrent machine (I mean, it's literally rubbing balls on my face). But from the moment I saw a crystal face roller, I knew I had to have one.
I was at a wellness event, and there was a woman in a white lab coat rolling rose quartz stones over the face of another woman in a chair. The seated woman looked so blissed out that I had a moment of zen-by-proximity. The lab coated lady told me that there would be a roller in my goodie bag on the way out, so I hightailed it over to the exit. I was barely in the cab when I started gliding the stones over my face. The soothing, cooling feeling was exactly as I'd hoped.
I found myself using the roller at every opportunity: absentmindedly while watching TV, after my nightly ablutions, but especially in transit on the way to meetings. My eyelids seemed to be in a state of permanent puffiness, and the roller did a great job of deflating them.
Now I know I'm a bit of a late-adopter to the crystal-roller phenomenon, but given that they've been around since the seventh century, we're all kind of late adopters, right? The trendy-again tools have their roots in Ancient China, where they are said to have been used for lymphatic drainage, a gentle massage technique that encourages the release of excess fluids and toxins through the lymph system. There's not a New Age bone in my body, but many people believe that different gemstones and crystals have additional benefits: rose quartz brings love into your life; amethyst de-stresses; and jade brings in peace and harmony. I just want to look less puffy and crappy.
And then, at the opening of clean beauty emporium The Detox Market® in NYC, I met the first-cousin of the face roller: the Gua Sha tool, a flat, smooth stone that's used in conjunction with essential oils to "scrape" the skin and stimulate lymphatic drainage and reduce muscle pain. Gua Sha for the face employs a light touch, but when used on the body, Gua Sha can be a vigorous massage that leaves crazy-looking bruises.
[Editor's note: If you take blood thinners, talk to your doctor before using a Gua Sha tool.]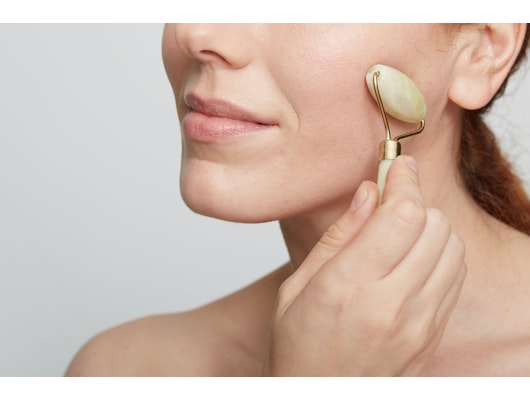 Stocksy United / Leandro Crespi
As a go-hard-or-go-home kind of girl, I wanted to give my face a deep-tissue Gua Sha. So I lubed my skin with oil and went. To. Town. I worked on the tension in my jaw, poked at pressure points in my eyebrows; rubbed my cheeks until the bones looked contoured, and slid the stone around my eyes for an entire episode of The Good Place.
The next morning I woke up looking…weird. Definitely not puffy, but different — and not in a good way. After studying myself in the mirror, I thought, "OMG, did I move my injectable fillers?!" The fact is, I have fillers all over the damn place: a little in the cheeks, nasolabial folds, and marionette lines. What if I messed them up with my Gua Sha massage?
[Editor's note: Injectable filler is a temporary treatment that adds volume to areas of the face such as the lips, cheeks, and laugh lines. Like any medical treatment, it has potential risks and side effects. Be sure to talk to a licensed provider to see if it's right for you. Have more questions? Chat with our team of trained aesthetics specialists now.]
I quickly hopped on the horn with Boston-based dermatologist Ranella Hirsch, MD. As a data-driven derm, Dr. Hirsch emphasized that there weren't studies on the effects of Gua Sha or face rollers on fillers. (Be sure to talk to your licensed provider before trying it out!) However, she explained, what most likely happened is that I may have de-puffed too much. By over-massaging my face, I may have accidentally gotten rid of the some of the fluid that makes my wrinkles and nasolabial folds look better. "If you're constantly trying to move those fluids, you may end up losing some of that volume," she says.
In other words: put the Gua Sha tool down, or at least use it with a light touch like you're supposed to. But I just can't bear to part with my rose quartz roller. I haven't found a topical product yet that depuffs my eye area as well as a 10-minute roll. It's like Ayo & Teo sing: "I just wanna rolly rolly rolly." And yes — I know that was last year's hit. But like I said, I'm a late adopter.
Gua Sha tool gifted to author for the purpose of writing this article.
Allergan® may receive commission for purchases made through links in this article.
---quiz start
---quiz end