In recent years, women's discussions about fillers and wrinkle relaxers have transitioned from behind-closed-door conversations to a worthy debate over brunch. We're not surprised: not only is it covered frequently in the media by major editorial outlets and small bloggers alike, but more and more female celebrities are being honest about which medical aesthetics treatments they've tried. However, most men intrigued by the world of injectables have been left in the dark. The topic is still taboo amongst guys — despite the fact that many are getting these treatments regularly.
The people who have observed this shift most of all are those providing treatments. "This trend started more than five years ago, but now we're seeing an exponential increase in our male clients"," says Ronda Nofal, the founder of Blue Medi Spa in California. "Dermal fillers and injectable wrinkle reducers are [now] much more mainstream to eliminate wrinkles and fill lost volume among men— and it is not about looking different or 'done' or artificial."
Injectable wrinkle reducers and filler are temporary treatments, often done by doctors. Wrinkle reducers smooth the appearance of visible moderate to severe lines on the face (such as crow's feet and the forehead). It essentially reduces the muscle movement, softening the lines overall. Filler, on the other hand, adds volume via hyaluronic acid to places on the face such as the cheeks and lips. As with any prescription treatment, both have risks – it's important to talk to your doctor about the benefits as well as the risks.
As a direct response to this demand for cosmetic injectables from male guests, Blue Medi Spa recently launched what they've dubbed "MAN-U," which provides informal education on medical aesthetic services specifically for men. The staff also make a concerted effort to market and cater to males both online and in their spa. Currently, over 30% of their clientele is men, and that percentage gets higher each month.
"The goal [is] to make it more approachable, easier to understand, and to make it clear and concise for any 'guy's guy' who certainly takes pride in his appearance, but is far from vain, and displays a certain healthy respect for wanting to look good and maintain his good looks," explains Nofal.
Former GQ grooming director Garrett Munce can also testify to this growing trend.
"Every dermatologist or plastic surgeon I've spoken to in the last few years has noted that they've had an increase in male clients asking for these treatments — some even say as high as 35% of their client base," he says.
He also reveals that doctors treat men who seek out injectables for work-related reasons. So they take action – and often that means they look to visibly reduce moderate or severe lines or wrinkles on their face.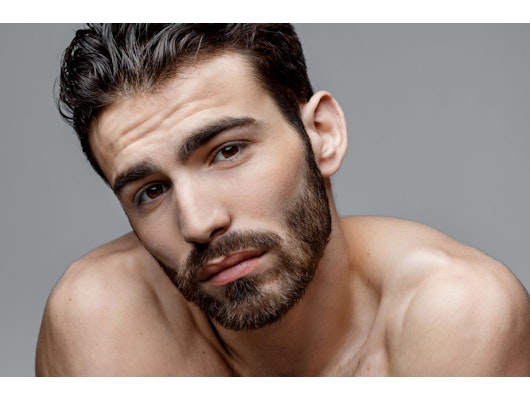 Stocksy United / Leandro Crespi
As Munce mentioned, many of these men who receive treatments tend to have jobs that make them more aware of their appearance, such as those who serve as the face for a business, who work in sales and need to make a good impression on potential clients, and those who work in media.
One of these men is Paul Zahn, a 37-year-old on-air host in Los Angeles. At 32, he began getting wrinkle reducers, and later fillers, to help ease the signs of aging.
"Being an on-air host in a world of HDTV, I can see every crack, crevice, and wrinkle. Wrinkle reducers are a great way to combat that." he says. "It is wonderful that nowadays you do not have to go under the knife to [smooth the appearance of wrinkles] — it's just a quick trip during your lunch break to your favorite doctor."
Michael Wirzbach, a 40-year-old IT professional, says that he began getting wrinkle reducers when an opportunity opened up for him to try them at a hard-to-resist discount via a doctor friend.
"I first got the treatment about one year ago, [and] I have had a total of three treatments since then," he shares. "The main objective of the injections was to [reduce] the horizontal lines in my forehead and brow area, and the lines were [successfully] reduced." Wirzbach told us that he isn't sure if he'll keep getting them, but for now, he's enjoying the aesthetic results.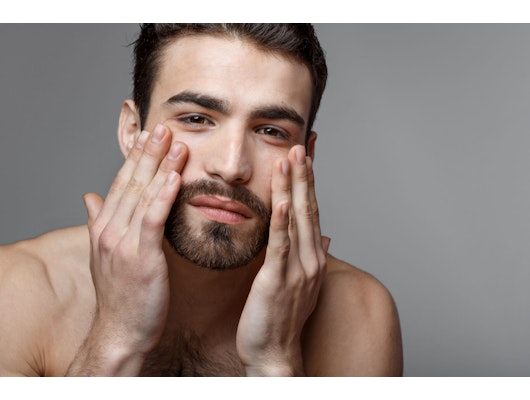 Stocksy United / Leandro Crespi
Both men we spoke to noted that they do have friends who have had treatments, as well, even if they're hush-hush about it in most company. As Zahn pointed out, both sexes spend money and time at the gym or buying new clothes, so it only makes sense that medical aesthetic treatments and skincare have become more of a priority, too.
While it's clear that men are opting for medical aesthetics at an increasing rate, there's still this heavy shroud preventing open discussion. It could just be a matter of bringing it up more frequently and making strides to eliminate stigmas — but perhaps it's a generational difference. Munce suggested that older men may remain hush about injectable treatments out of conforming to antiquated societal rules while the millennial and Gen X crowd are talking about it more freely. With more efforts by spas catering specifically to men and editors covering the topic more frequently, it's likely the shroud will lift in the months and years to come.
Want to chat about injectables? Our trained aesthetic specialists are here to help! Get real answers, right now from our trained aesthetic specialists!
---quiz start
---quiz end