In this series, Top 11, influential people share 11 ways they take care of themselves including beauty, skincare, and aesthetics. Knowledge is power!
When Allergan® employee Bridgett Rowley enters a room, the energy shifts. Perhaps it's her vibrant attire (mauve fur is not off limits) or her ability to make friends with quite literally anyone she meets. After all, Rowley was born in Atlanta — and has the deep-seated Southern charm to prove it.
In addition to serving as Director of Business Development for SpotlyteTM, Rowley maintains a flourishing fan following via her Instagram account, @thebevhillsbelle. The page is dedicated to the bicoastal beauty's outfits, travels, and everything fabulous in between. As if the Instagram star and businesswoman weren't busy enough, Rowley is also a fervent animal advocate. (Six years ago, she started a grassroots movement to help stop puppy mills and promote animal adoption.)
When she's not saving animals or bustling around the office spreading positive energy, you can find Rowley jet-setting to business meetings — and looking good while doing it. Rowley credits her makeup artist, Amy Kennison, and stylist Brandon Summers, for some of her best looks. But she's also a beauty girl at heart herself. Below, the Bev Hills BelleTM shares the products that maintain her look — even during impossibly busy days and long flights.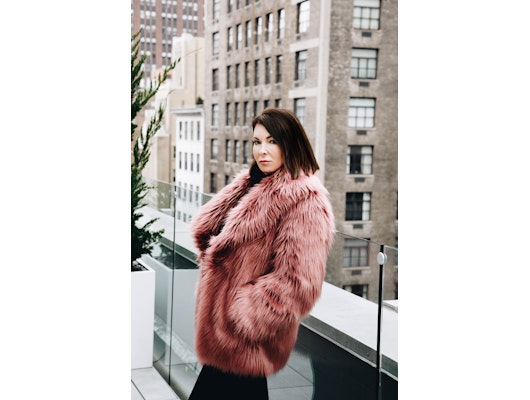 Joslyn Blair
MAC® Cosmetics Strobe CreamTM ($14): "I love this cream because it gives a little bit of an iridescence, but it's not too over the top. I mix it with my liquid base makeup [foundation] to give it a little bit of subtle sheen.
Yves Saint Laurent® Rouge Pur CoutureTM Lipstick ($38): "YSL lipstick lasts with minimal touch-ups through my busy days. I absolutely love how rich all the colors are!"
Enjoy® Hydrate Leave-In Conditioner ($19): "My hair is naturally curly — like Julia Roberts in Pretty Woman. This leave-in conditioner is great when I straighten my hair. It makes it so silky and soft. And I love the way it smells too!"
SkinMedica® Dermal Repair Cream ($129): "SkinMedica Dermal Repair [Cream] is luxurious. I usually do seven different products in the evening, but if I don't do anything else, I always do Dermal Repair. It's my go-to every single night for my night cream, hands down."
SkinMedica® TNS Eye Repair® ($102): "SkinMedica TNS Eye Repair is something fairly new that I'm using and I love it. It just is very moisturizing but not too greasy, so I love that. It also has vitamins [like A, C, and E]."
Glo Skin BeautyTM Restorative Mask ($53): "This is one of my all time favorite products. It's full of just vitamins and it's moisturizing, which is good since I travel so much. When I fly I put that on at night, or in the morning before I put on my makeup. I'll leave it on for 20 minutes and I cannot believe the difference — my skin just glows."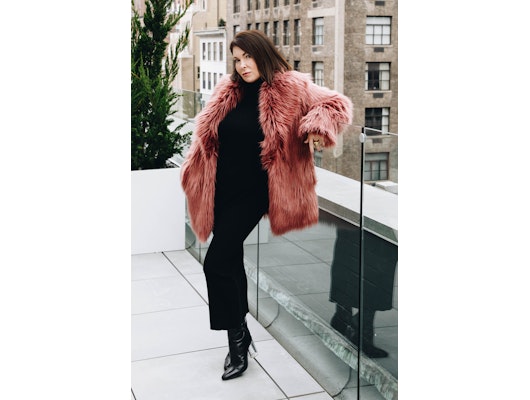 Joslyn Blair
Moroccanoil® Intense Hydrating Hair Mask ($35): "I've been using this for so long. I was actually at a party in LA, and it was in a swag bag — like a whole Moroccanoil swag bag! I got addicted to this mask, because I love that heavy, heavy moisturizer. Again, my hair is so curly and wavy that I love a deep conditioner!"
Chanel® Rouge Coco® Lip Gloss ($30): "This lip gloss is my go-to; oh my god it's so good! I love the neutral sparkly shade, Caresse."
Naked Urban Decay® Highlighter ($34): "This is my highlighter that I use on my cheekbones and right on the bridge of my nose. So it gives just a little bit of a sparkle."
MZ SkinTM Hydra-Bright Golden Eye Treatment Mask ($106): "Oh, these I use constantly. I put them in the refrigerator at home and when I'm traveling. So if I've gotten off the plane and my eyes are puffy, I put those on and it gets rid of all the puffiness. They're very moisturizing, too."
Injectable wrinkle reducers: "I get these every four months [to smooth the appearance] of my crow's feet."
[Editor's note: Injectable wrinkle reducers are used to temporarily smooth the look of moderate to severe wrinkles in certain areas of the face such as the forehead, frown lines, and crow's feet. They should not be used more frequently than every three months. Like any medical treatment, they have potential risks and side effects. Be sure to talk to a licensed provider to see if they're right for you. Have more questions? Chat with our team of trained aesthetics specialists now.]
Product prices may vary from the time this article was written.
Allergan® may receive commission for purchases made through links in this article.
SkinMedica is an Allergan-owned product line.