Back in 2016, singer-songwriter Alicia Keys famously penned an article in Lenny LetterTM announcing her decision to go makeup free. "I don't want to cover up anymore," she explained, sharing that she had also started meditation in order to focus on clarity and a deeper knowing of herself. Ever since, she has stepped out on all red carpets with fresh, luminous skin — and the carpet at the 61st GRAMMY Awards® is no exception.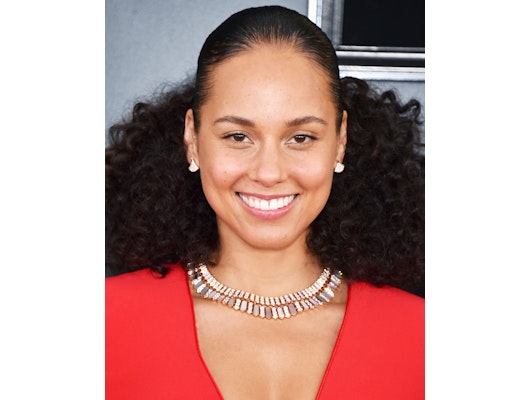 John Shearer / Getty Images for The Recording Academy
Keys, who is hosting the show, wore her strands slicked back in a low pony. This allowed her glossy curls to frame her face and draw even more attention to her healthy skin. A close look at her Instagram® Stories showed that she practiced meditation before the evening, which may have also contributed to Keys's incredibly luminous complexion. After all, a calm mind reduces tension in the face to make skin look even smoother. Keys's skin had a light sheen to it, which called even more attention to her beautiful freckles.
That sheen came courtesy of a very light touch of makeup, as it turns out. The star's makeup artist, Dotti, evened out her "practically flawless" skin by blending Burt's Bees® Goodness GlowsTM Full Coverage Liquid Makeup ($17) in Walnut and Deep Maple with Burt's Bees Complete Nourishment Facial Oil ($20) for a radiant finish. Makeup artist Dotti made sure that glow continued down her decolletage by slicking on Sol de JaneiroTM GlowMotionsTM Glow Oil in Copacabana Bronze ($35).
To complete her look, Dotti dabbed on a bit of peachy-pink cheek color, a slick of mascara, and a mix of Burt's Bees Glossy Lipstick ($9) in Peony Dew and Nude Rain. But what truly popped was the singer's megawatt smile. While Keys's beauty style might not be as dramatic as some of the others on the GRAMMYs red carpet, her confidence — which shines through her glowing skin — is show-stopping.