In our series Behind the Curtain, we get the scoop on the routines, careers, and more of those working so hard behind the scenes to make celebrities look stunning.
Every successful person has one: their big break. Though celebrity esthetician Georgia Louise had built up an impressive roster of socialite and royal clientele in London, her really big break came a week after she moved stateside. "I'd just landed in New York, I didn't know anyone," she tells me in her posh, Upper East Side atelier. "It was a shock to be here with my husband and not have any clients."  
So when the self-professed gadget junkie got a call from a treatment device company asking her to make a house call and fix someone else's machine, she accepted. (If you step into one of her facial rooms, you'll see giant appliances with microcurrent and LED attachments that would blend right in at NASA headquarters.) "'I'm not an engineer, I'm an aesthetician,'" she told them. But the company soothed her worries, saying they'd tell her exactly what to do — but didn't share who the client was.
"I rocked up there, with my little case of tools," she says — and walked right into iconic supermodel Linda Evangelista's apartment. "While she was working out with her Pilates ball, I was in the corner unscrewing the machine and trying to make it happen," she laughs. But once she fixed it, she found that Evangelista didn't quite know how use her device.
"I said, 'Just lay down, and I'll show you,'" Louise recalls. "She was laying down for an hour and a half, and then she said, 'Can you come back the next day?'" Evangelista became her first client, and then her neighbor, prolific makeup artist Gucci Westman, wanted in on the glowing skin secret. "And then news started spreading," says Louise. "That's a great thing about America, more than in the UK — when you hear about something good, people want to tell all their friends about it. In the UK, we're a little bit reserved, and we don't always want to share things."
From there, she worked with Jennifer Aniston, who introduced her to the cast of Friends, and then met even more celebrities when she worked with the cast of Ocean's 8, including Sarah Paulson, Cate Blanchett, and Anne Hathaway. "If a film's here, producers work with me now — 'go and see Georgia, and she'll do magic with you,'" Louise says. "The key was just referrals." Referrals — and magic.
Here, the celebrity esthetician reveals a little of that magic, including how she got started in skincare, the products she relies on for her own luminous complexion, and her philosophy behind anti-aging.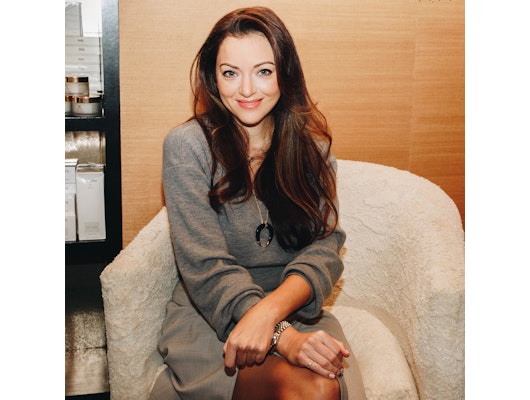 Joslyn Blair
Spotlyte: Did you always love beauty and skin?
Georgia Louise: On my eleventh birthday, my present was a Decléor® cleanser, toner, and aromatherapy oil. My mother, who has insane skin always swore, "You have to take your makeup off, cleanse your skin, and massage it every night." On my birthday, I didn't want a cleanser, toner — I'd rather have nail polish and makeup — but then I opened the bottle. I spilled all this essential oil thinking, oh my god, I'm really chilled out and relaxed. 
I started to watch my mum do [her skincare routine]. I became a pro at cleansing my skin, toning my skin, and putting oil on my face. A month later, after I nailed down looking after my skin, I was telling all of my friends — we would sneak off to the bathrooms, and I would open up my Decléor cleanser and toner, and then put on the oil, and they loved it.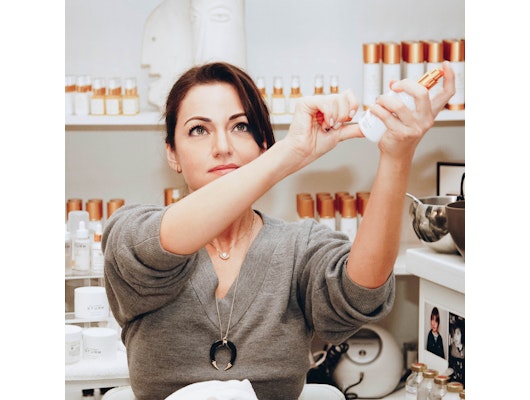 Joslyn Blair
Spotlyte: When did you decide to make it a career?
GL: When it was time to go to University, I was like, "no, I don't want to." I know what I want to do, I want to be in skincare. I begged my family to go to beauty school. They have great schools in Europe, it's a two year program — business, face, body, nutrition, how to exercise. They supported me and said, "Okay, off you go." I set up my first bar when I was 18.
Spotlyte: What happened after that?
GL: I did two years with a really cool health spa and worked with Clarins®, Dermalogica®, Aromatherapy Associates®, Thalgo®, Guinot®, all the old school classic 1990s brands. I had this incredible experience, working with brand founders, with different backgrounds, different philosophies, different massage techniques. And I liked a bit of this, a bit of that, and I just wanted to create my own protocol and do custom treatments.
There was no such thing as real customization yet, and I just got fed up. I decided to find a space, rent a room, and just hope for the best. I was lucky enough to be in a good area with this hairdresser. I would just literally go up to clients having their hair blown out and say, "I'm Georgia Louise, and I want to give you a facial. I'm downstairs, come in for a complimentary treatment." I got a client base quite quickly.
Spotlyte: How did you get started working with the Victoria's Secret® Fashion ShowTM? (Louise is the official facialist for Victoria's Secret.)
GL: Karlie Kloss basically dragged me to Shanghai. I was on my way to CosmoProf® in Asia and she was like, "Oh please, the girls really want to all see you. They don't have anyone good there in skincare, and we just think it's so important to have good facials before." I didn't know what I was doing, who I was going to be seeing, and I walked up with my suitcase of goodies and made it happen. It was awesome.  
[To become the official facialist,] I kept pushing for it. I deal with a lot of makeup artists — I worked with Charlotte Tilbury [the 2018 show's official makeup artist], and I know Tom Pecheux [the 2017 show's makeup artist] — they all say, you just make our work so much easier when we have a good canvas. We want that natural glow versus like creating an artificial glow, it looks better on camera. You can get that inner glow by doing lymphatic drainage minutes before the show, so they look like they are in great shape. [Read our review of Louise's official Victoria's Secret Fashion Show facial here.]
[Editor's note: As always, talk to your doctor before starting any new treatment.]
 Spotlyte: So quality skincare can replace makeup?
GL: I've always had the philosophy that skincare is the new makeup, and if you wear your skin well with good skincare, you don't actually need a base — you can just do a gloss and go. I've seen that journey with a lot of my clients. They'd come in and their skin wasn't in great shape, but now they wear their skin with a smile. It's like psychology: when you're confident in your skin, you feel confident in yourself. So I always think that facials are more than just about skincare, it's actually wellbeing. I think every woman should have the ability to understand what skincare really means because it's still an education.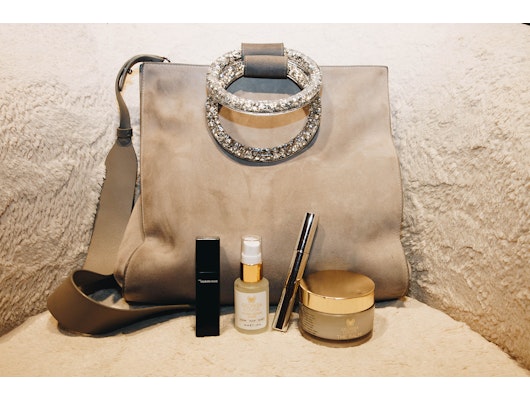 Joslyn Blair
Spotlyte: For your own skin, what products do you rely on?
GL: I use everything. My regimen is never short of twelve steps and gadgets. My favorite thing is to chill out in the morning. I get up really early, lock the bathroom door and ask my skin what it needs today.
I do a double cleanse without fail — I'll use my balm, because I like to start with the Georgia Louise® balm ($84), or the ELEMIS® cleansing balm ($64). Then I use my cleansing wash ($90) with AHAs and BHAs because it just takes away dead skin cells. This is really important when you do a really thorough cleanse; it's a foundation of good skincare. So I spend more time cleansing than anything else, and then I start to do my layering with different serums.
I always start by feeding my skin with vitamins first. I use C-Quence® 1 from Environ® ($125), which is packed with vitamins. Then I move on to some of Barbara [Sturm]'s line, which I love. I mix up her Anti-Pollution DropsTM ($145) with her Hyaluronic Acid ($300), and I let it all set in. I brush my teeth as I wait for it all to dry, and then I'll go in and apply another serum, and then I mix moisturizers together.  
My skin actually should look really [like] crap because I'm a type one diabetic, and I have Hashimoto's disease. People with type one diabetes — and I've had it since I was 12 — your skin starts to age quickly because sugar breaks down collagen. I think I've beat that theory, purely based on taking care of myself, and using the right products. I hate people who come up with excuses, "Oh, my skin is like that because," well, I have an issue as well. You just have to invest time in yourself. People are so busy looking after everyone else that we forget to take care of ourselves.
Spotlyte: What moisturizers do you use?
GL: Right now I'm mixing [a customized cream] with the ELEMIS Pro-Collagen Marine CreamTM ($199). I've always mixed creams — it's fun to blend because some of them are richer or lighter than others, and I'm trying to get benefits from both.
Then I mask it over with a finishing product just to seal everything in [with] my Finishing Serum. The last thing I do is sunscreen, and I use the [Barbara Sturm] Sun DropsTM ($145) right now. 
Spotlyte: So you mix products?
GL: Don't be afraid to mix. A lot of people will tell you, don't mix brands, you're going to screw up the pH. I don't buy that. I've always been an alchemist. That's the beauty of it — when you feel comfortable mixing products and really understand what your skin needs that day.
Our skin changes, so make sure you switch up your skincare seasonally as well. You can't rely on the same three products like we do for our hair. It's not the same with skin. It's an investment, but be prepared to switch it up, and don't be afraid to try different things.
Joslyn Blair
Spotlyte: Do you use any devices?
GL: I do gadgets more at nighttime now, because that takes a while. Three times a week minimum, I do the GLOPulseTM ($165) with the sheet mask. I generally use AquaTM ($75), for hydration. And then I do the LED mask ($1,395) minimum three times a week. It's just like therapy — I lay in bed and I'm like, "Okay, just surround myself with healing light."
So these are my two go-tos, and I always massage with the Sleeping Beauty OilTM ($120) and Butterfly StoneTM ($75, a Gua Sha tool) as well. It's the last step I do when I'm in bed and I'm about to pass out. I have the beauty oil next to me, and then I just put some on and I massage it with a stone. 
[Editor's note: If you take blood thinners, talk to your doctor before using a Gua Sha tool.]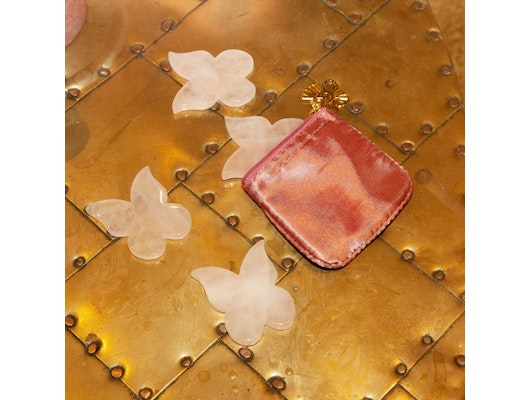 Joslyn Blair
Spotlyte: Can you share tips for doing your own lymphatic drainage at home?
GL: Definitely invest in a tool, that's the first thing you have to do — of course I'm going to say the Butterfly Stone. With lymphatic drainage, I like to start from the forehead and drain everything down. When you're working on the skin, you always work from the [center of the face] and out, and then continue to work your way down. [But] my advice is you don't need to go too hard, because lymph is quite superficial. Go lightly but just do it repetitively — when you do a section, do it five minimum times. Then once you get the end of the face, you want to drain the toxins down your neck, pushing everything out the skin. 
Spotlyte: What's your anti-aging philosophy?
GL: You have to think young. When you think that you're young, you're telling your cells that they're young. So always have a positive outlook on yourself and your skin. Look in the mirror and say to yourself, I'm looking great and I'm looking young. It's also a commitment to beauty internally and externally: you have to have balance with wellness, eating and drinking, sleeping, stress — just find harmony and balance in your lifestyle.
Joslyn Blair
Spotlyte: Have you tried cosmetic injectables?
GL: I don't do [cosmetic injectables], and I'm 39.  
Spotlyte: What do you do to relax?
GL: I have a massage weekly. I made Central Park a ritual, so I walk everyday, and I feel like I'm back in the UK. I see grass and I see trees, I feel like I'm actually in the country. I meditate and walk my dogs. Walking my dogs and being with my kids makes me so happy. Movie nights and popcorn with my kids, making disgusting soggy cookies with them — I'm gluten free but they think they're amazing — is how I relax. 
Some products and services were gifted to the author for the purpose of writing this article.
Product prices may vary from the time this article was written.
Allergan® may receive commission for purchases made through links in this article.